About our Japan Trips
Multi-faceted and endlessly compelling, a holiday or group tour to Japan is like no other. From bullet trains scything past Mt Fuji to the neon-lit intersections of Tokyo, for travellers visiting Japan for the first time on holiday, images of its modern face are familiar the world over - as are visions of its more traditional past, whether the face of a rose-lipped geisha or glint of a samurai sword. Both reflect the great technological skill and cultural refinement that have always underpinned Japanese civilisation, and which continue to inform every aspect of life, from the subtleties of the country's cuisine to the seductive savoir vivre of its temple architecture, Zen gardens and thermal spas.
It comes as no surprise to us that Japan these days consistently tops polls as 'the world's best destination'. The secret of its success: a unique blend of cutting-edge modernity and deep-rooted tradition that make it both a profoundly exotic place to visit, and one offering the highest standards of service, efficiency and luxury.
The key to a perfect holiday in Japan is planning, planning and, planning with preparedness for a high level of self-sufficiency. Unlike other destinations in Asia, most travel and transfers in Japan use its highly efficient and sophisticated network of public transport regardless of booking a small group tour or a bespoke tailor-made journey. 
Our Favourite Japan Holidays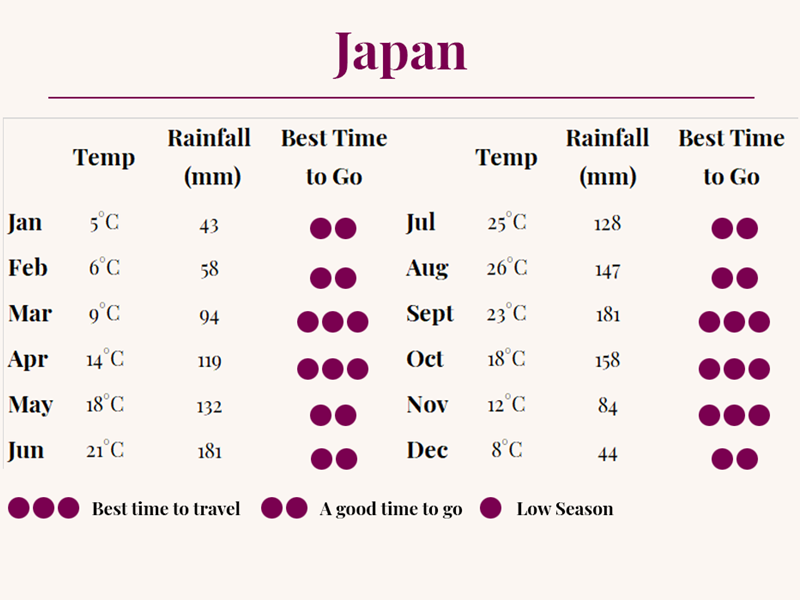 Best time to go to Japan
Japan's distinct seasons means that the country is a fantastic year-round destination. March to May is the most popular time to visit Japan, with milder temperatures, relatively low rainfall and frequent clear days coinciding with the Sakura or Cherry Blossom Season. Late September to November boast similar weather but as the colours change on the trees, Japan's cherry blossom trees take on a whole new beauty. Across the whole country, the climate varies considerably, the north being cooler than the south.
Late November to mid March is generally colder than the UK and certain regions receive a lot of snowfall. July and August are hot and often humid (with the exception of Hokkaido) and there is a short rainy season beginning around June. From late May through to September occasional typhoons come in from the Pacific. 
What Our Clients Say About Us
Enjoy Japan and South Korea Together
It is becoming more and more popular to combine Japan with a stopover in South Korea. On average, it is just an hour's flight between South Korea and Japan, although the most adventurous can take a ferry when travelling between the two. 
Despite being so close together geographically, the two countries have some striking cultural differences whether that is the music, food, religion and history. 
Browse South Korea Trips
All Small Group Tours in Japan All Tailor-made Tours in Japan Make an enquiry
Japan Places and Experiences
Plan your 2021 Adventure
With the world beginning to open up again, now is the time to begin planning your 2021 holiday to Asia. Our Travel Specialists are ready to take your call and discuss the adventure you have spent 2020 dreaming of.
Or call us on 07947 761 237