Tailor-made Tour

20 days from £6999 per person
Places Visited:
Tokyo, Hakone, Kyoto, Koyasan, Hiroshima, Osaka, Kanazawa, Takayama, Tsumago, Obuse
Three weeks allows for a more in-depth and satisfying tour of Japan, giving scope to venture a little off track to regions such as the cedar-cloaked slopes of Mt Koya, with its centuries-old pilgrims' paths and beautiful Shinto forest shrines. The sacred mountain features after 3 nights in Kyoto, and before that, stopovers in Hakone, near Mt Fuji, and Tokyo. In the course of this itinerary you'll also have a taste of big city life in Osaka and Hiroshima, and the opportunity to experience the cream of Japan's traditional architecture of Takayama and Tsumago. A couple of nights in the Japan Alps, and a visit to the snow monkeys of Jigokudani, rounds off the tour before your final night in Tokyo.
Holiday Types
Cultural Tours Holidays by Train
Suggested itinerary
Day 1
UK
Fly overnight from the UK to Tokyo.
Day 2
Tokyo
Arrive in Tokyo and transfer by airport bus to your hotel for a two-night stay in the Japanese capital. Spend the remainder of the day recovering from your flight, perhaps with a visit to the old quarter of Asakusa in the afternoon.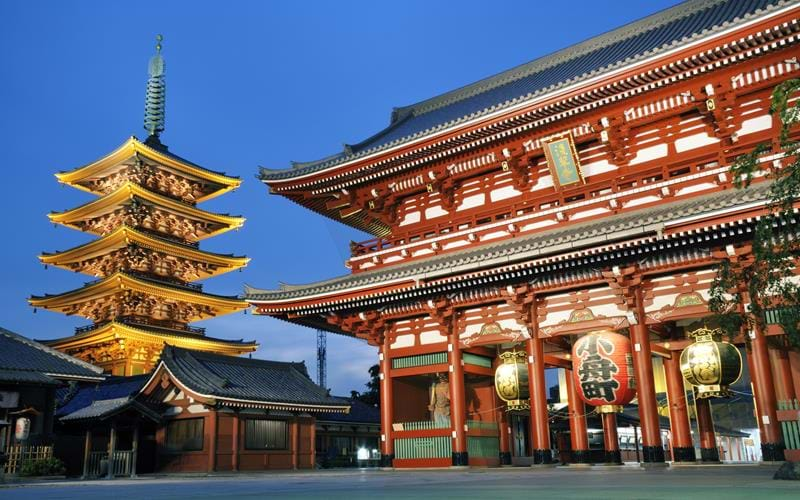 For a quick, jet-lag busting fix of old Tokyo, we recommend the eastern Asakusa district, home of the venerable Sensoji temple. Watch worshippers light incense and bow before the city's oldest shrine, then enjoy the Japanese atmosphere of the surrounding streets, with their antique kimono boutiques and traditional kitchen utensil shops. For dinner, head for the main Ginza branch of the famous Kyubey chain, where you'll find out what real sushi should taste like. As with most high-end sushiyas, each piece is made in front of you and served one at a time. The flavours are nothing short of a revelation!
Day 3
Tokyo
Today you'll explore Tokyo by public transport with a private guide. The first suggested stop will be the Meiji Jingu temple, followed by Omotesando, Japan's own 'Champs-Elysees', with a cruise on the Sumida Gawa river and a stroll around Hamarikyu Garden to round off the afternoon.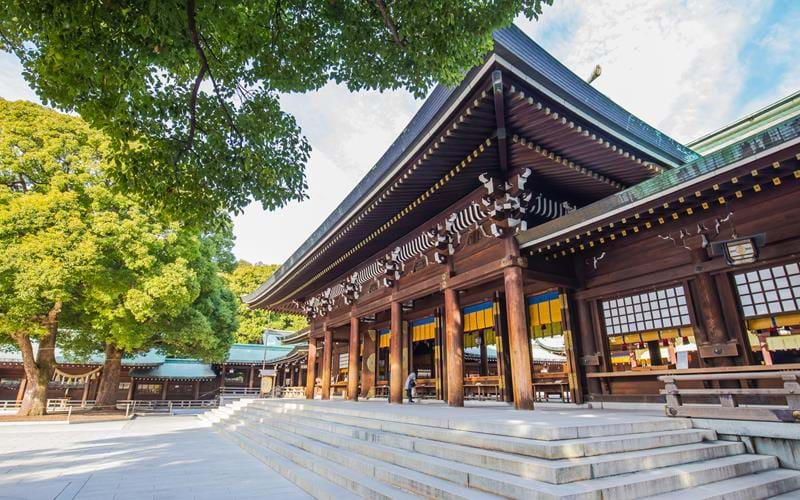 The capital's most famous Shinto shrine, Meiji Jingu, is a popular venue for Japanese weddings and if you are lucky, you may see a bride and groom in traditional attire. Next, walk with your guide down Omotesando, enjoying the bustle and glamour of Tokyo's ritziest shopping street. In the afternoon, you'll experience the city from a totally different perspective as you take a cruise down the Sumida Gawa to Hamarikyu-Teien, and exquisite Edo-period garden encircled by skyscrapers, where you can pause for a green tea and a traditional sweet in the delightful lakeside teahouse.
Day 4
Obuse
Take a bullet train up into the Japan Alps then a local transfer to the village of Obuse where you stay overnight in Ryokan for 2-night's (traditional inn). The illustrious ukiyo-e woodblock print artist, Katsushika Hokusai (1760–1849), spent the latter years of his life. Explore the museum dedicated to his artwork and other attractions at leisure in the afternoon before dinner at your.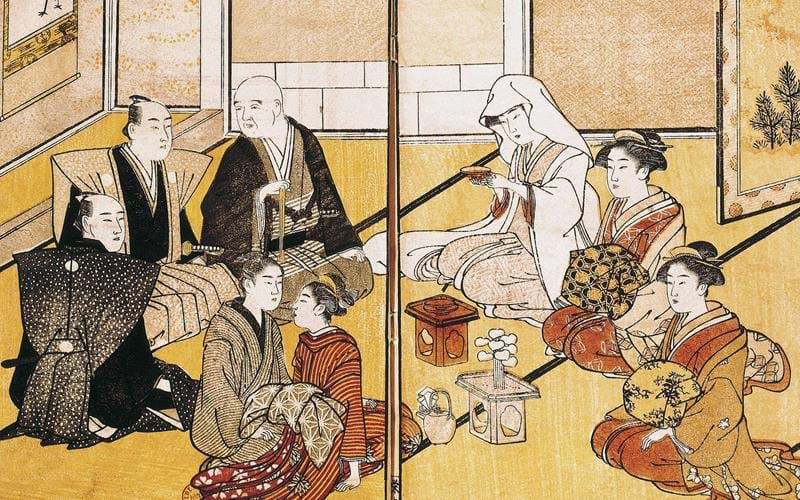 A fine little museum exhibits some of Hokusai's most famous work, including the 36 Views of Mount Fuji and Great Wave of Kanagawa. Also worth a visit is the house of the artist's main patron, the wealthy merchant and dilettante, Takai Kozan, whose Edo-period mansion houses an exhibition of Hokusai prints and Kozan's own calligraphy. The town itself retains plenty of traditional Japanese character, with numerous old shops and sake breweries to explore if time permits.
Day 5
Obuse, (Snow Monkey Park)
Today you'll take a bus deeper into the mountains from Obuse, via the thermal resort of Shibu Onsen, to visit the famous snow monkeys of Jigokudani in the Yokoyu Valley. Their hot bathing pool is reached after a short walk from the bus stop.
Known in Japanese as 'nihon saru', the famous 'snow monkeys' attract admirers from across the globe. Their fame derives from their ability to live in a colder climate than any other non-human primate, which they manage thanks to regular dips in a specially designated thermal pool. Watching the macaques go about their daily lives is the real highlight of visits to Jigokundani. Babies hang upside down from tree branches, play chase and leap joyfully into the hot water, while their older relatives soak in the pool, peering wistfully into space or closing their eyes as the mayhem unfolds around them.
Day 6
Kanazawa
After breaksfast you take the bullet train over to Kanazawa on the north sea coast where you check-in to your hotel for 2 night's. In the afaternoon enjoy a privately guided tour of the historic teahouse area and Kenrokuen Garden this afternoon.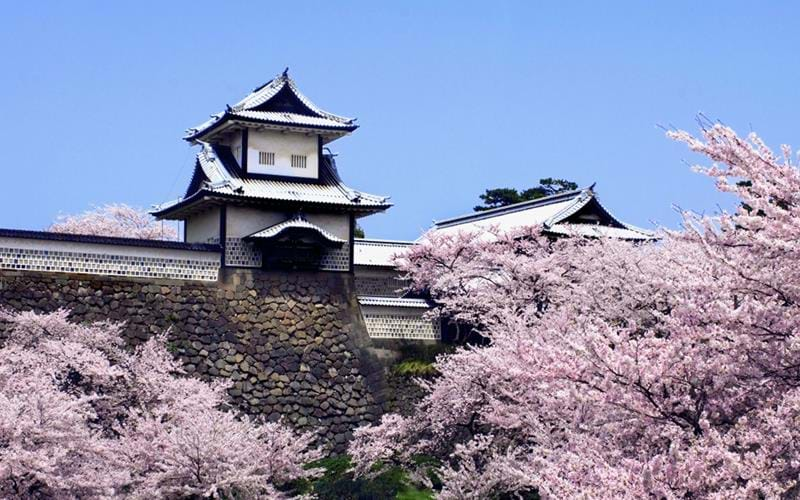 Higashichaya Pleasure District is a heritage enclave of double-storeyed, wood-fronted shops. The Shima teahouse offers insights into the cloistered life of the Japanese geisha (around 40 Geishas remain active in the neighbourhood). Also in Kanazawa, Kenroku-en garden is regarded as one of the country's 'Three Great Gardens'. Its stands of ancient pines, ornamental lotus ponds and pretty fruit orchards extend over 25 manicured acres, making it one of the largest in Japan.
Day 7
Kanazawa
Continue your exploration of this atmospheric city, which is justly famous for its traditional crafts. Gold leaf features prominently – the lustrous foil is a Kanazawan speciality. Local ice cream parlours sometimes offer it as a luxury embellishment, claiming the leaf improves digestion!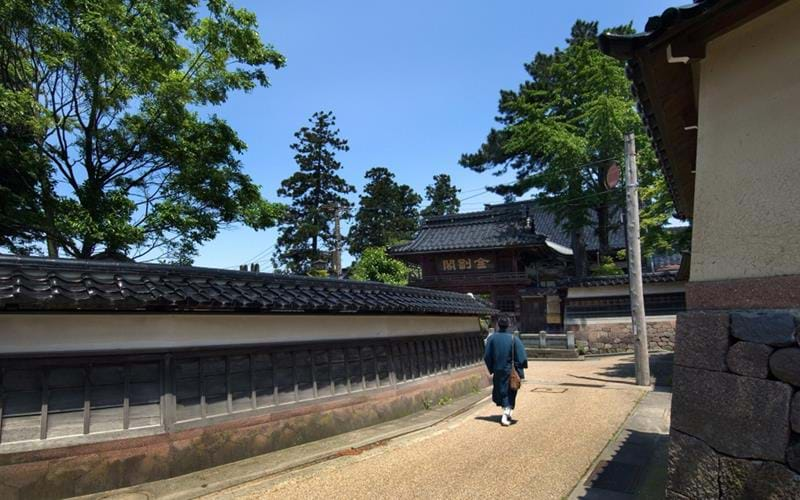 A deservedly popular visitor destination is the Myoryuji shrine, commonly known as Ninjadera (literally 'Ninja Temple'). It was built by the region's rulers in the Edo period but was never actually associated with ninjas. The nickname derives from its convoluted defences of hidden tunnels, man traps, secret corridors and staircases – created to circumvent restrictions on fortress building imposed by the emperors in Tokyo. In the afternoon, wander through the adobe-walled compounds, narrow alleys and canals of Nagamachi district to the city's iconic samurai castle – at its most splendid when framed by cherry blossom in the spring.
Day 8
Kyoto
Take an express train on to Kyoto in the morning and transfer to your hotel for 3-nights. In the afternoon enjoy a privately guided tour taking in some of the city's great historic sites.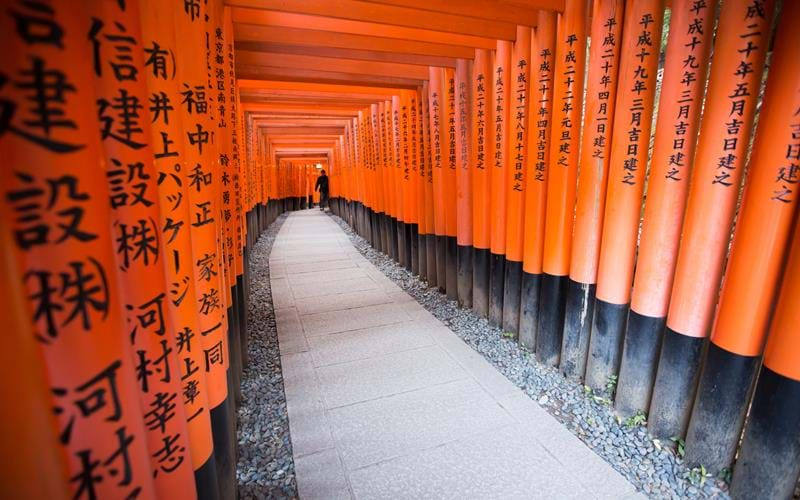 A good option for a first foray into Kyoto would be the trip up to the Fushimi Inari shrine on a hillside overlooking the city – one of the most romantic spots in the region, where lines of inscribed, red-lacquer archways form beautiful covered walkways. After, stroll along the Philosopher's Walk, a pleasant waterfront path lined with cherry trees, before dinner at Tako Nyudo, which specializes in Kyoto's home-style of cooking, known as 'obanzai'. We recommend the more-ish house speciality, 'akashi yaki' – pieces of delicately flavoured octopus fried in crispy egg batter.
Day 9
Kyoto
Have a day at leisure to explore more in Kyoto, or perhaps head thirty minutes west to Arashiyama - home to beautiful Tenryu-ji temple and giant bamboo grove, all of which are easily accessed from your hotel.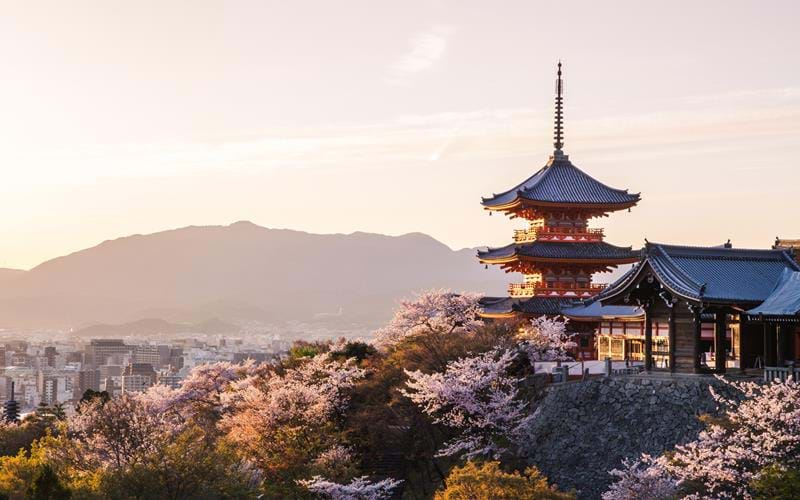 Kyoto is the Japan of the imagination – a city of cherry trees, pagoda-roofed temples, geishas and tea ceremonies, all set against a backdrop of lush green hills and fine traditional architecture. An unparalleled wealth of period buildings survive here, from Edo-era wood-fronted houses to glittering medieval shrines crammed with sumptuous art. You'll also have the opportunity to experience the art forms associated with them, from Japanese flower arrangement to rock gardening and the arcane costumes of Noh drama – all in their traditional contexts. And of course, there's Kyoto's sumptuous 'kaiseki' – the epitome of Japan's uber-refined cuisine.
Day 10
Kyoto
In the morning, attend a traditional Japanese tea ceremony. Later, take a coach tour to Nara to visit the splendid Todaiji Temple and its resident Buddha, the 16-metre-tall 'Daibutsu'.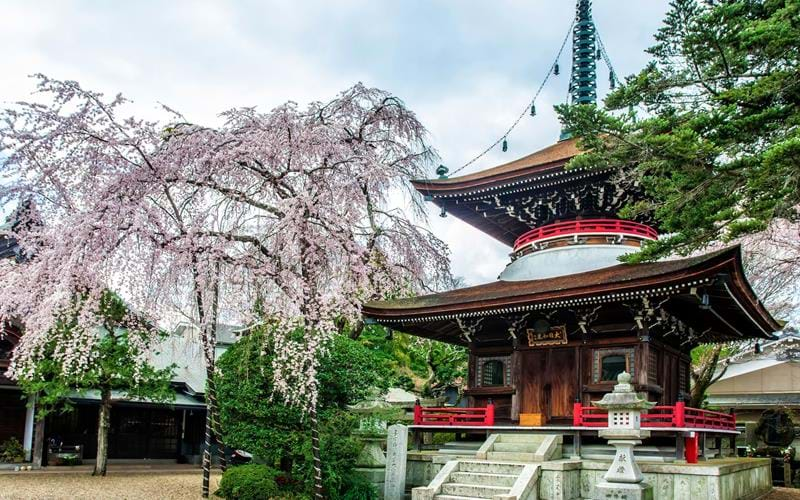 Nara ranks among the most charismatic cities in Asia, thanks to its extraordinary collection of antique buildings, many of which are more than a thousand years old. Its UNESCO-listed centrepiece is the spectacular Todai-ji Temple, home to a 500-tonne, 16-metre-tall, bronze-cast Daibutsu Buddha. The world's largest wooden building, the shrine now resides in a leafy park where sacred Sika deer roam free, scrounging titbits off visitors. The nearby museum holds a hoard of precious antiquities from the 7th century Shosoin Treasury, a selection of which are exhibited for just a fortnight each autumn.
Day 11
Koyasan (Mt Koya)
After brekfast, begin your journey to Koyasan (Mt Koya), in the sacred Kii Peninsula, by a combination of bullet, express and funicular trains. Spend the day exploring the area's many forest shrines hidden amongst cedar wood forests. You spend the night in a simple temple hostel or 'Shukubo' to experience the magical atmosphere of Koyasan after dark and be well placed to experience dawn rituals in nearby shrines and temples.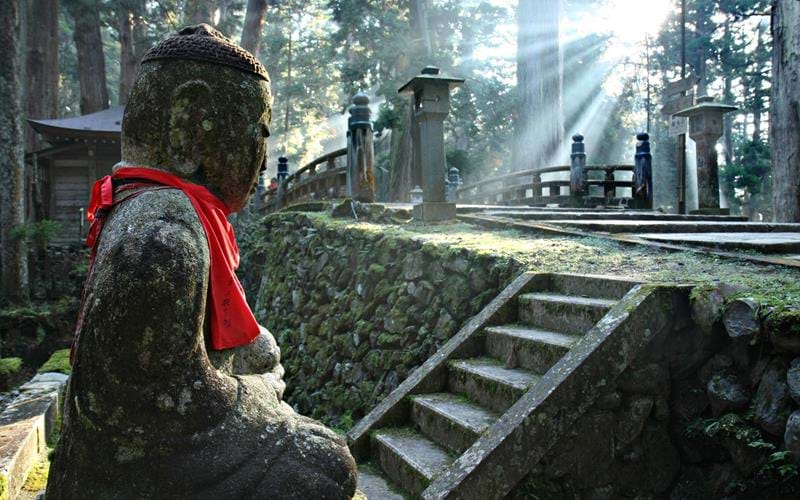 Koyasan was for centuries where the samurai used to come to learn esoteric secrets from the resident monks. Although sporting a veneer of modernity, the temples and pathways are still charged with the spiritual ambience of old Japan, especially when the mist swirls through its dense black cedar forests.
Time permitting, highly recommned extending your stay further into the Kii Peninsula and include the Kumano Koda, a UNESCO protected network of sacred pilgrimage trails connecting a series of ancient Shinto Temples that local people attempt to visit at least once in their lifetiem if not annually.
Day 12
Hiroshima
Rise early to join the monks at morning prayers before travelling on to Hiroshima by train. In the afternoon we recommend a personal stroll around Shukkei-en Garden with its 'shrunken; scenery and picturesque Japanese bridges.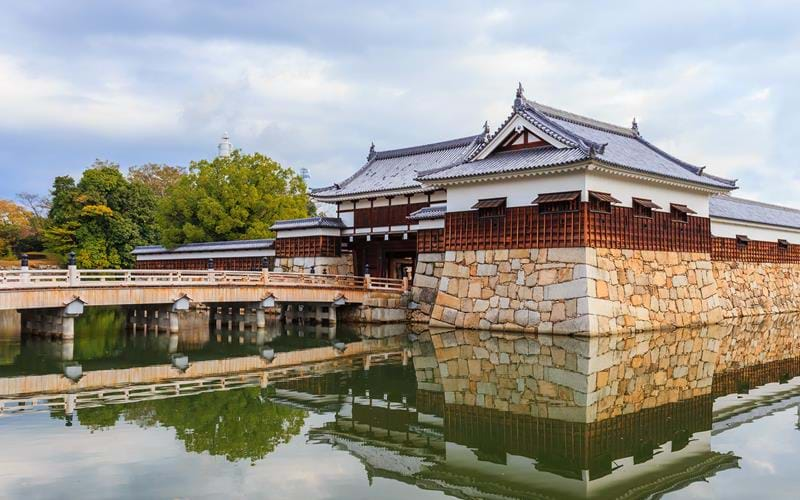 The horrors of August 6th, 1945, when the Americans dropped an atomic bomb on Hiroshima, still cast a shadow of this impressive Japanese city. A museum in the Peace Memorial complex, close to the epicentre of the explosion, displays the few photographs taken in its aftermath, along with testimonies from survivors. Despite the fact that an entirely new, vibrant centre has since been built over the radioactive ashes, visiting the site tends to evoke strong emotions. Only by coming here, however, is it possible to fully comprehend the scale of the tragedy – and astonishing resilience of those who survived it.
Day 13
Hiroshima & Miyajima Island
In the morning enjoy a guided tour of Hiroshima which includes Hiroshima Peace Memorial Park and ruins of Genbaku Dome, one of the few buildings that were left standing following the tragic atomic bombing of 1945. In the afternoon we suggest you head to island of Miyajima for a private visit to the Itsukushima shrine's, the vermillion-coloured Otorii gateway rising serenely from the waters of the Seto Inland Sea; a vision that is as iconic of Japan as Mount Fuji.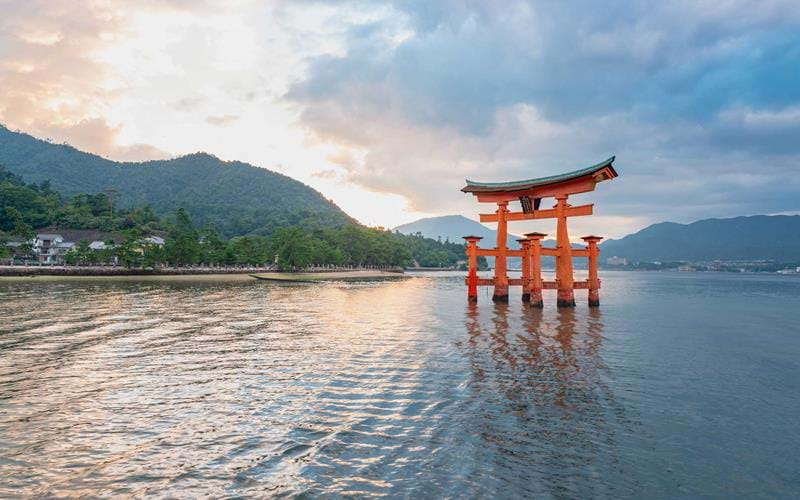 Miyajima is home to one of Japan's most revered Shinto complexes, whose pagoda roofs take shape above the treeline as you approach the island. Once you've explored the shrine, follow the pilgrims' pathway behind it up the wooded slopes of Mount Misen to a sacred summit. The boulder-studded peak affords a wonderful view across the ocean and surrounding islets. You can catch a cable-car ride to within half an hour's walk of the top, or climb all the way through dense forests of maple, cherry and conifers.
Day 14
Osaka
This morning you take another bullet train to Osaka, Japan's second city for an overnight stay. A confluence of modern architecture, nightlife, hearty street food and the ancient with its 16th-century shogunate Osaka Castle, the revered Sumiyoshi-taisha. We reccomend a visit to the ultra modern Dotonburi area to try out some of the street-food stalls and experience the larger-than-life 3D creations affixed to some of the restaurant facades.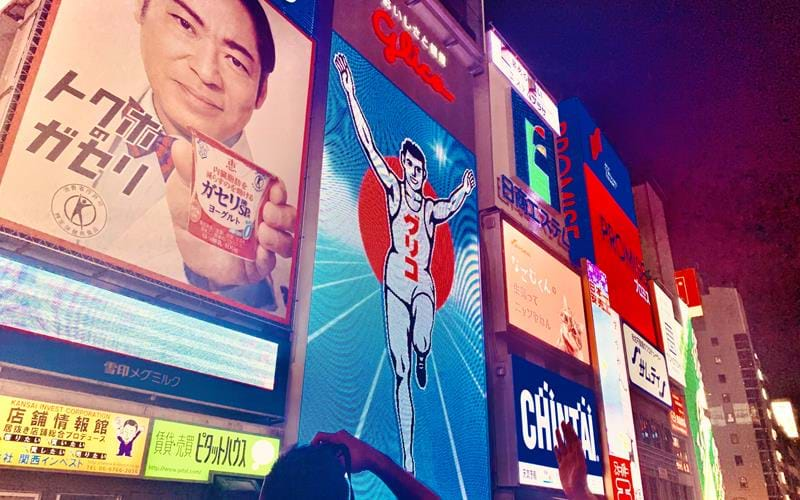 Osaka has a much a more down-to-earth feel than Tokyo. There are lots of great shops and restaurants, as well as a castle and fabulous aquarium. While in the city, don't pass up the chance to sample its gastronomic speciality, 'okonomiyaki' – savoury griddle cakes prepared with a variety of delicious fillings.
Day 15
Takayama
After breakfast, catch a bus to the charming village of Shirakawa-go, a UNESCO-listed silk-producing area and enclave of traditional Japanese life. In the afternoon, we contnue onto Takayama mountain town for a 2-night's stay midst rural edo-priod architecture and influenses.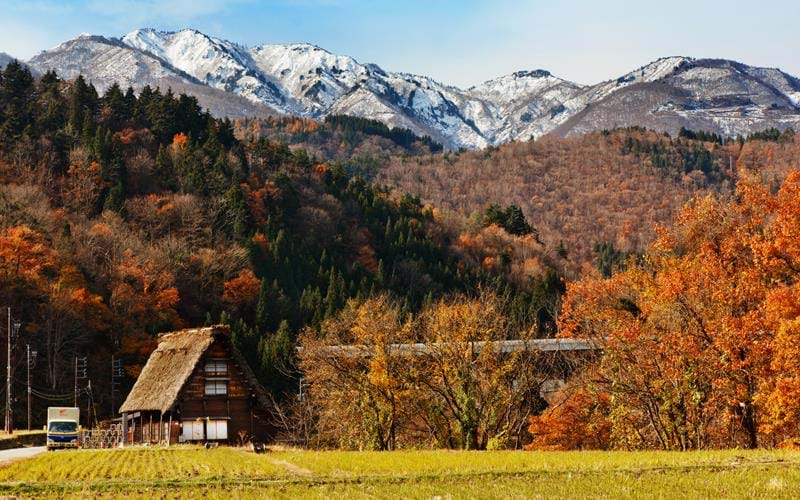 Physically remote from the rest of Japan, the thatched villages of Shirakawa-go survived for many centuries from cultivating mulberry trees and spinning fine silk. Known as gassho-zukuri ('hands in prayer'), its traditional A-frame houses nestle amid a bucolic landscape of rice terraces and wooded slopes above the Shogawa River. More wonderful old buildings survive in your next destination, Kanazawa. Once you've checked in to your hotel and freshened up, head over to the Nagamachi Samurai district, one of whose grand, shingle-roofed mansions – Nomura-ke – has been beautifully restored to showcase the lifestyle of the Samurai elite at its peak four centuries ago.
Day 16
Takayama
Start the day with a round of the local farmers' market, then take in a few museums and sake distilleries in Takayama's old town. In the afternoon, visit a folk museum preserving 30 different antique Japanese farmhouses.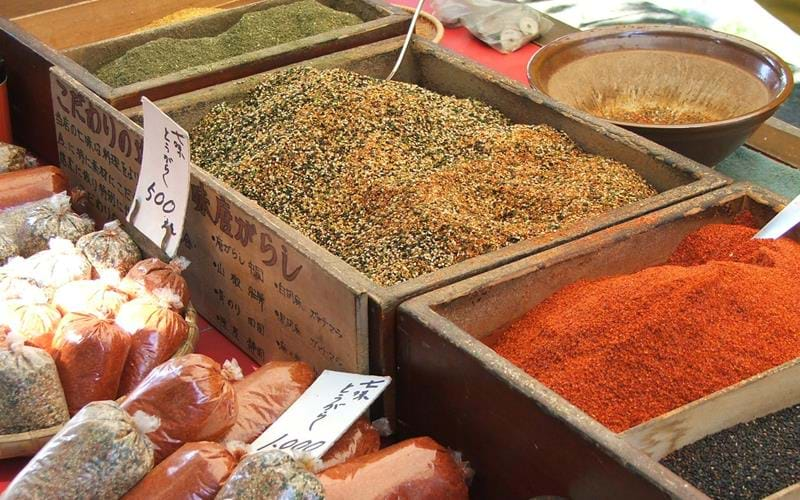 Asa-ichi ('morning markets') take place every day from 7am until noon in Takayama. We particularly like the one at Miyagawa, spread along the east bank of the river. Nearby, the old quarter of Sannomachi holds a bumper crop of 18th century buildings, several of which have been converted into museums where you can admire beautifully recreated interiors. Also worth a look is the Takayama Matsuri Yataikaikan, which holds a selection of elaborately lacquered antique floats used in the annual Matsuri festival. Later, jump on a bus to Hida No Sato, whose huge open-air museum offers a vivid insight into local life during the Edo period.
Day 17
Tsumago
Travel from Takayama by express train to Nagoya, then change to another express train to reach Tsumago today. you spend the night here amid the spectacular mountain scenery of the Kiso Valley, the village is a wonderfully well-preserved vestige of the old post road between Tokyo and Kyoto, with numerous Edo-period buildings to admire.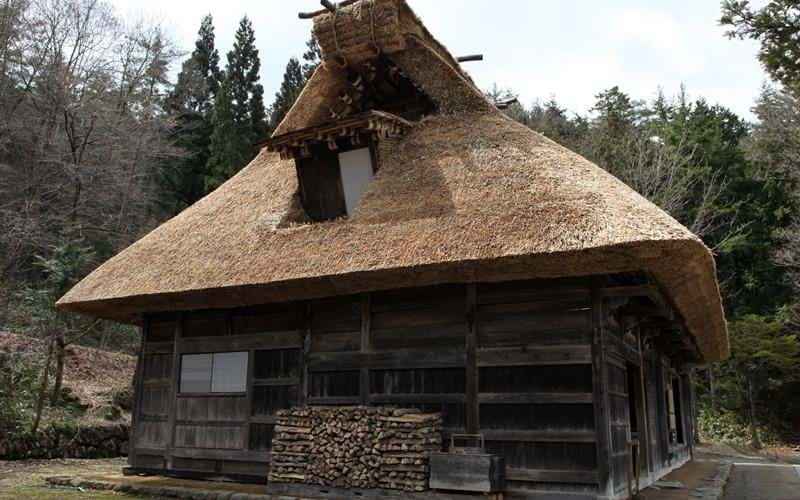 Keen walkers will relish the chance to hike along the 'Nakesando' – the cobbled imperial road from Tsumago to nearby Magome, which has been designated as a traffic-free trekking route and passes through delightful countryside and farmsteads. For supper, try the local 'ayu' – trout fished from the rivers of snow-melt that crash from the surrounding mountains.
Day 18
Hakone
Return to Nagoya and travel back towards Tokyo, and take in Mt Fuji from the left-hand window before disembarking at Odawara for Hakone (Mt Fuji National Park). Take the funicular railway, cable car, ropeway over a volcanic crater then a cruise on Lake Ashi. You may also have time to explore the open-air sculpture park here before reaching your accommodation in good time for the included dinner this evening.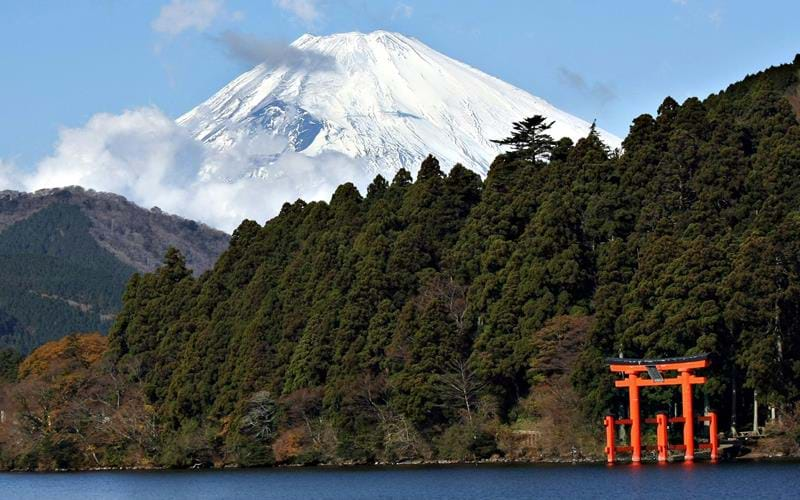 Rising from the Pacific coast of central Honshu, Japan's sacred mountain has inspired painters, printers, poets and Shinto mystics for many centuries. See why on the fifth day of your tour, as you ascend the massif to an altitude of 2,000m, from where the panoramic views will be (weather permitting) magnificent. Later enjoy a cruise in a replica galleon on Lake Ashi, followed by a cable-car ride over the forest tops to Hakone. Among the highlights of any stay in this area is the chance to soak in a naturally heated thermal bath, or 'onsen'. Your hotel in the resort will have an excellent one.
Day 19
Tokyo
Your tour draws to a close as you travel by express and bullet train back to the capital, where you should arrive in time for a spot of last-minute souvenir shopping and an ascent of the Skytree.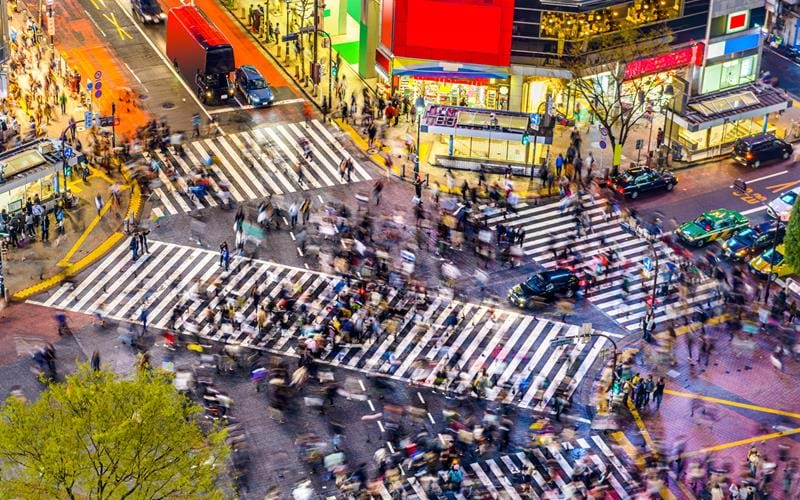 A great source of quirky Japanese souvenirs in Tokyo is Oriental Bazaar, at 5-9-13 Jingumae, in Shibuya. It's the most famous gift store in the capital, offering a wide choice of kitchen utensils, dolls, kimonos, yukata, curios and books. The staff speak English and the prices are restrained. Afterwards, head for the Tokyo Skytree in Ashiage, officially the world's highest broadcast tower: the views over the city from the glass-floored Sorakara Point extend to Mount Fuji – a suitably spectacular end to your trip.
Day 20
Tokyo, UK
After breakfast, transfer to the airport by shared minibus for your return flight to the UK.
Tailor-made Tour

20 days from £6999 per person
What's included

✓   International flights from the UK
✓   18 nights accommodation
✓   All internal transportation and transfers, predominately using public transport
✓   English-speaking guides as listed in the tour itinerary
✓   Breakfast daily, lunch on days 3, 4 & 6, dinner on days 8, 17 & 18
✓   Entrance fees to sites and monuments listed in the tour itinerary
Places and Experiences in this tour
Plan your 2022 Adventures
With the world now largely open again, now is the time to begin planning your 2022 adventures in Asia. Our Travel Specialists are ready to take your call and discuss the adventure you have spent the last 2-years dreaming of.
Or call us on 0208 566 3739
TransIndus Brochures 2022
Join our mailing list