New
Tailor-made Tour

18 days from £7495 per person
Places Visited:
Tokyo, Kiso-Fukushima, Nakasendo Way, Takayama, Kanazawa, Kyoto, Hiroshima, Miyajima, Osaka, Hakone
The "Middle Mountain Way" or the Nakasendo Way follows an old 500km long transportation route between Tokyo and Kyoto. On this varied itinerary, discover bustling Tokyo and traditional Kyoto, and walk a section of the route, exploring the old post towns of Magome and Tsumago either side. Tsumago is the best preserved of the numerous post towns, and arguably the most picturesque too. Also take in the Edo-period charm of Takayama's old town and the traditional splendours and unique culture of Kanazawa, and the big cities of Osaka and Hiroshima before relaxing at the popular thermal resort Hakone.
In a little over two weeks, you can experience a number of Japan's 'must-dos' including a stay in a ryokan; relaxing in an onsen; getting an insight into the life of a geisha; enjoying the sumptuous cuisine Japan has to offer and marvelling at the natural beauty of the Central Alps, all whilst utilising Japan's wonderful rail network and travelling on the famous bullet trains. 
Holiday Types
Cultural Holidays Luxury Train Holidays Family Holidays Culinary Holidays
Suggested itinerary
Day 1
UK
Fly overnight from the UK to Tokyo.
Accommodation Options
Day 2
Tokyo
Arrive in Tokyo and transfer to your hotel. Enjoy the rest of the day at leisure to acclimatise and perhaps explore the local area.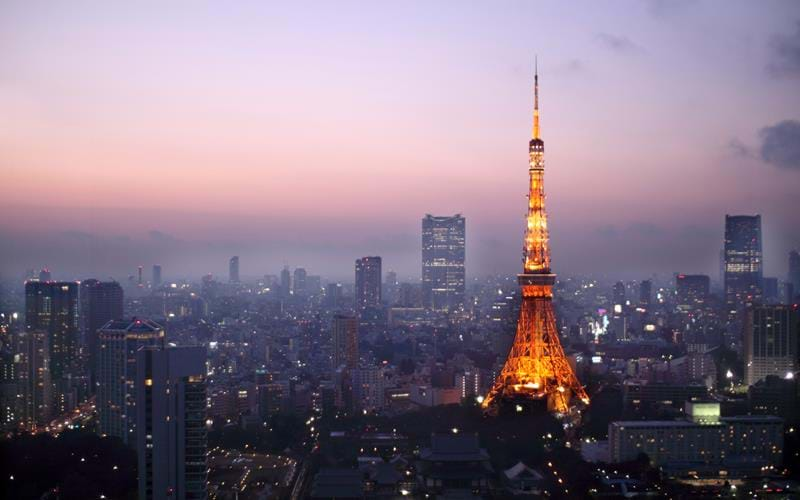 As the epicentre of the world's largest and most cutting-edge conurbation, Tokyo is where the nation's heart beats fastest. Rather than pivoting around a central downtown area, the capital is made up of different neighbourhoods, each with its own centre of gravity, reflecting the character of the village it was before it was absorbed into the expanding megacity. Our tours are generally conducted by a private guide using Tokyo's excellent public transport system.
Accommodation Options
Day 3
Tokyo
Spend the day exploring Tokyo with your local guide using public transport. Start in Tokyo's old town, visit Sensoji, Tokyo's oldest temple, travel down the Sumidagawa River by Water Bus to Hamarikyu garden and visit Meiji Shrine.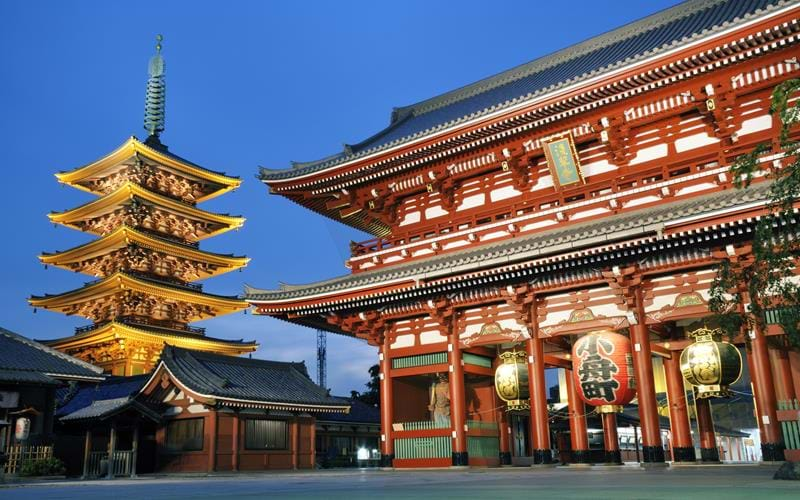 Start your day soaking up the atmosphere of Tokyo's old town, Asakusa, with its antique kimono boutiques and traditional kitchen utensil shops.  Watch worshippers light incense and bow before the city's oldest shrine, Sensoji temple, before wandering down Nakamise, a shopping street that has been providing temple visitors with local snacks and tourist souvenirs for centuries.
The best way to travel from Asakusa to your next stop Hamarikyu garden is down the Sumidagawa River on Tokyo's most scenic mode of transport, the Water Bus. Hamarikyu garden is an exquisite Edo-period garden encircled by skyscrapers, where you can pause for a green tea and a traditional sweet in the delightful lakeside teahouse.
You will also visit Meiji Shrine, dedicated to the deified spirit of Emperor Meiji and a popular venue for Japanese weddings - if you are lucky, you may see a bride and groom in traditional attire. Walk with your guide down the sparkly Omotesando Street, enjoying the bustle and glamour of Tokyo's ritziest shopping street whilst marvelling at the fantastic modern architecture.
Accommodation Options
Day 4
Tokyo
Spend a day at leisure today, exploring Tokyo at your own pace.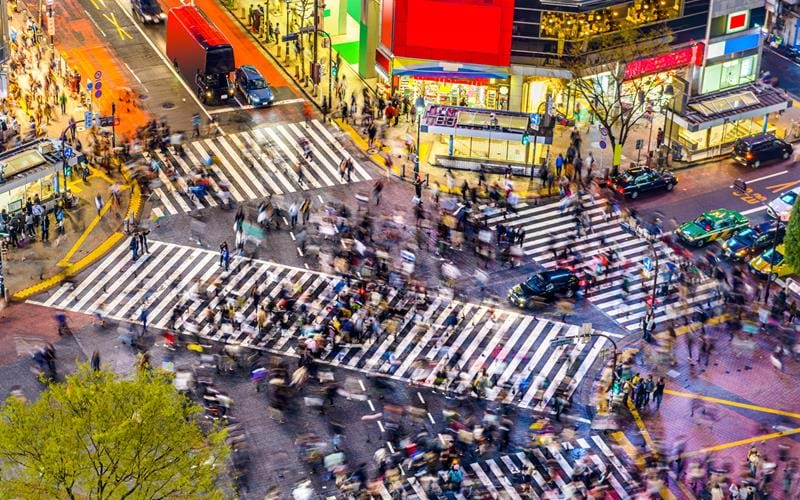 A great source of quirky Japanese souvenirs in Tokyo is Oriental Bazaar, at 5-9-13 Jingumae, in Shibuya. It's the most famous gift store in the capital, offering a wide choice of dolls, kimonos, yukata, curios and books. The staff speak English and the prices are restrained.
Tokyo really comes into its own at night. There are incredible panoramas reminiscent of the sci-fi classic Bladerunner from the free viewing platform at Metropolitan Government Towers in Shinjuku. Across on the east side of the metropolis, Tokyo Skytree now holds the record for the highest viewing platform in the city for a 2,000 yen entrance fee. A visit to the art gallery at the top of Mori Tower in Roppongi followed by drinks at the Moon Bar is also highly recommended. The adventurous can head half an hour along the bay to Yokohama, where the bar atop Landmark Tower hosts live jazz at the weekends.
For dinner, we recommend main Ginza branch of the famous Kyubey chain, where you'll find out what real sushi should taste like. As with most high-end sushiyas, each piece is made in front of you and served one at a time. The flavours are nothing short of a revelation!
Accommodation Options
Day 5
Tokyo - Kiso-Fukushima
Today you will leave the bustling capital behind and travel by train to Kiso-Fukushima, the gateway to the Nakasendo Way. Spend the afternoon exploring the sights of Kiso-Fukushima at your own pace, including the Yamamura Residence, the Ko zenji Temple and the Fukushima Sekisho-Ato, a 270 year-old immigration office. Dinner tonight at your ryokan is included.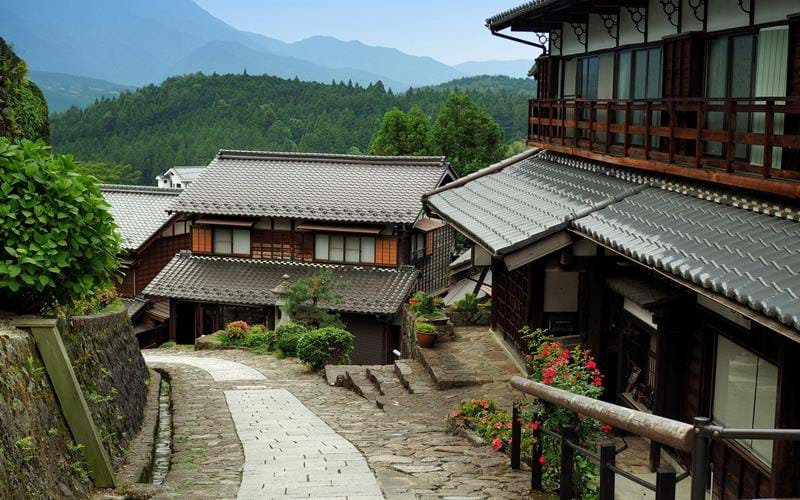 The Kiso Valley runs alongside the mountains of the Central Alps. An ancient trade route, the Kisoji, was developed along the valley and served as a vital means of commerce in the area, becoming even more important from the beginning of the Edo Period, when it was amalgamated with other routes to form the 500-km-long Nakasendo ("Middle Mountain Way"). Being the principal transportation route between Tokyo and Kyoto, post towns developed every few kilometres to provide travellers with places to rest and eat during their arduous journey, and a few of these towns have been excellently preserved.
Accommodation Options
Day 6
Nakasendo Way
Take a short train journey to Nakatsugawa and on by bus to the former post town of Magome. Explore this reconstructed town before starting your walk of an 8km stretch of the Nakasendo Way, ending in Tsumago. Transfer by road back to Kiso-Fukushima for another delicious dinner at your ryokan and perhaps even a well-deserved soak in the onsen.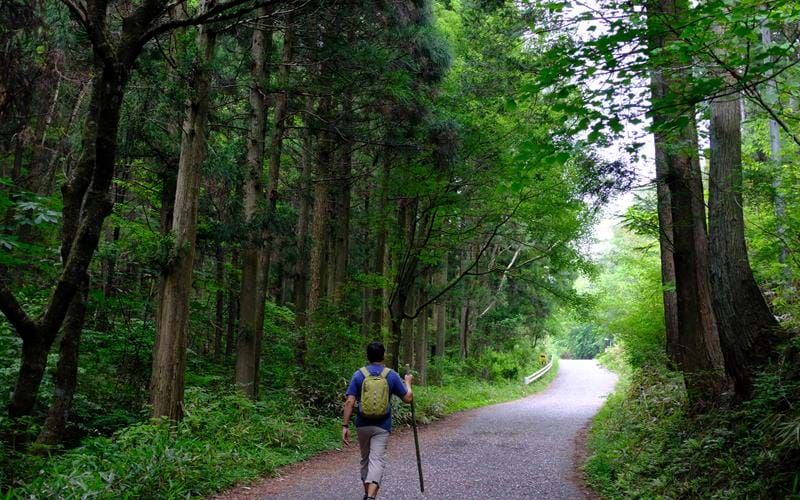 This popular 8km stretch from Magome to Tsumago, includes an initial steep incline before levelling out and then sloping gently down to Tsumago. There are plenty of rest stops along the way and as you make your way through the forest, you'll be treated to cascading waterfalls and beautiful mountain vistas. Arrive at the picture-perfect town of Tsumago, a small but perfectly formed Japanese hamlet, where telephone poles and electric lines have been banished to ensure picture-perfect views.
Accommodation Options
Day 7
Kiso-Fukushima – Takayama
Continue by train today to Takayama. After checking into your hotel, enjoy the rest of the day strolling through the old town, with its wooden shopfronts, coffee shops and old sake bars. A delicious Japanese-style dinner will be served in your hotel tonight.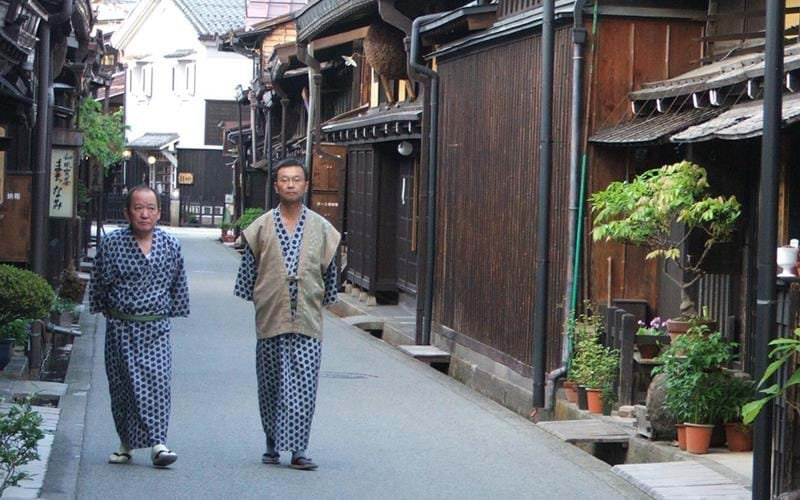 Formerly a wealthy merchants' quarter, Takayama's old town holds a bumper crop of Edo-period buildings, many of them dating from the early 18th century. With a plentiful supply of spring water, Takayama is also an important centre of Sake production.  Stroll along streets whose shopfronts, coffee shops and old sake bars look almost exactly as they would have done a century or more ago.
Accommodation Options
Day 8
Takayama
Start the day with a round of the local farmers' market, before taking in a few museums and sake distilleries in Takayama's old town. In the afternoon, visit the Matsuri no Mori Museum, dedicated to Takayama's biannual festival.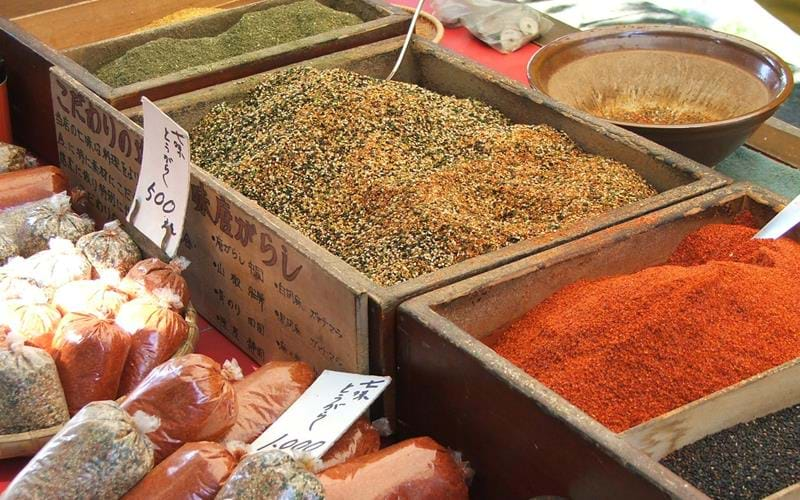 Asa-ichi ('morning markets') take place every day from 7am until noon in Takayama. We particularly like the one at Miyagawa, spread along the east bank of the river. Nearby, the old quarter of Sannomachi holds a bumper crop of 18th century buildings, several of which have been converted into museums where you can admire beautifully recreated interiors. Also worth a look is the Takayama Matsuri no Mori Museum, which holds a selection of elaborately lacquered antique floats used in the biannual Takayama festival.
Accommodation Options
Day 9
Takayama - Kanazawa
Today take a tour, with a local guide, of the UNESCO-listed Shirakawa-go village, famous for its traditional gassho-zukuri farmhouses, before continuing on to Kanazawa.
Physically remote from the rest of Japan, the thatched villages of Shirakawa-go survived for many centuries from cultivating mulberry trees and spinning fine silk. Known as gassho-zukuri ('hands in prayer'), its traditional A-frame houses nestle amid a bucolic landscape of rice terraces and wooded slopes above the Shogawa River, and are designed to withstand the heavy snow which falls in this region.
More wonderful old buildings survive in your next destination, Kanazawa. With its own, unique cultural, Kanazawa has earned the affectionate nickname 'Little Kyoto'. Escaping the bombing that levelled so many Japanese cities during World War II, many areas have retained their period character, one in particular being the samurai quarter of Nagamachi. The traditional Higashi Chaya teahouse district, or Geisha district, is a heritage enclave of double-storeyed, wood-fronted shops, among which the Shima Geisha Museum offers insights into the cloistered life of the Japanese geisha (around 40 remain active in the city). Gold leaf, a Kanazawan speciality, features prominently in the district's many craft shops and local ice cream parlours offer it as a luxury embellishment, claiming the leaf improves digestion.
Accommodation Options
Day 10
Kanazawa
Enjoy a tour of Kanazawa today by public transport, including Kenroku-en garden, the imposing Kanazawa castle, the Nomura Samurai House and the Higashi Chaya Geisha District.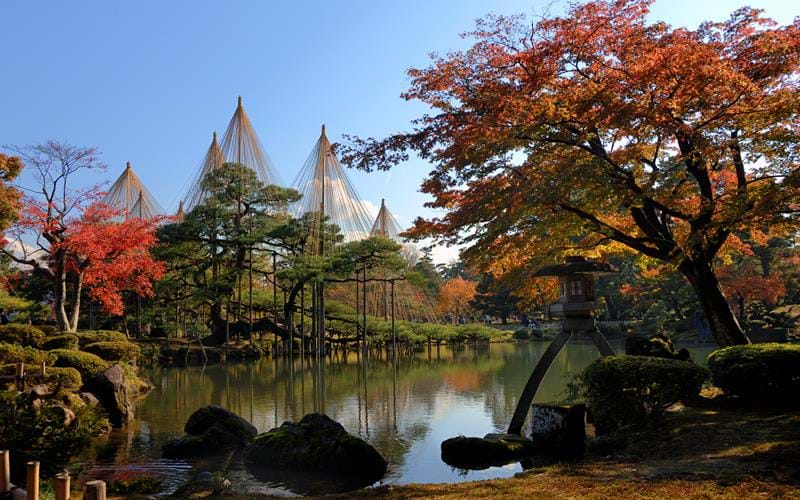 The 17th century Kenroku-en is regarded as one of the country's three great gardens. Its stands of ancient pines, ornamental lotus ponds and pretty fruit orchards extend over 7 distinct areas and 25 manicured acres. The name means 'Six Elements', referring to the attributes essential to any harmonious Japanese garden: space; tranquillity; artifice; antiquity; water; and fine views.
Accommodation Options
Day 11
Kanazawa - Kyoto
This morning, you will travel by bullet train to Kyoto. Keep an eye out for views of Lake Biwa as you pass. The rest of the day is at leisure to begin your exploration of Kyoto.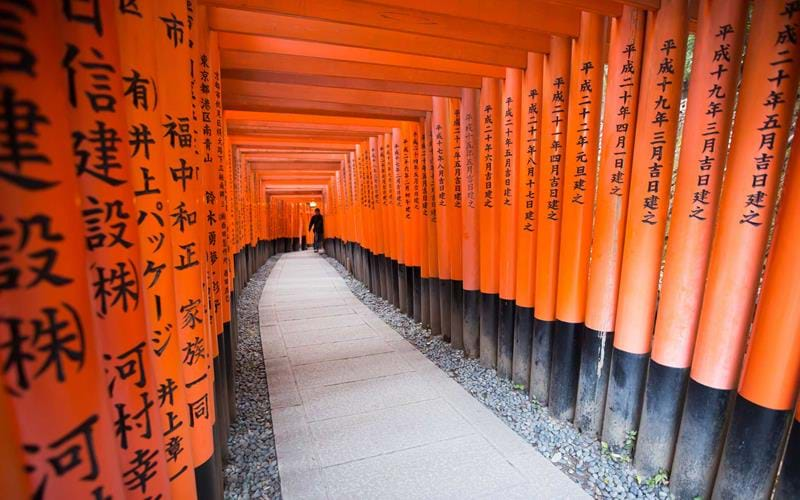 You should have enough time in the afternoon to squeeze in a spot of sightseeing. A good option would be the trip up to the Fushimi Inari shrine on a hillside overlooking the city – one of the most romantic spots in the region, where lines of inscribed, red-lacquer archways form beautiful covered walkways.  For dinner we would recommend Tako Nyudo, which specializes in Kyoto's home-style of cooking, known as 'obanzai'. Try the more-ish house speciality, 'akashi yaki' – pieces of delicately flavoured octopus fried in crispy egg batter.
Accommodation Options
Day 12
Kyoto
Today you'll explore this fabulous city in greater depth on a full-day guided tour including Ryoanji Zen Temple and the Imperial Palace.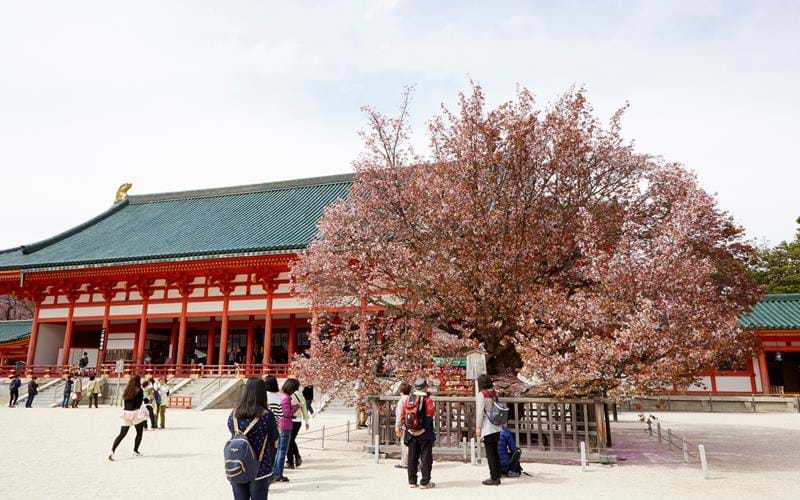 Your morning visits include the Ryoanji Zen Temple and The Imperial Palace. Ryoanji Zen Temple is the site of Japan's most famous rock garden. Originally an aristocrat's villa during the Heian Period, the site was converted into a Zen temple in 1450. The Imperial Palace, located in an attractive park in the centre of Kyoto, was the residence of Japan's imperial family until 1868, when the emperor and capital were moved to Tokyo.  In the afternoon, stroll along the Philosopher's Walk, a pleasant waterfront path lined with cherry trees.
Accommodation Options
Day 13
Kyoto
A day at leisure to further explore Kyoto at your own pace.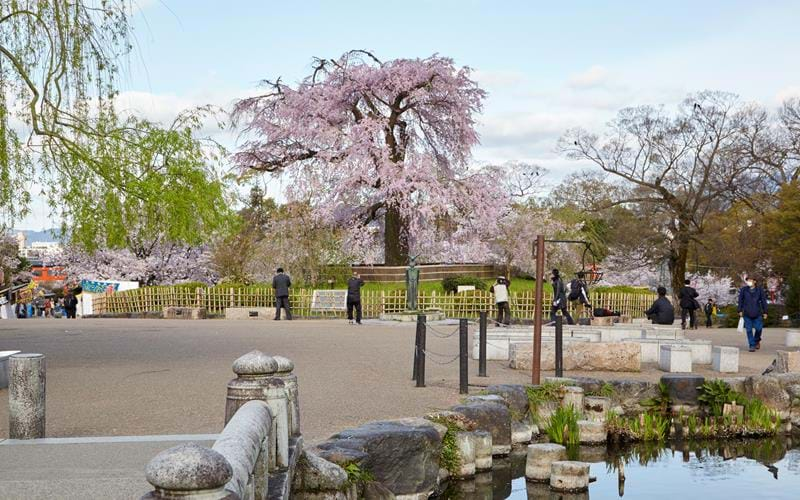 The former capital of Kyoto, has 17 UNESCO World Heritage sites and is one of the best-preserved cities in Japan - – a city of cherry trees, pagoda-roofed temples, geishas and tea ceremonies, all set against a backdrop of lush green hills and fine traditional architecture. Experience the art forms of Kyoto, from Japanese flower arrangement to rock gardening and the arcane costumes of Noh drama – all in their traditional contexts. And of course, there's Kyoto's sumptuous 'kaiseki' – the epitome of Japan's uber-refined cuisine.
Accommodation Options
Day 14
Kyoto - Miyajima
Board the bullet train for the two-hour journey to Hiroshima. Explore Hiroshima with a local guide, visiting the Peace Memorial Park and Shukkeien Garden. Continue on to Miyajima, a pretty island in the Seto Inland Sea. Enjoy dinner this evening in your Ryokan.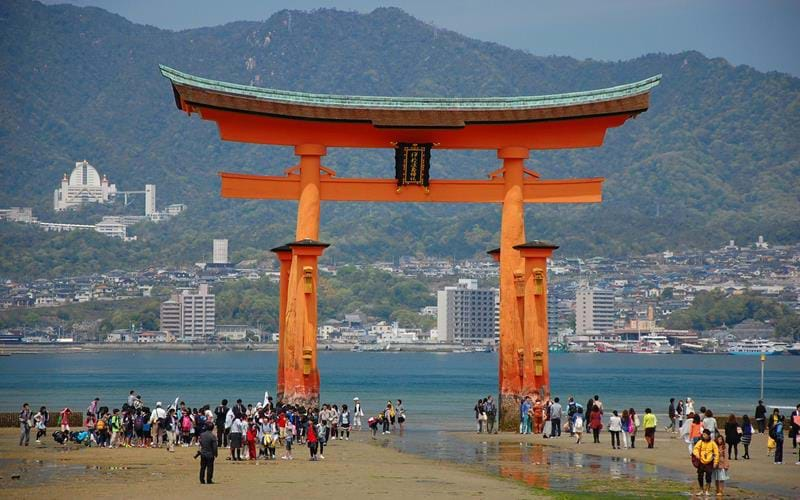 Globally known for the horrors of August 6th 1945, Hiroshima has recovered as a thriving city boasting wide tree-lined boulevards, a large recreational area, Peace Memorial Park, and is home to over a million inhabitants. Despite the fact that this entirely new, vibrant centre has been built over the radioactive ashes, visiting the site tends to evoke strong emotions. A museum in the Peace Memorial complex, close to the epicentre of the explosion, displays the few photographs taken in its aftermath, along with testimonies from survivors. Only by going to Hiroshima, is it possible to fully comprehend the scale of the tragedy – and astonishing resilience of those who survived it. 
Hiroshima is also the most popular gateway for trips to nearby Miyajima, an island historically ranked as one of Japan's "three most scenic spots", and home to one of Japan's most revered Shinto complexes. Follow the pilgrims' pathway up the wooded slopes of Mount Misen to its sacred summit. The boulder-studded peak affords a wonderful view across the ocean and surrounding islets. You can catch a cable-car ride to within half an hour's walk of the top, or climb all the way through dense forests of maple, cherry and conifers.
Accommodation Options
Day 15
Miyajima - Osaka
Return to Hiroshima this morning to board the bullet train to Osaka. Spend the afternoon at leisure exploring Osaka before meeting by your guide for an evening food tour, introducing you to the splendours of Osaka's street food culture.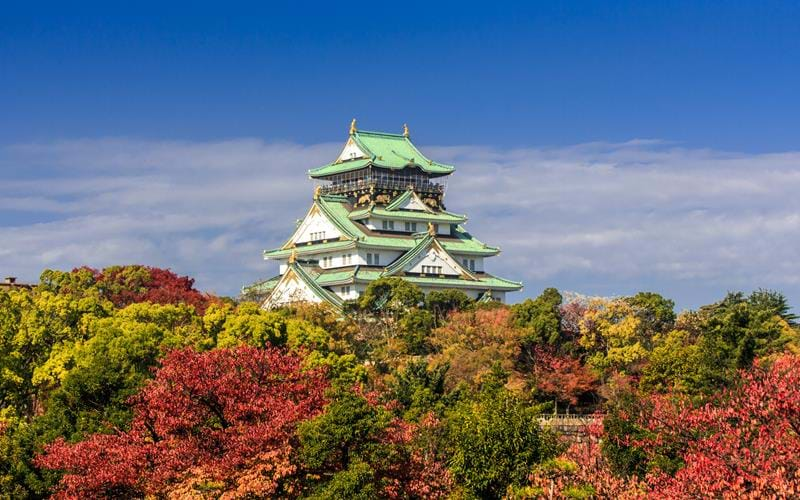 Osaka first gained prominence when a powerful warlord built the country's most magnificent castle in the 16th century. Nowadays it is Japan's third largest metropolis, and the historic commercial capital. As well as the castle, there are lots of great shops and restaurants, a fabulous aquarium and it is home to Japan's Universal Studios amusement park.
The epicentre of Osaka's street food culture is Dotonbori, a pedestrian-only restaurant street in the boisterous Namba district. Known as a food paradise, colourful eateries and bars line the neon-filled streets: hole-in-the-wall takoyaki ("octopus balls") stands and street-side ramen bars rub shoulders with upscale eateries serving the finest wagyu beef – and everywhere, people – young and old – are out to enjoy the culinary pleasures of the nation's most famous restaurant district. While in the city, don't pass up the chance to sample its gastronomic speciality, 'okonomiyaki' – savoury griddle cakes prepared with a variety of delicious fillings.
Accommodation Options
Day 16
Osaka - Hakone
Today you will travel to Hakone at the foot of Mt Fuji. Take the bullet train to Odawara, the gateway to the Hakone region, before continuing by local train. Enjoy dinner in your Ryokan this evening.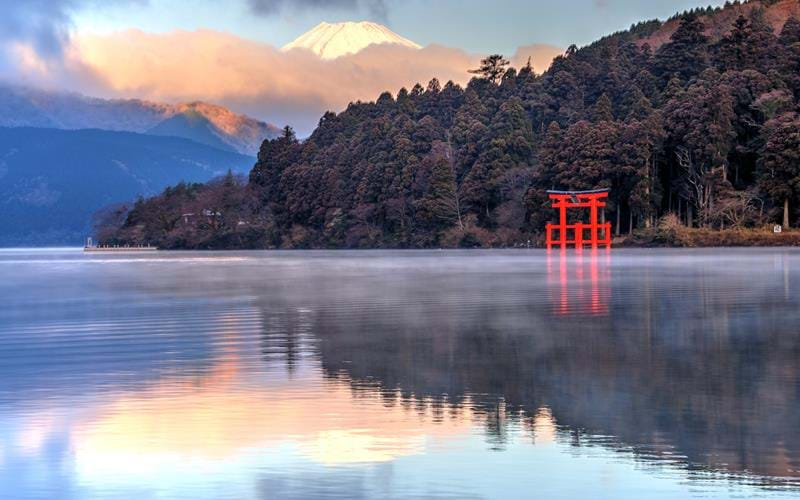 A popular retreat, this thermal resort to the west of Tokyo serves as a springboard for Hakone National Park, whose natural wonders include Mount Fuji and shimmering Lake Ashi. In clear weather, spectacular views of the sacred peak and its outlying mountains are to be had from the onsen (hot spring) resorts dotted around the town. 
Accommodation Options
Day 17
Hakone
With your Hakone Freepass, you can enjoy the "Hakone Loop", at leisure. This sightseeing route incorporates a number of Hakone's most-beloved sites and utilizing several different methods of transport—including a replica pirate ship. Dinner will again be served in your Ryokan.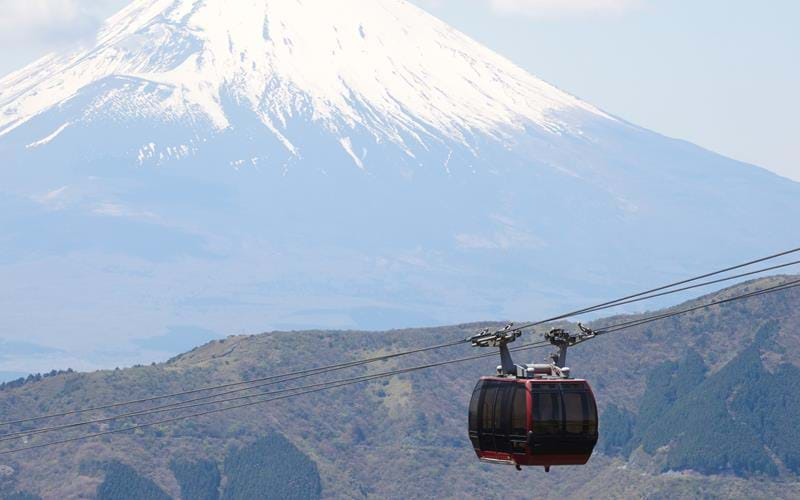 Excursion boats, many of them replica medieval Japanese galleons, cross the waters of Lake Ashi, offering superlative views of the surrounding summits, and a funicular railway and ropeway connect a circuit of delightful open-air museums and galleries, featuring works by contemporary Japanese artists, as well as the likes of Rodin and Henry Moore.
Accommodation Options
Day 18
Hakone - UK
Travel back to Odawara and on to the airport for your return flight to the UK.
Tailor-made Tour

18 days from £7495 per person
What's included
International flights from London
16 nights accommodation
All internal transportation and transfers, predominantly using public transport
English-speaking guides as listed in the tour itinerary
Breakfast daily and seven dinners
Entrance fees to sites and monuments as listed in the tour itinerary
Places and Experiences in this tour
Plan your Next Adventure
With the world now largely open again, now is the time to begin planning your next adventures in Asia. Our Travel Specialists are ready to take your call and discuss the adventure you have spent the last 3 years dreaming of.
Or call us on 0208 566 3739
TransIndus Brochures 2023
Join our mailing list