New
Tailor-made Tour

15 days from £4495 per person
Places Visited:
Tokyo, Obuse, Kanazawa, Kyoto, Naoshima, Matsue, Kurashiki
With an artistic history as long and illustrious as any European country, Japan is a mecca for aesthetes. The key temples on this tour are treasure troves of Buddhist kannon statues, intricate carvings and even a mural by the Katushika Hokusai. Some of his renowned ukiyo-e woodblock prints of Mt Fuji can be viewed at one museum, while others on the tour house a wealth of art from ancient pottery in Kurashiki to modern art installations on Naoshima. Admire kimonos and samurai armour, explore castles, view some of Japan's most beautiful gardens and experience the epitomy of Japanese etiquette at a tea ceremony. Recount your experiences over a beautifully presented kaiseki dinner at a heritage ryokan (traditional inn) towards the end of the tour.
Holiday Types
Cultural Tours
Suggested itinerary
Day 1
UK
Fly overnight from the UK to Tokyo.
Day 2
Tokyo
Arrive in Tokyo and transfer to your hotel. Enjoy the rest of the day at leisure to acclimatise and perhaps explore the local area.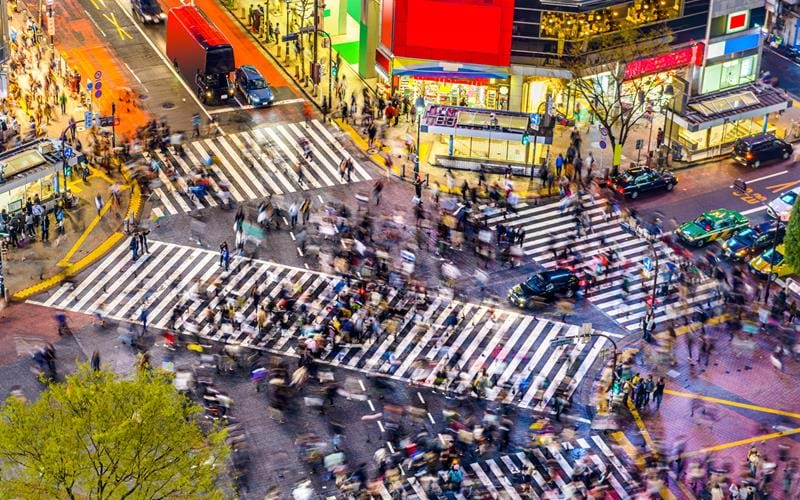 Arriving in Tokyo really can feel like landing on another planet! It's advisable not to attempt too much on the first day, but stroll the local area around your hotel and acclimatise to all the neon signs and kanji everywhere. Whilst the population density downtown in Tokyo is mind-boggling, it is a remarkably clean and smooth running city. Its denizens are invariably courteous and considerate of those around them, and nowhere can this be seen more than at Hachiko Crossing in Shibuya.  With 2,500 people crossing from all directions every two minutes in rush hour it is the busiest street crossing in the world, yet nobody ever seems to bump into each other. Take a pew in one of the coffee shops around it and watch the seamless action unfold.
Day 3
Tokyo
Meet with your private guide and explore some key sights of the city by public transport. Visit the hallowed Meiji Shrine and bustling Shibuya in the morning, then stroll around the Imperial Palace and Senso-ji temple in the afternoon.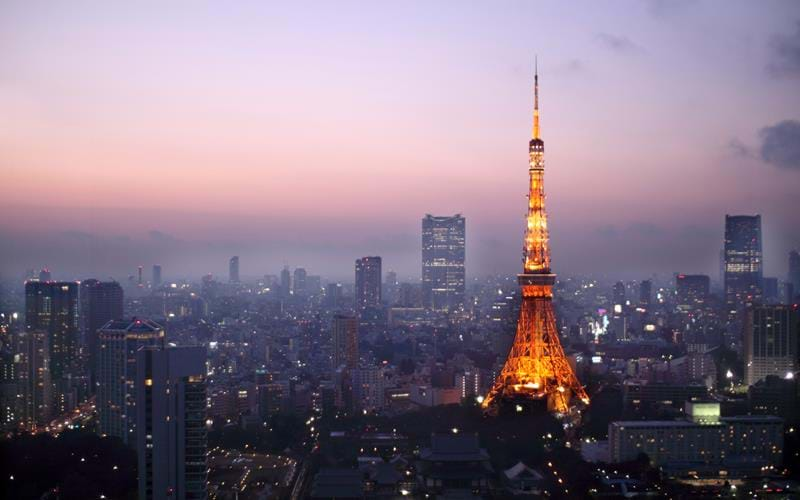 Tokyo really comes into its own at night. There are incredible panoramas reminiscent of the sci-fi classic Bladerunner from the free viewing platform at Metropolitan Government Towers in Shinjuku. Across on the east side of the metropolis, Tokyo Skytree now holds the record for the highest viewing platform in the city for a 2,000 yen entrance fee. A visit to the art gallery at the top of Mori Tower in Roppongi followed by drinks at the Moon Bar is also highly recommended. The adventurous can head half an hour along the bay to Yokohama, where the bar atop Landmark Tower hosts live jazz at the weekends.
Day 4
Obuse
Take the bullet train up to Nagano in the Japan Alps then a local train to Obuse. This is the birthplace of Hokusai, best known for The Great Wave of Kanagawa. Visit the Hokusai Museum this afternoon, and Ganshoin temple where he painted a large mural.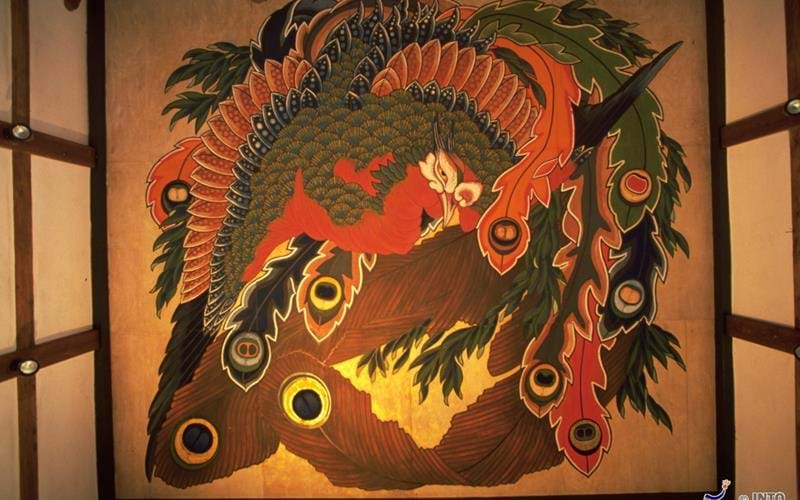 Gansho-in is a pleasant half an hour walk or short taxi ride from Obuse, and well worth it to see Hokusai's art in a temple setting. Catch a breakfast-time bullet train from Tokyo and that will leave ample time to visit both the Hokusai art museum and temple today.
Day 5
Obuse
Visit either Zenko-ji temple – founded in the 7th century - or Yudanaka monkey park in the vicinity today.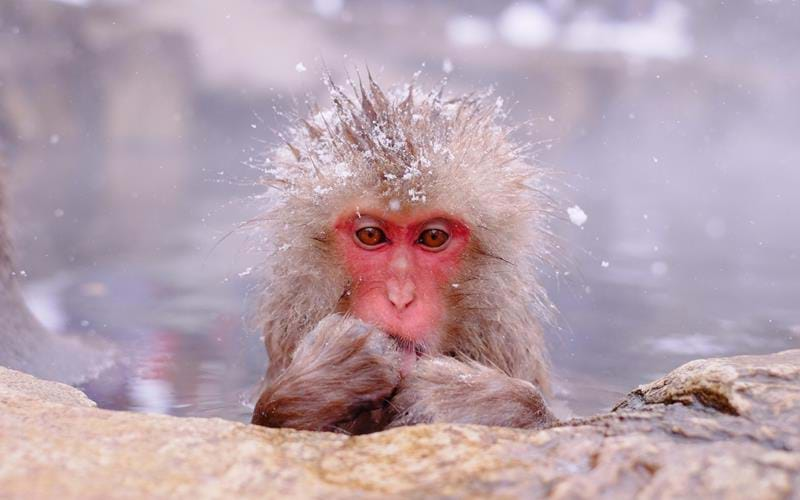 If you're concerned about getting 'templed out' over the course of the tour, then go on an excursion to the monkey park instead today - it's a few stops north of Obuse. These are the famous 'snow monkeys' that keep warm  in the hot springs at Yudanaka. Outside of the winter months there is of course no snow and fewer monkeys in the pools, but still makes for a very pleasant afternoon as the walking trails to the park are open.
Day 6
Kanazawa
Continue on the bullet train over to the north coast of Japan. Tour an original teahouse in the Higashichaya district and explore Kenrokuen Garden with a private guide this afternoon. Finish at the 21st Century Museum of Contemporary Art - a striking contrast even by Japan standards.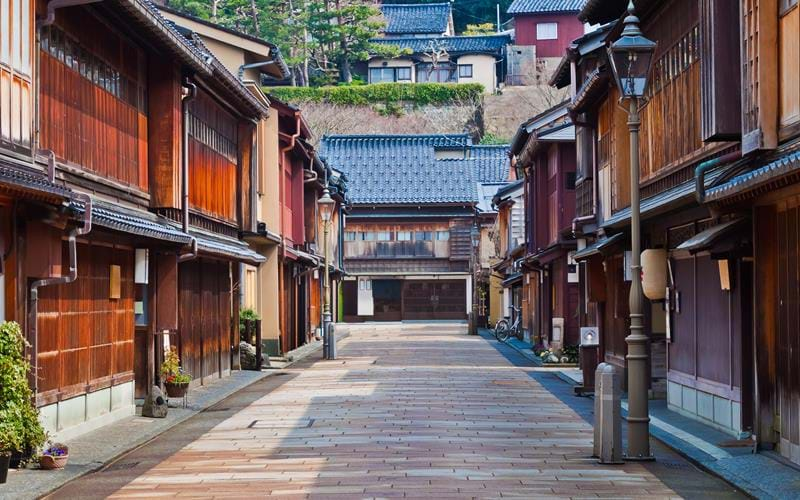 Lying on the north sea coast of Japan, Kanazawa has escaped most destruction by fire and war over the centuries. The Higashichaya area is arguably the finest original example of teahouses in the country. Some of them are open to the public, allowing access to the cloistered world of the Geisha. Learn about their unique dances, art forms and etiquette and admire the little details on painted screens and sliding doors. There are still a few dozen Geisha and traineer Maiko in Kanazawa, so if you are very lucky you may catch sight of one here.
Day 7
Kanazawa
You are at leisure today to visit the 21st Century Modern Art Museum, Omicho Market and the Nagamachi samurai district where beautiful Nomura house & garden are open to visitors.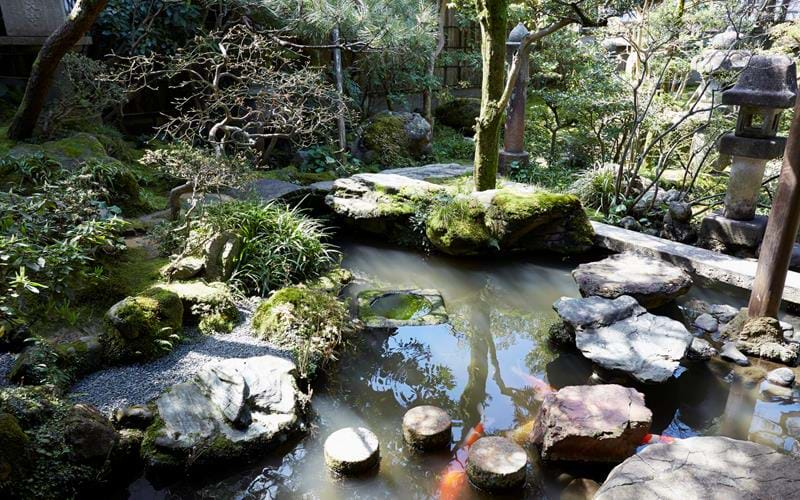 Omicho covered market in Kanazawa has all manner of fish stalls and related products, and is where some of the freshest 'kaisendon' (raw fish and rice) in Japan can be found. But even this relatively simple fare is made into a colourful work of art at the local restaurants around the market, a fine example of the Japanese dedication to style as well as substance.
Day 8
Kyoto
Take the bullet train to Kyoto and meet your guide on arrival. Explore The Golden Pavilion, Kiyomizudera temple and the geisha quarter of Gion.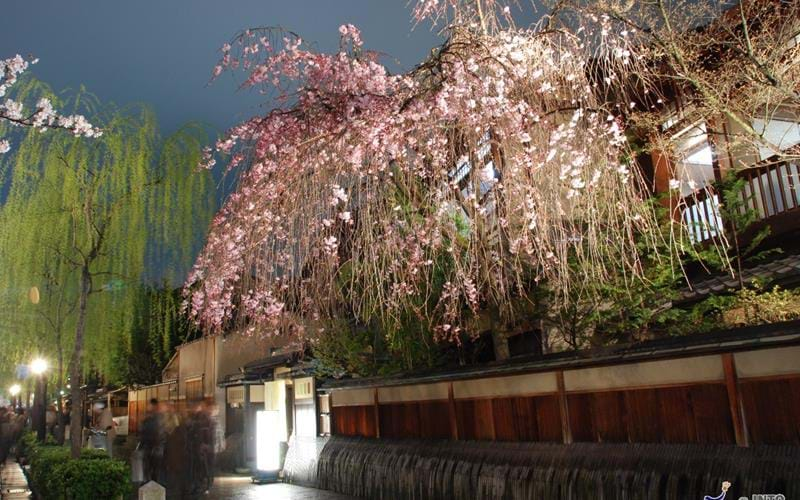 After the guided tour today, we highly recommend navigating your way to Pontocho dining alley on the edge of the historic geisha quarter of Gion. This lamplit sliver of traditional Kyoto is less than two metres wide and three hundred metres long, but has dozens of small individually owned restaurants along it. If you ask your guide, he or she can finish the day's tour by translating the menus written in kanji outside each one until you find something that appeals. Most of these restaurants hold only a dozen or so customers at a time so it's worth having an early dinner to ensure you get in.
Day 9
Kyoto
Visit Nishijin Tondaya, an original 'machiya' townhouse and view fine textiles and kimonos as well as participate in a traditional tea ceremony.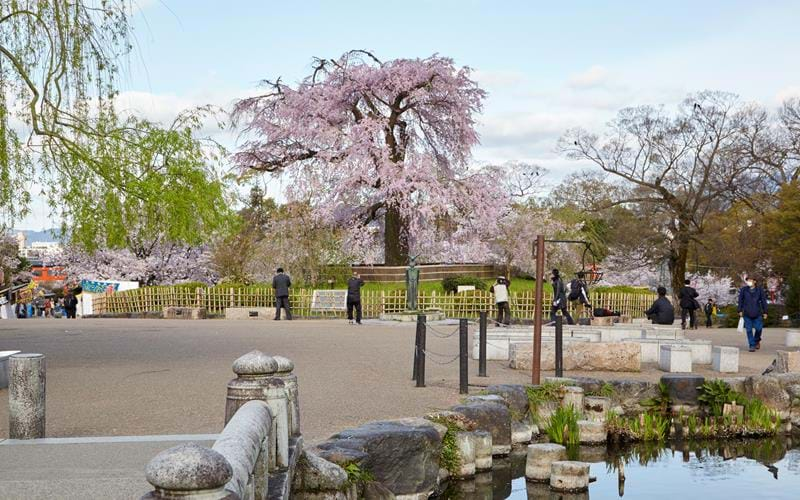 After the included Machiya townhouse tour you have the afternoon at leisure. A stroll through Maruyama park is charming at any time of year, starting at the Yasaka shrine entrance with its hundreds of red Japanese lanterns. The grand temple of Chion-in and the more humble Shoren-in are also within the park, and during cherry blossom season this park is the main place for the o-hanami picnic parties that take place under the boughs.
Day 10
Naoshima
Travel on westwards to the island of Naoshima and experience Benesse House which is both a hotel and art museum.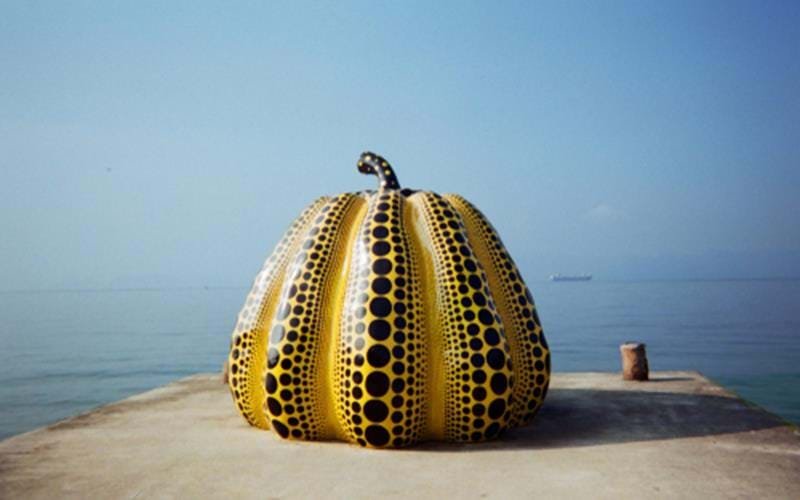 It takes a few hours to reach the island of Naoshima from the cities on mainland Honshu, so you'll arrive mid to late afternoon. Enjoy the outdoor sculpture park at Benesse House and a stroll along the beach to the iconic polka-dot pumpkin piece by Japan's most renowned living artist, Yayoi Kusama. You may also have time to visit the Benesse House art museum.
Day 11
Naoshima
Explore the other art museums and sculpture parks on the island.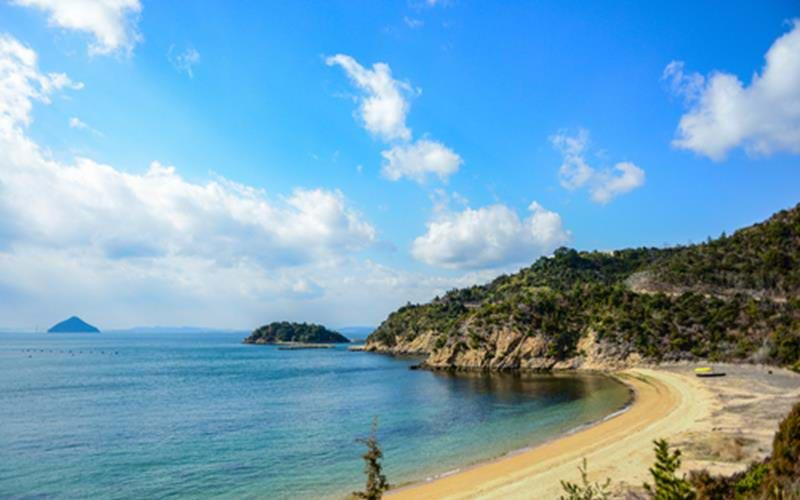 Naoshima has a wealth of art sites to explore. Some are walking distance from Benesse House, or you can rent bicycles locally to go further. The Chichu Museum and the Lee Ufan museum are devoted to modern art, while the Ando museum celebrates the renowned architect of Benesse House. Across the island, the Art House project is a scattered collection of abandoned residential buildings transformed into installation spaces by Japanese artists. Perhaps the most unique experience on the island is 'I Love Yuu' - a hot spring bath-house which doubles as an art gallery.
Day 12
Matsue
Cross over to the north coast again to visit Matsue, and explore the original three-tiered castle and samurai armour collection this afternoon.
Matsue's castle is one of only 12 original ones in Japan that has never been damaged by fire, war or earthquakes. It's a six-tiered structure which contains a treasure trove of fine crafts, pottery and ornate samurai armour from the 234 year reign of the Matsudaira clan during the Shogun era. It is well worth spending two or three hours here to really explore it properly and appreciate the level of sophistication in feudal Japanese society.
Day 13
Matsue
Visit the Adachi Art Museum and its renowned moss garden in the morning with a private guide, then grand Izumo Taisha shrine in the afternoon.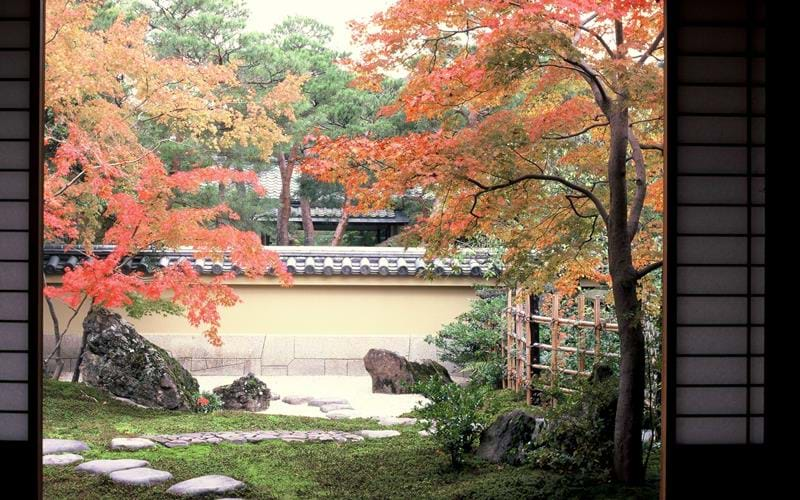 The Adachi Art museum just outside Matsue houses an impressive collection of Japanese contemporary art but the main draw is its garden, regarded as one of the finest in Japan. Visitors cannot actually walk in the garden, but the museum windows open upon it and artfully frame its pond, moss, zen gravel, waterfall and ornamental landscape areas. The tour today also includes a visit to Izumo Taisha shrine - believed to be Japan's oldest - with its 'torii' gate and dsitinctive 'shimenawa' sacred straw rope across the hallowed entranceway.
Day 14
Kurashiki
Take a two hour express train to Kurashiki with its picturesque Bikan historical quarter and great spectrum of art at the Ohara museum.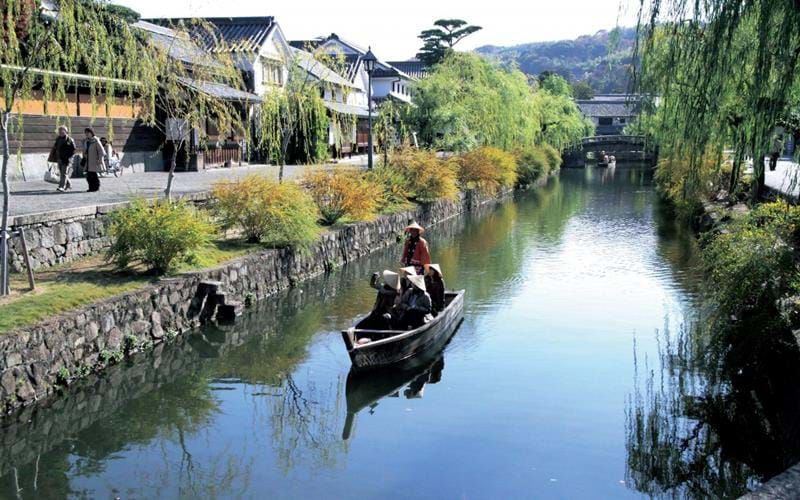 The Bikan historical quarter of Kurashiki is a small but perfectly formed square mile of white-walled trading houses now converted into shops, museums and charming ryokan (traditional inns). Take a leisurely boat ride along the canal lined with weeping willow trees and enjoy the relaxed atmosphere a world away from 21st-century Japan. The Ohara museum houses one of the finest and most diverse collections in the whole country, since its founder sent artist Kojima Torajiro to Europe to purchase works by Picasso, El Greco, Gauguin, Modigliani, Rodin, Klee, Pollock and Kandinsky among others. Then to complete the aesthetic experience, a beautifully presented kaiseki traditional Japanese dinner will be served at your ryokan this evening.
Day 15
Tokyo
Catch the bullet train back to Tokyo and enjoy one more night in the big city.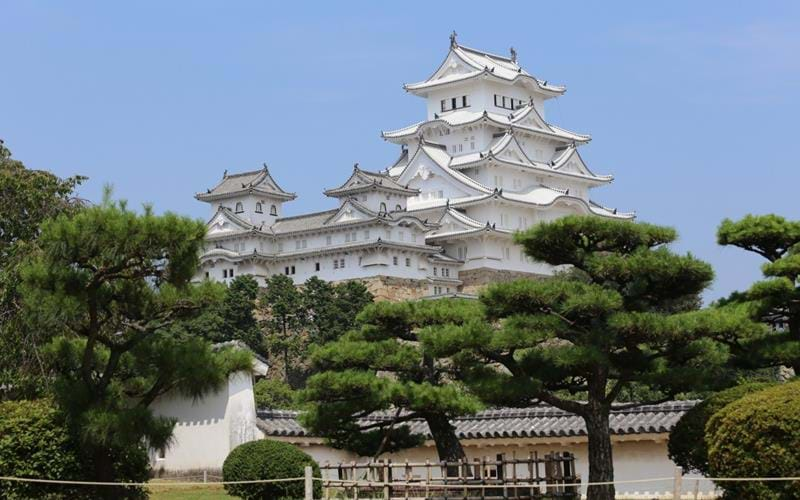 With Japan's cost-efficient and completely reliable luggage forwarding system, you can travel light for at least part of your tour. Using the included Rail Passes, you can hop on and off most trains (except the fastest bullet trains). So, en route back from Kurashiki to Tokyo there's an opportunity to stop off at Himeji for White Heron Castle - the most magnificent in Japan and one of just twelve not destroyed by fire, war or earthquake. The recently renovated main keep and surrounding complex of buildings are an architectural marvel.
Day 16
Tokyo, UK
Transfer to the airport and fly home for same-day arrival in the UK.
Tailor-made Tour

15 days from £4495 per person
What's included
✓   International flights from the UK
✓   14 nights accommodation including some heritage and boutique stays
✓   Private arrival and departure transfers and all bullet and express trains
✓   3 Days with English-speaking guides, including public transport and entrance fees
✓   Breakfast daily, 'kaiseki' luxury traditional dinner on day 14
✓   Hands-on traditional cultural experiences
✓   Hotel-to-hotel overnight luggage forwarding on three occasions
✓   Unlimited expert advice, restaurant recommendations and reservations
✓   Customised maps and English/Japanese translation sheets
Places and Experiences in this tour
Plan your 2022 Adventures
With the world now largely open again, now is the time to begin planning your 2022 adventures in Asia. Our Travel Specialists are ready to take your call and discuss the adventure you have spent the last 2-years dreaming of.
Or call us on 0208 566 3739
TransIndus Brochures 2022
Join our mailing list