Tailor-made Tour

15 days from £6100 per person
Places Visited:
Hakone, Kyoto, Iriomote, Taketomi, Tokyo
Spend a fortnight luxuriating with a loved one amid picture-book Japanese landscapes, ranging from snow-capped Mt Fuji to the dazzling turquoise bays of the Okinawa Islands – the Far East's own Hawaii. Your first landfall will be at one of our favourite ryokan inns – Gora Kadan in the thermal resort of Hakone – where you'll be able to shake off your jet lag in your own private, spring-fed hot tub with superb valley views. Three nights in Kyoto provide a fix of traditional Japanese culture, from white-faced maikos and Kabuki theatre to tea ceremonies in exquisite Zen gardens. Then it's off to Okinawa for a week of transparent sea water and white sand, before returning to Tokyo for your flight back home.
Holiday Types
Cultural Tours Beaches and Islands Honeymoons in Asia
Suggested itinerary
Day 1
UK
Fly overnight from the UK to Tokyo.
Day 2
Hakone
On arrival in Tokyo, you'll transfer to the railway station and catch the bullet train to Hakone, where you'll spend two nights at Gora Kadan.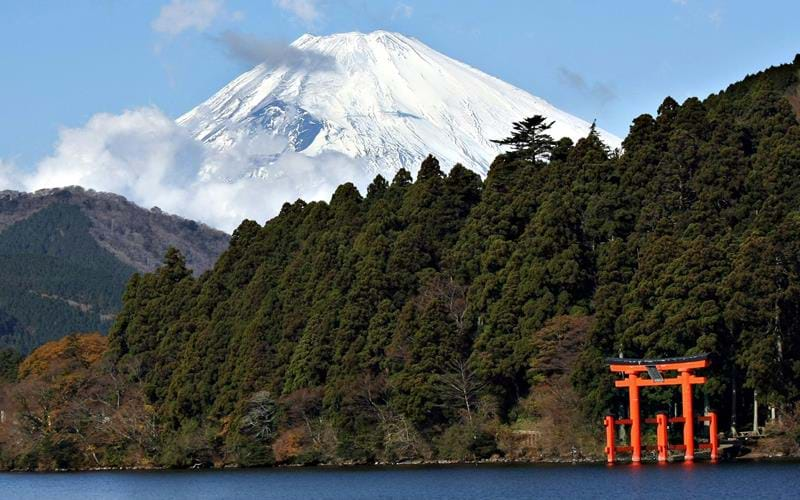 One of the highlights of travelling in Japan is the chance to experience the traditional hospitality of a ryokan, such as Gora Kadan in Hakone. These quintessentially Japanese inns have no real equivalent in the West, their old-world atmosphere being little changed since the Edo period of the 16th century. Shōji sliding doors of translucent handmade washi paper, low tables and fragrant tatami mats set the tone. For dinner, guests are encouraged to don the full-length yukata and obi sashes. In Hakone, Gora Kadan boasts stone and cypress-wood hot tubs in the garden, fed by natural hot springs, from which you can gaze across the tree tops to Mount Fuji – the ultimate honeymoon view.
Accommodation Options
Day 3
Hakone
Begin the day soothing away any residual travel fatigue in the ryokan's hot tub. Later, jump on one of the replica galleons cruising Lake Ashi, and catch the funicular railway up the mountain to visit the area's acclaimed art galleries, sculpture parks and museums.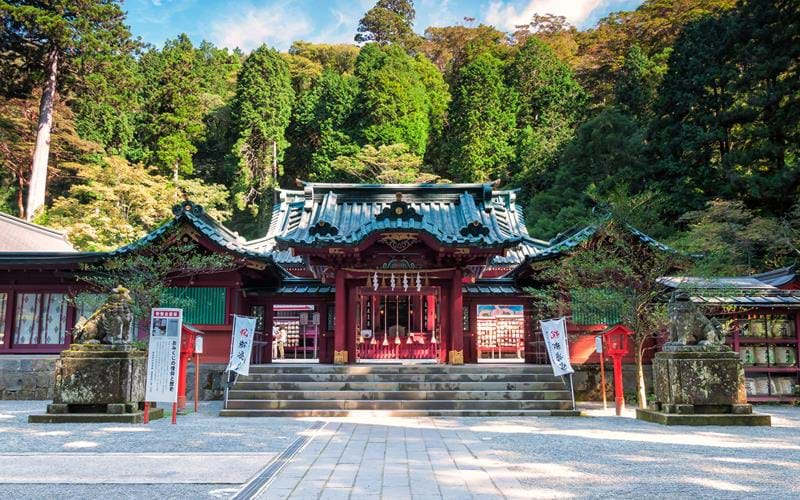 At the head of the ropeway overlooking Lake Ashi, the Narukawa Art Museum is definitely worth the detour – not merely for the stupendous views over the surrounding peaks from its Panorama Lounge, but the impressive collection of modern Nihonga art by Japanese masters. 'Nihonga' are works made in accordance with ancient Japanese principals, using traditional techniques and materials, such as washi paper and silk. Some of the finest examples ever produced are housed in this museum, and they're as sublime, subtle and definitively Japanese as the scenery.
Day 4
Hakone
Those with sufficient stamina may wish to trek around Mount Fuji today. Alternatively, follow any number of delightful woodland trails out of Hakone. It's also possible to visit Tokyo in a day trip, should you prefer.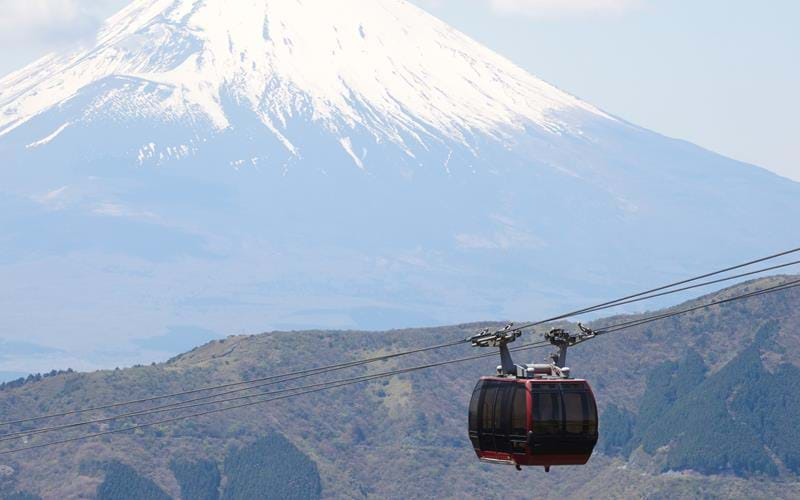 Rising from Kanto Plain to the West of Tokyo, Mount Fuji is Japan's iconic sacred mountain – an active volcano whose elegantly sloping flanks have inspired painters, printers, poets and Shinto mystics for many centuries. A well-known saying asserts that it's unlucky to climb the peak twice, but a huge number of outdoors enthusiasts and pilgrims make the ascent each summer in July and August, when the summit is ice-free and easily accessible to anyone with sufficient stamina. Less adventurous souls can admire its beautiful shape from the shores of the five lakes lapping the mountain's base.
Day 5
Kyoto
Travel from Hakone to Kyoto by bullet train today. Spend the rest of the day sightseeing. In the evening you can venture up to the Fushimi Inari shrine – a popular destination for Japanese newlyweds.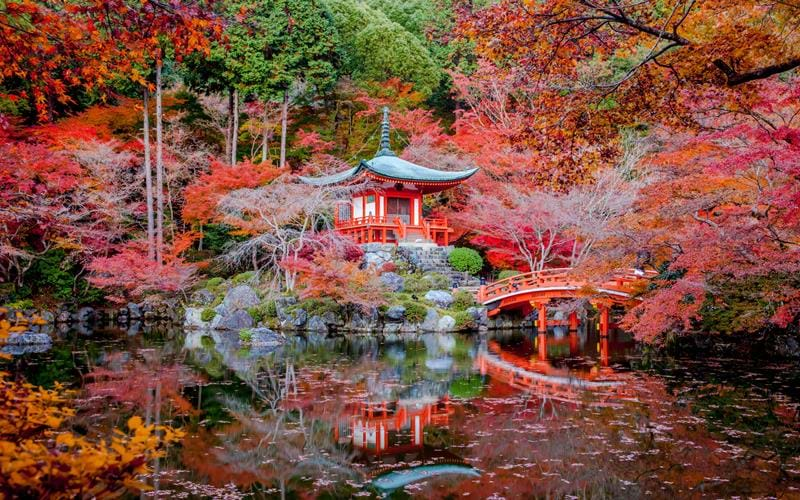 For a first foray in Kyoto, we suggest the trip up to the Fushimi Inari shrine on a hillside overlooking the city, where lines of inscribed, red-lacquer archways form beautiful covered walkways – one of the most romantic spots in the region. Back in the city later, stroll along the Philosopher's Walk, a pleasant waterfront path lined with cherry trees, before dinner at Tako Nyudo, which specializes in Kyoto's home-style of cooking, known as 'obanzai'. Try the more-ish house speciality, 'akashi yaki' – pieces of delicately flavoured octopus fried in crispy egg batter.
Accommodation Options
Day 6
Kyoto
Today you'll explore this fabulous city in greater depth on a full-day tour, with a private guide, using public transport. Suggested stops include the Imperial Palace, Nijo Castle, Kinkakuji and the Kiyomizu temple.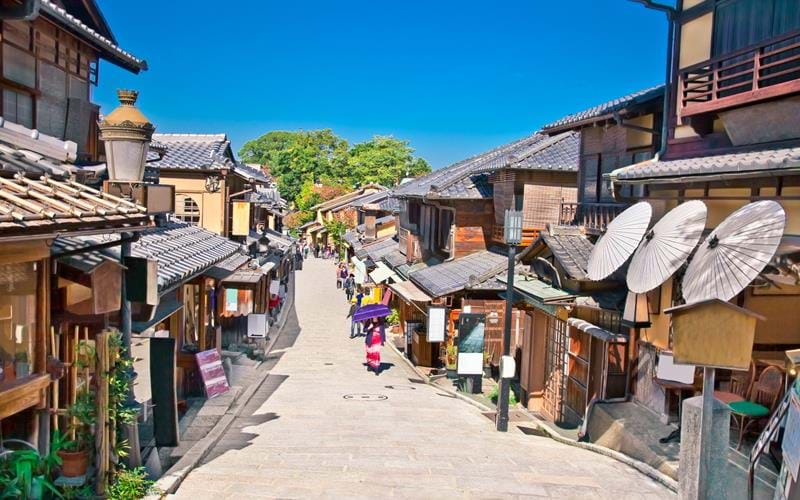 Kyoto is the Japan of the imagination – a city of cherry trees, pagoda-roofed temples, geishas and tea ceremonies, all set against a backdrop of lush green hills and fine traditional architecture. An unparalleled wealth of period buildings survive here, from Edo-era wood-fronted houses to glittering medieval shrines crammed with sumptuous art. You'll also have the opportunity to experience the art forms associated with them, from Japanese flower arrangement to rock gardening and the arcane costumes of Noh drama – all in their traditional contexts. And of course, there's Kyoto's sumptuous 'kaiseki' – the epitome of Japan's über-refined cuisine.
Day 7
Kyoto
In the morning, attend a traditional Japanese tea ceremony. Later, take a coach tour to Nara to visit the splendid Todaiji Temple and its resident Buddha, the 16-metre-tall 'Daibutsu'.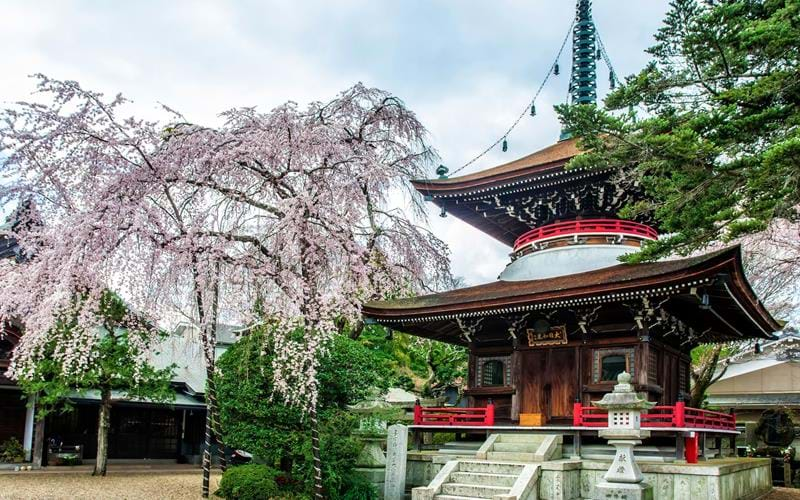 Nara ranks among the most charismatic cities in Asia, thanks to its extraordinary collection of antique buildings, many of which are more than a thousand years old. Its UNESCO-listed centrepiece is the spectacular Todai-ji Temple, home to a 500-tonne, 16-metre-tall, bronze-cast Daibutsu Buddha. The world's largest wooden building, the shrine now resides in a leafy park where sacred sika deer roam free, scrounging rice crackers off visitors (in exchange for which they bow their heads in true Japanese style!). The nearby museum holds a hoard of precious antiquities from the 7th century Shōsōin Treasury, a selection of which are exhibited for just a fortnight each autumn.
Day 8
Iriomote
Transfer to Kansai airport in the morning for your flight to Ishigaki, in the remote Yaeyama archipelago of the Okinawa Islands, where you'll catch an onward ferry to Iriomote.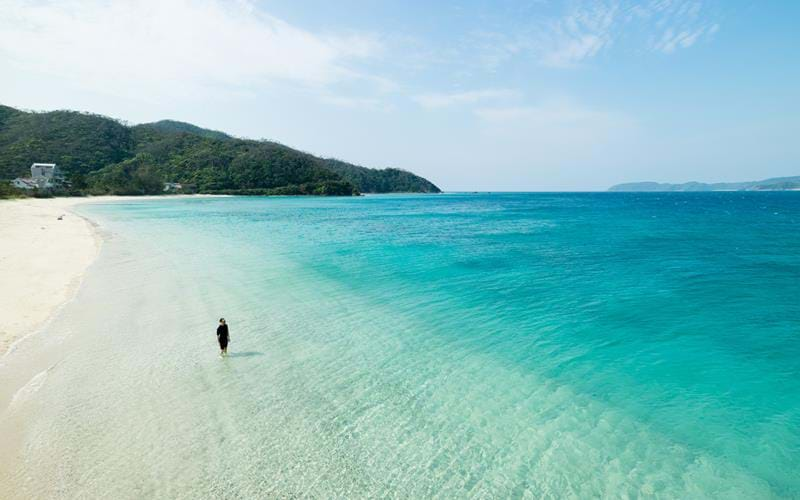 The wildest and most remote place in Japan, Iriomote in the Yaeyama archipelago is an island of dark green cliffs plunging to dazzling green-blue seas. As the most southerly of the Okinawas, it is a landmass so far flung that only a trickle of intrepid travellers get to enjoy its pristine, white-sand beaches and beautiful waterfalls each year. Over 90% of the island is covered in forest, so to see its hidden beauty spots you generally have to take to the water in a kayak – though when you've seen it, you may find it hard to tear yourself away from your luxurious tropical hideaway, the Hotel Nirakanai Iriomotejima.
Accommodation Options
Day 9
Iriomote
Spend your first morning lazing on beautiful Hoshizuna ('Starsand') Beach, whose name derives the curious shape of the grains making up its sand. Later, kayak to Mizuochi Falls.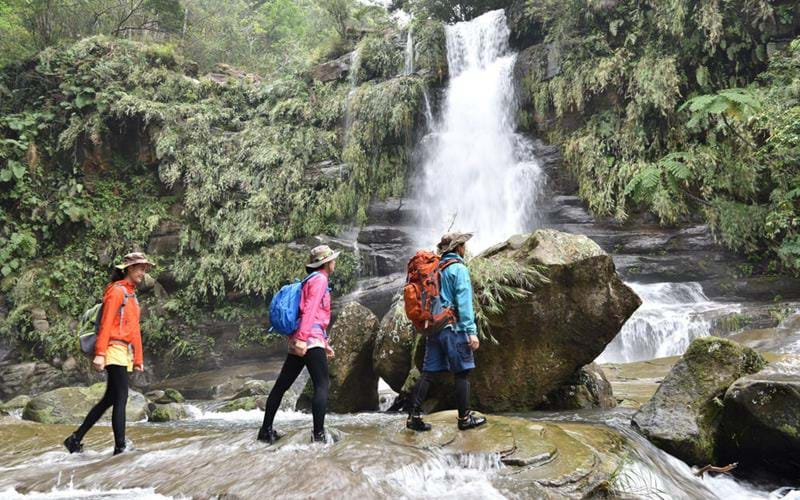 An easy half-hour walk from your hotel, Hoshizuna is famous in Japan for its star sand. The five-pointed grains are not technically sand, but the exo-skeletons of tiny, one-celled organisms called Foraminifera that live among the sea grass off shore. This is one of only two places in the world where such a phenomenon occurs and it creates a special atmosphere. The water at Hoshizuna is the trademark shimmering, transparent turquoise of the Okinawas, and a great place for swimming and snorkelling. Spend the remainder of the day kayaking up the mangrove-lined Mizuochi River to a beautiful waterfall. Return for a candle-lit supper for two on your private verandah.
Day 10
Taketomi
After breakfast, catch the ferry back to Ishigaki, the Yaeyamas' commercial hub, and transfer to the heavenly Hoshinoya Resort on neighbouring Taketomi. Having checked in, explore the islet and its one and only village by bicycle or on foot.
Taketomi exists in a delightful time warp. Only 351 permanent residents live on it, most of them in a huddle of red red-tiled, one-story houses encircled by pretty white coral walls (curved, it is said, to deter local demons, who only walk in straight lines!). You'll find the same low stone walls surrounding your cedar-built villa, which is furnished with fragrant tatami mats and shoji screens. A grassy path leads to the nearest beach, only a stone's throw away, and there's a gorgeous pool, carefully tucked away but with an expansive view.
Accommodation Options
Day 11
Taketomi
Take a tour of Taketomi's white-sand beaches today, starting with Kondoi, a cycle ride away on the island's gently curving west coast.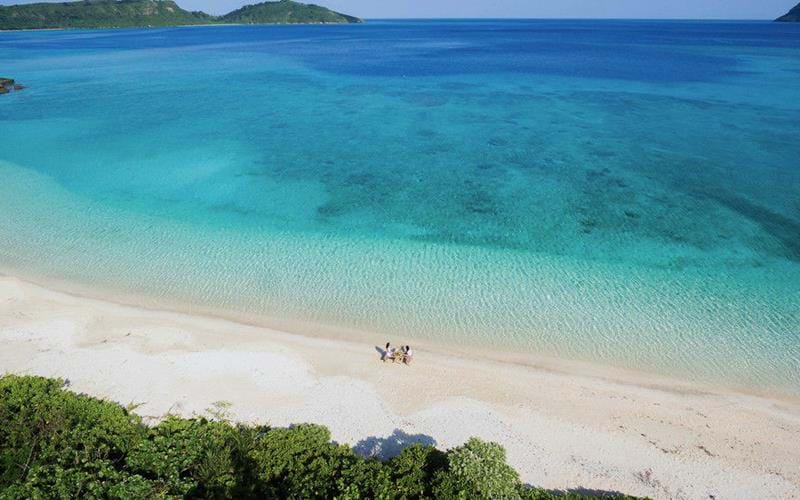 A dazzling spread of shallow turquoise water greets your arrival at Kondoi. Despite appearing regularly in roundup pieces on the 'World's Most Beautiful Beaches' it sees relatively few visitors and is remains low-key even at the height of season, with just a scattering of parasols and single changing room to break up the exquisite expanse of gleaming, powder soft shell sand. Offshore, a scattering of seven islands are dotted over an unfeasibly blue sea. Kondoi is reachable on foot from your hotel, or you can get there on a rented cycle or by bullock cart – the much loved 'Taketomi Taxi'!
Day 12
Taketomi
Spend your final day in the Yaeyamas relaxing at your hotel, enjoying the wonderful cuisine and pool. Or take a day trip to Ishigaki's heavenly north coast.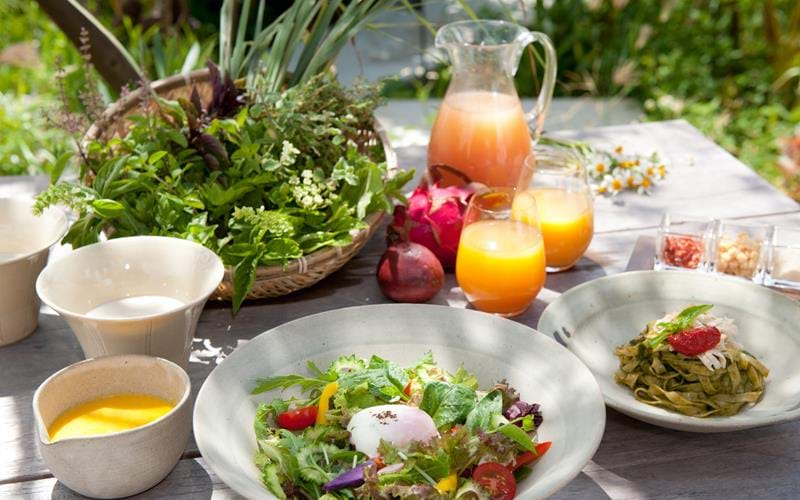 It's worth setting aside a day to visit north coast of Ishigaki to see the beautiful turquoise water and limestone islets of Kabira Bay, where you can swim over reefs swirling with yellow-lipped triggerfish. Glass-bottomed excursion boats run out to nearby Manta Point, a superb dive site where rays congregate in numbers. For total wilderness, you could also continue on by local bus to deserted Yonehara Beach, which many rate as the loveliest in the Okinawas. Back at Hoshinoya, enjoy the mouthwatering fusion cuisine whipped up in the resort's restaurant: we recommend the grouper sashimi with shredded carrot salad and sea grapes, rounded off with a heavenly tofu tiramisu.
Day 13
Tokyo
A day of extreme contrasts today as you exchange the blue seas of Hoshinoya for the busy streets of Tokyo. You'll arrive in the capital in time for a spot of souvenir shopping and an ascent of the Skytree.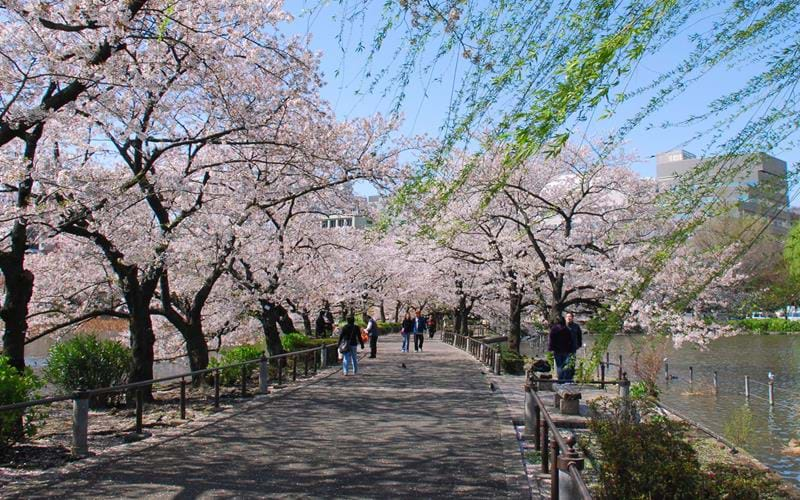 A great source of quirky Japanese souvenirs in Tokyo is Oriental Bazaar, at 5-9-13 Jingumae, in Shibuya. It's the most famous gift store in the capital, offering a wide choice of dolls, kimonos, yukata, curios and books. The staff speak English and the prices are restrained. Afterwards, head for the Tokyo Skytree in Ashiage, officially the world's highest broadcast tower: the views over the city from the glass-floored Sorakara Point extend to Mount Fuji – a suitably stellar view with which to end to your trip.
Accommodation Options
Day 14
Tokyo
Time to bid farewell to Japan as you travel out to the airport to catch your return flight to the UK
Tailor-made Tour

15 days from £6100 per person
What's included

✓   International flights from the UK
✓   13 nights accommodation
✓   All internal transportation and transfers, predominately using public transport
✓   English-speaking guides as listed in the tour itinerary
✓   Breakfast daily, lunch on day 6
✓   Entrance fees to sites and monuments listed in the tour itinerary
Places and Experiences in this tour
Plan your 2022 Adventures
With the world now largely open again, now is the time to begin planning your 2022 adventures in Asia. Our Travel Specialists are ready to take your call and discuss the adventure you have spent the last 2-years dreaming of.
Or call us on 0208 566 3739
TransIndus Brochures 2022
Join our mailing list