Tailor-made Tour

18 days from £6600 per person
Places Visited:
Fukuoka, Nagasaki, Kagoshima, Yakushima, Myoken Onsen, Kumamoto, Hiroshima, Matsuyama, Takamatsu, Okayama, Osaka
Experience the dramatic landscapes and charismatic coastal cities of southern Japan on this varied 18-day tour. After landing in Kyushu's largest city (famed for its delicious noodle soup – 'ramen') you'll explore the awesome volcanic uplands of the island's heartland, dominated by the profile of the world's largest caldera – Mt Aso – and discover vestiges of the country's first ever contact with European traders at Nagasaki. Gardening enthusiasts will be enthralled by the two 'Great Gardens' featured on this itinerary – at Okayama and Takamatsu – as well as by the dense, deciduous forests of Shikoku's undisturbed interior. Culturally diverse, full of historical interest and boasting some of Asia's most inspiring scenery, this route showcases the best that southern Japan has to offer.
Holiday Types
Cultural Tours Holidays by Train
Suggested itinerary
Day 1
UK
Fly from the UK to Fukuoka, in southern Japan.
Day 2
Fukuoka
On arrival, you'll transfer to your hotel by airport bus. Spend the rest of the day recovering from your journey, perhaps venturing out in the evening to sample the city's famous ramen at a sit-down, lamp-lit food stall, or 'yatai'.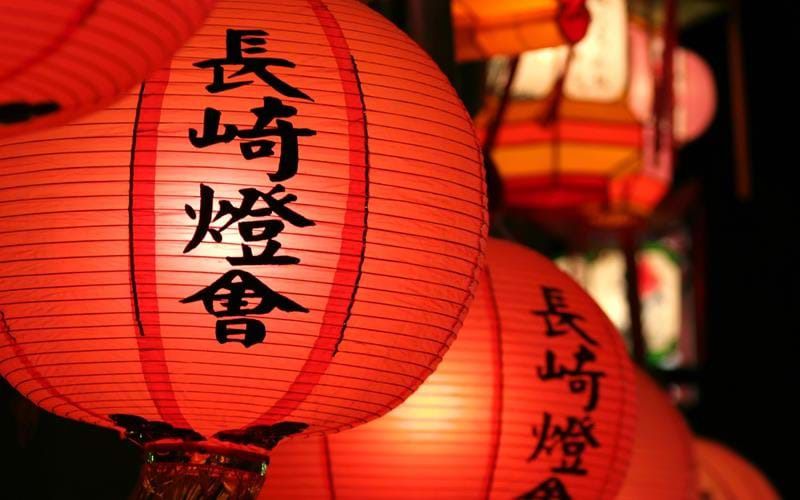 The Nakasu 'Pleasure District' is the best area in town for the local, and much loved, 'tonkotsu ramen'. Rows of wheel-along stalls set up in the evening in its neon-lit streets to feed hungry local night-owls bowls of this tasty, miso-based broth, which is typically served with thick slices of roasted pork, spring onion and various flavoursome sauces.
Day 3
Nagasaki
Visit Fukuoka's Temple District in the morning, before heading to the station to catch a bullet train to Nagasaki.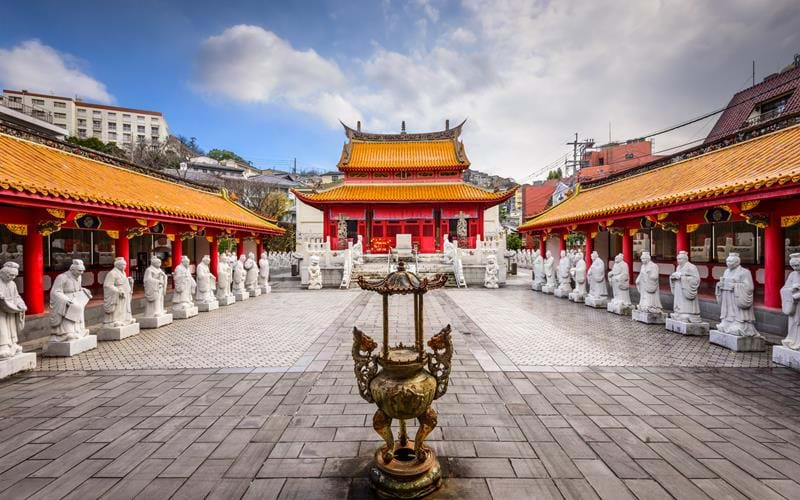 Fukuoka seems at first-sight the most modern city imaginable, but it has ancient roots, as the old temples surviving in a quiet enclave downtown demonstrate. Start with the five-storey, red-painted Tocho-ji pagoda, a 9th century Shingon shrine housing a huge wooden Buddha, and then Shofuku-ji, Japan's oldest Zen shrine, set in a serene moss garden.
With its winding streets stacked in terraces overlooking the harbour, Nagasaki, where you'll arrive in the afternoon, is one of Japan's most alluring cities, and one with an eclectic array of monuments, ranging from Confucian temples and Shinto shrines, to remnants of the earliest phases of European contact.
Day 4
Nagasaki
Today you'll be free to explore this fascinating city at your own pace. Highlights include Glover House, the historic Dejima district, Shrine of the 26 Martyrs and Chinese temples.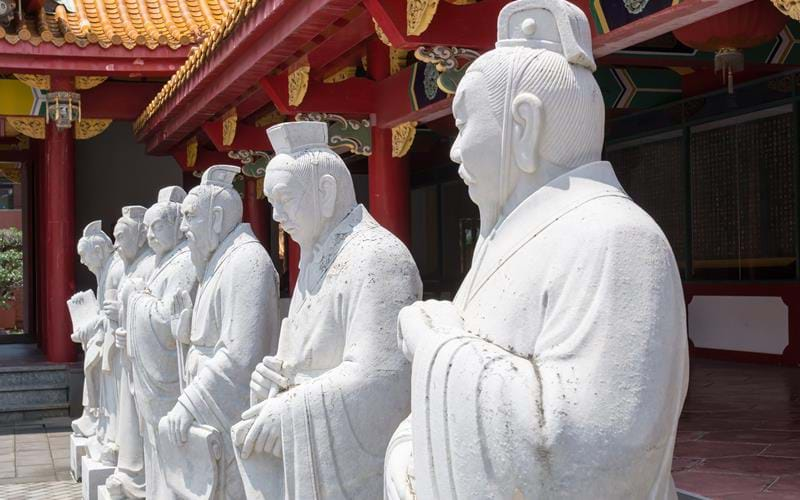 Begin your sightseeing at the Peace Park and Atomic Bomb Museum, centred around the black stone pillar marking the spot where the American atom bomb exploded on August 9th, 1945. Then visit the residence of the Scottish tycoon, Thomas Glover, who introduced steam locomotion and created the country's first coal mines and breweries during the Meiji period. Facing the harbour, his former home was the setting for Puccini's opera, Madame Butterfly. Echoes of older European influence are to be found in the Dejima enclave, where the Dutch sited their first trading post in the 17th century. Other 'must sees' downtown include the Shrine to the 26 Martyrs, commemorating the persecution of Christians by the Shoguns of the late-16th century, and sumptuously decorated Sofuki-ji and nearby Kofuku-ji temples.
Day 5
Kagoshima
After breakfast, travel to Kagoshima by a mixture of bullet and express trains. With its spectacular location on a deep blue bay facing a smouldering volcano, Kagoshima ranks among Japan's most beautiful cities.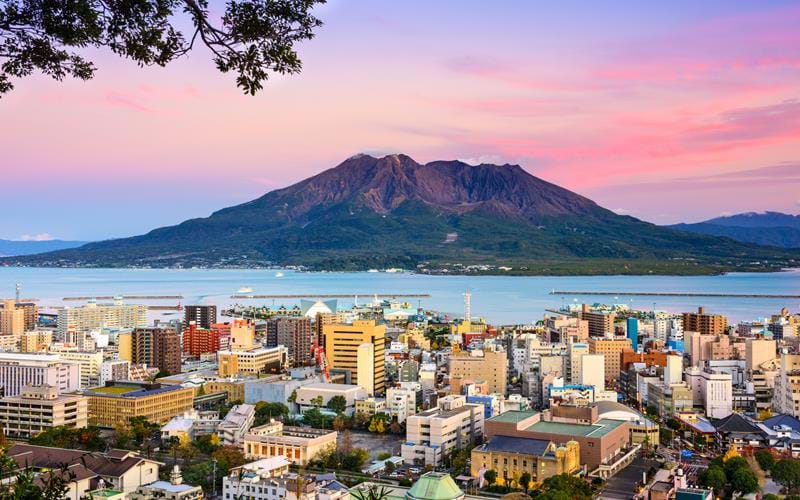 The ranks of palm trees lining Kagoshima's streets attest to the mildness of the local climate – one of the factors that first attracted European traders and missionaries to the area in the 16th century. A legacy of this early contact with the West is the prominence of sweet potatoes in the local cuisine. Centuries of ash deposits from nearby Mount Sakurajima have resulted in stupendously fertile soil – a boon for farmers (though not so great for local car owners!). If time permits, jump on a ferry for the trip across the harbour for a closer look at the volcano, which is still active.
Day 6
Yakushima
After breakfast, catch the hydrofoil from Kagoshima jetty to Yakushima, 37 miles (60km) off the coast of Kyushu, returning in the afternoon.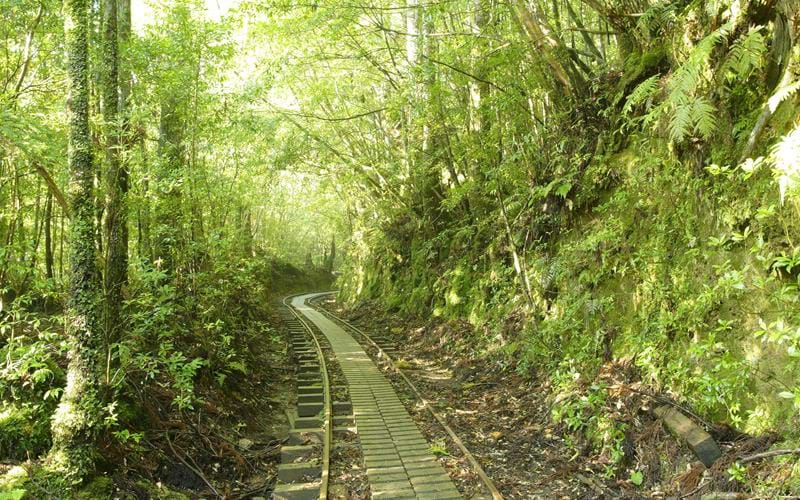 Small, mountainous and astonishingly lush, Yakushima is one of Japan's natural wonders, with a mist-shrouded core cloaked in mystical forests of moss-covered Japanese cedar (some specimens over a thousand years old). A network of paved trails makes trekking through the woodland a joy, though you'll need to come equipped for rain – Yakushima is officially the wettest place in Japan!
Day 7
Myoken Onsen
On the seventh day of your tour you'll travel by public bus from Kagoshima to the spa resort of Myoken Onsen, set amid fragrant cedar forest on the slopes of Mt Kirishima. Spend the night in a traditional ryokan inn.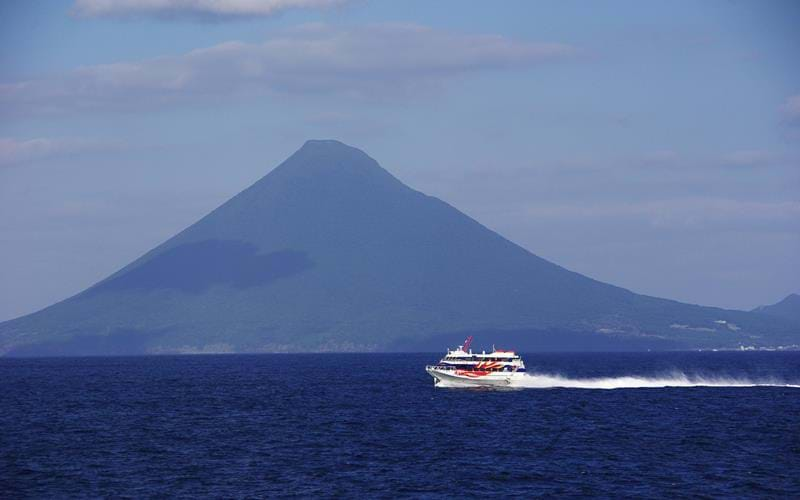 A number of open-air thermal baths are dotted around Myoken Onsen, a quiet town on the Amorigawa River. Full of Japanese atmosphere, this is a great place to unwind, and our preferred accommodation choice – a traditional ryokan inn – provides the ideal base from which to explore the local onsens and forest trails.
Day 8
Kumamoto
Today you take one of the most picturesque train journeys in Japan on the JR Hisatsu Line as it winds northwards to Kumamoto, yielding spectacular views of Kuma River and Kirishima mountains.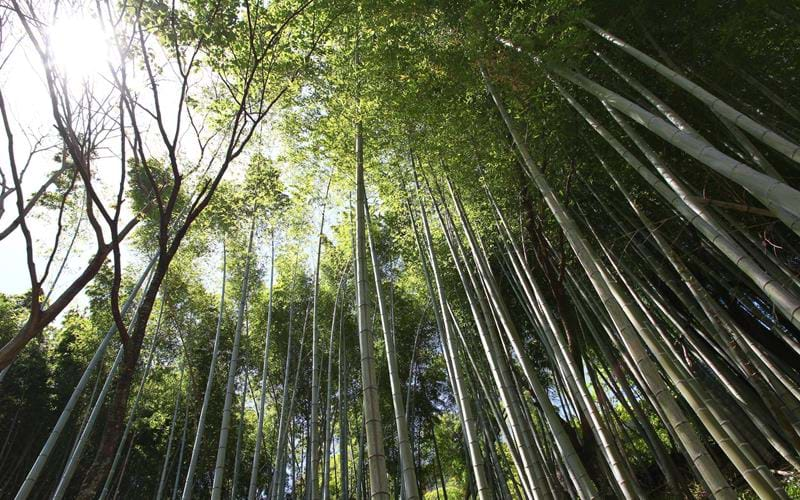 Start your tour of Kumamoto with a visit to the town's enormous castle – one of the largest and best preserved in Japan – which dates from the 17th century. What you see today is largely a replica of the original, which was destroyed in the Seinan War of 1877, but it's still impressive. In its grounds stands the 300-year-old Gyobu-tei residence, a fine example of a samurai mansion dating from the Edo period.
Day 9
Kumamoto
After breakfast, visit the famous Suizenji Gardens (one of Japan's 'Three Great Gardens'), created by the Hosokawa family in 1632. In the afternoon, travel inland to explore the starkly beautiful landscapes around Mt Aso – a region of snow-capped volcanoes, and vast, rolling grasslands.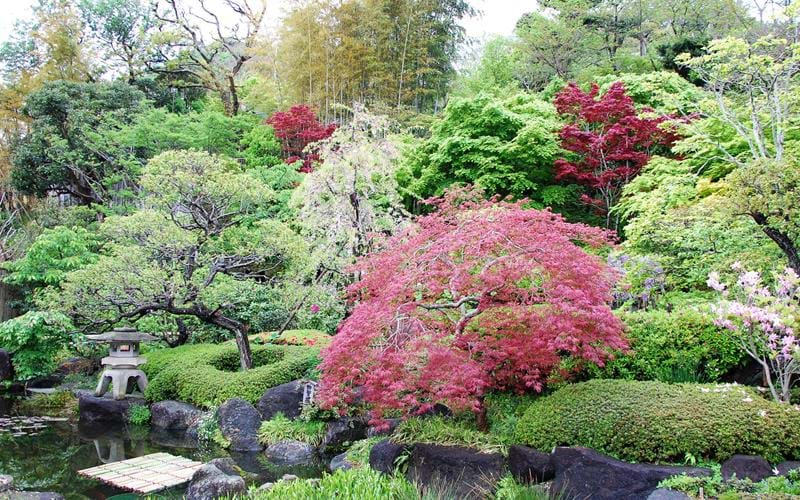 After the castle, Kumamoto's main visitor attraction is the beautiful Suizen-ji– a classic Japanese stroll garden centred on a spring-fed lake. The handsomely restored Kokindenju pavilion on the waterside holds a traditional open-sided tatami tea room where you can order bowls of matcha tea and a Japanese sweet while enjoying the lake views. Afterwards, call at the Traditional Crafts Centre nearby where you'll find examples of locally made gold paper Yamage lanterns – lovely, lightweight souvenirs!
The region around Mount Aso, inland from Kumamoto, is one of the most spectacular in Japan. Clouds of sulphurous steam belch from the blue-green lake hidden inside the summit cauldron of Mt Takadake (one of Aso's five cones), whose rim can be scaled on foot, by car or via a ropeway.
Day 10
Hiroshima
One the tenth day of your tour you'll travel by bullet or express train to Hiroshima . Spend the day exploring the city on your own. We suggest visiting the Peace Park and Atomic Bomb Museum, followed by the restored castle.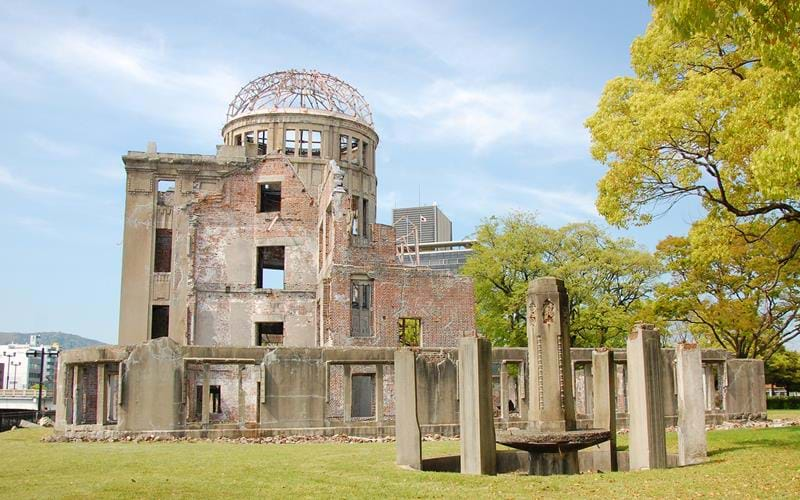 The horrors of August 6th, 1945, when the Americans dropped an atomic bomb on Hiroshima, still cast a shadow of this impressive Japanese city. A museum in the Peace Memorial complex, close to the epicentre of the explosion, displays the few photographs taken in its aftermath, along with testimonies from survivors. Despite the fact that an entirely new, vibrant centre has since been built over the radioactive ashes, visiting the site tends to evoke strong emotions. Only by coming here, however, is it possible to fully comprehend the scale of the tragedy – and astonishing resilience of those who survived it.
Day 11
Hiroshima
The vision of the Itsukushima shrine's vermillion-coloured Otorii gateway rising serenely from the waters of the Seto Inland Sea is almost as iconic of Japan as Mount Fuji, and today you'll see it for yourself as you head for Miyajima Island in Hiroshima Bay.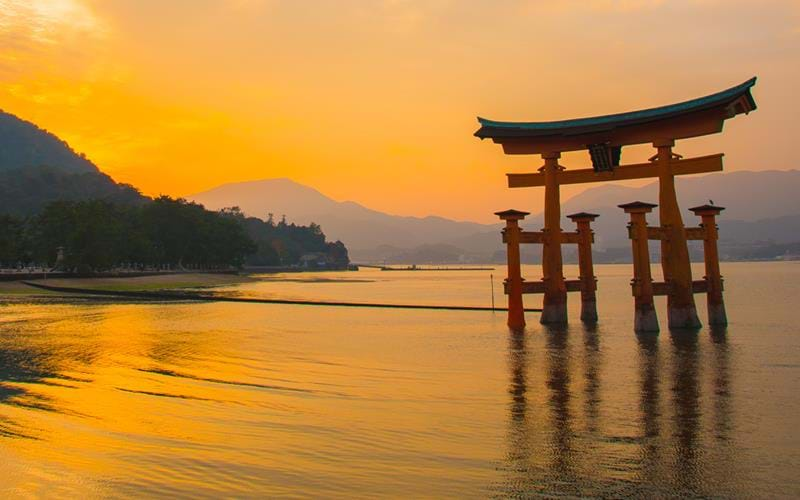 Miyajima is home to one of Japan's most revered Shinto complexes, whose pagoda roofs take shape above the treeline as you approach the island. Once you've explored the shrine, follow the pilgrims' pathway behind it up the wooded slopes of Mount Misen to a sacred summit. The boulder-studded peak affords a wonderful view across the ocean and surrounding islets. You can catch a cable-car ride to within half an hour's walk of the top, or climb all the way through dense forests of maple, cherry and conifers.
Day 12
Matsuyama
In the morning you'll travel down to Hiroshima's port to catch the ferry across the Seto Inland Sea to Matsuyama, the largest city on Shikoku Island. On arrival, transfer directly to Dogo Onsen, the oldest hot springs resort in Japan.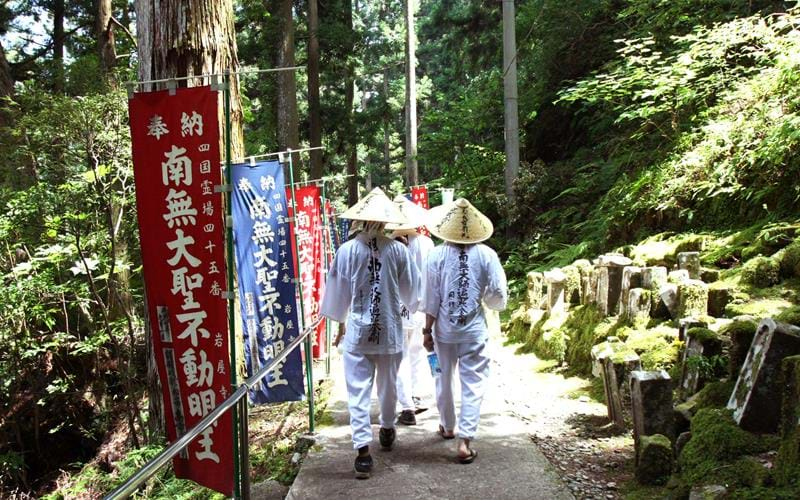 Featuring a labyrinthine interior of winding stairways, passages and bathing chambers, Dogo Onsen is a wooden public bathhouse dating from the Meiji Period of the late 19th century. The surrounding neighbourhood holds a wealth of fascinating temples, shrines, museums and a pleasant park, where you'll see lots of ryokan guests strolling in their silk yukatas!
Day 13
Matsuyama
Explore Matsuyama city in more depth today, starting with its formidable castle.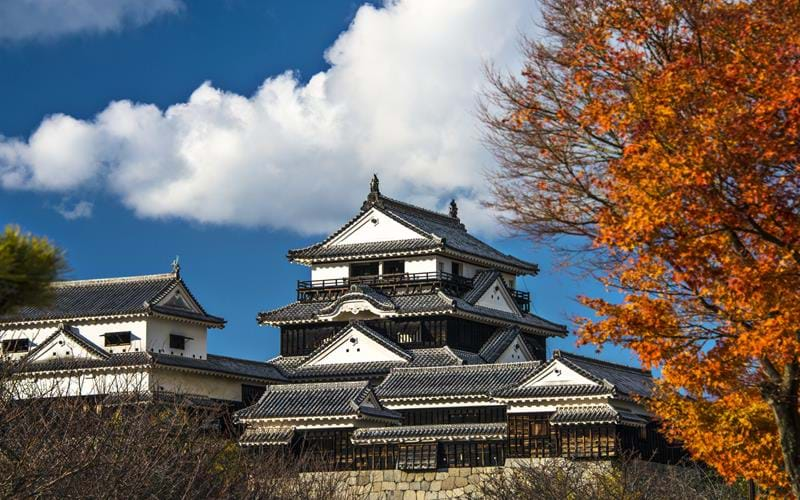 Matsuyama's hilltop citadel dates from the early 16th century, and ranks among the most compelling of its kind in Japan. Climb the flight of stone steps or jump in a cable car to reach its fortified main gate. It's well worth allowing time for the little museum in the keep, where visitors can dress up in authentic samurai costume. The Shiki Masaoka Museum is devoted to a master of Japanese haiku, with an impressive display of old manuscripts, paintings and antique photographs of the city.
Day 14
Takamatsu
Travel from Matsuyama to Takamatsu by express train in the morning. Then spend the rest of the day visiting the exquisite Ritsurin-koen garden, in the grounds of the 16th century castle.
Considered one of Japan's finest 'strolling gardens', the park is laid out among stands of black pines, chestnut trees and shimmering lotus ponds spanned by pretty red-lacquer bridges. End your tour with a tea ceremony in one of the Riturin's wooden tea-huts, or chashitsu – our favourite is the Edo-period 'Chrysanthemum Moon Pavilion', which juts onto an emerald-green pond framed by flowering trees and low, wooded hills.
Day 15
Okayama
Another of the Japan's 'Three Great Gardens' features on today's itinerary, as you travel by bullet train to Okayama, home of the famous Koraku-en.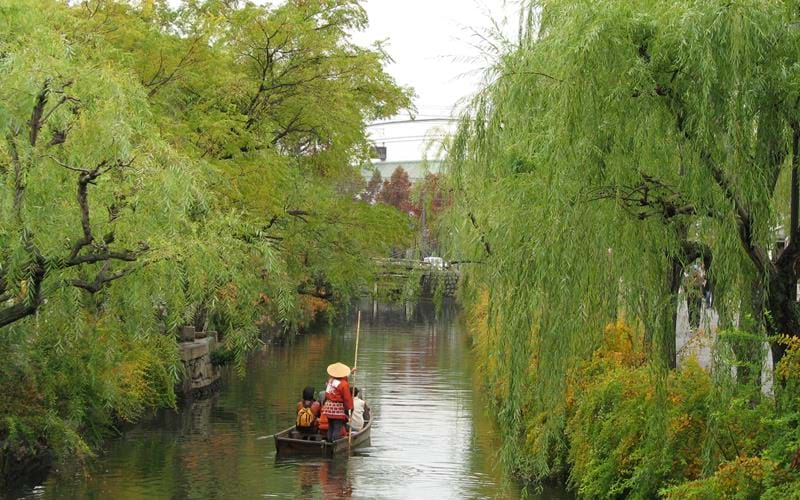 Laid out in 1700, the Koraku-en was one of the first 'strolling gardens' in Japan to feature large expanses of lawn, interspersed with plum, pine and cherry trees. It also incorporates a pond crossed by classic – and highly photogenic – red bridge. The nearby castle was factored into the garden's design, and looks rather splendid as a backdrop, its upswept eaves and distinctive black walls rising above a mist of cherry blossom in the spring. The castle's interior holds a military museum with an impressive array of samurai weaponry.
Day 16
Okayama
Time to take to two wheels today as you venture by bicycle on to the Kibi Plain outside Okayama, where a network of dedicated cycling routes winds between Bizen-Ichinomiya and Soja stations.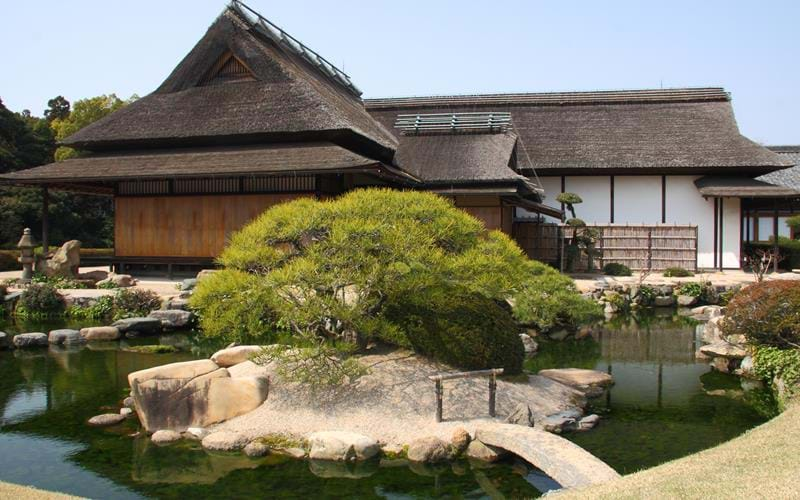 This wonderful cycle route passes a succession of Shinto shrines, pagoda-roofed temples, 4th century burial mounds and farmsteads on its winding route around Okayama's outskirts. You could also take an excursion to Naoshima Island, a large, open-air venue for modern sculpture and art installations.
Day 17
Osaka
Take the bullet train to Osaka in the morning. Spend the rest of the day exploring the vibrant Bay Area of Japan's third city.
A great way to get your bearings, and experience an incredible panoramic view of Osaka's futuristic skyline, is a ride on the giant Tempozan Ferris Wheel. Sightseeing highlights include the Museum of Oriental Ceramics, with its world-class collection of Chinese, Japanese and Korean masterpieces, and the wonderful Bunraku Puppet Theatre, the country's main venue for this extraordinary art form, in which plays are performed by elaborately dressed puppets over a metre tall (headsets are available for English translations).
Day 18
Osaka, UK
Time to bid farewell to Japan as you head to the airport by shared minivan to catch your return flight to the UK.
Tailor-made Tour

18 days from £6600 per person
What's included

✓   International flights from London
✓   16 nights accommodation, predominately using public transport
✓   All internal transportation and transfers
✓   English-speaking guides as listed in the tour itinerary
✓   Breakfast daily
✓   Entrance fees to sites and monuments listed in the tour itinerary
Places and Experiences in this tour
What Our Clients Say About Us
Start thinking about your next holiday
Whilst we stay at home, there is no better time to start thinking about your next holiday. Our Travel Specialists are ready to start planning your dream trip whether that is for some winter sun or a 2021 holiday. We don't need to confirm dates or lock-in deposits, let's just get the conversation going.
Or call us on 020 8566 3739
TransIndus Brochures 2020
Join our mailing list