Sri Lanka has so much to offer if you're travelling with children, whatever their age or the time of year you're travelling. Moreover – and unusually for South Asia – the island's weather is perfect for the summer holidays: in July and August the East Coast is dependably dry and sunny, and temperatures on a par with those of the Mediterranean.
As well as the beach, there's a wide range of family-friendly experiences that will linger in the memory long after the tans have faded. Here's a roundup of our favourite, from whale watching to elephant trekking:
Play at Indiana Jones in the Cultural Triangle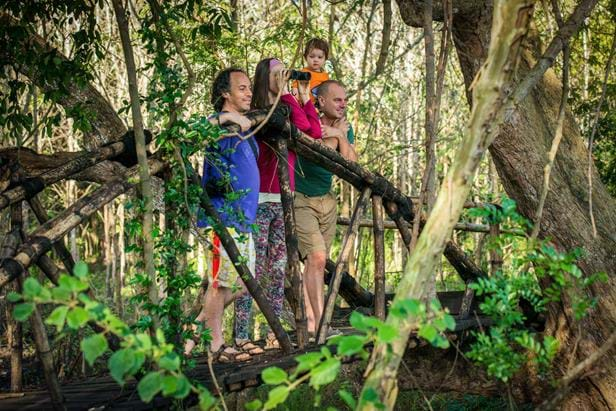 The great monuments of Sri Lanka's historic heartland are perfect for living out fantasies of adventure and exploration – for kids for all ages! Marvel at giant Buddhas in the jungle, discover fabulous, multi-coloured murals in ancient cave temples, and make the vertigo-inducing climb to the palace-fortress of Sigirya. The chance to discover these spectacular, UNESCO-listed ruins is reason enough to come to the island, and guaranteed to fire young imaginations.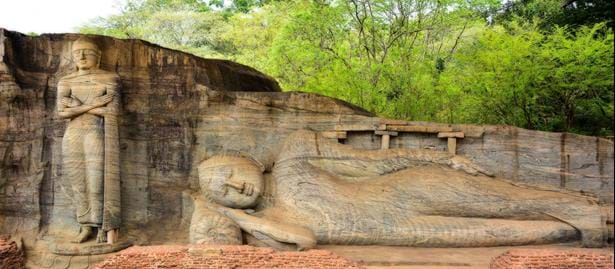 Watch the sunrise from a sacred mountain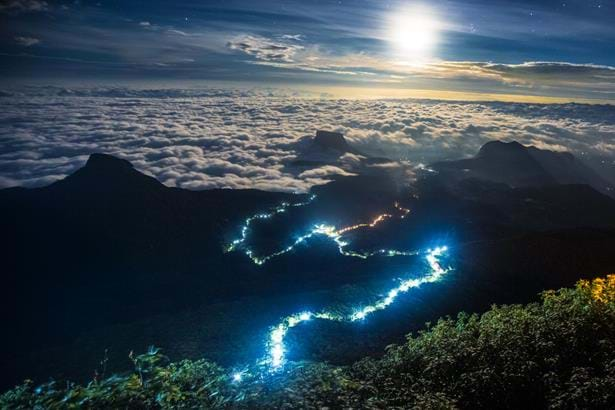 Adam's Peak is a sacred mountain in central Sri Lanka whose summit is the object of a mass pilgrimage between December and May. If you've any teens with a sense of adventure in tow, joining the pilgrims on the climb is a fantastic experience. The ascent generally takes place at night, when the temperatures are cooler. The stepped pathway is illuminated and lined with little tea shops. Sri Lankan Buddhists of all ages, from little kids to grannies, slog their way to the temple at top in time for sunrise – an experience you and your family will remember forever!

Sleep in a Mud House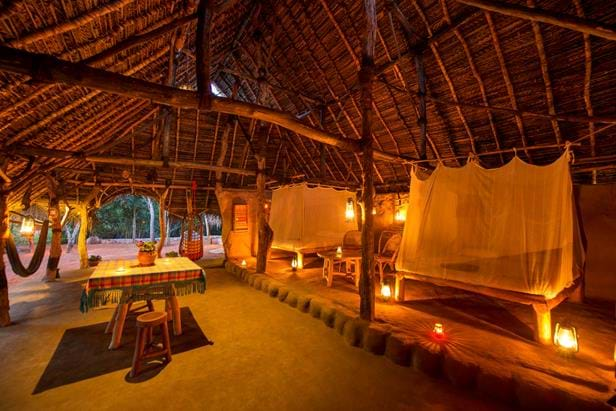 Deep in the island's interior jungle, a couple of hour's drive from the coast, is a compound of beautiful adobe huts set up to accommodate families looking to escape the beach resorts and experience a more authentic, rural side of island life. Made with traditional adobe walls and palm-thatched roofs, the huts are lit by old-style parrafin lamps. There's no electricity. The food is cooked in clay ovens over charcoal. Mornings begin with a dawn chorus of frogs, peacock calls and mongooses scurrying around the verandas – all entrancing for children.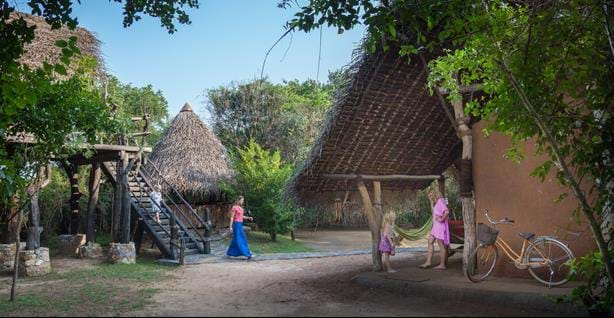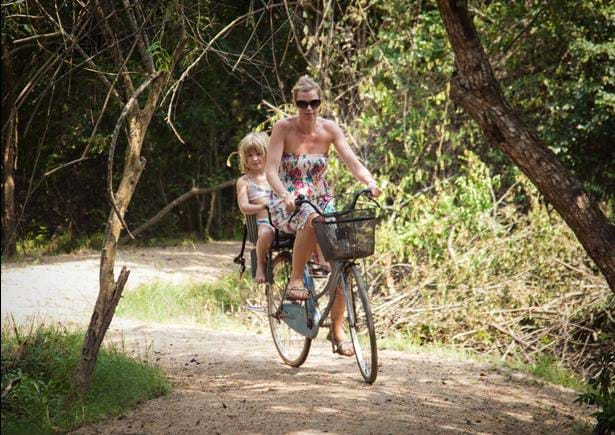 Snorkelling off Coral Island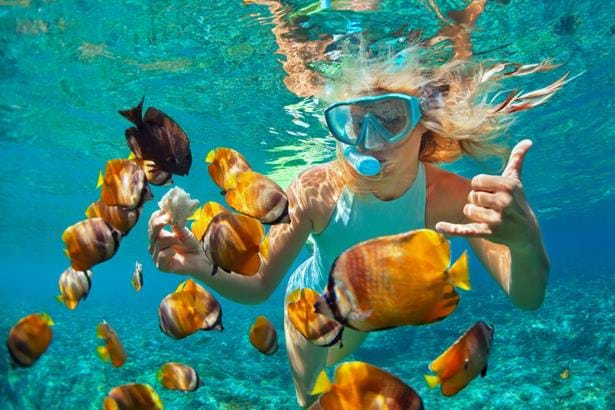 Tiny Coral Island lies in the northeast of Sri Lanka, off one of the island's most beautiful, pristine stretches of coast. As its name suggests, the islet is ringed by a reef that's superb for diving and snorkelling, with dozen of species of multi-coloured tropical fish to see, and even the odd turtle and giant manta ray. Boat trips leave daily from Trincomalee, and can be booked directly through us.
Ethical elephant encounters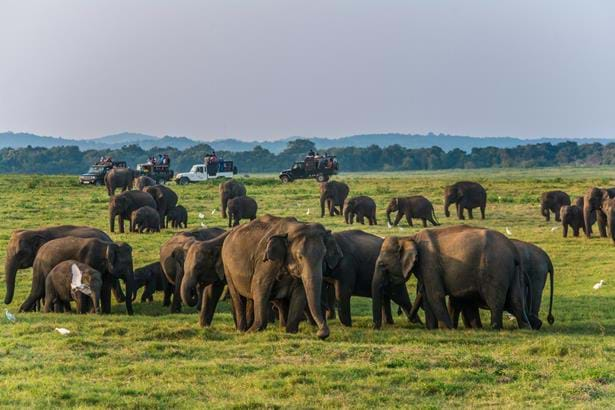 A number of elephant sanctuaries and rescue centres in Sri Lanka have been blacklisted by the Born Free Foundation for exploiting their charges in unethical ways, which is why we are very careful about the establishments we recommend to clients. Our current favourite place for pachyderm encounters is the lovely Elephant Transit Home at Udawalawe National Park. You won't find offers of rides or special performances here. Visitors watch the resident ellies feeding from a viewing platform – an experience that's both educational and heart-warming.
Tracking leopards at Yala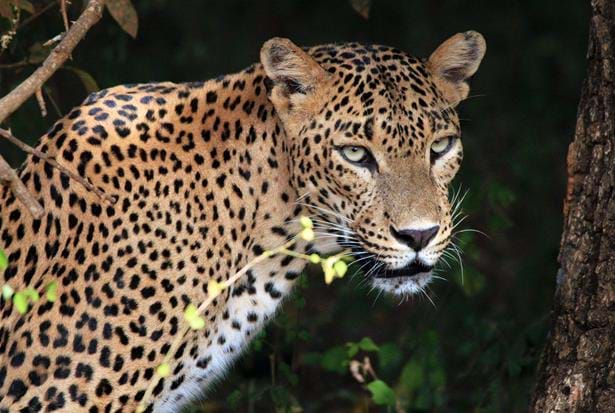 Yala National Park in southern Sri Lanka boasts one of the highest population densities for leopards anywhere in the world. Sightings are by no means guaranteed, but you've a great chance of seeing one, along with a host of other wildlife that will fascinate any children travelling with you, including elephant, sloth bear, water buffalo and crocodiles. There are also some fabulous safari camps to stay in at Yala.
Whale watching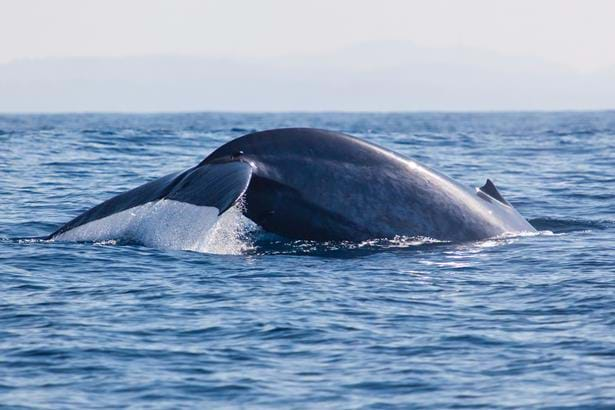 Sri Lanka is one of the best places in the world for seeing the world's largest mammal, the blue whale. From February through mid-March these enigmatic giants feed on krill off the south coast in prodigious numbers. If you're aiming to come in the summer holidays, fear not: in the northeast of the island is a stretch of water frequented by pods of blue whales between August and early September. The island's waters also host nine other species, including including sperm, humpback, Bryde's, fin and minke, and dolphins routinely approach the shoreline.
Stilt fishing at Kogalla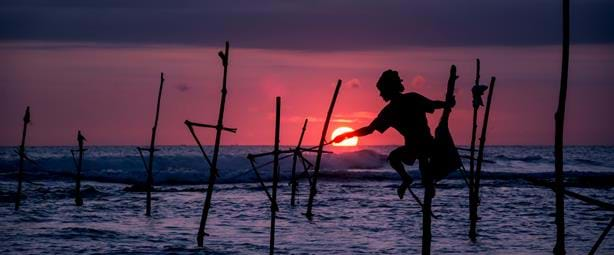 The iconic stilt fishermen of Kogalla are a great curiosity for children. If your offspring have a reasonable sense of balance and don't mind getting wet, some of the men will let them have a go – a fabulous photo opportunity! Kogalla can easily be visited on a daytrip from Galle, half an hour's drive away.

Chilling out at Pasikuda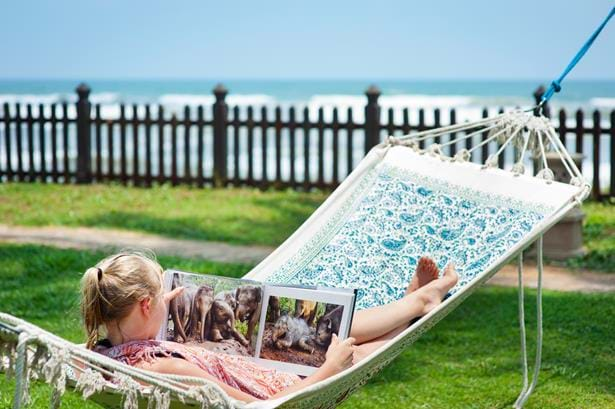 Unlike most of the beaches on the south and west coasts of Sri Lanka, the water at Pasikuda – jewel in the crown of the east coast – is reassuringly shallow, calm and perfect for little ones to paddle and splash about it. It's also transparent and a dazzling shade of pale turquoise. Older children can rent kayaks, paddle boards and swing in hammocks, while their parents enjoy the sea breezes from the comfort of a café on the sand. If you want to include a dependable beach segment in your family holiday, this is our top suggestion. It's also dependably dry and sunny here in the British summer holidays!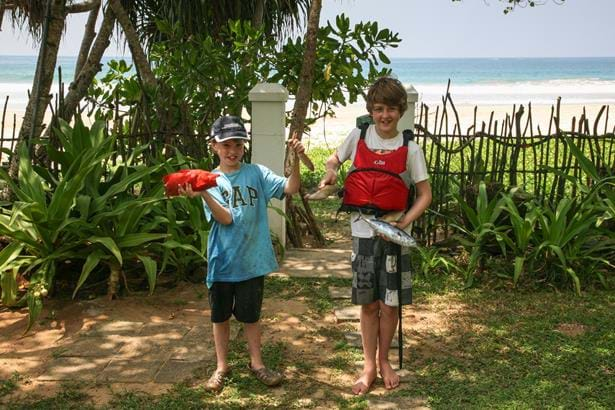 Other Destinations for Family Holidays
Talk to the Experts
At TransIndus we are committed to quality and determined to ensure every one of our clients enjoys the best holiday possible. Having lived or worked, and travelled extensively in their specialist countries, our consultants are experts whose advice can be depended on. To make an enquiry, call us on 0208 566 3739
020 8566 3739
TransIndus Brochures 2019/20
Join our mailing list