Tailor-made Tour

14 days from £4685 per person
Places Visited:
Sigiriya, Kandy, Dickoya, Galle, Wadduwa
Sri Lanka is the perfect luxury honeymoon destination with a mix of relaxing hideaways, and astounding landscapes and monuments, and this two week luxury honeymoon itinerary has all three in abundance. Stringing together the most romantic locations on the island, it starts with a tour of the Cultural Triangle's ancient sites, then ventures up into the hills of Tea Country for a spell in a delightful colonial-era planter's bungalow, before descending to the south for an indulgent stay on Wadduwa Beach, renowned for its spectacular tropical sunsets.
Throughout, you'll be staying the most romantic and exclusive of beautiful boutique hotels, travelling between them in your own chauffeur-driven vehicle.
Holiday Types
Honeymoons in Asia
Suggested itinerary
Day 1
UK
Fly overnight from the UK To Sri Lanka
Day 2
SIGIRIYA
On arrival at Colombo airport, you'll be met by your chauffeur-guide and driven inland to Sigiriya for three nights at the lovely Vil Uyana, a perfect honeymoon hotel. You'll be staying in your own private stilted cottage. Spend the remainder of the day recovering from your journey and relaxing by the hotel pool, blissing out in the evening to the sounds of the Sri Lankan night from the surrounding marshland and paddy fields.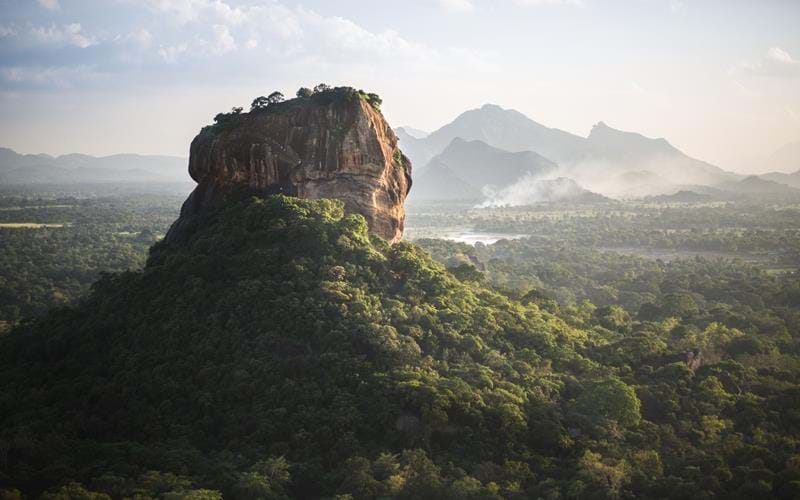 As this is your honeymoon, why not opt for a chalet with its own plunge pool? Swathed in greenery, the pools at Vil Uyana are completely private and are the perfect antidote to residual travel fatigue. There's also a top notch spa on site offering a full range of massage therapies and scrubs.
Accommodation Options
Day 3
SIGIRIYA
After a leisurely breakfast, enjoy a half-day tour of Anuradhapura, Sri Lanka's ancient capital, returning to your hotel for lunch and a low-key afternoon of rest and relaxation.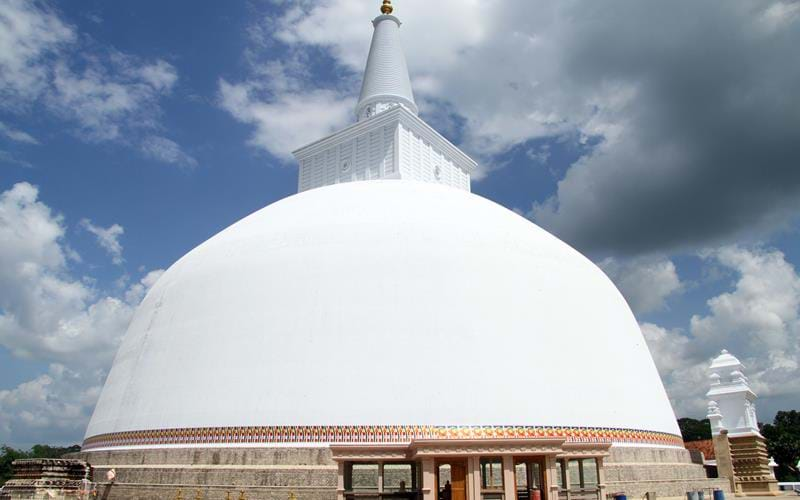 Founded in the fourth century BC, Anuradhapura was the island's first capital and retains some of its most spectacular ancient remains. On arrival, you'll be greeted by the brilliant white, dome-shaped Ruwanweliseya and Jethawanarama stupas – the largest of their kind in South Asia. Next, admire the polished granite 'Samadhi' statue, depicting Buddha in a meditative pose. You may also wish to receive a blessing near the sacred Sri Maha Bodhi tree, which is believed to have grown from a branch brought over from India over 2,500 years ago, and is considered to be the oldest tree in the world!
Day 4
SIGIRIYA
Today you'll be exploring Sri Lanka's most famous historic sites – the rock fortress of Sigiriya and former capital of Polonnaruwa.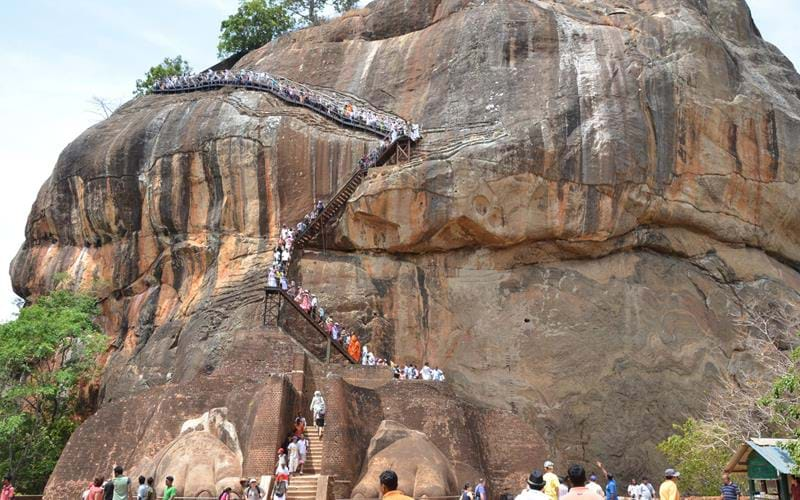 Only a stone's throw from your hotel rises the unmistakable profile of Sigiriya – the great 'Rock Fortress'. It's a striking sight that's all the more remarkable for the presence on its summit of a 5th-century fortress-palace. A series of celebrated frescoes depicting celestial nymphs, or 'cloud maidens', adorn the stepped approach cut through the rock. Exhilarating stairs and precipitous catwalks complete the final haul to the summit, which is rewarded with marvellous views across the surrounding countryside.
The most compelling of all the island's ruined cities, Polonnaruwa stands alongside a vast artificial lake, a little over an hour's drive east. A succession of kings ruled from here between the 11th and 13th centuries, leaving a legacy of finely sculpted statues, frescoes, colossal Buddha images and immense stupas. The site is particularly magical in the late afternoon when the shadows lengthen and the stonework is bathed in soft sunset colours.
Day 5
KANDY
After breakfast, you'll begin a three-hour drive to Kandy, the island's cultural capital. Spend the remainder of the day enjoying a leisurely stroll around the lake, shopping for souvenirs and taking in the distinctive atmosphere of the city.
The 'Elephant Stables', where you'll be staying, is an elegant boutique property, fusing contemporary designer chic with splashes of local colour. We recommend the 'Lemongrass Deluxe' rooms for the wonderful views over the town from their raised verandahs – and the enormous four posters! Set in well manicured gardens, with panoramic views across Kandy from its Infinity edge, the garden pool is one of the prettiest in Sri Lanka.
Accommodation Options
Day 6
KANDY
A full day's sightseeing in Kandy today starts with a tour of the town's famous Botanical Gardens, renowned for their fine collections of orchids and stately avenues of palm trees. Later visit the Temple of the Tooth Relic and, after supper, attend a local 'Culture Show' featuring performances of local music and dance.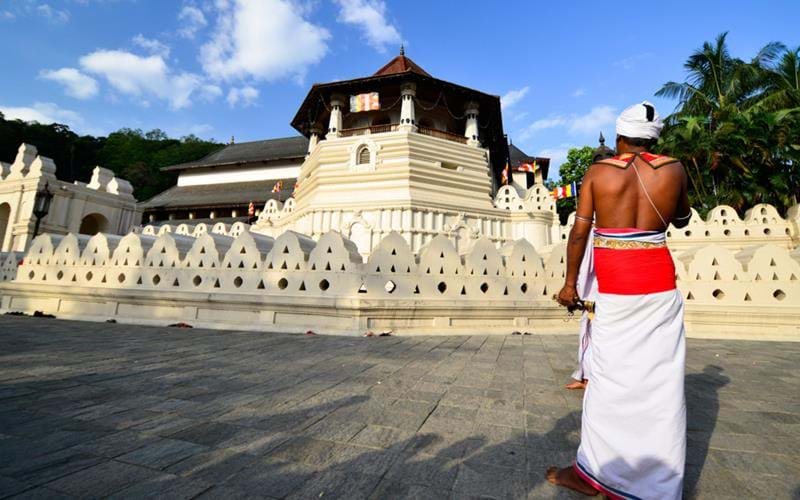 The 'Royal Botanical Gardens of Peradeniya', to give them their full title, were originally established as a royal retreat in the 14th century. They're now one of the island's principal visitor attractions, thanks to their world-class collection of orchids, palms and, the real showstopper, a giant Javan fig tree.
Kandy's number one sight, however, has for centuries been the Temple of the Sacred Tooth Relic, the island's most revered Buddhist shrine and the symbolic lynchpin of Sri Lankan royalty. Pilgrims dressed in flowing white robes file through the complex throughout the day, carrying offerings of lotus blooms and frangipani flowers.
Day 7
TEA COUNTRY
A long drive today takes you from the island's central plain into the lush green hills of 'Tea Country', where you'll be spending a couple of nights in a converted planter's bungalow with a splendid view.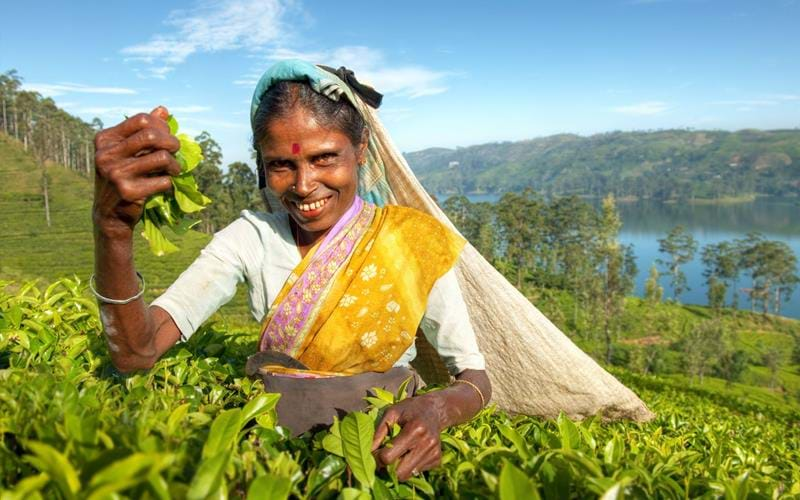 The 168-km drive to Tea Country takes you through a broad spectrum of Sri Lankan landscapes, from the scrubland of the dry zone to the misty hills of the island's principal tea-growing district. Towards the end of the trip, the scenery becomes more spectacular with every turn, as you wind past waterfalls and hillsides carpeted with neatly clipped plantations where pickers in brightly coloured sarees may be seen hard at work.
Your bungalow will have a gorgeous valley vista from its verandah. On hand to ensure your comfort will be a team of liveried staff. Meals may be served al fresco or indoors, depending on temperature (it can get surprisingly chilly up here in the evenings) and there's a good sized, spring-fed pool to relax in.
Accommodation Options
Day 8
TEA COUNTRY
Entering the second week of your luxury honeymoon, enjoy the varied landscapes and flora or 'Tea Country', starting with a guided tour of the local tea factory, where you'll be shown how the leaves are picked and processed. Later, relax back at your bungalow, or enjoy one of the signature activities on offer.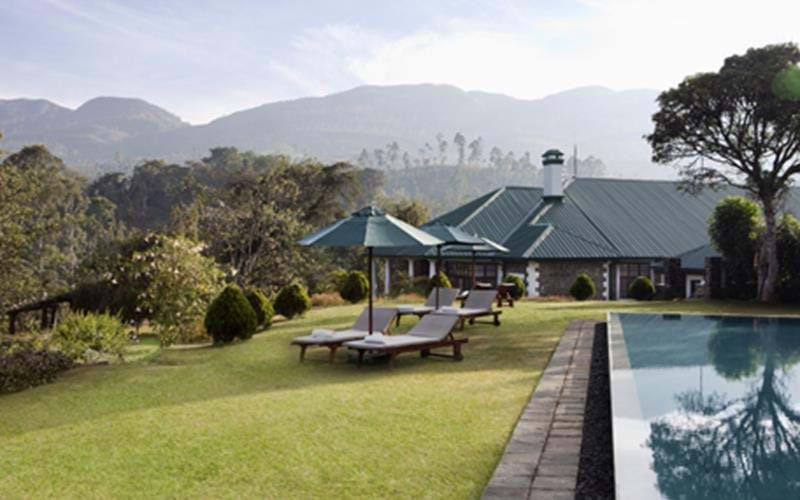 The beautiful Bogawantalawa Valley, where you'll be spending two days, has some spectacular scenery, best enjoyed on foot. You'll be offered a range of guided routes, from easy ambles to more challenging hikes, as well as the chance to go kayaking on nearby Castlereagh Lake. Alternatively, just soak up the tropical sunshine on the poolside, or relax over tea and scones on the lawn, surrounded by roses and agapanthus as the resident wagtails flit through the foliage.
Day 9
TEA COUNTRY
If the weather is good, consider a guided trek to one to one of the surrounding peaks, or go for a full-on white-water rafting trip on the river. Croquet and tennis facilities are also on offer should you feel a break from lazing by the pool.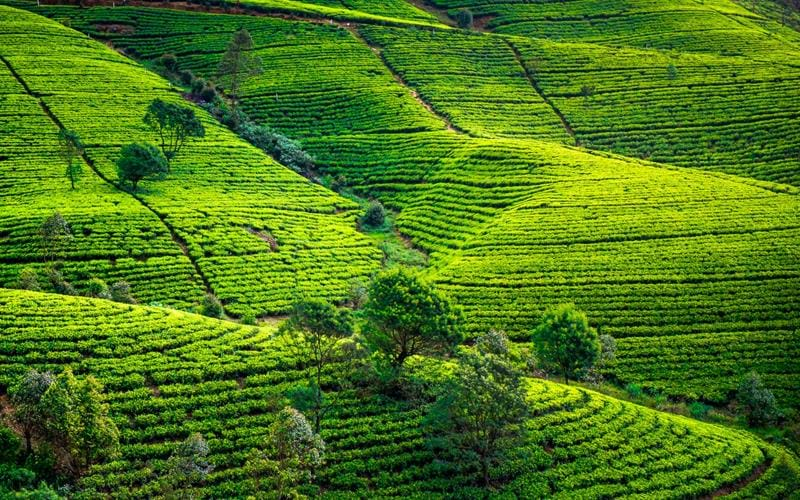 Tea Country exists in its own gentile time warp – an atmosphere that's changed little since colonial times. Spend leisurely hours savouring the views from split-cane chairs on the verandah, as your butler plies you with cucumber sandwiches and G&Ts, enjoying an old-fashioned picnic with your Significant Other by the lake, or cozying up by a roaring log fire over a well thumbed copy of Somerset Maugham from the bungalow's book collection.
Day 10
GALLE
In the morning, you'll re-join your car and driver for the transfer to Galle on the south coast, a journey of around four hours. Once you've checked in your hotel, enjoy a leisurely lunch and, after the heat has subsided, take a stroll around the antique streets of the Fort.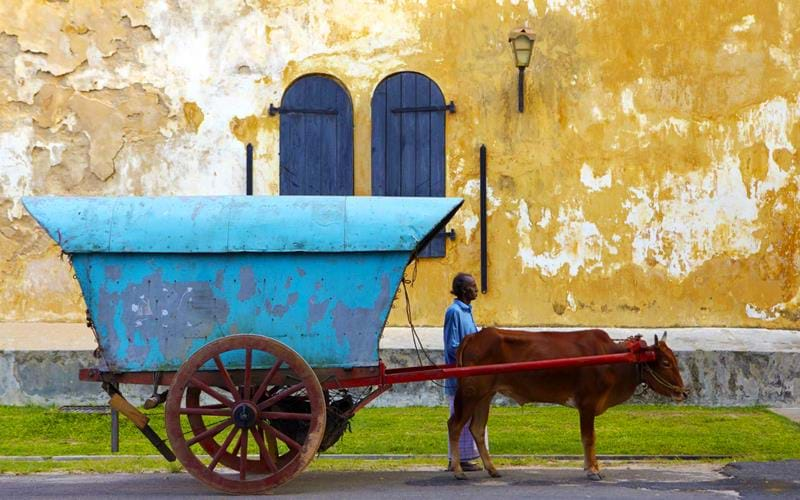 Jutting like a small peninsular into the Indian Ocean from Sri Lanka's southwestern tip, Galle is a gorgeous, colonial-era fortified town acclaimed as the finest of its kind in Asia. The 18th century Dutch walls, bastions, ramparts and gateways form a charismatic backdrop for easy ambles around the narrow lanes of old town, lined with pretty period houses and mansions. A scattering of hip cafés and designer boutiques offer excuses to linger. Your hotel, the delightful Fort Printers boutique hotel, is perfectly placed for explorations of this atmospheric district. For newlyweds, we always recommend the 'Headmaster's' room, as it overlooks Galle's iconic lighthouse.
Accommodation Options
Day 11
GALLE
Enjoy a guided tour of the old town in the morning, followed by a spot of souvenir shopping in and lazing in cafes in the afternoon.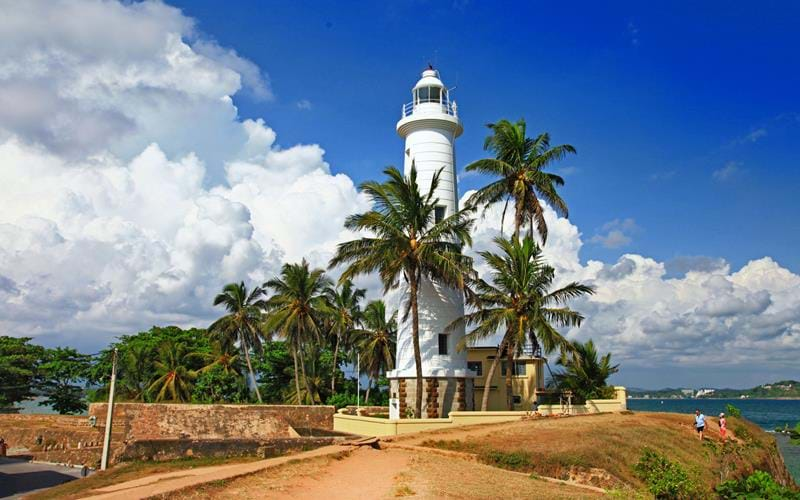 Galle is best explored on foot, so after breakfast your guide will meet you for a walking tour taking in the historic highlights of the Fort, which built by the European powers to defend their trading post in the 16th and 17th centuries. The architecture reflects a strong Dutch influence, with ornate verandahs and arched windows. Walk along the paved streets among the old manor houses and private homes, now restored as restaurants, shops and hotels. After the clock tower and the lighthouse you pass a Protestant church, Buddhist temple and mosque.
For lunch, try Poonie's Kitchen on Pedlar Street, which serves organic salads, spicy squash fritters and to-die-for pumpkin, prawn and coconut soup in a stylishly decorated courtyard shaded by flowering plumeria trees. The Terrace at the über-chic Amangalla hotel is a great place to linger over a long drink or latté, soaking up the old colonial-era architecture.
Day 12
WADDUWA
A two-hour drive along the coast after breakfast brings you to the final destination of your honeymoon, the resort of Wadduwa, where you'll be spending three nights at one of our favourite beachside boutique hotels in Asia, Reef Villa.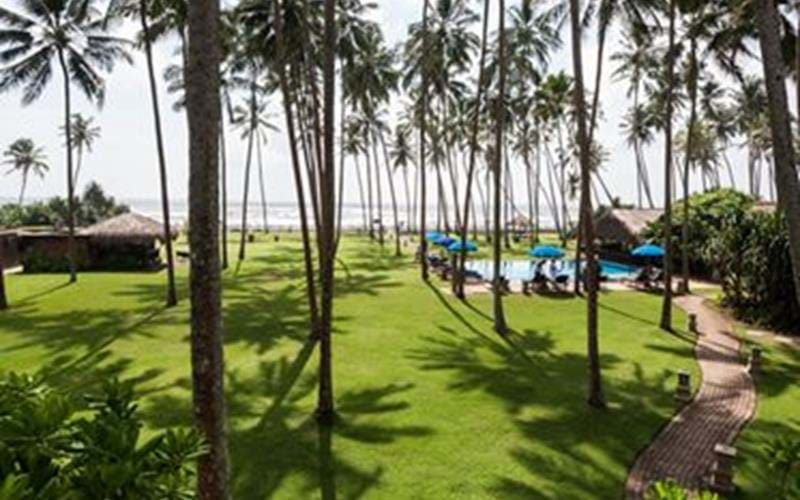 Less than an hour's drive south of Colombo city, Wadduwa makes a handy last halt before flying home. Given the proximity of the capital, its beach remains astonishingly unspoilt. The resorts and guest houses dotted along it are discretely spaced, and the sands never busy. Because they're steeply shelving, everyone tends to swim in their hotel pools, leaving miles of golden, palm-backed beach to the fishermen, who haul giant hand nets from the sea in the early morning, and heave old outriggers into the surf at sunset time, when the warm, tropical light intensifies the colours of the palm canopy.
We're sure you'll love the distinctive ambience of Reef Villa, a boutique hotel set in palm groves and three acres of gardens of lush lawns and lily ponds. Its British owners have been inspired by the romance of the Raj era to create an elegant, luxurious retreat on a stone's throw beach. Wicker chairs, paddle fans, and antique canopied four-posters set the tone. Everything has been beautifully done and the result is a delight.
Accommodation Options
Day 13
WADDUWA
Make the most of your penultimate day in Paradise.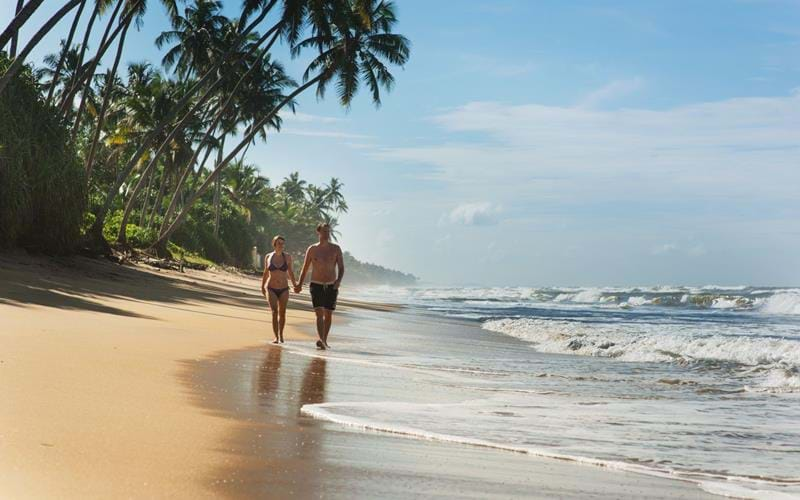 Taking plenty of walks on the beach and perhaps a spa treatment or two at your hotel.
Day 14
WADDUWA, UK
Today is the last day of your two week honeymoon in Sri Lanka. It's time to bid farewell and bend your steps homeward as you leave Wadduwa for the airport and return flight back to the UK.
Tailor-made Tour

14 days from £4685 per person
What's included
✓ International flights from London
✓ 12 nights accommodation
✓ All internal transportation and transfers
✓ English-speaking guides
✓ Breakfast daily
✓ Entrance fees to sites and monuments listed in tour itinerary
Places and Experiences in this tour
What Our Clients Say About Us
Plan your 2021 Adventure
With the world beginning to open up again, now is the time to begin planning your 2021 holiday to Asia. Our Travel Specialists are ready to take your call and discuss the adventure you have spent 2020 dreaming of.
Or call us on 020 8566 3739
TransIndus Brochures 2020
Join our mailing list