Tailor-made Tour

14 days from £3200 per person
Places Visited:
Hanoi, Halong Bay, Hue, Danang, Hoi An, Ho Chi Minh City, Mekong Delta
As its name suggests, our 'Classic' itinerary covers all of the country's big-hitting sights in a seamless fortnight of exotic, luxury travel. Starting in the north at Hanoi and a boat cruise around the surreal landforms of Halong Bay, you'll work your way south via historic Hue and Hoi An to the Mekong Delta, exploring the waterways, islets, farmsteads and floating markets of this fascinating region by boat before staying two nights in Ho Chi Minh City – one of Asia's most distinctive and enjoyable capitals. Along the way, there will be plenty of opportunities to shop for local crafts and textiles, sample the very best local cuisine and meet Vietnamese people in their homes and workplaces.
Holiday Types
Cultural Tours River and Island Cruises
Suggested itinerary
Day 1
UK
Fly overnight from the UK to Hanoi, via Bangkok.
Day 2
Hanoi
On arrival in Hanoi, you'll be met by your driver and guide and escorted to your hotel for a two-night stay. Spend the rest of the day recovering, perhaps venturing out later for dinner at the Sofitel Legend Metropole Hanoi – the High Temple of retro Indochina elegance.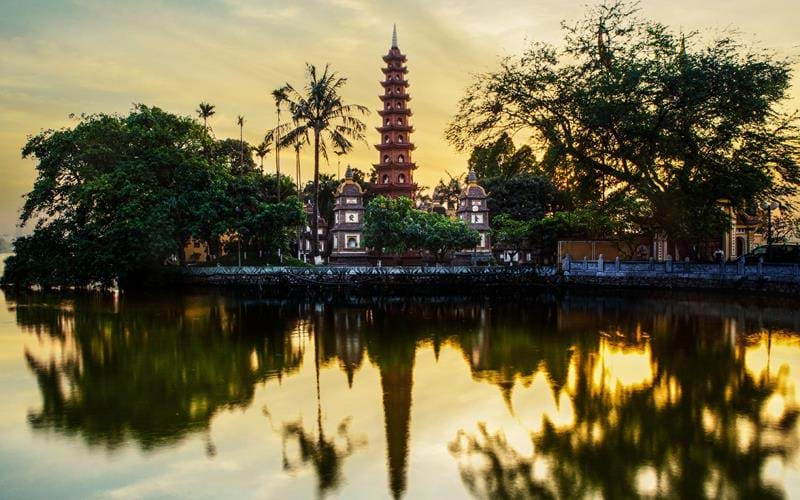 Day 3
Hanoi
Today, enjoy a full day of sightseeing. In the morning, start at the exquisite Temple of Literature and Ho Chi Minh's Mausoleum. After lunch, explore the city's atmospheric old quarter, before attending a performance of traditional Vietnamese water puppetry in the evening.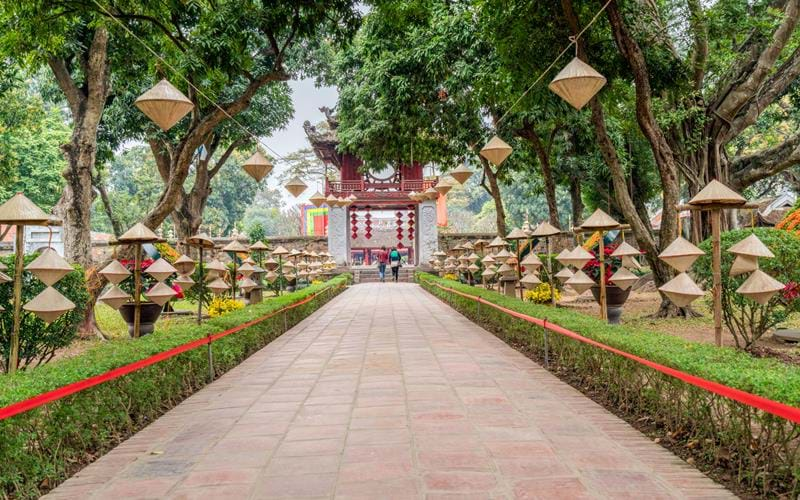 Set amid a maze of formal gardens and fig trees, the Temple of Literature is a particular delight in the morning, when you might see local students dressed in embroidered silk ao dai dresses praying for good exam results at the shrine of Confucius. Next up is the Mausoleum of Ho Chi Minh and his rather less imposing stilted home on the nearby lake. In the afternoon, soak up the traditional feel of the old quarter's '36 Streets ' where traditional craftsmen ply their trade in a maze narrow alleyways. Be sure to pause in the market for a fragrant bowl of beef soup and rice noodles, garnished with lime, ginger and chillies, before heading to Hoan Kiem Lake to see the delightful Vietnamese water puppets.
Day 4
Halong Bay
Travel by road to Tuan Chau Marina on Halong Bay, where you'll board a traditional junk for an overnight cruise.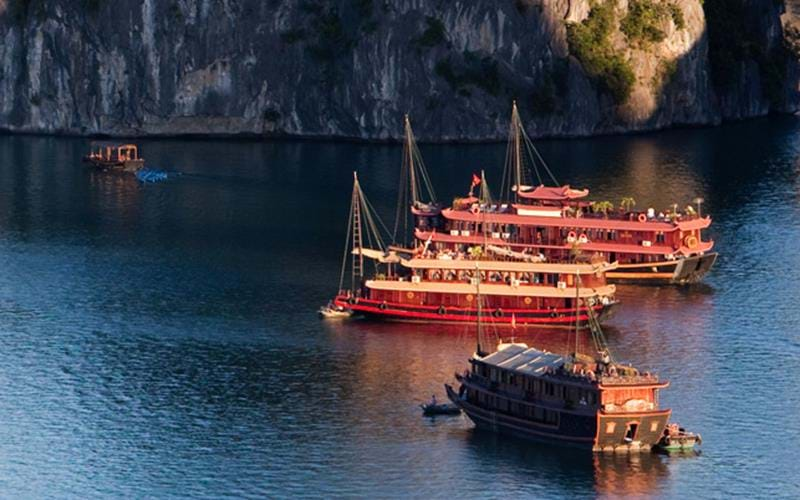 After a welcome drink and briefing, you'll be served a light lunch as the boat chugs through the otherworldly karst limestone stacks and islets of Halong Bay, pausing en route at some of the more famous formations, such as Hang Dau Go (the 'Cave of Marvels'), with its extraordinary stalactite's and stalagmites, and Hang Sung Sot ('Cave of Awe'). Visit Cua Fan fishing village in the afternoon by bamboo rowing boat or kayak (with supplement), before trying your hand at fruit and vegetable carving back onboard the cruiser.
Day 5
Halong Bay, Hue
Continue your bay cruise in the morning, returning to Hanoi in the afternoon to catch a late-afternoon flight south to the former capital of Hue.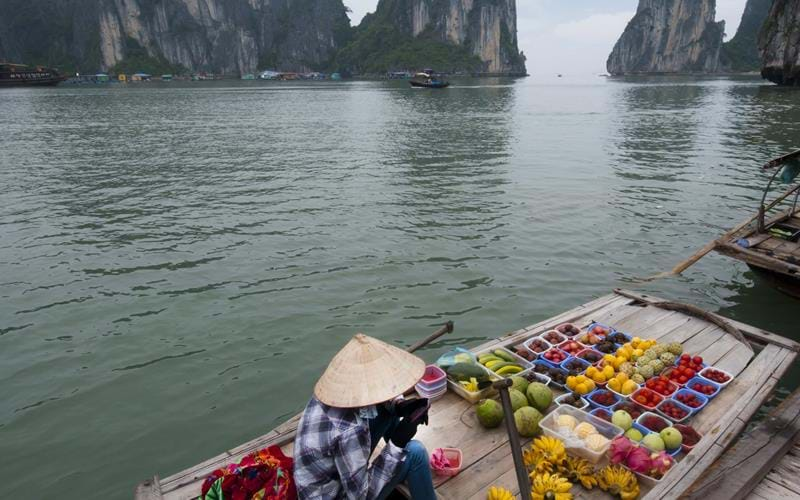 For early risers, there will be a Tai Chi demonstration on the sundeck at dawn, followed by a light breakfast in the restaurant. Later, the cruiser will stop at Titov Island, where more energetic travellers may wish to disembark to climb the peak for a spellbinding view over the Golf of Tonkin. After returning to the marina and transferring to Hanoi airport, your connecting flight should arrive in Hue well in time for supper.
Day 6
Hue
Spend the day exploring historic Hue with your guide, beginning with the Imperial City, then cycling or driving into the surrounding countryside to visit the Nguyen Dynasty's elaborate tombs.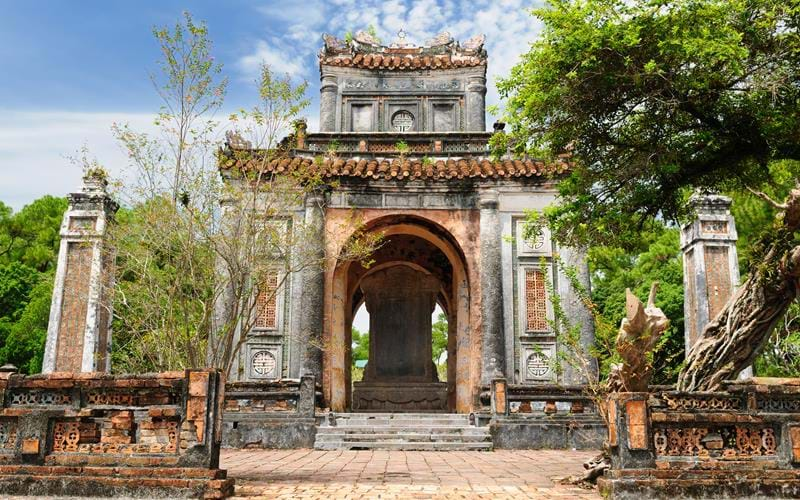 One of the finest historic monuments in Southeast Asia, Hue's Imperial City was where the Nguyen Emperor, his Queen and five ranks of concubines, servants and eunuchs resided amid fabulous pomp in the 19th century. Open courtyards and lawns divided the various buildings, which are all richly decorated and surmounted by beautiful glazed tile roofs. Some of the rulers who resided in it are entombed in suitably extravagant mausolea on the outskirts of town, around the banks of the Perfume River, where the tombs of Tu Doc and Khai Din are the standout monuments.
Day 7
Hoi An
In the morning, take a boat trip along the Perfume River to see the iconic Thien Mu Pagoda. Then travel by road over the Hai Van Pass to Hoi An, visiting the Cham museum at Danang and spectacular Marble Mountains en route.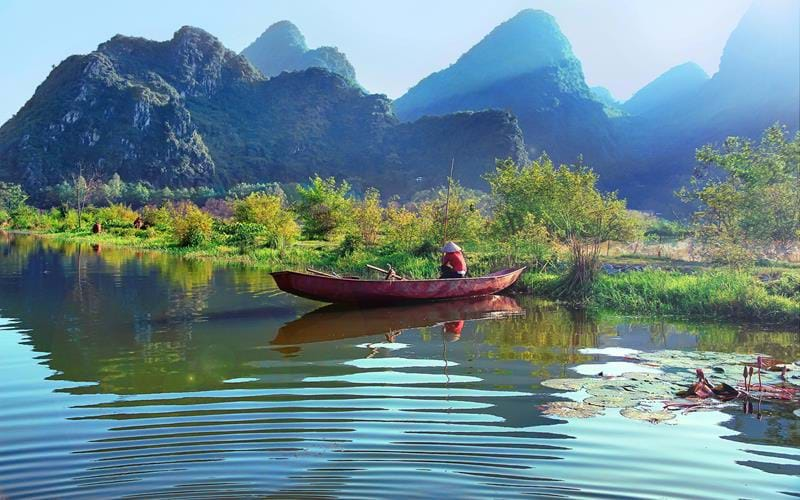 With the beautiful, pristine sands of 'China Beach' on the east-side, and a maze of local cafés, street food stalls and markets on the west, there's plenty to occupy you for an afternoon in the rapidly growing seaside city of Danang. Before moving on, consider a trip up to 'Marble Mountain', a cluster of peaks bristling with ancient temples, pagodas and Buddhist statues. You can climb to the top via an endless flight of stone steps or take the elevator. Either way, the view will be stupendous.
In the evening, soak up the magical atmosphere of Hoi An's Old Town, with its hundreds of paper lanterns and lively bars. Housed in a stately colonial building, Brother's Café has a particularly lovely candlelit garden.
Day 8
Hoi An
Take a walking tour of Hoi An's old town in the morning, and spend the afternoon lazing in cafés and browsing local handicraft boutiques.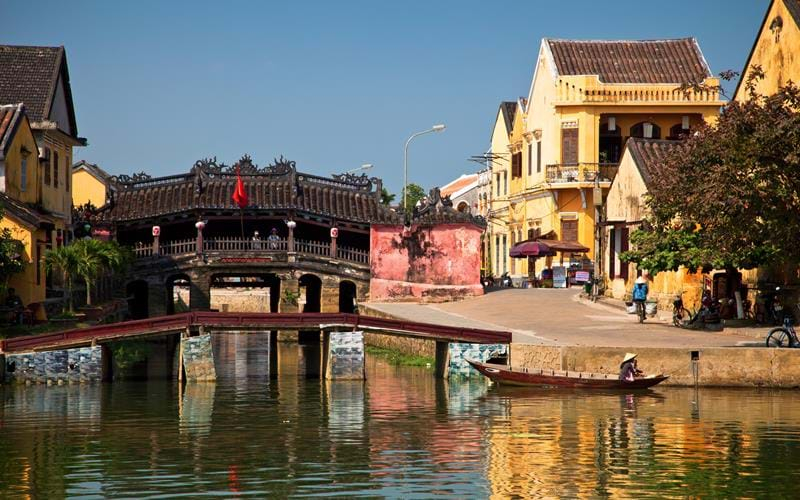 A thriving port before it was eclipsed by nearby Danang, Hoi An's Old Quarter preserves a unique cultural legacy spanning more than three-hundred years of colonial trade. Wandering its grid of 17th century streets, you'll pass some fine examples of old tube houses, Chinese pagodas, elaborately decorated community halls and shrines, and a wonderful Japanese covered bridge, as well as a restored French enclave. Savour the traditional Vietnamese atmosphere of the riverfront and market district, or shop for locally made art, crafts and silk, displayed in numerous boutiques around the backstreets. Hoi An's traditional tea shops and restaurants are good places to sample local cau lau noodles and white-rose dumplings.
Day 9
Hoi An
Today you'll be at leisure to explore Hoi An under your own steam. You could learn how to make pho at a Vietnamese cookery class, head to the lush countryside around town on a rented bicycle, or simply kick back on Bang beach, half-an-hour's peddle east.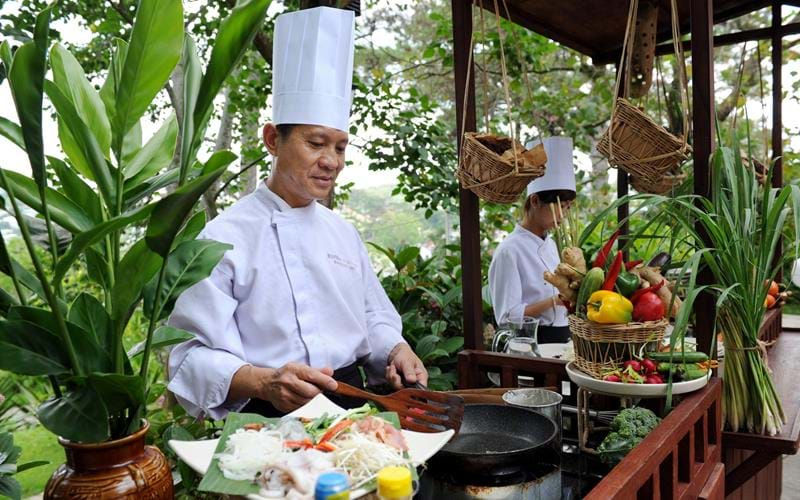 Wind up your day's sightseeing on An Hoi islet, where a row of picturesque little bars lines the riverfront – the perfect spot to enjoy a glass of ice cold 'Bia Hoi'. Afterwards, head for the north bank of the Thu Bon river for a skewer of freshly grilled pork, chicken or prawns, served with herbs and greens in a rice paper wrap, which you then dip in a peanut tomato sauce, with a few toasted sesame seeds – heavenly!
Day 10
Mekong Cruise
Transfer to Danang airport for your flight to Ho Chi Minh City in the morning, then continue by road into the Mekong Delta, where you'll board a private sampan for a three-day/two-night cruise through the waterways of the Mekong Delta, visiting various craft producers along the way.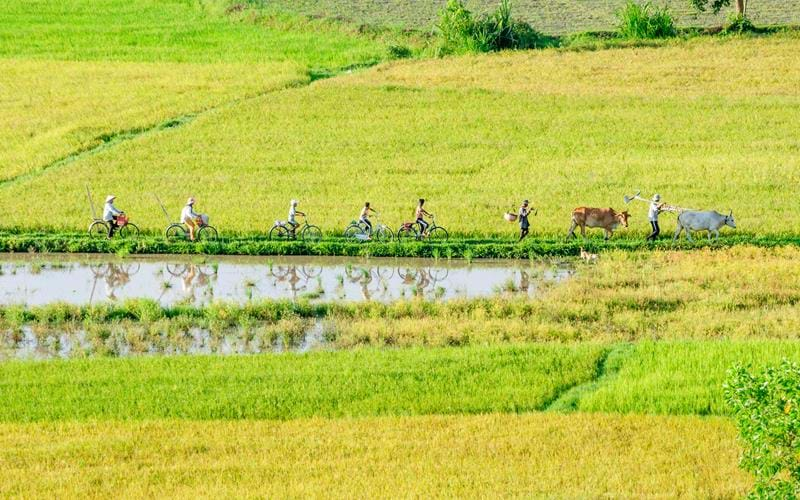 Lunch will be at a traditional Indochinese villa set in verdant tropical gardens overlooking the riverbank. Continue in the afternoon to Can Tho, where you'll spend the night. The great ethnic diversity of the Delta is reflected in the rich architectural heritage of the larger towns, many of whose inhabitants live crammed into houseboats on the river, or in stilt houses perched above it. During your excursion you'll be able to experience local life at close quarters: field workers in conical straw hats hunched over ripe rice paddy; boats piled high with cargoes of pink dragon fruit; children sluicing water over their buffaloes in the morning, as fishermen cast hand-nets from tiny canoes in the river.
Day 11
Mekong Cruise
Spend the day cruising the Mekong Delta, enjoying the sights and sounds of this distinctive region. Stop off at various places of interest throughout the day.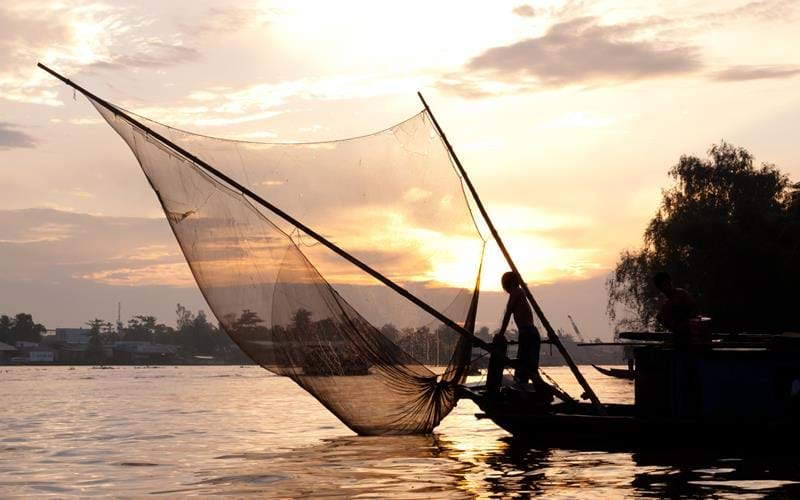 As picturesque as it is fascinating for the visitor, the Delta's unique way of life can only really be observed from the water. Travelling around the region you'll have numerous opportunities to visit local markets, potteries, weaving workshops and farming hamlets.
Day 12
Mekong Delta, Ho Chi Minh City
An early start is recommended to see the vibrant Cai Rang floating market. Later, travel by road to Ho Chi Minh City.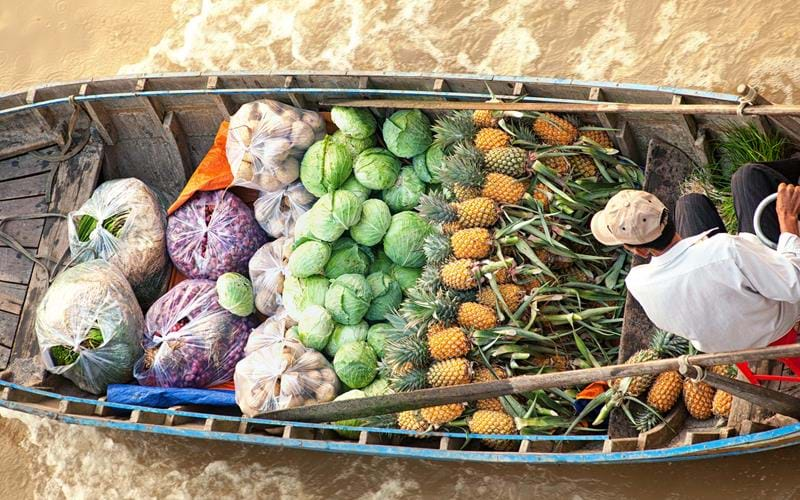 Local people from across the Delta travel to Cai Rang's 'floating market', near Chau Doc, to buy and sell fresh produce. Farmers begin to gather shortly before dawn, advertising whatever they may have to sell that day by tying samples to tall bamboo poles (in the absence of space for stalls) and hoisting them into the air. Buyers chug or paddle around the wholesale vessels in smaller craft to compare prices, serviced by a flotilla of long-tail boats selling hot-noodles-and-crab-broth breakfasts, with steaming cups of coffee – all a compelling experience for an overseas visitor.
Day 13
Ho Chi Minh City
In the morning, travel to Cu Chi to see one of the impressive tunnel networks built by the Viet Cong during the war. In the afternoon, explore Ho Chi Minh City with your private guide.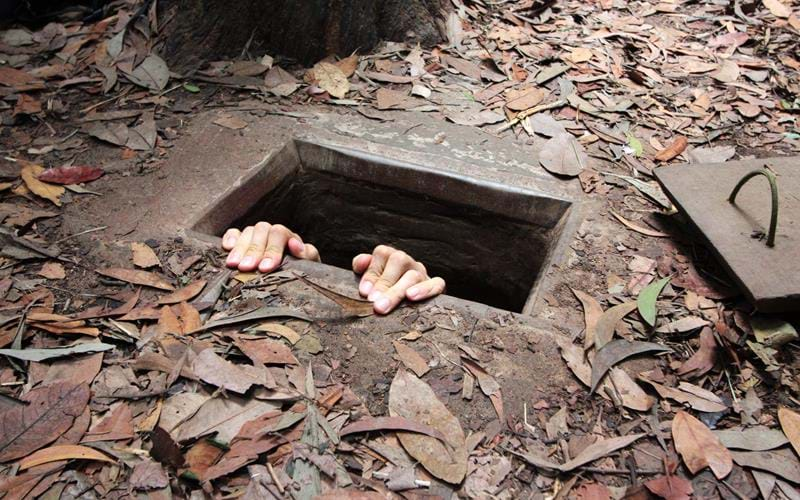 As 'Saigon', Ho Chi Minh City earned the epithet 'Paris of the Orient', and more than a hint of Gallic grandeur survives in the swanky Dong Khoi district (setting for Graham Greene's novel, The Quiet American). In the afternoon, visit the beautiful Jade Emperor Pagoda, with its array of gilded Buddhist and Taoist deities, then wander around the atmospheric Cholon quarter, whose markets are brimming with silk, spices and jade souvenirs, before a sundowner at rooftop bars for a dizzying view over the metropolis – the Eon Heli Bar, on the 52nd floor of the city's tallest building, Bitexco Financial Tower, is one of our favourites amongst many.
Day 14
Ho Chi Minh City, UK
Time to bid farewell to Vietnam as you travel to the airport to catch your flight back to the UK.
Tailor-made Tour

14 days from £3200 per person
What's included

✓   International flights from London
✓   12 nights accommodation
✓   All internal transportation and transfers
✓   English-speaking guides
✓   Breakfast daily
✓   Entrance fees to sites and monuments listed in tour itinerary
Places and Experiences in this tour
Plan your 2022 Adventures
With the world now largely open again, now is the time to begin planning your 2022 adventures in Asia. Our Travel Specialists are ready to take your call and discuss the adventure you have spent the last 2-years dreaming of.
Or call us on 0208 566 3739
TransIndus Brochures 2022
Join our mailing list