New
Tailor-made Tour

13 days from £3225 per person
Places Visited:
Hanoi, Mai Chau, Ninh Binh, Halong Bay, Lan Ha Bay, Quang Ninh
This tour focusses on the highlights of Northern Vietnam. Begin in the compelling city of Hanoi before exploring the remote regions of Mai Chau, experiencing rural life in Vietnam and the stunning karst mountains of Ninh Binh.  Move on to Halong Bay where you will spend 2 nights cruising, allowing time to travel away from the crowds to discover the much quieter area of Lan Ha Bay, before a night at the beautiful Legacy Yen Tu Mgallery at the base of Yen Tu Mountain.
Holiday Types
Cultural Tours
Suggested itinerary
Day 1
UK
Fly overnight from the UK to Hanoi.
Day 2
Hanoi
On arrival in Hanoi, you'll be met by your driver and guide and escorted to your hotel for a two-night stay. Spend the rest of the day recovering, perhaps venturing out later for dinner at the Sofitel Legend Metropole Hanoi – the "high temple" of retro Indochina elegance.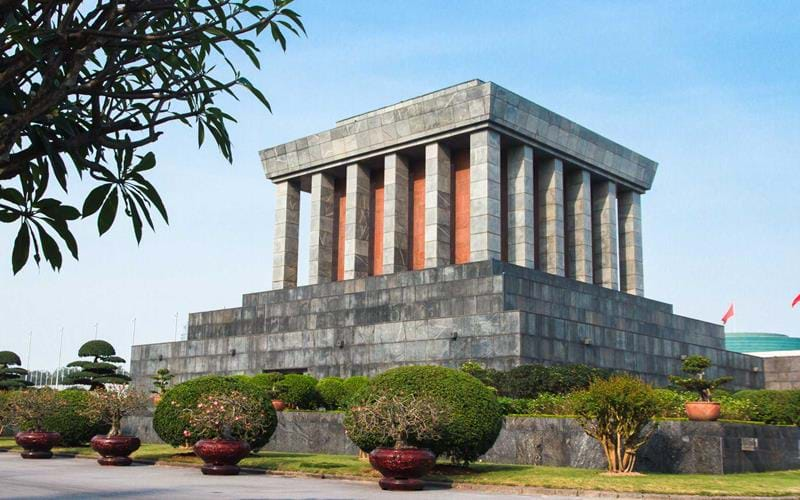 Vietnam's charismatic capital may be expanding and modernizing at an extraordinary pace, but it's still a great city to explore on foot. Surrounded by parks and tranquil lakes, the heart of the city is a medieval Old Quarter – one of the most atmospheric square kilometres in all of Asia – where traditional craftsmen ply their trade in narrow alleyways lined with antique tube and shop-houses.
Uptown, colonial mansions and relaxing cafés flank the boulevards and leafy shores of Hoan Kiem Lake, but the prime attraction in the wider city is Ho Chi Minh's Mausoleum, where the Great Leader's remains are embalmed in a sombre marble tomb. Other iconic landmarks include the 11th century One Pillar Pagoda, and Temple of Literature a feast of medieval Vietnamese architecture erected in 1070 AD.
Accommodation Options
Day 3
HANOI
Today, enjoy a full day of guided sightseeing. Start at the exquisite Temple of Literature and Ho Chi Minh's Mausoleum. In the afternoon, visit Hoan Kiem Lake and explore the city's atmospheric Old Quarter.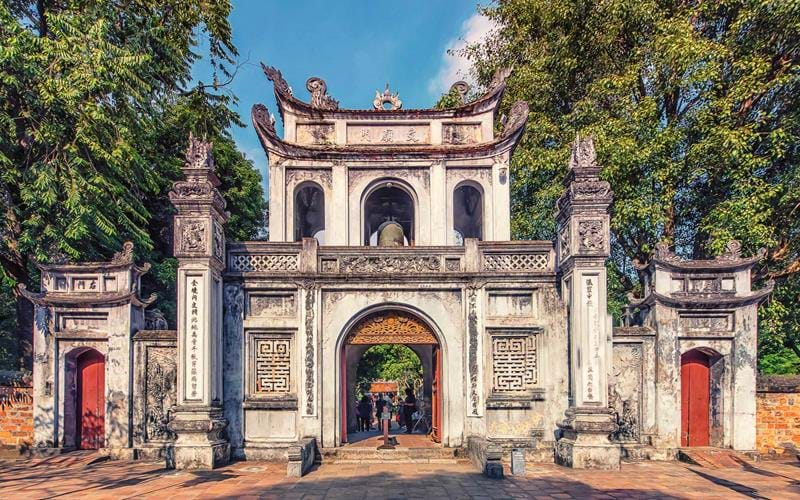 Set amid a maze of formal gardens and fig trees, the Temple of Literature is a particular delight in the morning, when you might see local students dressed in embroidered silk ao dai dresses praying for good exam results at the shrine of Confucius. Next up is the Mausoleum of Ho Chi Minh and his rather less imposing stilted home on the nearby lake.
After a busy day's sightseeing, unwind in one of the city's traditional Vietnamese restaurants, or catch a performance of old-style puppetry, where performers stand waist-deep in water wielding elaborate fire-breathing dragons and other ornate figures to a soundtrack of exotic live music.
Accommodation Options
Day 4
HANOI - MAI CHAU
Travel southwest out of Hanoi today through Hoa Binh to Mai Chau. Visit the traditional village of Giang Mo en route, where wooden stilt houses are nestled among rice paddies with a backdrop of picturesque hills, and the Muong Museum. On arrival in Mai Chau visit a local family who run a small homestay, enjoy a delicious local lunch. Transfer to your hotel for a three night stay. This afternoon is at your leisure.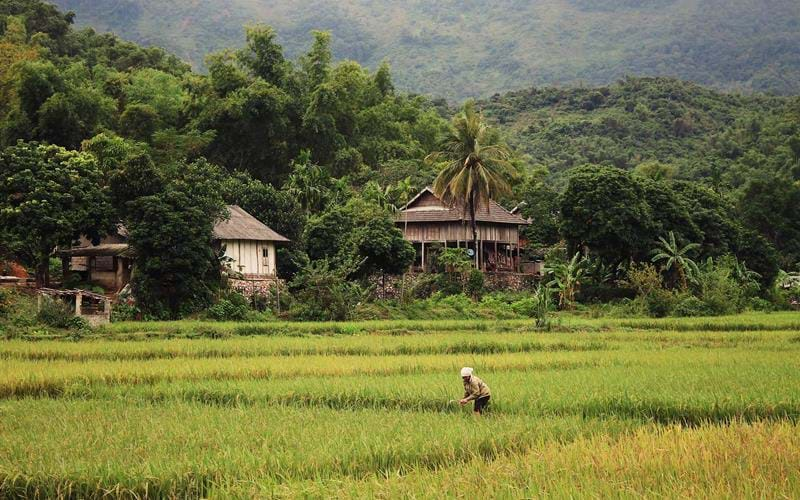 The remote Mai Chau Valley, a couple of hours' drive out of Hanoi in the lower reaches of the Truoung Son Mountains, makes an excellent base for treks into the nearby hills, inhabited by a mix of ethnic minority communities, including the H'mong and Thai. You'll have opportunities to meet local people and go for extended cycle rides through rice fields and villages of wooden stilt houses in which the livestock are stabled on the ground floor.
In the evenings, be sure to sample rice wine, or ruou can, drunk communally from large jars using bamboo straws – the perfect primer for sessions of traditional music and dance.
Accommodation Options
Day 5
MAI CHAU
Spend today exploring the white Thai ethnic minority villages surrounding Mai Chau. Start with a walk around Buoc village before travelling to Lac & Pomcoong villages. This evening, enjoy a traditional dance performance at Mai Chau Ecolodge.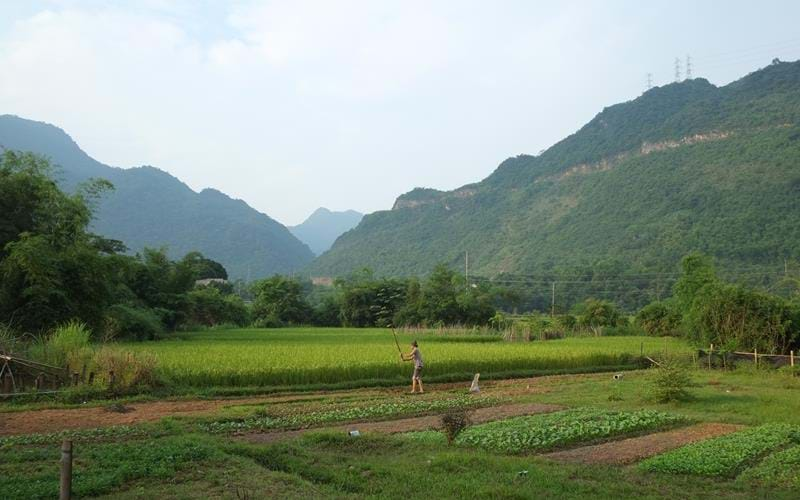 Around six million minority people inhabit the northern provinces of Vietnam that border Laos and China. Amongst the most numerous are the Muong and Thai in the northwest. Originally migrants from southern China, they are distinguishable by their varied and colourful forms of traditional dress. Experienced guides are essential - apart from translating and advising on etiquette, they'll also help you to learn a few phrases in the local dialects. Guides employed by TransIndus are chosen for their expertise on the region and its people.
Accommodation Options
Day 6
MAI CHAU
Explore the villages around Mai Chau further today, with a leisurely walk through the villages of Na Sun, Xam Khoe and Buoc. Spend the afternoon relaxing.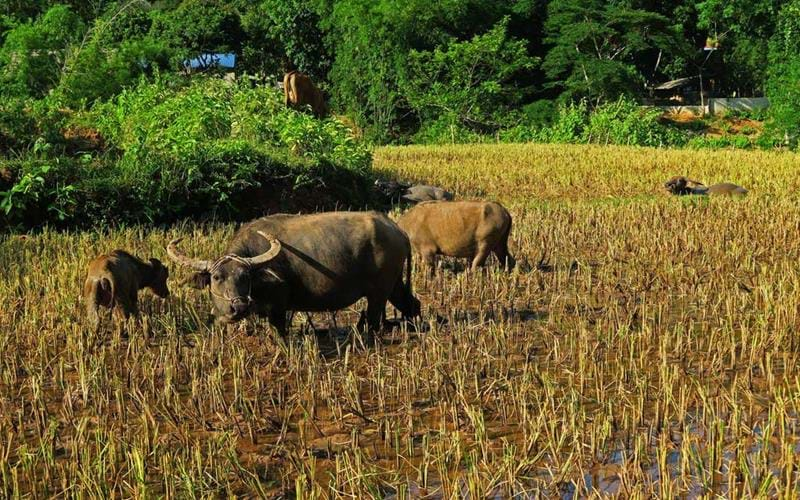 This walk, approximately 4 hours, takes you along dirt tracks and paths through the surrounding villages and farmland. See people working the fields with their buffalo framed by scenic mountain landscapes with the occasional stop to talk to the friendly locals and perhaps even take a peek inside their homes.
Accommodation Options
Day 7
MAI CHAU - HANOI
Travel back to Hanoi for overnight, visiting two picturesque pagodas - Thay and Tay Phuong - en route.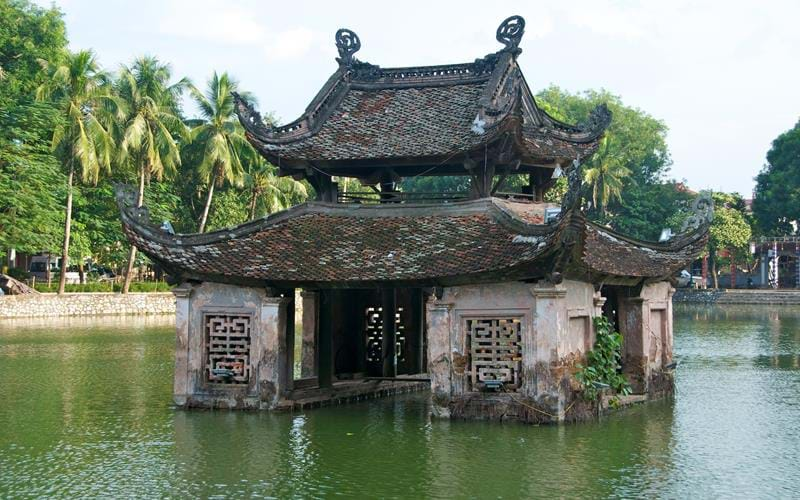 Built into dramatic limestone outcrops in the middle of lush green rice fields, Thay Pagoda, known as Thien Phuc (Heavenly Blessing), is dedicated to Thich Ca Buddha. In front of the main pagoda is a small stage on stilts, where water puppet shows are staged during festivals. A small path leads up the rock to a smaller pagoda perched above. Tay Phuong Pagoda, also known as Sung Phuc Pagoda, consists of three buildings built in descending sequence on the hillside. The earliest construction here dates from the 8th century.
Day 8
NINH BINH
Travel southwest to Ninh Binh today. Visit Hoa Lu - Vietnam's first capital - and Tam Coc - known as 'Halong Bay on land - for a ride by sampan through the green waterways, passing through a series of caves. Return to Hanoi for the night.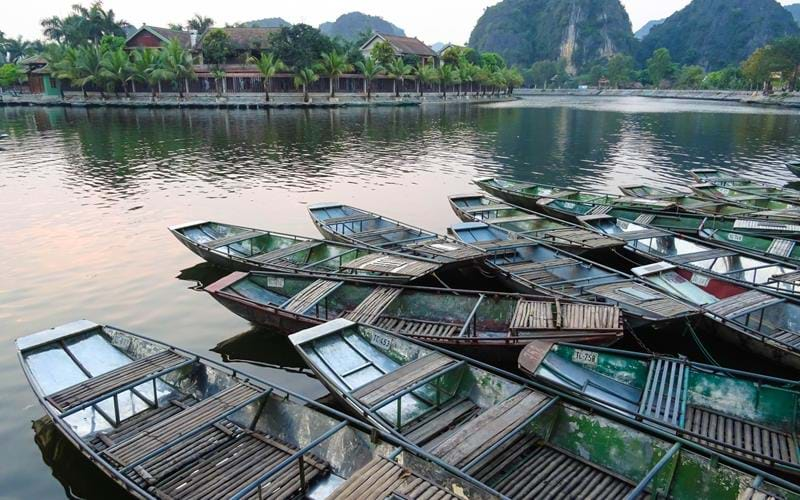 Often dubbed "Halong Bay on land", Tam Coc is the area's highlight. Meaning "three caves" you will pass under Hang Ca, Hang Giua and Hang Coi caves as your metal sampan, all rowed by women, glides past green rice fields and lotus ponds, with a backdrop of the spectacular karst mountains.
Also worth a detour are the ruins of Emperor Tien Hoang De's imperial capital at Hoa Lu, where jungle-draped limestone hills serve as a backdrop for ancient citadels, temples and impressive fortifications.
Accommodation Options
Day 9
HANOI - HALONG BAY
Travel by road to Tuan Chau Marina on Halong Bay, where you'll board the Au Co for a two-night cruise. Start cruising southwest, whilst tucking into a delicious lunch on board. In the afternoon, visit Cua Van floating fishing village by kayak or traditional rowing boat.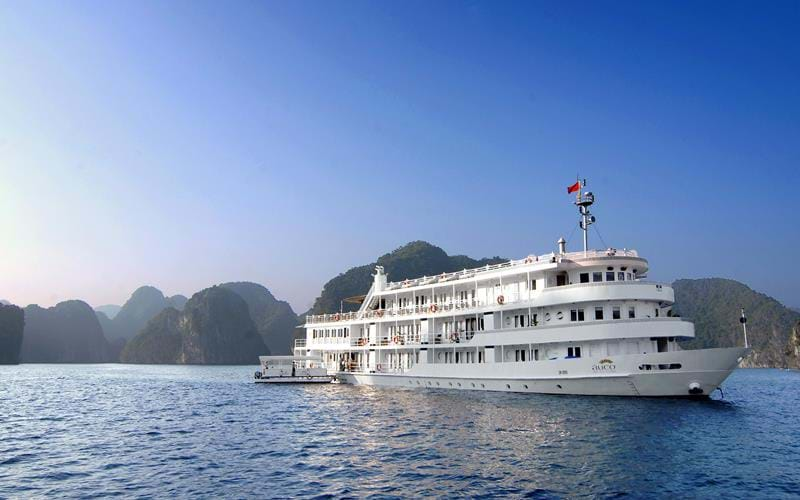 Rising in majestic fashion from the northern shore of Vietnam, the karst limestone formations of Halong Bay create a unique, spellbinding landscape. Around 2,000 islands, islets, outcrops and towering mountains, draped in vegetation and riddled with grottoes, soar above the green-blue waters of the Gulf of Tonkin.
A fleet of converted junks guide visitors around the finest viewpoints and beauty spots, the most popular of them grouped on the western side of the bay, which is best visited on an overnight excursion from Halong City (the area's main hub). However, to reach the lesser frequented caverns, lagoons and beaches on the more distant and quieter shores, we recommend a longer cruise of at least two nights and three days.
Accommodation Options
Day 10
LAN HA BAY
This morning you will cruise to Cat Ba Island. Join a cycle tour of Viet Hai Village, nestled in the heart of Cat Ba National Park. Learn about Viet Hai Community Farm and Save the Langurs, two of the cruise company's local initiatives. Whilst enjoying lunch on board, cruise past the karst towers of Lan Ha Bay. In the afternoon, opt for a kayaking trip to Bai Trai Dao – the Three Peaches Beach area. At the beach, you can swim in the emerald waters and relax on the golden sands looking out across stunning karst islands.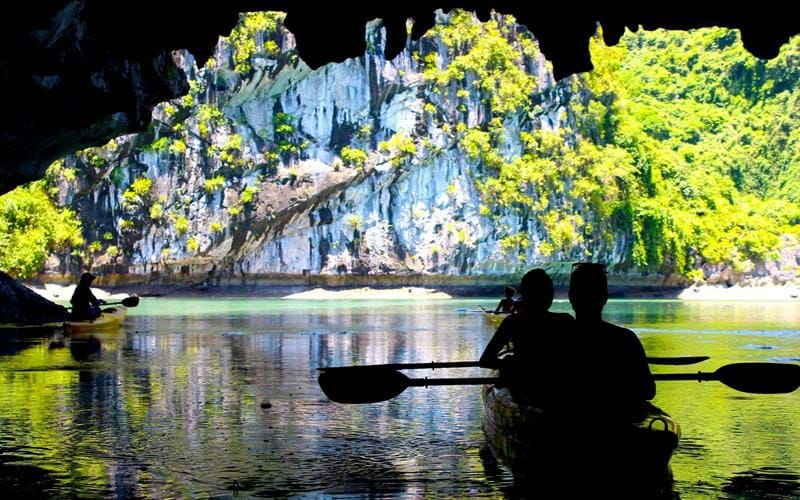 For early risers, there will be a Tai Chi demonstration on the sundeck at dawn, followed by breakfast in the restaurant as The Au Co cruises towards the centre of the bay and Cat Ba Island.
After a busy afternoon. return to The Au Co for some time at leisure to relax or try the jacuzzi and onboard spa. Later, participate in a cooking and fruit carving demonstration on the sundeck and enjoy a real highlight on the trip – a BBQ dinner on deck.
Accommodation Options
Day 11
HALONG BAY - QUANG NINH
Start your day with another Tai Chi lesson at sunrise before exploring Trinh Nu Cave. Enjoy brunch on board as you cruise back to the port, passing Lom Bo island, Trong Mai islet and Ba Hang fishermen village. Join a traditional Vietnamese tea ceremony before disembarking. Drive to Uong Bi and the Legacy Yen Tu Mgallery for an overnight stay.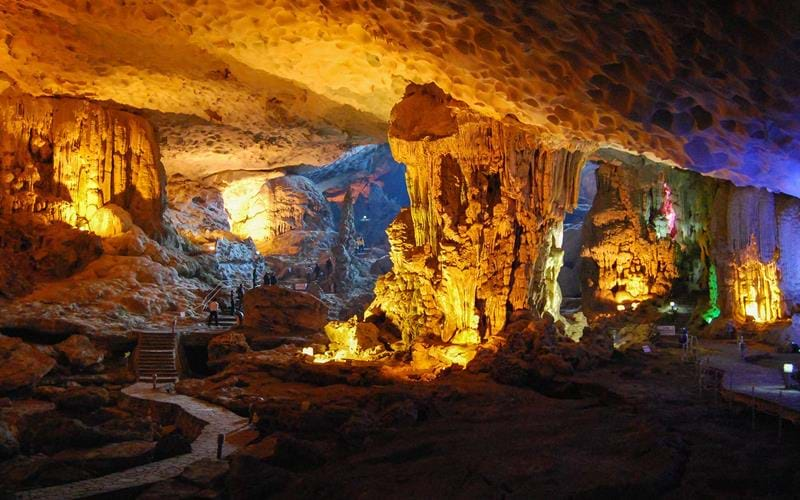 Trinh Nu Cave - one of the finest sunlight-filled caves in Halong Bay and covering an area of 2,000sqm - has a stunning assortment of stalactites and stalagmites. Enjoy a swim in the jade-coloured waters or sunbathe on a private beach nestled behind the cave.
As an alternative to heading straight back to Hanoi for your overnight flight, we suggest spending a night at the unique Yen Tu Mgallery, only an hour drive from Halong Bay. This superb mountain retreat is the perfect spot to relax at the end of your tour or explore the Yen Tu mountain, and allows you to maximise your time in Vietnam.
Accommodation Options
Day 12
QUANG NINH - HANOI
Take a cable car to visit some of the pagodas dotted on Yen Tu Mountain. Late afternoon transfer to Hanoi airport for your flight home.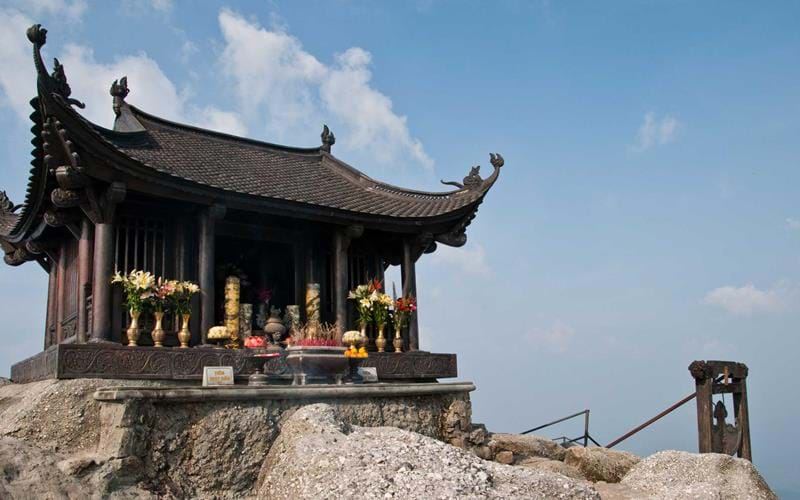 Situated within the immense arched mountain range of north-eastern Vietnam, the sacred Yen Tu Mountain is the cradle of Truc Lam Zen Buddhism in Vietnam and at its peak, 1,068m above sea level, stands the Dong Pagoda. The majesty of the mountains dotted with the peaceful ancient pagodas makes it a popular place for trekking and religious pilgrimages.
Tailor-made Tour

13 days from £3225 per person
What's included
✓   International flights from the UK in economy
✓   11 nights accommodation
✓   All road travel and transfers by private chauffeur-driven vehicles
✓   English-speaking guides
✓   Breakfast daily
✓   Entrance fees to sites and monuments listed in the tour itinerary
Places and Experiences in this tour
Plan your 2022 Adventures
With the world now largely open again, now is the time to begin planning your 2022 adventures in Asia. Our Travel Specialists are ready to take your call and discuss the adventure you have spent the last 2-years dreaming of.
Or call us on 0208 566 3739
TransIndus Brochures 2022
Join our mailing list