Tailor-made Tour

15 days from £5675 per person
Places Visited:
Kathmandu, Paro, Haa, Thimpu, Punakha, Gantey
Whether you're celebrating a honeymoon, a special anniversary or simply want to enjoy a perfect vacation this two week exploration of Bhutan provides the ultimate back-to-nature experience.  The journey begins with a stopover in Kathmandu and covers all of Bhutan's highlights, including its spectacular dzongs, monasteries palaces and some of its incredibly beautiful valleys. We follow a range of trails over the course of which you'll experience life in rural Bhutan at close quarters, explore ever changing landscapes, from swirling, sub-tropical rice terraces to mossy cypress and rhododendron forests, yielding glimpses of the country's highest snow-capped mountains.
The walks have been carefully chosen to be accessible to anyone with a moderate level of fitness; they're mostly at level ground with only short ascents with a car waiting at the end to whisk you back to your hotel. You'll be accompanied by a local guide throughout.
Enjoy a compelling blend of traditional Bhutanese culture and glorious Himalayan scenery on this expertly crafted, fortnight-long trip designed especially for active nature lovers.
Holiday Types
Walks, Hikes and Rides Cultural Tours Honeymoons in Asia
Suggested itinerary
Day 1
UK-KATHMANDU
Fly overnight from Heathrow to Kathmandu via the Middle East.
Day 2
Kathmandu
On arrival in Kathmandu, you'll be met by your TransIndus guide and driver and accompanied to your hotel. Spend the remainder of the day recovering from your journey, perhaps venturing out to Durbar Square later in the afternoon.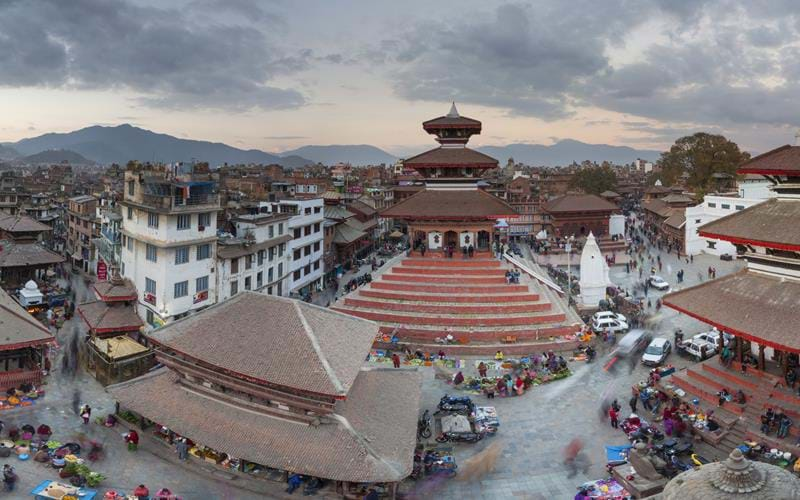 A sprawling modern city of nearly a million inhabitants, the Nepali capital can feel overwhelmingly crowded and chaotic on first impressions. But head for its ancient core, where the Shah and Malla kings erected their resplendently gilded stupas, palaces and carved wood pagodas, and things improve dramatically. Durbar Square forms the epicentre of this superbly atmospheric quarter. More than fifty temples, 106 monastery courtyards (bahals) and countless shrines line its narrow, cobbled backstreets. Settle on to one of the terraced platforms of the Manju Devul tower to watch exotic bustle of marigold sellers, saffron-clad sadhus, stray cows and pigeons.
Accommodation Options
Day 3
Kathmandu - Paro
Take a short flight from Kathmandu to Paro, where you'll be spending two nights. The journey lasts only 45mins, but – weather permitting – yields spectacular views of Nepal's highest mountains, including Lhotse, Mansulu and Everest.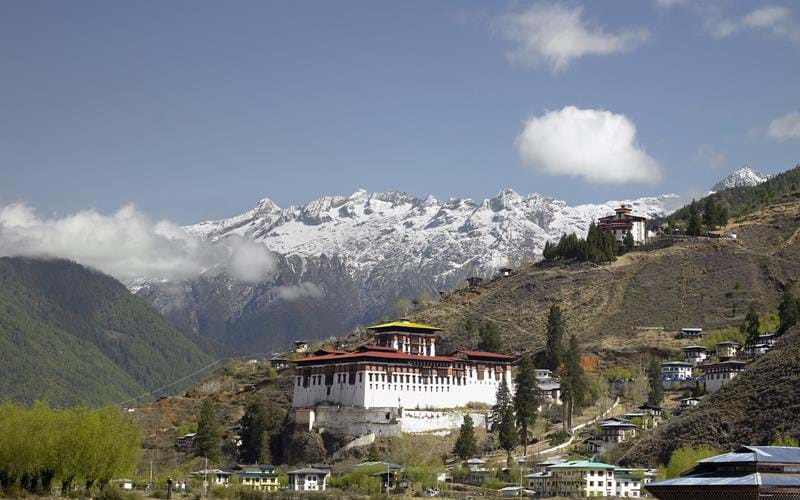 Approached via a snaking descent through the Bhutanese foothills, the town's airport at Paro, in the far west of Bhutan near the border with Tibet, is the principal arrival point for foreign travellers.  The town is best known locally for the splendid Rinpung Dzong, whose most valuable possession is a giant embroidered tapestry, or thondrol (thangka), depicting the dzong's founding father, Guru Rinpoche. The treasure is unrolled only once a year on the morning of the annual tsechu (festival).
On the hill behind rests the National Museum in a beautifully restored watchtower, the Ta Dzong, built in the 1650s to guard Paro's dzong. You'll have time to see both after lunch at your hotel, along with a stroll along the main street, whose shops, restaurants and offices reside in quintessentially Bhutanese buildings.
Stay at the traditional Village Lodge, nestled amid the rice fields outside Paro town, or see the accommodation options for upgrades. 
Accommodation Options
Day 4
Paro
Sightseeing in and around Paro today includes a trip out to the iconic Tiger's Nest Monastery, followed by visits to Drugyel Dzong and Kyichu Lhakhang in the afternoon.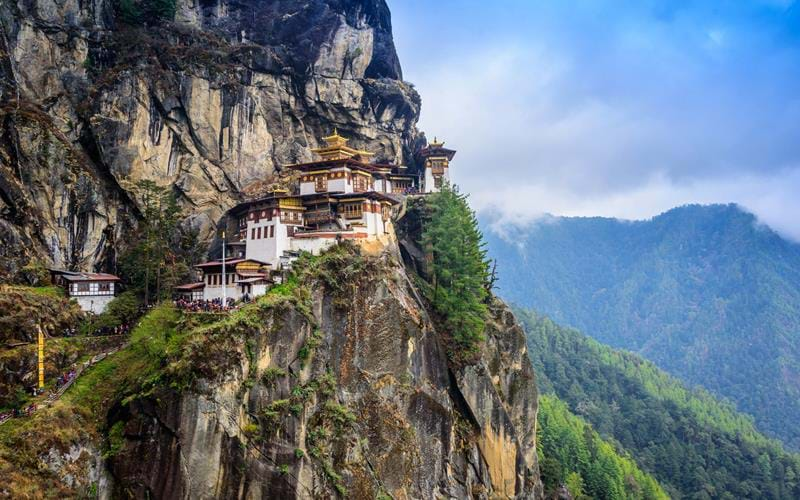 Bhutan's most photographed monument, the Taktshang Monastery, commonly known as the 'Tiger's Nest', is wedged into a lofty cliff nearly a vertical kilometre above a forested valley. Rock-cut steps and rickety bridges connect its four wings, whose golden pagoda roofs, fluttering prayer flags and distempered walls are dwarfed by the vista of forested hills and snow-capped mountains unfolding on all sides – a spectacle worth the journey to Bhutan alone!
After lunch your guide will accompany you on a drive to the far northern end of the Paro Valley, where the ruins of Drugyel Dzong command a splendid view over the surrounding villages, forests and snow peaks. On the edges of Paro itself, Kyichu Lakhang is much older, though in a far better state of repair, its walls and pagoda rooftops beautifully decorated in ochre and gold.
Accommodation Options
Day 5
Paro - Haa Valley
A zigzagging, two-hour drive west of Paro over the windswept Chele La Pass takes you into the hidden Haa Valley on the fifth day of your trip – a wonderfully scenic journey from start to finish. You'll spend a couple of nights in this unspoilt region, exploring its historic monasteries and following ancient trails between hill villages and farmsteads.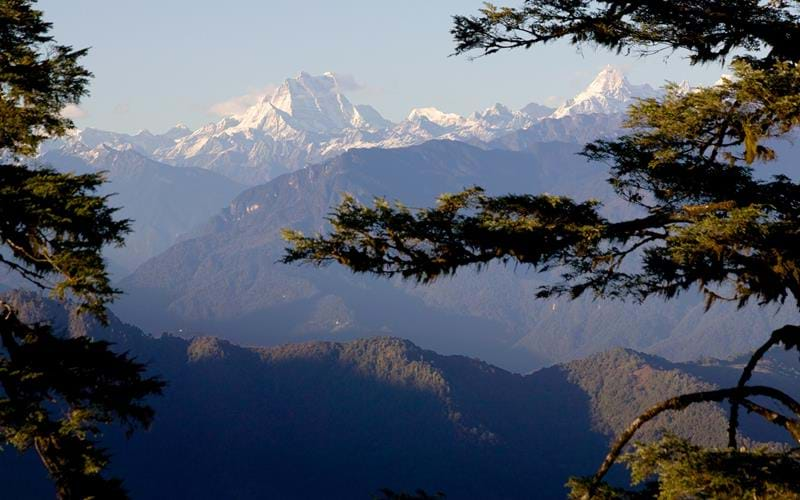 Glimpses of gleaming white snow peaks on the Tibetan border to the north herald your arrival at Chele La (3,988m/13,084ft) – one of the country's highest motorable passes and a wonderful viewpoint, encompassing sacred Mount Jomolhari and Jichu Drakey, two of Bhutan's highest summits. For a leg stretch, we recommend pulling over for the short hike to Kila Gompa, a nunnery huddled on a cliff face whose clutch of tiny temples are the focus of constant ritual activity for a community of 70 nuns.
Beyond lie the ancient Alpine forests and swirling rice terraces of the Haa Valley, with its backdrop of pine forest and ice peaks. Some of the oldest Buddhist monasteries in the country are dotted along the river here. You can follow old stone-paved footpaths between them, passing traditional whitewashed hamlets and picnicking on the grassy banks. The scenery and architecture wherever you look is bucolic.
Spend the end of the day strolling along the one street of Haa town, the valley's largest settlement, which is lined by traditional Bhutanese buildings with stone-tiled roofs and carved wood eaves.
Accommodation Options
Day 6
Haa Valley
Visit the two great Buddhist monasteries of the Haa Valley in the morning, then enjoy a leisurely walk around some of the local villages, taking tea at a traditional family farmhouse before a picnic lunch on the river.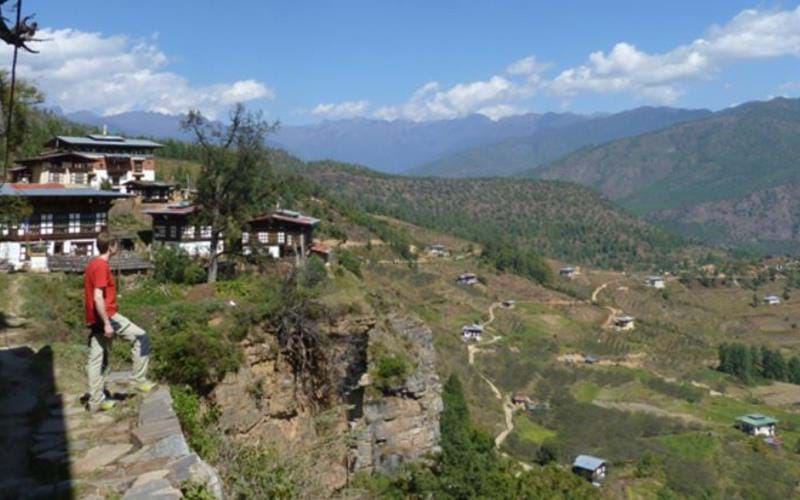 Standing sentinel at the southern entrance of the valley, Lhakhang Karpo and Lhakhang Nagpo are two of the oldest Buddhist monasteries in Bhutan. They date from the 7th-century reign of Songsten Gampo, the Tibetan ruler credited with first bringing Buddhist law, astrology, calligraphy and knowledge of sericulture to this corner of the Himalayas. Lhakhang Karpo ranks among the most architecturally impressive of the 108 monasteries allegedly founded by the Tibetan king.
A delightful wooden bridge carries a path over the river and through a pretty village to 300-year-old Jamte monastery, where you'll be invited to take traditional butter tea and meet a local family on a working farm. Afterwards, your guide will accompany you back to your hotel for supper.
Accommodation Options
Day 7
Haa Valley - Thimpu
Promptly after breakfast you'll begin the drive east to the Bhutanese capital, Thimpu, pausing at Dogar Dobji Dzong and the confluence of the Paro and Thimpu Rivers at Chuzom en route. You should arrive well in time for lunch and an afternoon of sightseeing to include Buddha Point (Kuenselphodrang) and Trashi Chho Dzong.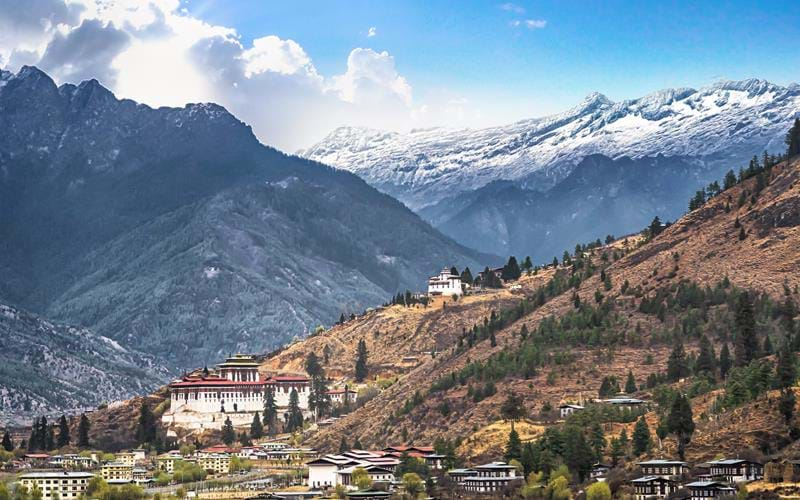 The country's principal centre of government, religion and commerce, Thimpu is a distinctively Bhutanese blend of modern development and ancient traditions. An ideal place to get your bearings is Buddha Point (Kuenselphodrang), a hilltop above the town where a huge gilded Shakyamuni Buddha presides over a breathtaking view. Measuring 169 feet (52 m), the statue was inaugurated only in 2015 and contains 125,000 smaller Buddha figurines.
From there, you'll be driven to the Trashi Chho Dzong on the west bank of the Wang Chhu River. One of the largest and most striking buildings in the eastern Himalayas, it serves as the summer residence of the Chief Abbot and holds a magnificent throne room, the secretariat and offices of the king. Most of what you see today dates from the 18th century but the building remains in a remarkable state of repair, emblematic of the Bhutanese love for cleanliness and orderliness. With its three-storey towers at the four corners crowned by triple-tiered, gilded pagoda roofs, the large central courtyard hosted the last coronation and accommodates thousands of spectators for its annual 'tsechu' festival in September, the climax of which is the unfurling of a giant 'thondrol', or 'thangka' depicting the Buddha Sakyamuni with two disciples.
In the evening, enjoy a stroll around Thimpu market with your guide. The bazaar includes emporia specializing in traditional arts, such as hand-woven textiles, thangka paintings, dance masks, ceramics, wood carving and jewellery.
Accommodation Options
Day 8
Thimphu - Punakha
A highly varied day awaits today as you mop up Thimpu's remaining sights in the morning before driving up to Dochu La Pass, where you'll embark on a hike through forests of rhododendron to Lungchukezha monastery. Continue after lunch to Punakha, a beautiful, verdant valley at the confluence of the Mo Chhu and Po Chhu Rivers that's the site of Bhutan's most impressive monastery complex.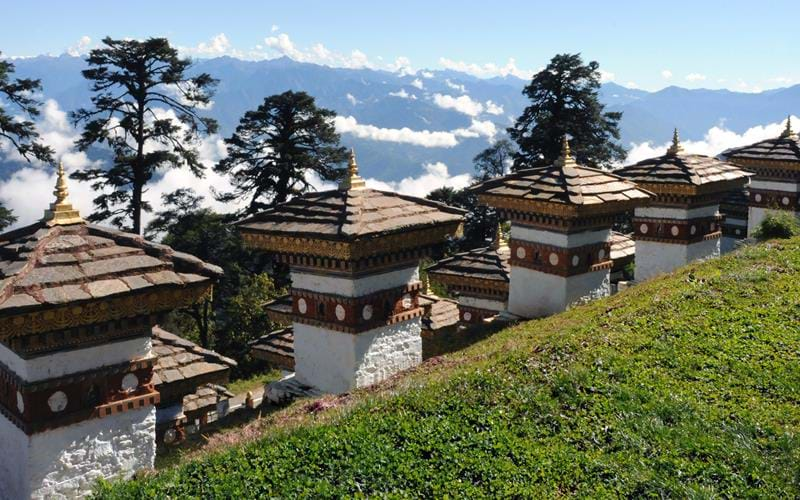 Bhutan's iconic National Memorial Chorten was built in 1974 in honour of King Jigme Dorje Wangchuk, founding father of modern Bhutan, who first opened the country up to the outside world. A forward-looking social reformer and environmentalist, though a cultural conservative, the former Druk Gyalpo (father of the present king) remains a much loved figure and his memorial is treated as more of a religious than political monument by the people of Bhutan.
Before leaving the capital, you'll have a chance to meet the national animal, the Takin, at the famous Mohitang Reserve on the outskirts. The creature looks like a cross between and cow and a sheep, and is critically endangered, having been intensively hunted for its horns (used in traditional Chinese medicine).
The route over Dochu La Pass (3,100m/10,200 ft) is one of the highest motorable roads in the country. Flanked by fluttering prayer flags and forests of cypress and rhododendrons, it offers a panoramic view of the snow peaks to the east, including Mount Masangang (7,158m/23,484ft), Bhutan's highest mountain (and the highest unclimbed summit in the world). The vistas are most impressive between October and February. During the spring snow melt, the pass is also famous for its displays of wild flowers, notably primulas.
The large chorten at the pass marks the start of the 10-km round hike to Lungchuzekha Monastery, a delightful 3–4-hour walk through mossy, old-growth forests, juniper scrub and Alpine meadows where yak herders camp in the winter months. On clear days the views from the monastery are fabulous, encompassing all of Bhutan's major snow peaks.
Accommodation Options
Day 9
Punakha
Visit Punakha Dzong in the morning after breakfast, followed by walk along the valley to Limbukha village, a centre for red rice production and another wonderful viewpoint over the valley. In the evening, your guide will show you around the fascinating village of Chimi Lhakhang, associated with the 'Divine Madman' of Bhutanese folklore and infamous for its phallic murals!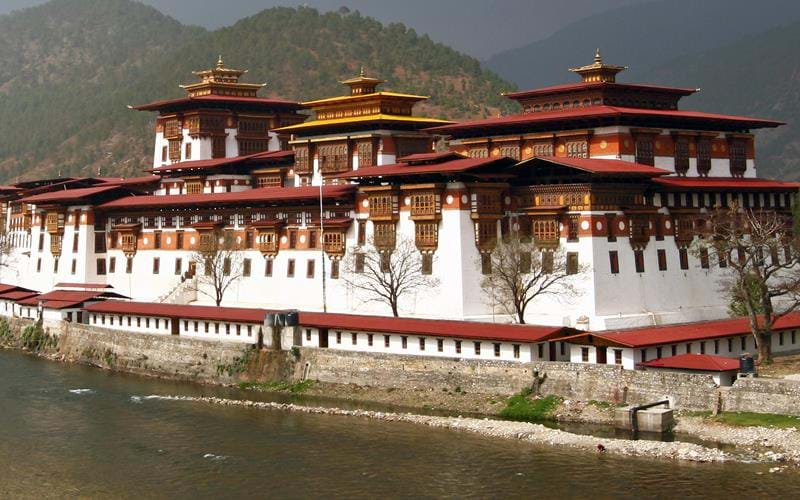 Overlooking the confluence of the Mo Chhu and Po Chhu Rivers, Punakha Dzong is one Bhutan's most majestic buildings and a masterpiece of Himalayan architecture. It is at its most picturesque in the spring when the surrounding jacaranda trees form swaths of mauve along the waterfront. At this time, thousands descend on the monastery for its annual 'tsechu' festival, the centrepiece of which is a masked dance performed by monks re-enacting the Tibetan attack of 1639, when the invading forces were defeated.
The walk from Punakha to Limbukha and back takes 2–3 hours. The main incentive to do the hike is to experience the beautiful rice terraces that swirl around the village, source of a highly prized variety of red rice.
A second, shorter walk in the evening takes you past houses daubed with extraordinary murals of ejaculating penises, rendered in vibrant, Buddhist-style pinks, reds and blues. The murals are a legacy of the 15th-century poet and Tantric luminary, Drukpa Kunley, aka 'the Divine Madman', who built a stupa here. A ten-inch wooden phallus brought by Kunley from Tibet is the prize possession of the local monastery and an object of great veneration, particularly among Bhutanese women wishing to conceive.
Accommodation Options
Day 10
Punakha - Gangtey
After breakfast, continue your exploration of the valley with a visit to the Rinchengang, one of the prettiest villages in Bhutan. Later drive to Gangtey, famous as the home or rare black-necked cranes.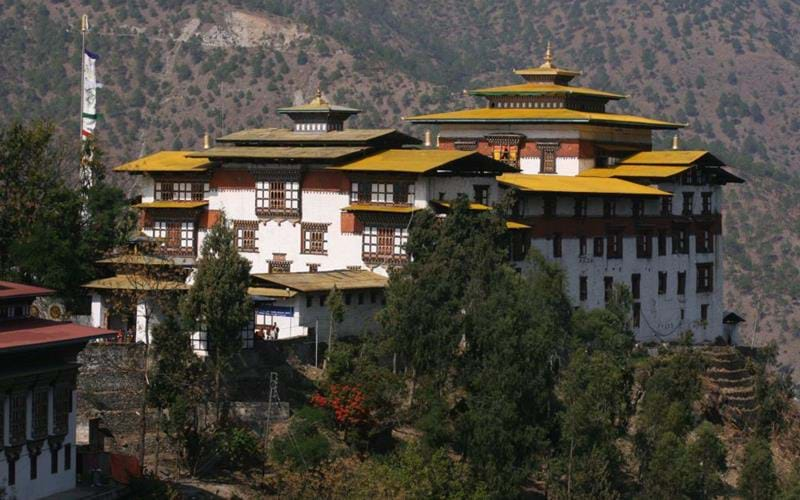 Overlooking the jade-green Punatsang Chhu river against a backdrop of larch- and pine-covered hills, Rinchengang village is a picture-postcard cluster of whitewashed houses, packed on a low ridge above steps of rice terraces. The twenty-minute hike up to the village makes for welcome leg stretch before embarking on the four-hour drive to Gangtey in central Bhutan, where you'll check in to your hotel before lunch.
Later, visit the local monastery, one of whose inner shrines preserves the hands of a British army officer killed in a battle with Bhutanese forces in 1864. From there, continue on foot to Phobjika village, to which flocks of beautiful black-necked cranes migrate in the winter. An observation post in a building overlooking their main feeding ground provides a perfect vantage point, equipped with binoculars and telescopes.
Accommodation Options
Day 11
Gangtey
Today you'll explore a lesser visited corner of the Gangtey Valley on foot with a half-day guided walk to the villages of Kilkhorthang and Tanjey. Return to Gangtey for lunch and spend the remainder of the day relaxing at your hotel, soaking up the views and fresh mountain air.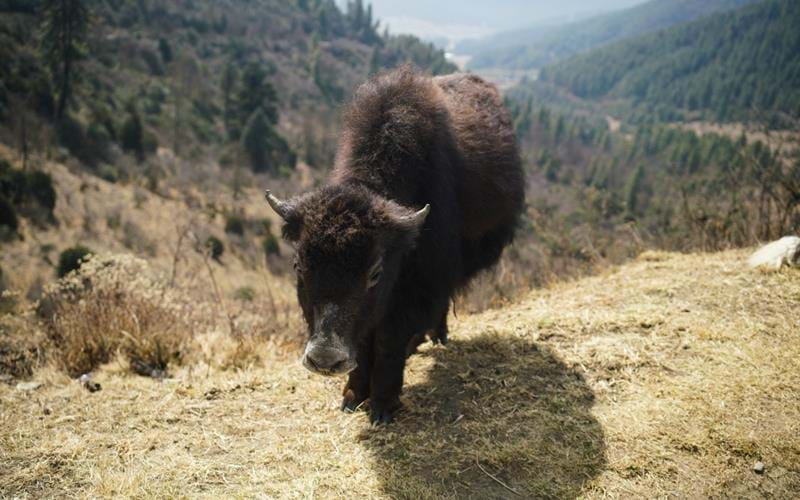 Consisting of just nine households and a beautiful temple, Kilkhorthang is one the main sources in the country of citrus fruits, notably mandarin oranges, which grow in pretty orchards along the lower slopes. Remaining on the farm road, the walk continues onto Tanjey, whose temple dominates the village with its glistening golden roof. From there you'll continue over the Karp Chhui river via a wooden bridge to your hotel, where you'll be served a special lunch of 'kewa datsi', made from a quintessentially Bhutanese mix of potatoes, yak's cheese and red rice, washed down with a bottle of two of the local brew, Ara.
Having walked a total distance of 12km in around five hours, you'll be glad of an afternoon's R&R, enjoying the views of Gangtey from your hotel terrace.
Accommodation Options
Day 12
Gangtey
Today's explorations begin with a drive westwards to Trongsa via the Pele La pass, which divides east and west Bhutan. At Lhongmay village, you'll begin a half-day hike along an old mule track to Gyeche La Pass and Kumbu Monastery for astounding views of the Black Mountains. The entire 9-km round walk should take around four hours.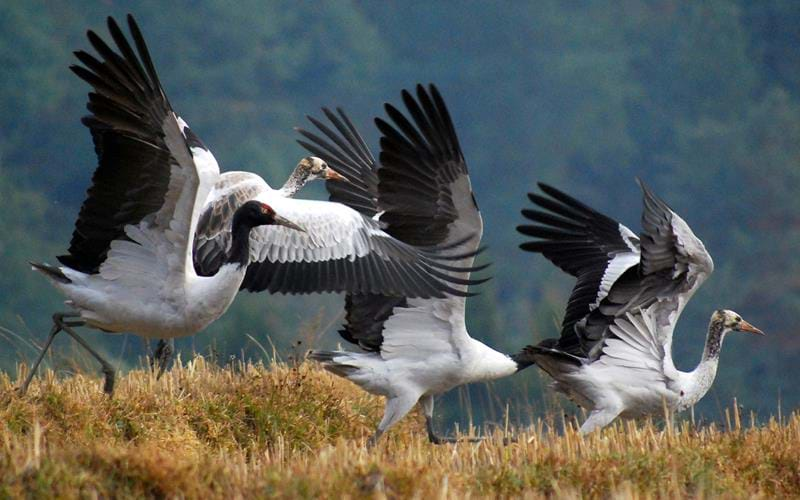 The trail you'll follow today was in former times one of the main trade arteries connecting Gangtey and Sephu. Followed by generatons of shepherds, yak herders and farmers, it nowadays offers an idyllic short trek through a mixed forest of pine, maple, larch, rhododendron, birch, oak and fragrant juniper as it heads towards Gyeche La Pass (3590m). The 45-min descent is broken by a visit to remote Kumbu Monastery, whose main temple is visited by local Buddhists seeking cures for illness. From here on the valley begins to open out, revealing expansive views the surrounding villages and mountains. If you're visiting between November and March, you'll encounter flocks of migrating black-necked cranes feeding in the area. Your car and driver will be waiting on the floor of the valley to take you back to your hotel in Gangtey.
Accommodation Options
Day 13
Gangtey - Paro
A long day's drive today takes you west from Gangtey to Paro, pausing en route at one of Bhutan's newer towns, Wangdue Phodrang, for lunch and a tour of Simtokha Dzong, the country's oldest fortress-monastery.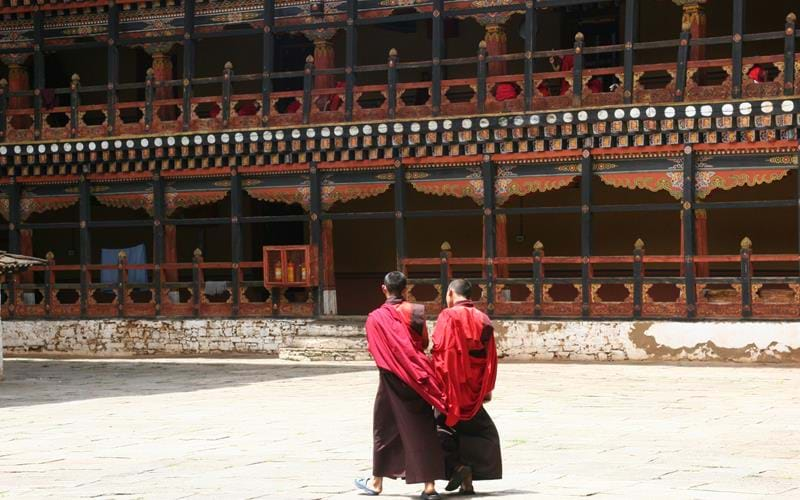 The dzong at Wangdue Phodrang was built in 1638 on a high ridge believed to resemble a recumbent elephant, overlooking the confluence of the Dang Chhu and Punatsang Chhu rivers. Framed by a backdrop of shadowy ridges and forested hills, it is the epitome of a Himalayan Buddhist lamasery, and offers the perfect excuse to break the 7-hr journey between Gangtey and Paro. Much of the complex was destroyed by fire in 2012, but renovation work in nearing completion.
Boasting a population of around 9,000, the town below it is the sixth largest in Bhutan and holds a wide choice of places to eat. You should arrive back in Paro in time to do a spot of souvenir shopping at one of the emporia on the main street. The quality of the handicrafts on sale here is high. Choose from hand-painted thangkas, intricately embroidered felt boots, traditional 'daap' (lustrous, lathe-turned wooden bowls), silver and turquoise jewellery and, if you really feel like splashing out, top-notch silk 'kira', or women's dresses. Made of three panels sewn together, they are generally around 9- inches long and can cost up to £2,500! The Museum shop in Paro has the best selection.
Accommodation Options
Day 14
Paro - Kathmandu
Time to bid farewell to the 'Land of the Thunder Dragon'. Transfer to the airport to catch your return flight to Kathmandu, where you'll spend the night.
Day 15
Kathmandu-UK
Travel back to Heathrow via the Middle East.
Tailor-made Tour

15 days from £5675 per person
What's included
International flights from the UK (economy class - upgrade available) 
14 nights' accommodation staying at Dwarika, Village Lodge, Lechuna Heritage Lodge, Julmohari Thimpu, Puna Tsangchu Cottages and Dewachen Gangtey
All internal transportation and transfers
English-speaking guides
Breakfast daily in Kathmandu and full board in Bhutan
Entrance fees to sites and monuments listed in tour itinerary
Upgrades to deluxe and super deluxe accommodation are available - please get in touch for prices
Plan your 2022 Adventures
With the world now largely open again, now is the time to begin planning your 2022 adventures in Asia. Our Travel Specialists are ready to take your call and discuss the adventure you have spent the last 2-years dreaming of.
Or call us on 0208 566 3739
TransIndus Brochures 2022
Join our mailing list