Tailor-made Tour

17 days from £4565 per person
Places Visited:
Guilin, Yangshuo, Longji, Sanjiang, Zhaoxing, Kaili, Guiyang, Shanghai
Ethnic minority communities are the focus of this adventurous route through China's rural southwest, which begins with a cruise along the Li River to experience the otherworldly landscape around Guilin and Yangshuo. From there, you travel north to Longji to view its spectacular rice terraces, and then follow a winding trail through the valleys of Guizhou Province, pausing at a string of fascinating wood and stone towns and villages along the way, each of them bastions of different ethnic minorities. You'll see some extraordinary drum towers and 'wind and rain ' bridges. Opportunities for walks and treks are numerous throughout the trip, although not obligatory. Your accommodation will be a mix of clean, comfortable guest houses, traditional-style resorts and newer properties with all mod cons.
Holiday Types
Cultural Holidays River Cruising Holidays Adventure Holidays
Suggested itinerary
Day 1
UK, Shanghai
Fly from the UK to Shanghai. Non-stop services take around 11hrs; indirect flights take longer, depending on the route and carrier.
Day 2
Guilin
On arrival at Shanghai's international airport you'll transfer to the domestic terminal to catch your onward flight to Guilin, where a TransIndus guide will be waiting to escort you to your hotel. Spend the rest of the day resting after your long journey.
Day 3
Guilin
A trio of natural wonders – Elephant Trunk Hill, the Reed Flute Cave and Fubo Hill – dominate your day's sightseeing in Guilin, regarded by Chinese people as the most scenically situated city in the country.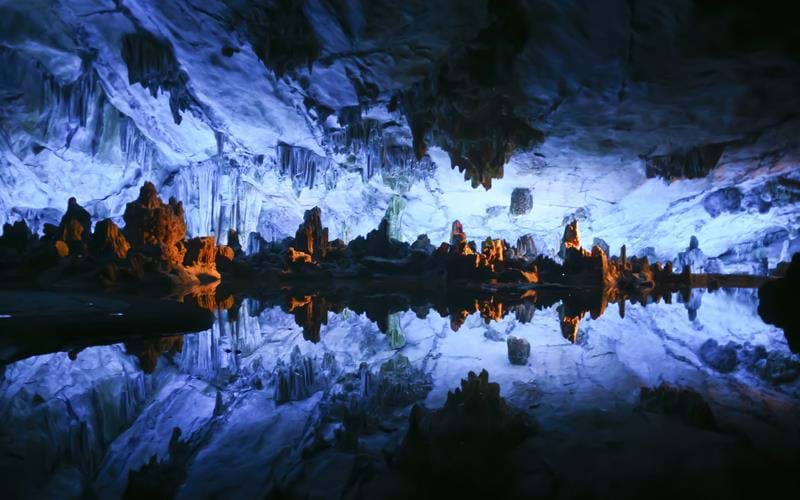 The first stop on today's sightseeing trip is Elephant Trunk Hill, a limestone rock arch on the river. Reed Flute Cave is China's most famous show grotto, famed for its colourful illuminations. And Fubo Hill is a spectacular tooth of karst limestone rising from the riverbank outside town, which was embellished with exquisite sculptures of Buddhas during the Tang era of the 7th and 8th centuries. Your guide will be on hand to provide essential context for these intriguing landforms and monuments.
Accommodation Options
Day 4
Yangshuo
After breakfast, you'll be driven to Guilin's Zhujiang Jetty to begin a cruise through one of Asia's most magical landscapes. Lasting 4-5 hrs, the trip along the Li River to Yangshuo reveals the full grandeur of the region's karst hills.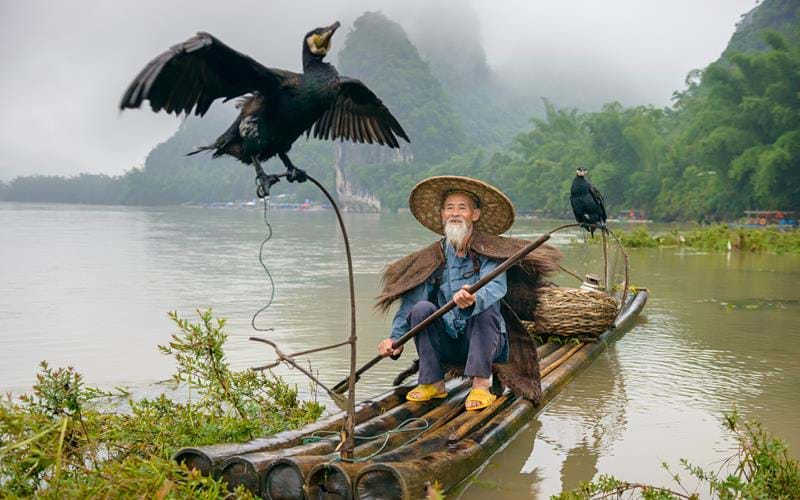 On arrival in Yangshuo, you'll have time to shop for souvenirs along the village's bustling West Street before being transferred to your hotel on the quieter outskirts. You may, however, be tempted back into town after nightfall to see the extraordinary Liu San Jie Lightshow – a typically Chinese son et lumière extravaganza featuring a cast of hundreds.
Accommodation Options
Day 5
Yangshuo
In the morning, explore the beautiful rural countryside around your hotel by car with your guide, pausing to visit a typical local farmstead. Afterwards, join a cooking class and then spend the afternoon rafting along the Yulong river between Jima and Wanjing jetties.
Day 6
Longji
A leisurely 3-hour drive north takes you beyond Guilin to another of China's much-celebrated landscapes: the Dragon's Backbone rice terraces of Longji Titian.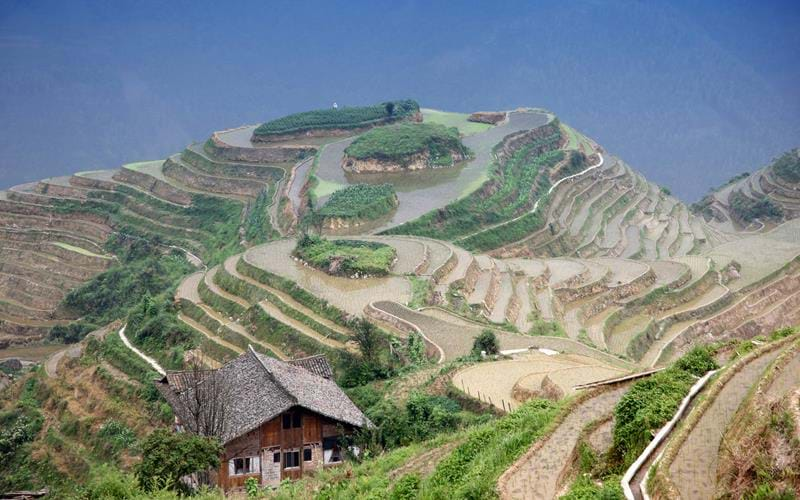 Quite apart from being an arresting spectacle, the elaborately terraced hillsides around Longji village are a fine place to unwind. Wandering around the old pathways through the fields with your guide, you'll enjoy encounters with local Zhuang farmers planting, weeding or harvesting their paddy, depending on the time of year. Photographers will have plenty to get excited about as the fading light intensifies and the beautiful colours of the terraces spring to life.
Accommodation Options
Day 7
Longji
For the seventh day of your tour you'll be at leisure to explore this beautiful area on foot, walking between pretty farming hamlets.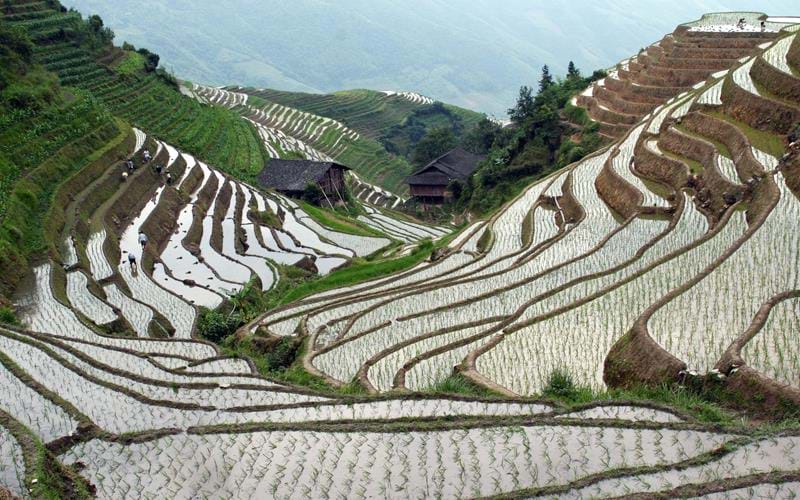 Local wood and stone houses are separated by narrow cobbled lanes in Longji. Savour the amazing views at breakfast time over a cup of steaming, sweet 'oil tea' and from various named panoramic viewpoints, from where you'll be able to observe Zhuang farmers working the terraces using horse-drawn ploughs. This area is also the homeland of the Yao minority, whose womenfolk grow their hair to extraordinary lengths, and wear it coiled into fabulous ornamental headdresses.
Accommodation Options
Day 8
Sanjiang
Today you'll travel from the Longji rice terrace region to a more remote district inhabited by Dong minority people.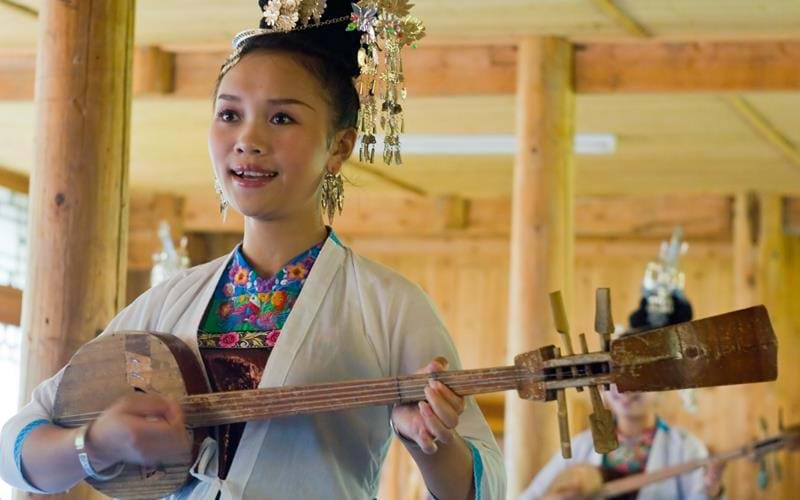 West of Longji, the main road winds through the heart of Dong country towards Guizhou Province. This is a journey not to be rushed. Aside from some bucolic scenery, the route takes you through one of the most culturally fascinating corners of Asia, where a host of different minority groups survive. The Dong are known for their ornate traditional dress (which on special occasions may include elaborate silver headdresses) and the elegant, pagoda-roofed Drum Towers that soar above their pan-tiled townships. One of the largest of these survives at Sanjiang, where you'll spend the night in a local guesthouse.
Accommodation Options
Day 9
Zhaoxing
Drive from Sanjiang to Zhaoxing today. Beautiful Dong 'Wind and Rain bridges' span many local rivers. Crowned by roofs with upswept eaves, one of the most exuberant of these survives at Chengyang, where you'll pause for lunch.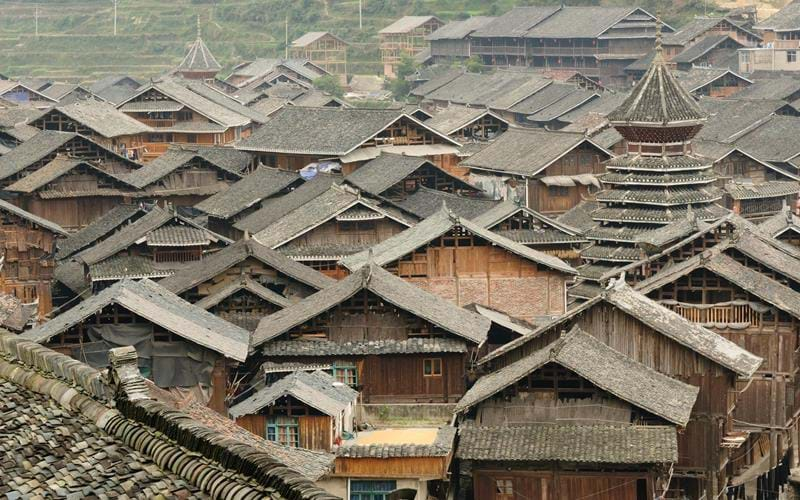 The largest Dong village in the region, Zhaoxing was one of the first places to embrace tourism and is showing signs of over-commercialization, but still deserves a visit for its superb wooden architecture, which includes several wind-and-rain bridges and drum towers. Home to 5 different Dong clans and 1,000 households, it's a thriving place whose narrow, stone-lined streets still resound to the thump of cloth being hammer-finished in the traditional way to make it shiny.
Accommodation Options
Day 10
Zhaoxing
Based in Zhaoxing, you'll spend most of the day on an excursion to a remote Dong mountain village called Tangan, from where a wonderfully scenic trail winds back down the to the valley floor, skirting delightful hamlets and rice terraces.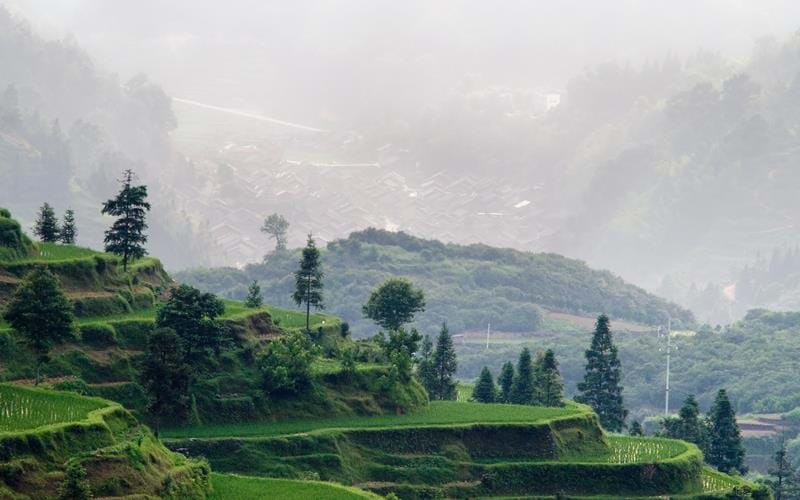 Spend the evening soaking up the sights and sounds of Zhaoxing, before a supper of traditional Dong cuisine.
Accommodation Options
Day 11
Kaili
Today, you have a long drive across country to Kaili, in the neighbouring Province of Guizhou. If desired, the journey may be broken at the town of Rongjiang, where you can explore more hill country on foot and take in some birding hot spots.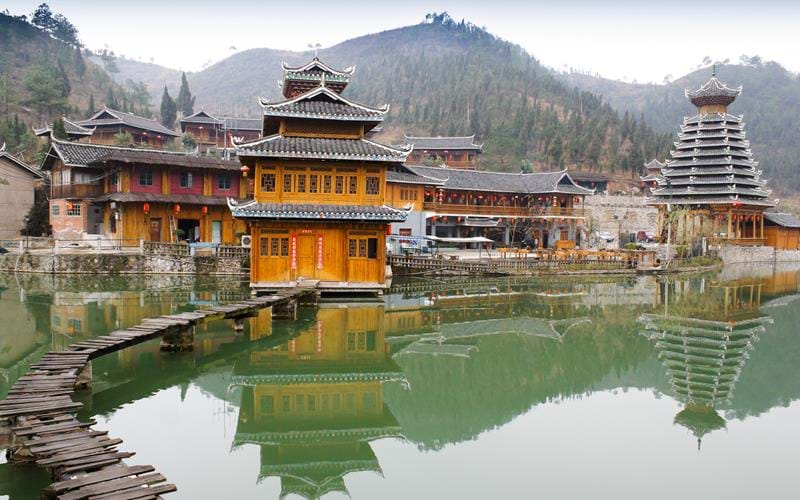 Kaili, in the southeast of Guizhou Province, is capital city of the Miao (aka 'H'mong') minority. A large, modern city, it holds little of more than passing interest in itself, but its hotels serve as useful stopovers when travelling across the minority belt that runs east through the hills into Guangxi province. The surrounding countryside has a large number of Miao villages. Most have been heavily commercialized in recent years, but our guides know how to sidestep the more frequented settlements close to the highways in favour of villages where many women still wear traditional dress.
Accommodation Options
Day 12
Kaili
You'll use Kaili as a base for day trips to surrounding Wugao, Maliao and Kongbai minority districts, home to communities of Long-Skirt Miao.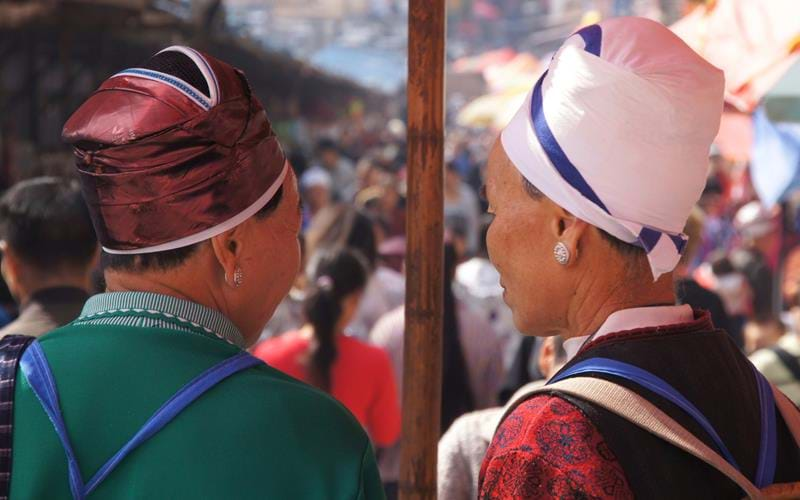 The Long-skirt Miao traditionally wear ornately embroidered and pleated skirts, and large, heavily ornamented silver headdresses on ceremonial occasions, such as the dances local women perform to greet guests. Maliao and Kongbai are renowned for their metalwork, and you'll be invited to watch silversmiths at work.
Accommodation Options
Day 13
Kaili
Continue your exploration of the countryside around Kaili today, visiting Shang Lang De.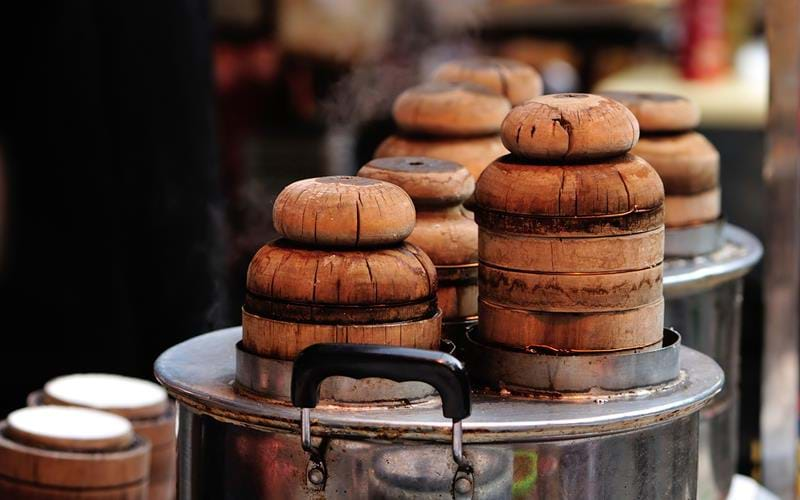 One of our current favourite Miao villages (because it has much less of a theme park atmosphere than most others in the region) is Shang Lang De, where most of the local women still wear traditional hand-embroidered textiles. Visits begin with a welcoming ceremony with local rice wine, and conclude with a small culture show, involving live music and dance. You'll also be offered the chance to eat traditional Miao food for lunch, made with farm fresh ingredients grown in the fields around the village.
Accommodation Options
Day 14
Guiyang
After breakfast the tour continues with a road trip to the provincial capital, Guiyang, pausing en route at a village called Chong'an to visit a sub-group of the Miao known as 'Gejia'.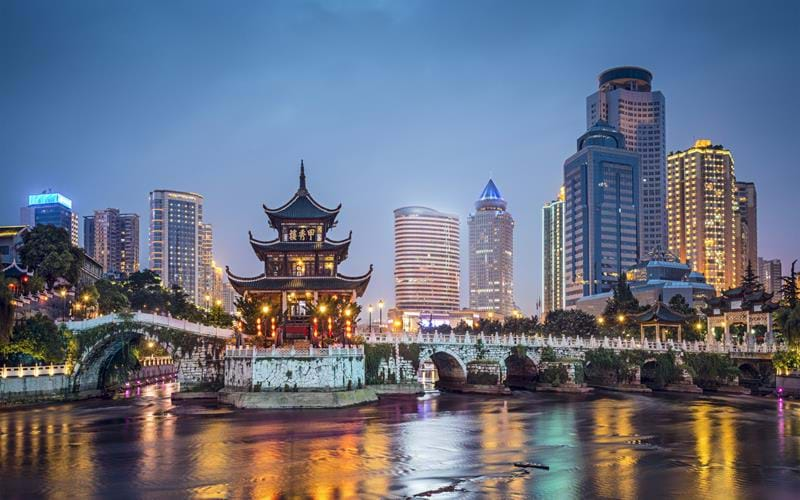 The handicraft speciality of the Gija Miao is batik, numerous examples of which are sold by hawkers and souvenir shops. Traditional dress is still widely worn by local women and features striking blue and red patterns, with distinctive leggings and piles of elaborate silver jewellery!
Accommodation Options
Day 15
Guiyang
After breakfast, drive to Qingyan, a Ming-dynasty fortified town founded in the late-14th century and preserving a crop of beautiful antique streets, then on to Liuguan, whose Han inhabitants still wear traditional Ming Dynasty costume of blue tunics and pillbox hats.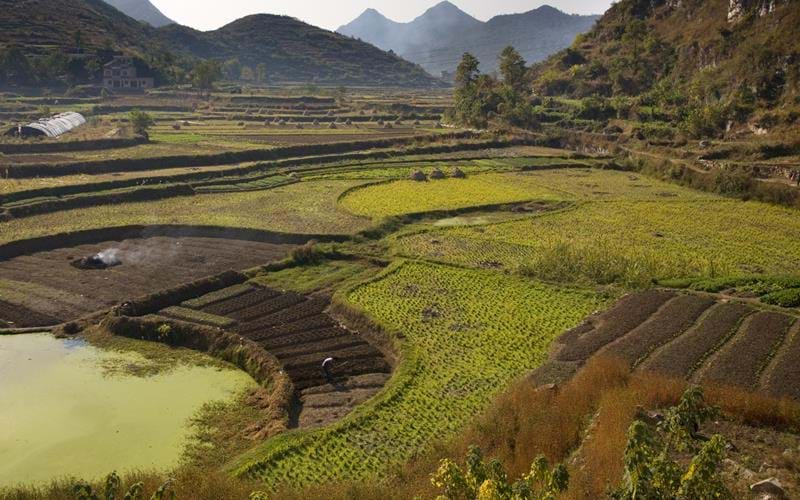 If you're lucky, your visit to Liugan will coincide with a performance of local opera, for which the community is widely known. In the afternoon, it's also well worth setting aside a couple of to scale Hongfu Shan, the culminating point of Qianlingshan Park, on the outskirts of Guiyang. A long, steep flight of stone steps winds through a monkey-filled forest to the top of this wooded hill, from where the views are magnificent. You can also catch a chairlift to the summit. Either way, be sure to call at Hongfu Si monastery, a delightful, wooden, Ming-era building with turquoise ceramic roof decorations.
Accommodation Options
Day 16
Shanghai
Transfer to the airport after breakfast to catch your flight to Shanghai, where you'll arrive in time for a spot of last-minute souvenir shopping and a stroll along the Bund before your final supper on Chinese soil.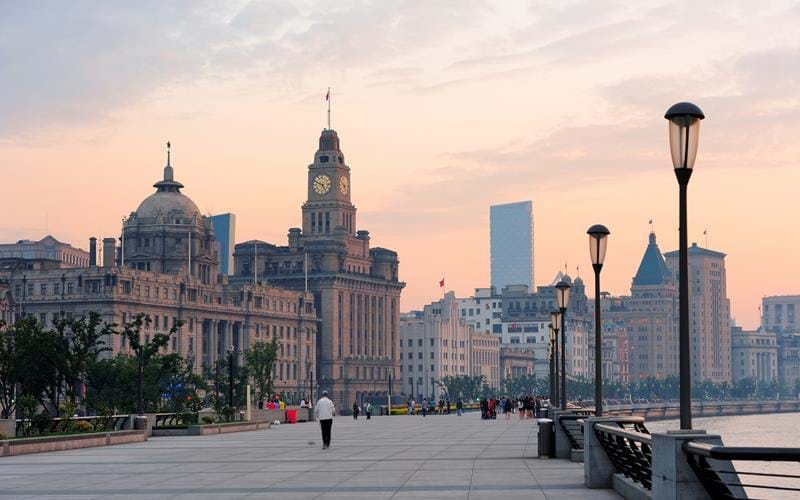 For a final outing, we recommend a stroll along the Bund – the iconic walkway lining the Huangpo River. The best place in the city to get your bearings, this breezy promenade backed by stately old Neo-Classical and Art Deco buildings faces the dramatic skyline of Pudong across the water – a mesmerizing spectacle around sunset when the twinkling lights of its innumerable skyscrapers are reflected in the water.
Accommodation Options
Day 17
Shanghai, UK
After breakfast, your TransIndus driver and guide will escort you to the airport to catch your return flight to the UK.
Tailor-made Tour

17 days from £4565 per person
What's included

✓   International flights from UK in economy
✓   15 nights accommodation
✓   Domestic flights in economy
✓   All road travel and transfers by private, chauffeur-driven vehicles
✓   English-speaking guides
✓   Breakfast daily
✓   Entrance fees to sites and monuments listed in tour itinerary
Places and Experiences in this tour
Plan your Next Adventure
With the world now largely open again, now is the time to begin planning your next adventures in Asia. Our Travel Specialists are ready to take your call and discuss the adventure you have spent the last 3 years dreaming of.
Or call us on 0208 566 3739
TransIndus Brochures 2023
Join our mailing list