Tailor-made Tour

15 days from £2795 per person
Places Visited:
Jakarta, Bandung, Baturaden, Yogyakarta, Kediri, Malang, Kalibaru, Bali
Experience the scenic and cultural highlights of Java and Bali on this superb two-week road adventure. Winding from Jakarta across the island's volcanic spine to the coffee and cocoa growing plantations of Kaliburi, it culminates with an ascent of Gunung Bromo – the signature spectacle of Java's lesser-visited eastern flank – before a wind down on the blissful beaches of neighbouring Bali. Along the way, you'll visit ancient Hindu temples, tea plantations, ancient Javanese villages and the wonderful Dieng Plateau – a landscape as mysterious as any on earth.
Holiday Types
Cultural Holidays Wildlife Holidays River Cruising Holidays Family Holidays Honeymoons Beach Holidays Adventure Holidays
Suggested itinerary
Day 1
UK
Fly overnight from the UK to Jakarta.
Day 2
Jakarta
On arrival in Jakarta, you'll be met by your TransIndus guide and driver, and escorted to your hotel for a one-night stay.
Day 3
Bandung
Drive to Bogor to visit the famous Botanical Gardens, then continue on by road to the Gunung Mas tea plantation and, finally Bandung, Java's second city, where you'll spend the night.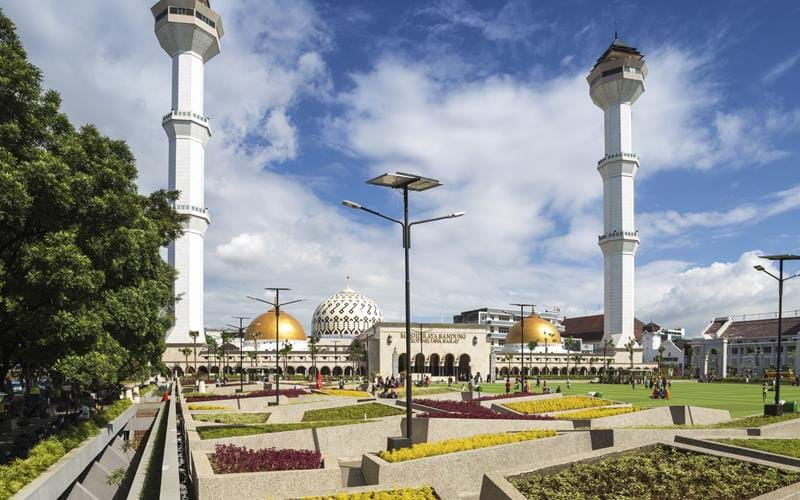 Founded in 1817 by the Dutch East Indies Company, in collaboration with experts from Kew, the Bogor Botanical Gardens holds one of the world's greatest collections of tropical plants: 3,373 species are represented, including around 500 different kinds of orchids and 288 rare palms, lining beautifully mown lawns and avenues of stately trees. The vast, state-owned Gunung Mas tea plantation lies at the heart of the Puncak hill region – a favourite weekend getaway for Jakartans, who love its fresh, clean air and vistas of lush tea terraces. The plantation offers the ideal place to break the journey from JK to Bandung.
Accommodation Options
Day 4
Bandung
Drive through the scenic Lembang Hills to the crater of Gunung Tangkuban Perahu and hot springs of Sari Ater. In the evening, enjoy a recital of traditional Javanese Angklung music.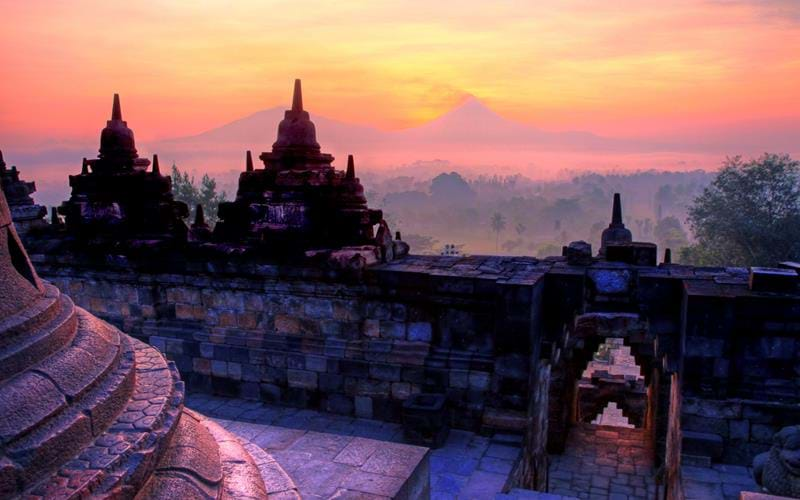 Java's second city, Bandung, lies 118 miles (190km) southeast of Jakarta. Known for its colonial-era Art-Deco architecture, it enjoys a spectacular setting at the foot of Tangkuban Prahu, a dormant volcano whose summit may be reached via an enjoyable hike, or by road. After scaling the mountain, you'll have the chance to bathe in the hot springs of Sari Ater. Traditional Sundanese music, dance and puppetry take centre stage at Saung Angklung Udjo arts centre, where you'll be able to attend a performance in the evening. Proceeds fun the training at the centre for students from disadvantaged backgrounds.
Accommodation Options
Day 5
Baturaden
Depart for Cankuang Lake and temple in the morning, then continue to Naga village and, finally, the pretty hill station of Baturaden, where you'll spend one night.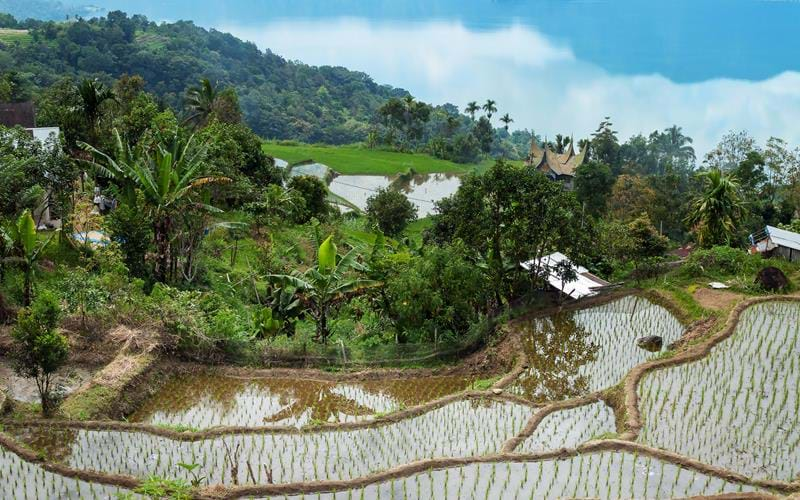 Tiny Cankuang Lake nestles amid paddy fields in central Java, surrounded by four huge dormant volcanos. In 1996, a wooded islet on it was found to hold a ruined Hindu temple, which forms the focal point of visits. You can also wander around the nearby village to see its colourfully painted Javanese houses. Even more traditional in appearance are the 108 bamboo and thatch dwellings at Naga, enfolded by sacred forest in an oxbow of the Ciwulan River. Reached via a flight of 300 steps, the settlement is something of a 'land that time forgot', with no electricity or cars.
Accommodation Options
Day 6
Yogyakarta
Drive to Wonsobo for an excursion to the Dieng Plateau, then continue on to Yogyakarta, where you'll spend two nights.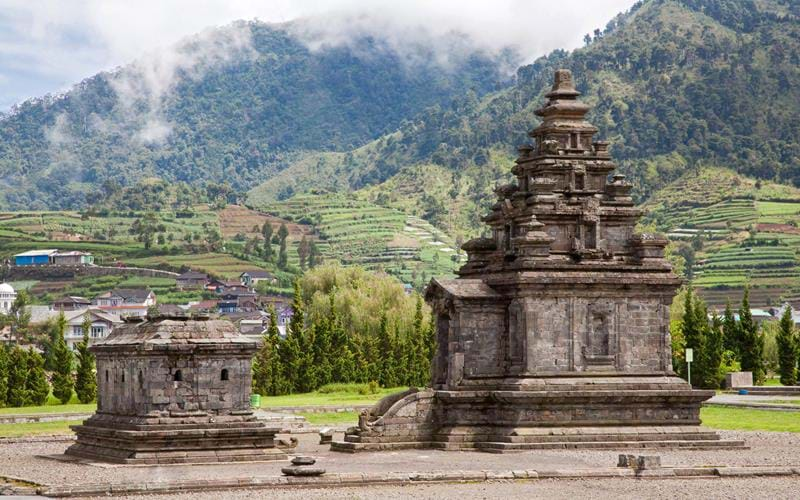 The Dieng Plateau is a lush, cloud-swept caldera at an altitude of 2,000m (6,600ft). Encircled by dramatic volcanic peaks, the steep sides of the crater are sculpted with twisting terraces of potato and cabbages. Over one-thousand years ago, the floor of the plateau was carpeted with tiny Hindu temples, of which a scattering survive. Whether gilded by the early morning sunlight or wreathed in mist, they're a beautiful sight.
Yogyakarta, where you'll arrive in the evening, is Java's culture capital, and the best base for visits to the ancient sites of Borobudur and Prambanan.
Accommodation Options
Day 7
Yoyakarta
Spend the morning touring Yogya's main sights, including the Royal Palace (in the Kraton, or 'walled city'), proceeding later to the Hindu temple complex at Prambanan and, eventually, Borobudur to experience the magnificent Buddhist ruin at sunset time.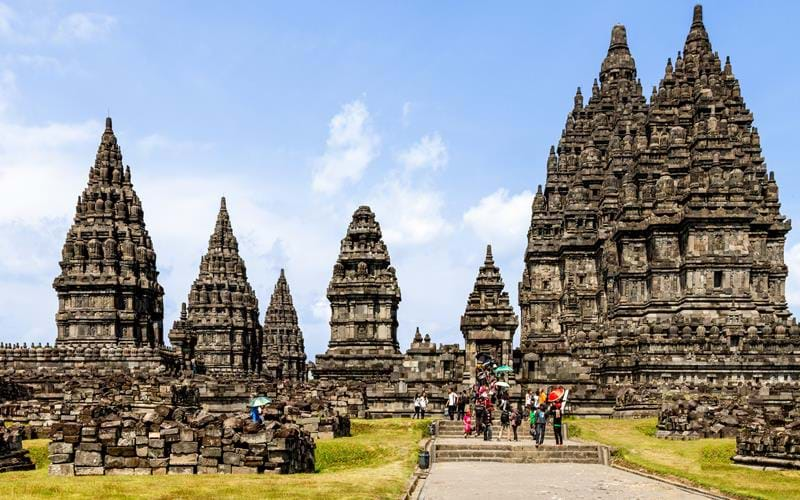 Dedicated to the Hindu god Shiva, the UNESCO-listed Prambanan complex centres on an elaborately carved, 47-metre-tall sanctuary tower, surrounded by over 200 subsidiary shrines, all of them richly decorated. The spectacle of this extraordinary behemoth soaring above the palm canopy, ranks among the most memorable Southeast Asia has to offer. No less exotic are the ruins of ancient Borobudur. At sunset you can watch the warm evening light illuminating the faces of 1200-year old stone Buddhas, which gaze over a plateau of rice fields and palm groves to the plume of smoke rising from the summit of Gunung Merapi.
Accommodation Options
Day 8
Kediri
Drive to Kediri, the administrative capital of East Java, for a one-night stay, visiting the historic town of Surakarta (Solo) en route.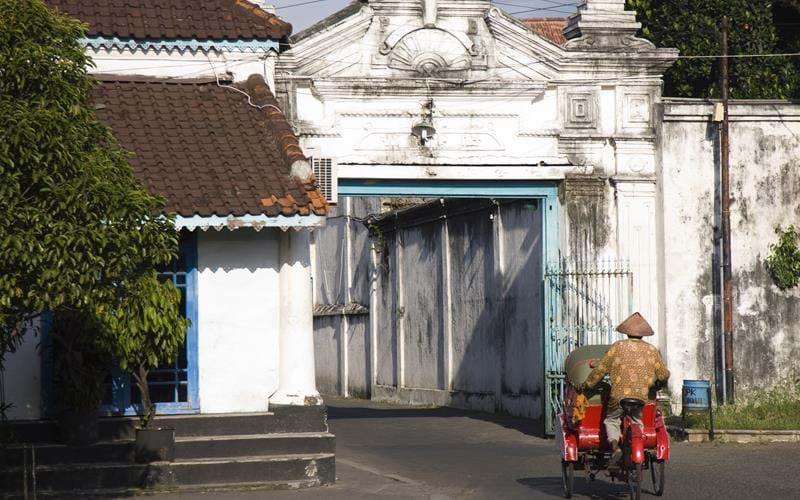 Surakarta is Java's second royal capital. It was established in the mid-18th century and continues to be an important hub of Javanese culture. Music (particularly gamelan) and traditional courtly dance is still widely studied and performed here, but the great local speciality is batik. Some of the finest textiles in all Indonesia originate in the city, and you can admire superb antique pieces in the famous Danar Hadi museum. Two kraton palaces survive, dating from the years after 1745 when European power was in the ascendency.
Skirting the feet of two formidable volcano mountains Gunung Lawu and Gunung Ngliman – the onward drive to Kediri is outstandingly scenic.
Accommodation Options
Day 9
Malang
Visit a luwak (civet) coffee farm and 12th-century Penataran temple at Blitar, before continuing on to Malang for one night.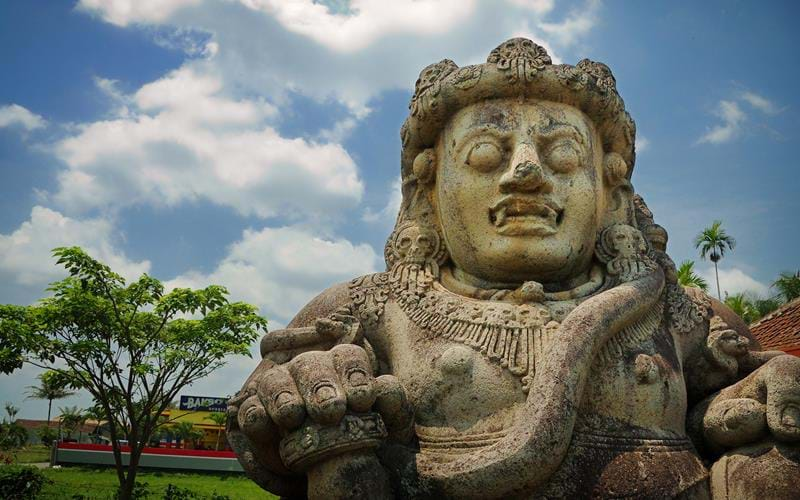 For Javanese people, the finest and most expensive of all coffees is 'kopi luwak', a brew made with a bean extracted from the faeces of the Asian palm civet. It is believed that something in the fermentation process occuring as the beans move through the civet's gut enhances the flavour. You can decide for yourself whether there's anything in the tale when you visit a farm where kopi luwak is produced. Surrounded by four magnificent volcanoes, Malang ranks among the world's most dramatically sited cities. It's worth finding time to explore the faded old town, established by the Dutch in the late-18th century on the back of the coffee trade.
Accommodation Options
Day 10
Kaliburi
Make an excursion to the breathtakingly beautiful Gunung Bromo volcano region today – the highlight of East Java – and later continue on to Kalibaru village, set amid coffee and cocoa plantations, for an overnight stay.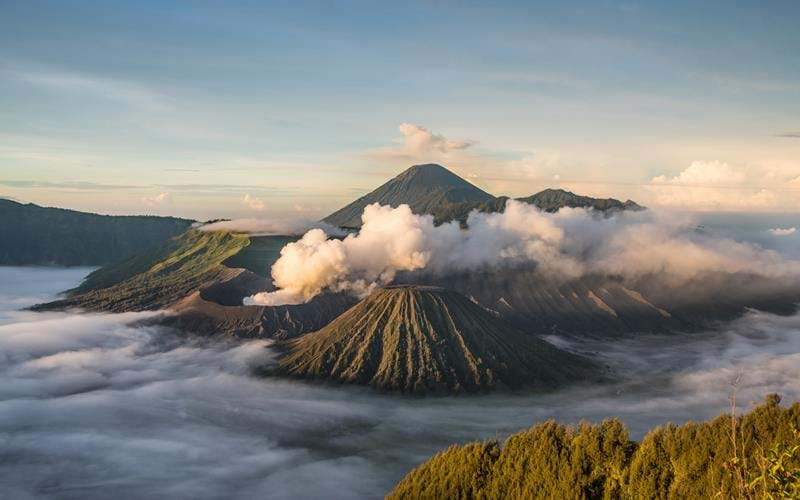 Peaking at 2,392m (7848ft), Gunung Bromo may not be Indonesia's highest volcano, but it's one of the most conveniently accessible, with a road running all the way up to the lip of the caldera's encircling cliff, from where the views are magnificent. Bromo is actually one of three volcanoes cradled in a massive, 10-kilometre crater that's carpeted in a covering of grey-brown sand and ash. Rising in the background, a plume of smoke and steam billows from the perfectly symmetrical snout of Gunung Semeru, Java's loftiest peak (3,676m / 12,000ft) – surely one of the most extraordinary views in the world!
Accommodation Options
Day 11
Bali
Transfer to Ketapang Harbour for the ferry ride to Bali, where you'll spend three nights. Sightseeing and beach options depend on your choice of resort. Speak to one of our consultants for more details, or click here for our coverage of the island's highlights.
Day 12 & 13
Bali
At leisure to enjoy the exquisite beaches, landscapes and unique culture of Bali.
Day 14
Catch an evening flight back to the UK via Jakarta or Singapore.
Tailor-made Tour

15 days from £2795 per person
What's included

✓   International flights from London
✓   12 nights accommodation
✓   All internal transportation and transfers
✓   English-speaking guides
✓   Breakfast daily
✓   Entrance fees to sites and monuments listed in tour itinerary
Places and Experiences in this tour
Plan your Next Adventure
With the world now largely open again, now is the time to begin planning your next adventures in Asia. Our Travel Specialists are ready to take your call and discuss the adventure you have spent the last 3 years dreaming of.
Or call us on 0208 566 3739
TransIndus Brochures 2023
Join our mailing list