About The United Arab Emirates

Clustered along the northern edge of the Arabian Peninsula, the United Arab Emirates is a federation of seven emirates, comprising Abu Dhabi, Dubai, Fujairah, Ajman, Ras al-Khaimah, Sharjah and Umm al-Quwain. A fascinating land, where traditional culture meets western sophistication, the UAE ranks among the world's fastest-growing, safest and most welcoming destinations. Exhilarating desert scenery abounds throughout, from wadis to huge sand dunes, but you'll also encounter unbelievably lush oases, rugged mountains and white sandy beaches with great snorkelling potential, as well as coastal cities whose futuristic skylines hold some of the world's best hotels and shopping complexes.
Enjoy the best of what the UAE has to offer with our range of private tours or contact our expert team to start planning your dream tailor-made holiday. Alternatively, browse our website for recommendations on the best places to visit in the United Arab Emirates, as well as unmissable experiences to include on your trip. 
Sadly, for many people the region has been no more than a pit-stop with glitzy hotels and a shopping mall but, stay a little longer and you find a whole new world of adventures, explorations from ancient sites to unique natural habitats and cultural experiences that bring the region to life.  Here we offer you a selection of private tours to help you to start planning your dream tailor-made holiday. Browse our website for recommendations on the best places to visit and unmissable experiences to include on your next adventure. 
GO SAFE - UAE - The seven nations of the UAE have come together to implement and certify a 'Go Safe' programme, which testifies to cleanliness and hygiene standards designed to minimize the spread of the COVID-19 virus in tourist premises including widespread testing, city-wide sanitation, social distancing, and enhanced healthcare services.
Our Favourite Hotels in Dubai & Beyond
We can book any hotel in Dubai but the ones listed below are our favourites.
Book your Dubai Holiday
Perfect for some winter sun or to spend a few days relaxing before continuing to travel further east, Dubai is a playground for every type of traveller. To find out about the best places to stay, get in touch today.
0208 566 3739
Suggested tours to Dubai & The United Arab Emirates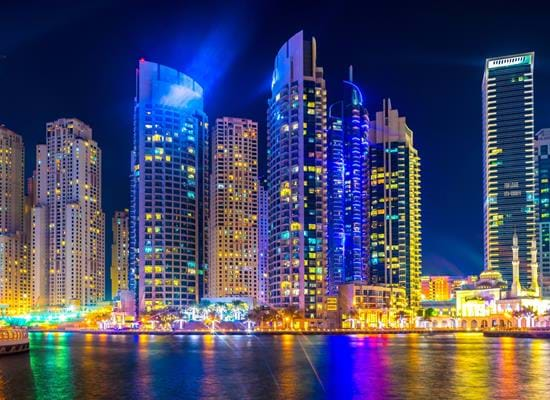 8 days from £3200 per person
For those with a little time this tour makes for an excellent exploration of the Emirates, mixing ancient Middle Eastern traditions with burgeoning modern…
All Tailor-made Tours in Dubai & The United Arab Emirates Make an enquiry
What Our Clients Say About Us
Dubai & The United Arab Emirates holiday types
Plan your 2021 & 2022 Adventures
With the world beginning to open up again, now is the time to begin planning your 2021 holiday to Asia. Our Travel Specialists are ready to take your call and discuss the adventure you have spent the last 12 months dreaming of.
Or call us on 0208 566 3739