Tailor-made Tour

16 days from £3135 per person
Places Visited:
Hyderabad, Gulbarga, Bijapur, Badami, Hampi, Chikmagalur, Mysore, Bengaluru
This fortnight-long tour cherry picks the highlights of Karnataka and Andhra Pradesh, including world-class heritage and archaeological sites seen by few comparatively foreign visitors. It is a trip that takes you deep into a region where the old worlds of the Indo-Islamic, Perisan-influenced north collided with those of the Dravidian south – a historical cross-pollination that has left a remarkable architectural legacy.
In remote Belur and Badami, you'll visit some of India's most intricately embellished temples, erected more than 1,500 years ago, while at Hampi, amid a landscape of boulder hills and banana groves, are strewn the ruins of the south's last great Hindu capital, Vijayanagar. Monuments of the Muslim Sultanates that razed this once resplendent city to the ground in the 16th century dominate Bijapur, Gulbarga and Hyderabad, while in the far south, towards the end of your tour, you'll experience the grandeur of Mysore and its European-influenced Maharaja's Palace, the epitome of princely extravagance in the Raj era.
Holiday Types
Cultural Tours
Suggested itinerary
Day 1
UK
Fly overnight from London Heathrow to Hyderabad.
Day 2
Hyderabad
On arrival in the morning, you'll be met by your TransIndus driver and guide, and escorted to your hotel for a two-night stay. Spend the remainder of the day recovering from the journey, perhaps venturing out in the evening for a stroll around the local neighbourhood.
Day 3
Hyderabad
Enjoy a full day's sightseeing today, including the Falaknuma Palace, former Residency building, Char Minar and fort and tomb complex at Golconda.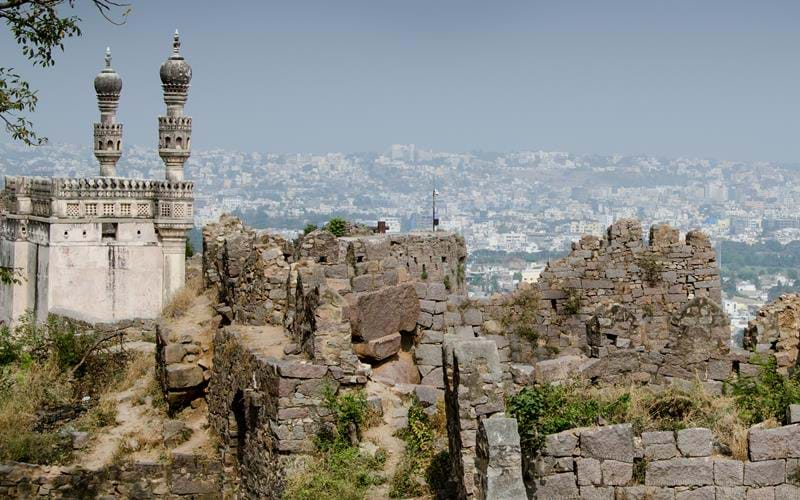 The legacy of the Nizams endures in a wealth of historic buildings, the most iconic of them the Char Minar – a splendid, late 16th century mosque featuring a quartet of identical minarets supported by four grand arches. The old Residency was the mansion built by British governor James Kirkpatrick during the time of the Nizams in the 18th century, and where he lived with his Hyderabadi wife, Khair-un-Nissa. Their love story forms the subject of William Dalrymple's best-selling White Mughals.
Mighty Golconda Fort rises from scrubland on the western edge of Hyderabad. From its lofty ramparts are visible the onion domes of the Qutb Shahi Dynasty's tombs, whose timeworn spleandour barely hints at the extraordinary wealth and sophistication enjoyed by the region's rulers in its heyday.
Day 4
Gulbarga
Drive to Bidar today to see the monuments of the Bahmani and Barid Shahi Sultans, then on to Gulbarga in the afternoon for an overnight stay.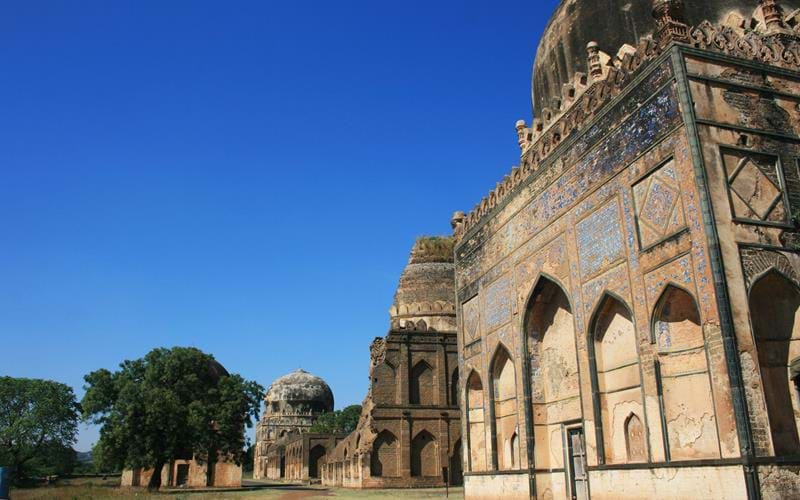 The walled town of Bidar is one of our favourite 'forgotten gems' of the Deccan region. Its highlights are a crumbling fort with a palace retaining some of the finest surviving medieval woodwork in India, and the remains of a Persian-style madrasa in the old town.
Gulbarga is known principally for its whitewashed Dargah of Hazrat Gesu Daraz, an important pilgrimage destination for Indian Muslims, and imposing fort, whose walls enclose a splendid mosque erected by the Bahmanis in the 14th century
Day 5
Bijapur
Drive to Bijapur today, arriving in time to visit the Golgumbaz and other monuments of the Adil Shahi Dynasty.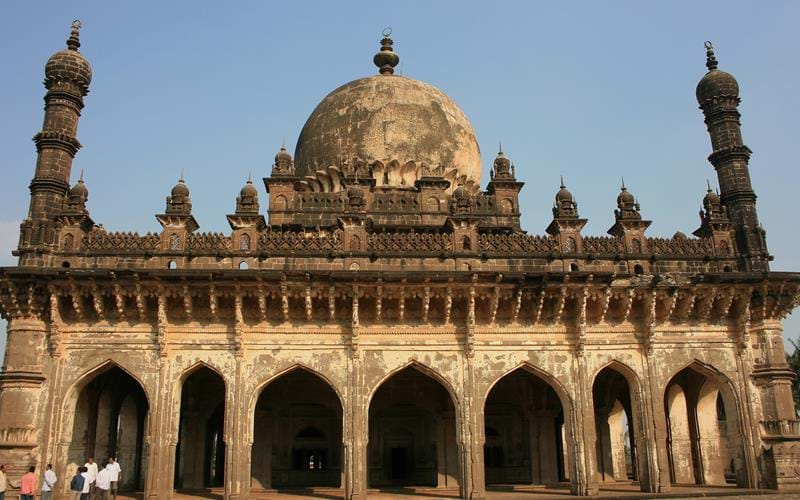 Bijapur is often dubbed the 'Agra of the South', and although that's stretching it a bit, the town does retain an exceptional crop of medieval Islamic monuments, dating from the era when this ranked among the richest and most powerful kingdoms in Asia.
Its poster piece is the massive Golgumbaz tomb, whose dome is only marginally smaller than the one in St Peter's, Rome. More modest in scale, but no less impressive for its exquisite symmetry and decoration, is the Ibrahim Rauza, on the outskirts of town.
Day 6
Badami
Today you'll drive south to remote town of Badami, where some of the most ancient and exotic remnants of Hindu India occupy a suitably dramatic site.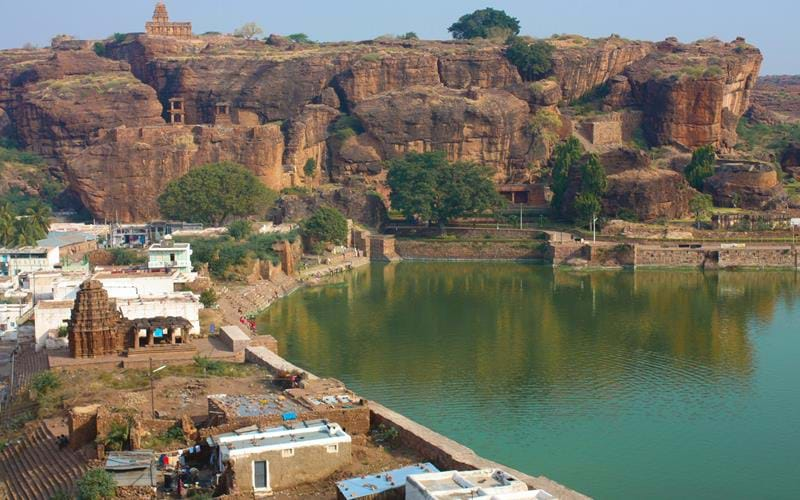 Although far less well known than Hampi, the ruins of ancient Badami fully warrant the long journey across one of the emptiest regions of the Deccan to visit. Ranging from rock-cut cave shrines to structural temples and forts, they were the work of the Chalukyas, and are scattered across a gorge between two steep, rocky hills, divided by a large water tank. The cliffs provide an epic backdrop to the Bhuthanatha Temple, whose finely carved towers and pillars are reflected in the green waters at its feet.
Day 7
Badami
Visit more ancient Chalukyan temples at Pattadakal and Aihole today.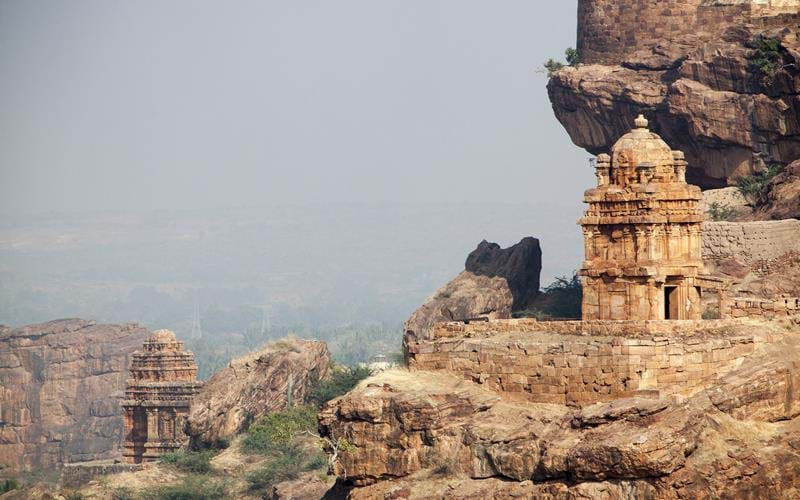 More than a hundred ruined temples, dating from the 6th to the 12th centuries, are litter the fields and rock outcrops around the village of Aihole, near Badami. While some have been renovated, others remain in a dishevelled state, or serve as stables for animals.
Pattadakal, on a bend in Malaprabha River, is believed to have been the place where the Chalukyan kings staged their coronations. UNESCO World Heritage Site status has been conferred on its main temple complex. Time permitting, your guide may also lead you to nearby Mahakui, a tiny, forgotten pilgrimage spot featuring a spring-fed bathing tank and a cluster of 6th and 7th century Hindu shrines – a heavenly oasis.
Day 8
Hampi
Today you'll continue your journey with a drive to what many regard as India's most atmospheric ancient site – the ruined city of Vijayanagar, near Hampi in central Karnataka.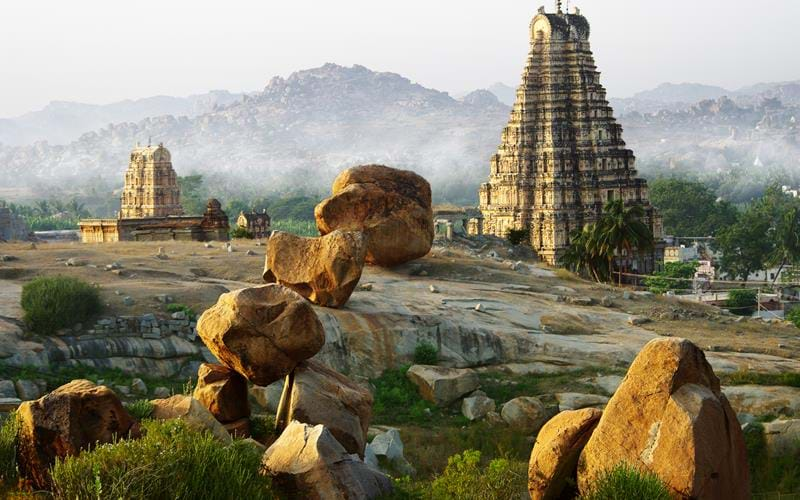 A landscape of ethereal beauty provides the setting for the ruins of Vijayanagar, the once-glittering capital of southern India, which was laid to waste in 1565 by invading armies from the Sultanates of the northern Deccan. Only the city's temples survived the onslaught, although with one notable exception they now lie deserted, their pyramidal gateway towers and weed-infested walls rising against a backdrop of red-brown granite hills and banana groves.
Day 9
Hampi
Continue your exploration of Hampi today, returning to your hotel in the hot hours of mid-afternoon.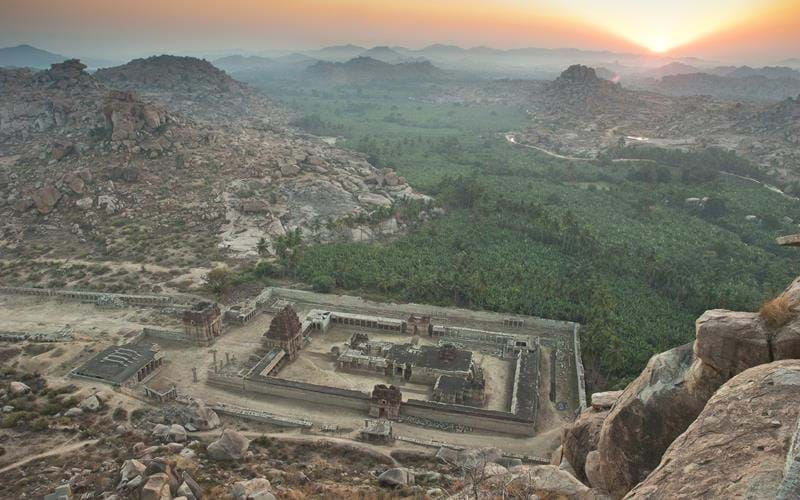 Hampi is one place where it pays to wander. Jump on a coracle across the Tughabadhra River to reach the hilltop 'Monkey Temple' – a fabulous viewpoint – or follow the sandy tracks east through fields littered with chunks of carved masonry and discarded colonnades to discover forgotten cave shrines and reliefs sculpted from giant boulders.
One of our favourite spots is a small shrine on a ridgetop just northeast of the famous Elephant Stables in the Royal Enclosure. A flight of stone steps leads to a ledge from where you get a spectacular panorama over the banana plantations in the valley below.
Day 10
Hampi
Start your final day's sightseeing at Hampi with a pre-dawn walk to Matanga Hill to watch the sunrise. A possibility for a longer day trip is the drive south to Mudgal Fort.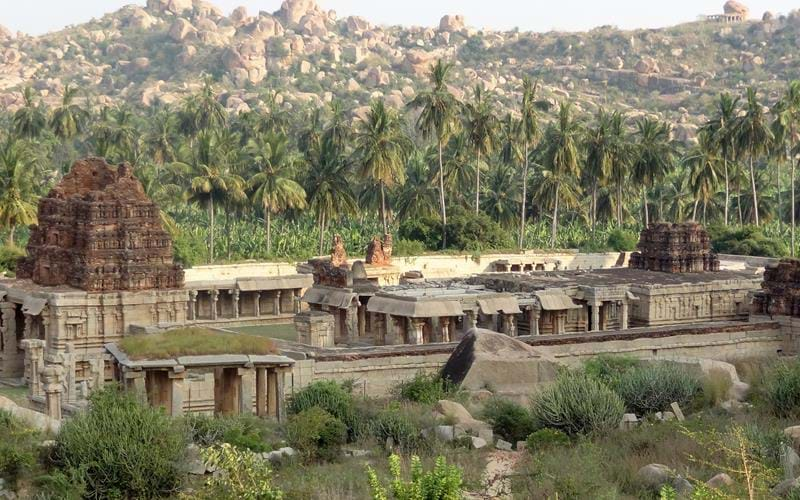 Overlooking a remote village three hours' drive south of Hampi, Mudgal makes a delightful day trip. The citadel's walls and bastions are remarkably well preserved and the surrounding landscape is magnificent. If it were in France, the monument would be a five-star site in the Michelin guide, but in India is almost completely forgotten.
Day 11
Chikmagalur
Drive to the plantation town of Chikmagalur in southern Karnataka for a two-night stay.
At an altitude of just over 1,000 metres (3,600 ft) on the fringes of the Mullayanagiri range, Chikmagalur enjoys a cool climate that's perfect for coffee growing. The surrounding estates and forest are dotted with delightful hideaways that make perfect bases for trips to the famous Hoysala temples on the plain below.
Day 12
Chikmagalur
Visit the Hoysala dynasty's shrines at Belur and Halebid, returning to Chikmagalur before sunset.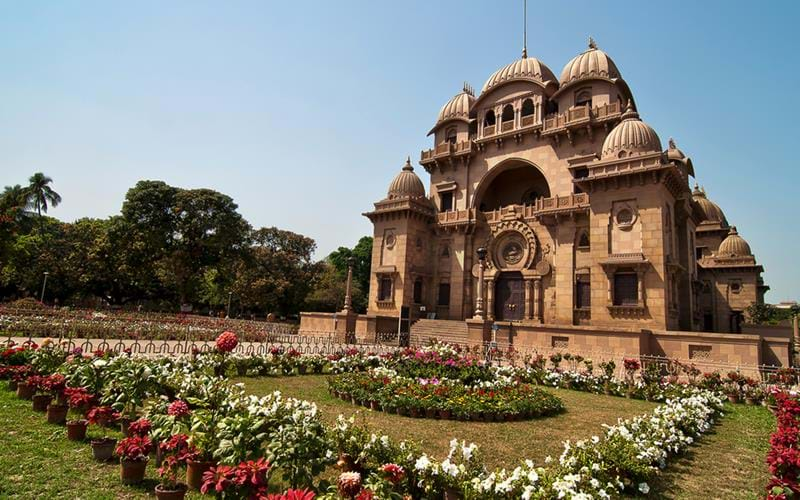 The Hoysalas, who ruled this region of the Deccan between the 11th and 13th centuries, left a unique architectural legacy in the form of a handful of exquisitely decorated stone temples, whose surfaces were adorned with exceptionally fine carving. The level of intricacy deployed by the craftsmen who made them was made possible by the malleable qualities of local soapstone, which was soft to chisel but in time hardened sufficiently to be polished. In the course of the day, you'll visit all three of the great Hoysala shrines: Belur, Halebid and Somnathpur.
Day 13
Mysore
Drive to the Jain pilgrimage centre of Shravanabelgola to see the great marble colossi, and then on to Mysore for a two-night stay.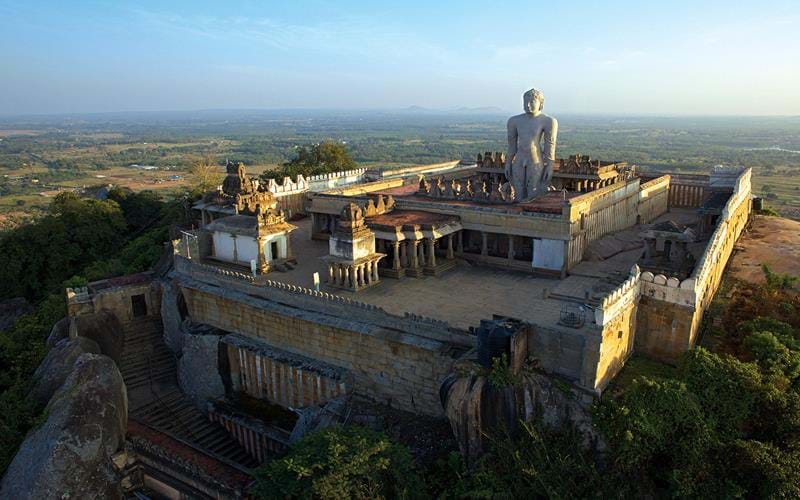 An important pilgrimage destination since the time of the Mauryan Dynasty over two-thousand years ago, this serene site in the depths of the Deccan centres on a pair of low hills. A flight of 650 steps winds up the larger of the two, Vindhyagiri, to a walled temple in which a towering, 18-metre tall statue of the Jain deity, Gomateshvara, stands naked, arms rigid at his side, gazing at infinity as vines grow around his legs and ants and snakes site at his feet – a pose intended to incarnate the spirit of renunciation.
Day 14
Mysore
A full day's sightseeing today in Mysore and nearby Srirangapatnam, former island capital of Tipu Sultan.
One of India's most approachable cities, Mysore is dominated by its grandiloquent Maharaja's palace. Designed in a wild combination of architectural styles, the complex holds two durbar halls, dozens of royal apartments and temples. On Sundays, its exterior is festooned with thousands of light bulbs – a great photo opportunity.
On an island in the Kaveri River, Srirangapatnam was the site of the region's capital for more than seven centuries, until the defeat of Tipu Sultan by the British in 1799. Tipu's summer palace, Daria Daulat Bagh, and the dynastic tomb complex, Gumbaz, hold some of the loveliest buildings in south India.
Day 15
Bengaluru
Drive to Bengaluru (Bangalore) for an overnight stay.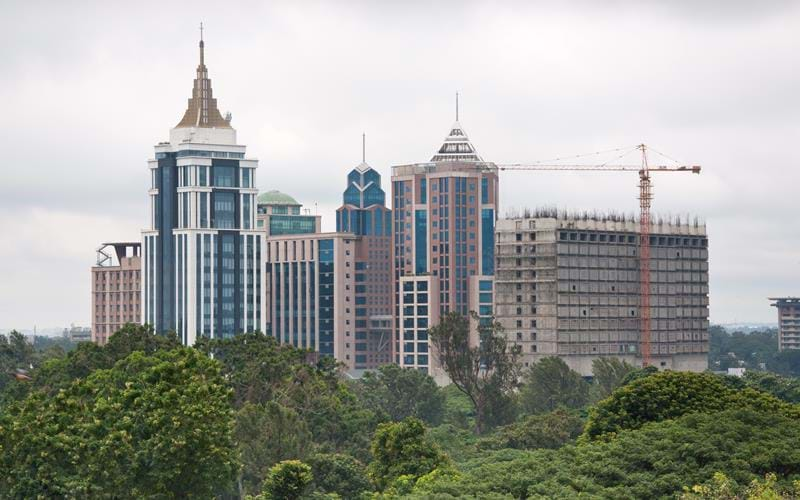 Bangalore, renamed 'Bengaluru' in 2006, is the go-ahead, trend-setting capital of Karnataka state. Although better known for its IT sector and gleaming skyscrapers, the city does retain a scattering of splendid medieval temples, among them the 800-year-old Dharmarayaswamy near the centre. Created in 1760 by Sultan Haider Ali and later enlarged by experts from Kew, the Mughal-inspired Lalbagh Botanical Gardens has a fabulous old glass house, modelled on London's Crystal Palace.
Day 16
Bengaluru, UK
Take an early morning flight back to the UK arriving the same day.
Tailor-made Tour

16 days from £3135 per person
What's included

✓   International flights from London
✓   14 nights accommodation
✓   All internal transportation and transfers
✓   English-speaking guides
✓   Breakfast daily
✓   Entrance fees to sites and monuments listed in tour itinerary
Places and Experiences in this tour
What Our Clients Say About Us
Start thinking about your next holiday
Whilst we stay at home, there is no better time to start thinking about your next holiday. Our Travel Specialists are ready to start planning your dream trip whether that is for some winter sun or a 2021 holiday. We don't need to confirm dates or lock-in deposits, let's just get the conversation going.
Or call us on 07947 761 237
TransIndus Brochures 2020
Join our mailing list