Japan 16.06.2017 Cate
While many a traveller will put off their Japan plans until the country is either swept by the 'sakura fever' of cherry blossom season, or turning fire-red in a blaze of colour in the autumn, those in-the-know will agree winter bring its own share of refined delights to the Land of the Rising Sun.

1. Take part in one of Japan's ancient and unusual snow festivals
The most famous and biggest snow festival is held every February in Sapporo, when the city is transformed into a fairy-tale crystal land of giant ice sculptures and delicious festival foods. Spread over three sights, you'll find concerts played on stages made of ice, snow slides and spectacular sculptures attracting around 2 million visitors from Japan and beyond over three days.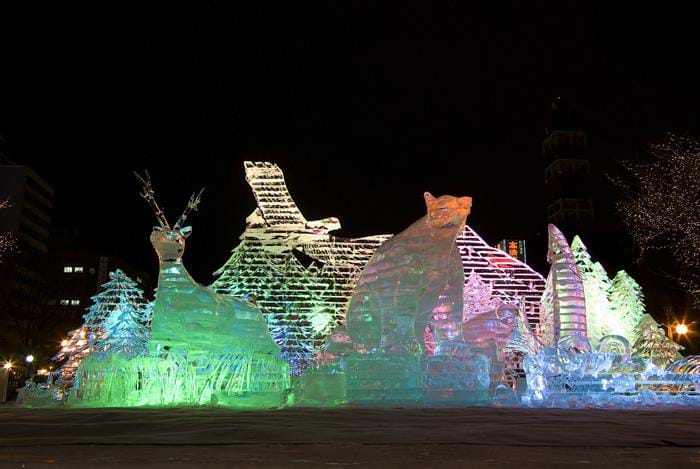 Record-breaking ice sculptures can be found at Asahikawa's winter festival, where a reported six tonnes of snow is used to build spectacular snow structures! Nightly illuminations make the giant icy wonders take on a magical glow, and if that's your thing the Akita snow festival will also be well worth leaving the house for:
This town's festivities involve building little igloo shrines to the water deity, which are lit up and visited after dark, to pray for enough water in the year ahead. Offerings to the water deity's are made by visitors to each little igloo in exchange for rice cakes and awamori sweet rice wine. Head to Kyokoji park during the day to take part in making your own little igloo.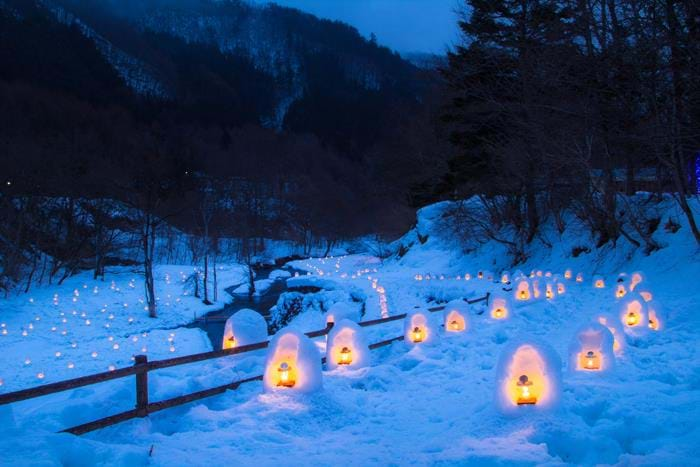 2. See popular Japanese gardens and temples silenced by snow
Usually thronging with visitors, Japan's temples and their gardens take on a certain emptiness and quiet majesty when blanketed in soft snow. Japanese gardens are meticulously designed to offer a unique beauty in every season, and winter is no exception, rewarding those who wrap up warm with a beautiful and otherworldly scenes that the cherry blossom tourists tend to miss amongst the crowds.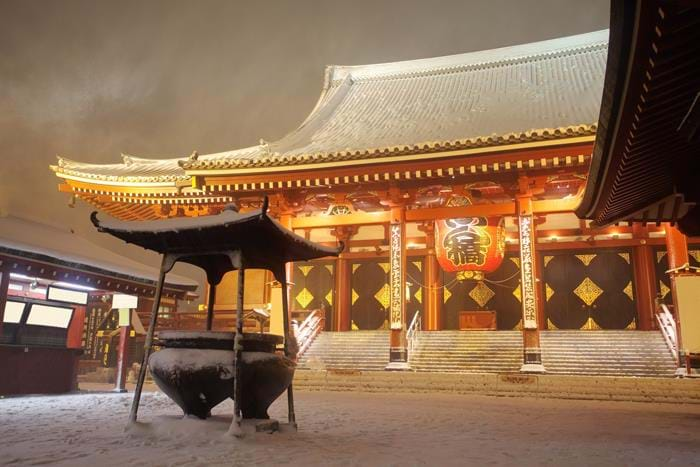 3. Ski on world class snow in the shadow of a volcano
Up and down Japan's rugged mountainous interior you can find some of the best skiing conditions in the world, thanks to a constant blast of cold air blowing down from Siberia. Some of the best places are Niseko in northern Japan, and Winter Olympics host Hakuba and Shiga Koen more centrally. Closer to Tokyo you'll find Hakuba, with excellent skilling conditions even in early spring - It's not called 'champagne snow' for nothing! And how about including a little warm sake and some open-air onsen hot spring bathing as part of you Après -Ski?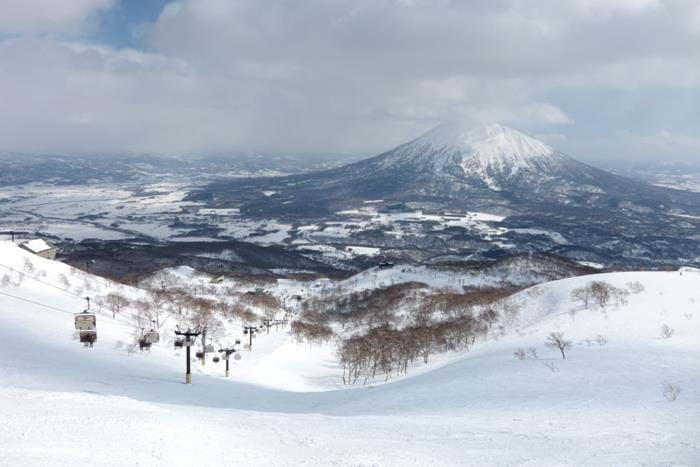 4. Savour the seasons with unique delectable winter dishes
Japanese cuisine treats the seasons with due respect, delicious dinners to warm you inside and out are plentiful. Two delicacies that are in their prime in midwinter are the prized giant Snow Crab, enjoyed as part of a nabe hot pot or sliced up like sashimi, and the infamous 'fugu'. Possibly the world's most dangerous foods, Chefs spend years training to prepare the poisonous pufferfish, slicing them into delicate slivers so that the poison is just right; enough to leave your taste buds tingling, not enough to kill. Those who dare, look out for a pufferfish lantern hanging outside a restaurant - a sure sign the chef inside is trained and ready to serve this daring dish.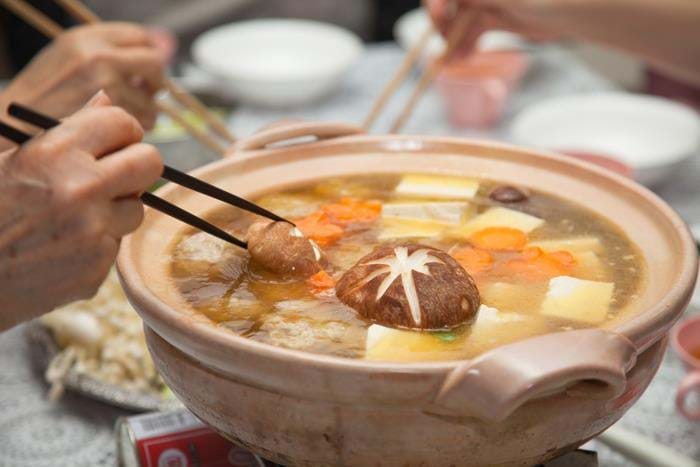 5. Gaze at the stars from your very own open-air hot spring bath
Being a land forged in fire, Japan is bubbling over (quite literally!) with volcanic hot spring baths. Of course, you can enjoy this quintessentially Japanese pastime at any time of year, but it is without a doubt at its best during winter: Who doesn't want to spend a cozy winter's evening sitting neck -deep in an open-air cypress bath filled with volcanic hot spring water, gazing out over a perfectly manicured Japanese garden, while snow falls softly, like falling stars. Bliss!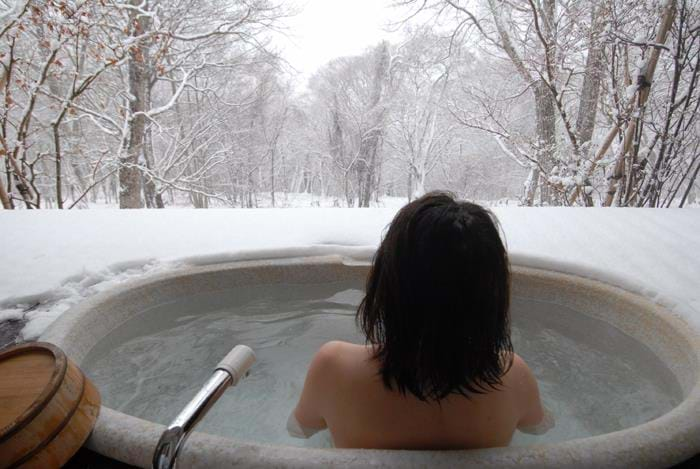 6. Snap your picture with these guys
High in the Japan Alps is the only known place in the world where you can find the adorable Japanese macaques bathing in their very own hot spring baths. Why not swing by these photogenic fur-balls on your way to or from the ski slopes, or as you head back to Tokyo from your traditional hot spring 'ryokan' guesthouse.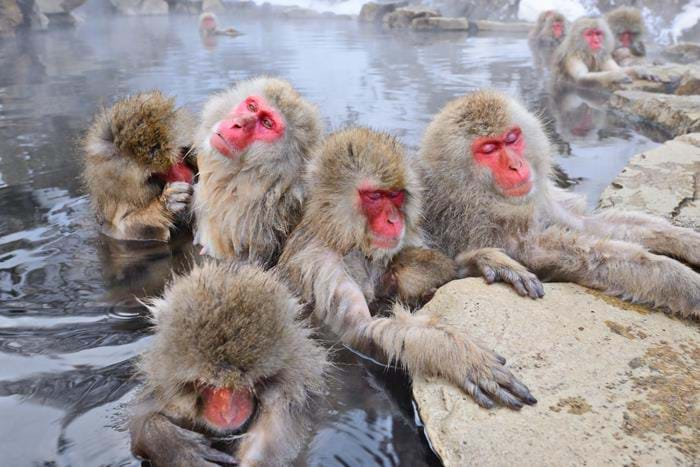 If you have been inspired and would like to visit Japan, contact our team of experts to start planning your trip.