India 15.10.2020 Transindus
A beach holiday to Goa can be packed with luxury, adventure or quality family time whether you choose to stay in North Goa or South Goa. The state has a vast variety of accommodation from the all-inclusive resorts to the boutique lodges and locally-owned homestays and each hotel, guesthouse or lodge has its own distinct charm. Our favourite hotels are listed below and have been hand-picked by our India experts but there are many more that we love that didn't make the list. If you're looking for something a little different, get in touch today.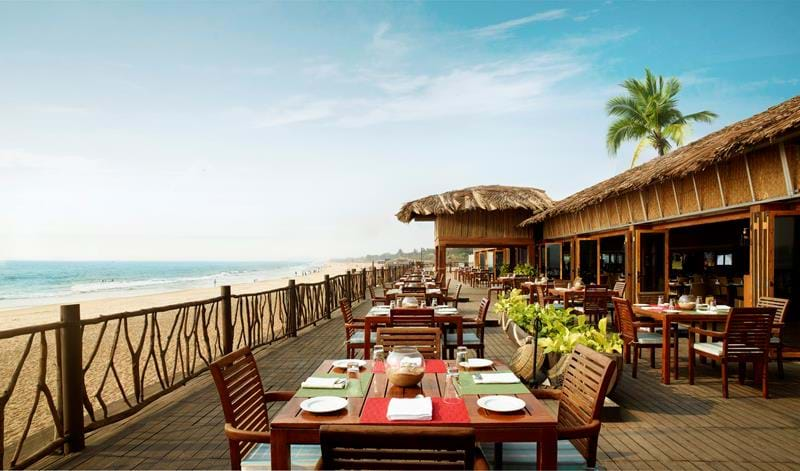 Taj Holiday Village: Indian Luxury
The Taj hotel chain now has properties and resorts all over world but the best and most well known are undoubtedly in India – in fact, no holiday to India is complete without a couple of nights in one. The Taj Holiday Village is perched closed to the ocean and meals can be enjoyed listening to the waves crashing onto the shore from one of its four restaurants. The hotel also offers unique and exclusive experiences to provide a deeper glimpse into traditional Goan culture like a spice tour of the Mapusa Market with their Chef Culinare of Goan Cuisine. For an intimate and private moment, the Taj can also arrange a romantic dinner lit by flaming torches on the beach.   
Where: North Goa
Best for: Romance, honeymoons and luxury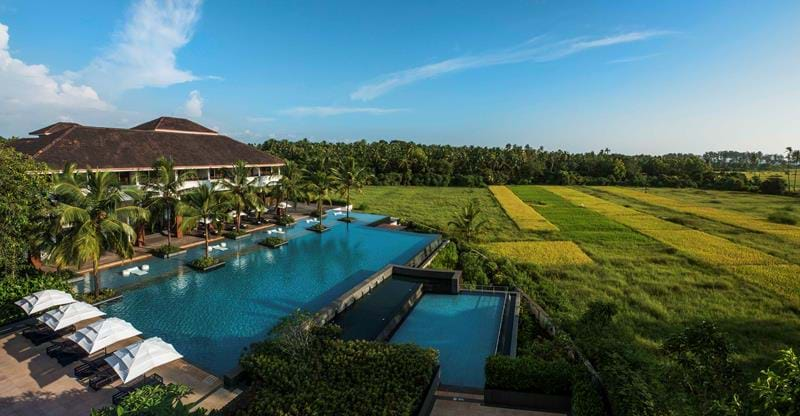 Alila Diwa: Paradise among paddy fields
One of the larger hotels in our collection, the Alila Diwa managed to enjoy a boutique feel. The rooms are immaculate, many with large bathtubs big enough for two with views out onto the paddy fields. Early morning yoga classes are offered twice a week with daily movie screening available in the evening to top off a day spend enjoying the infinity pool or nearby Gonsua Beach, a short shuttle ride away. The most unique experience offered at the Alila Diwa is Dining in the Dark, where a host will guide you to your dining venue and your taste buds will lead the way through your meal.
Where: South Goa
Best for: Honeymooners or Silver Travellers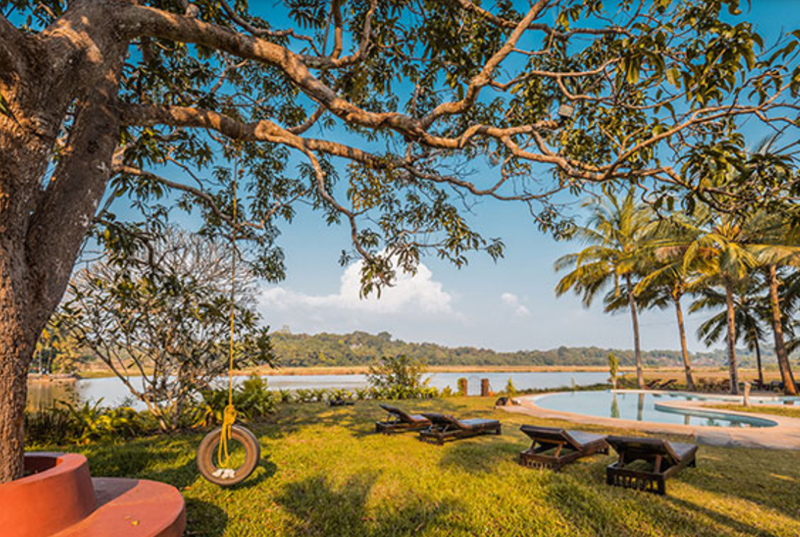 Olaulim Goa: A home away from home
For those who like adventure and to get off the beaten track, Olaulim Goa is the perfect hideaway. Just 42km from the airport, the homestay is a secluded refuge for owners Savio and Pirkko who created their home along the Olaulim River, away from the busy beaches and many tourists. The five cottages are rustic, yet spacious, built with local materials and furnished with antiques. Away from the homestay from accessible from its backyard, the peaceful countryside, and backwaters beckon with canoeing, cycling, fishing and bird watching on offer here providing a glimpse into traditional goan life.
Where: North Goa
Best for: Families and adventurers
Ahilya by the Sea: A private paradise
Ahilya by the Sea is close enough to the waters edge that you can hear the waves lapping the shoreline from any one of the nine beautifully decorated rooms spread across the property. It's most unique room is the cosy Arjuns Tree House, nestled within the branches of a 200 year old banyan tree. With two swimming pools and an abundance of private gardens, there is space for everyone to enjoy a drop of renowned Indian hospitality. The hotel is perfectly positioned visits to the states cultural attractions including the Museum of Goa and the Reis Magos Fort.
Where: North Goa
Best for: Couples, Silver Travellers & Cultural buffs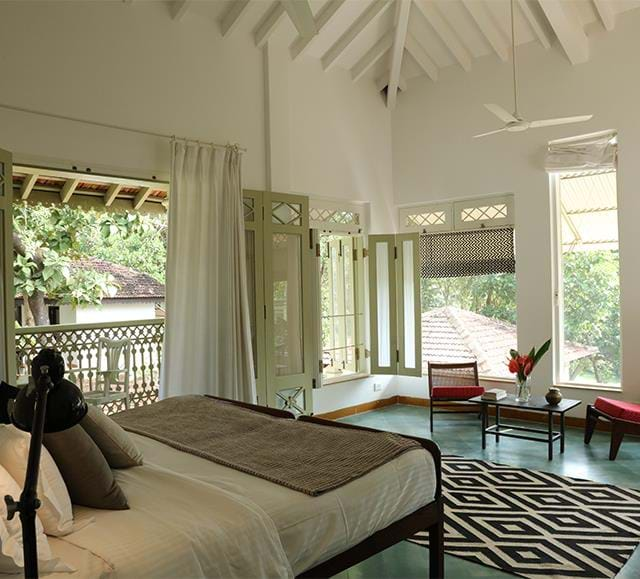 The Postcard Hotels: Modern Colonial Hideouts
Not one, not two, but three Postcard Hotels are scattered across Goa. These tiny hotels have just six rooms in two of the properties and nine in the third giving them an intimate and private feel. Book far enough in advance, and you can rent out the whole hotel – perfect for large families or groups of friends wanting the additional touch of service that staying in a hotel brings.  The Postcard Hotel also boasts an in house Vaidya and punarnava Ayurveda specialist to provide consultations and personalised plans for your stay and beyond for the ultimate wellness experience.
Where: North Goa
Best for: Wellness holidays, flashpackers & large groups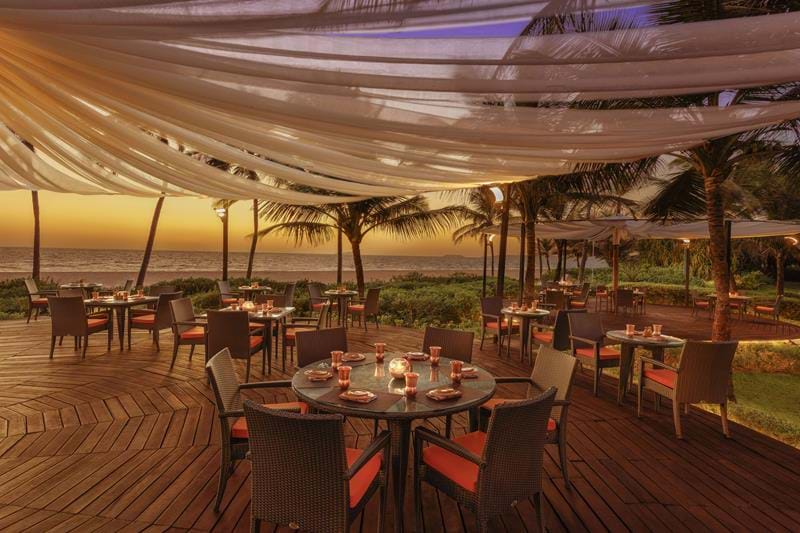 ITC Hotel: All Inclusive Luxury
A huge rambling resort set on 45 acres of land with six restaurants and bars, a golf course and one of the largest swimming pools in India, set over multiple layers with water slides and more, this luxury resort is a holiday playground for those looking to fly and flop onto a sun lounger.  With over 250 hotel rooms, the kids club is guaranteed to be busy and will keep your little ones occupied for hours whilst you enjoy the areas of the resort reserved for adults or enjoy some quiet time on the beach with a good book.
Where: South Goa
Best for: Families with children under 12
W Resort: Deluxe luxury
No holiday to India is complete without a dose of luxury and the W Resort in North Goa definitely delivers that but with a flair of western style. Like its sister hotels around the world, the W boasts a modern and youthful energy throughout. A 24 hour gym offering a 'Whatever/Whenever' personal training service sits alongside buzzing and lively bars overlooking the ocean whilst the choice of luxury hotel rooms or spacious villas offers sweeping views of the private coastline.
Where: North Goa
Best for: The Party Scene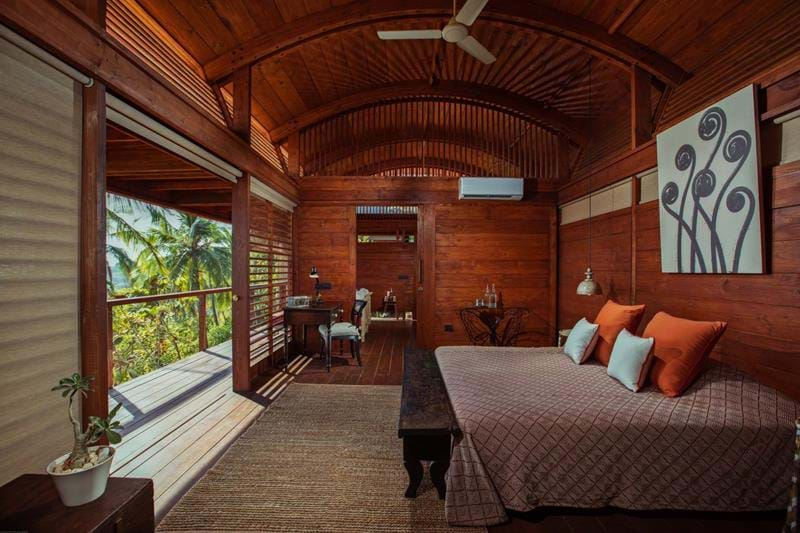 Cabo Serai: Barefoot Luxury
Luxury tents are nestled within a flourishing forest at Cabo Serai, the forests are alive with birdlife which will wake you up at daybreak for early morning yoga classes. Large sweeping decks provide the perfect vantage point to admire the lush greenery and sea views. The hotel is free of single-use plastic and water and waste is carefully recycled and managed in the most sustainable way possible allowing guests to limit their carbon footprint. The nearby beach is blissfully quiet and with the cliffs dramatically falling into the sea, sunsets are particularly breath taking here – something the hotel allows guests to make the most of by offering cocktails or afternoon tea anywhere on the property.
Where: South Goa
Best for: Honeymooners or nature Lovers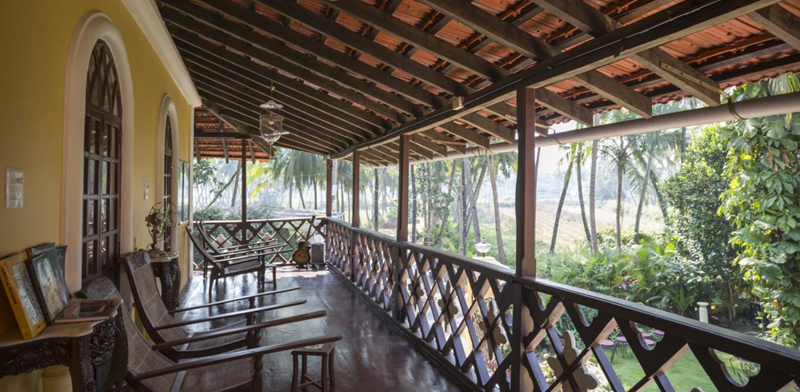 Casa Menzes: A cultural homestay
Much of Goa has been transformed in recent years as tourists have flocked from far and wide by Casa Menezes, nestled close to the village of Batim has been shielded by all that by it's location, in the valley of the Pilar and Santa Ana hillocks. The Casa Menzes is a 300 year old ancestral home, furnished with antiques and traditional goan arts and interiors. Nearby, you can take a short walk or bike ride around the village, spot local and migratory birds around a nearby lake or book a trek through the surrounding countryside. In the evenings, you can pre-order authentic, home-cooked Portuguese/Goan cuisine for dinner and enjoy drinks on the sweeping deck.
Where: South Goa
Best for: Adventure Travellers & budget holidays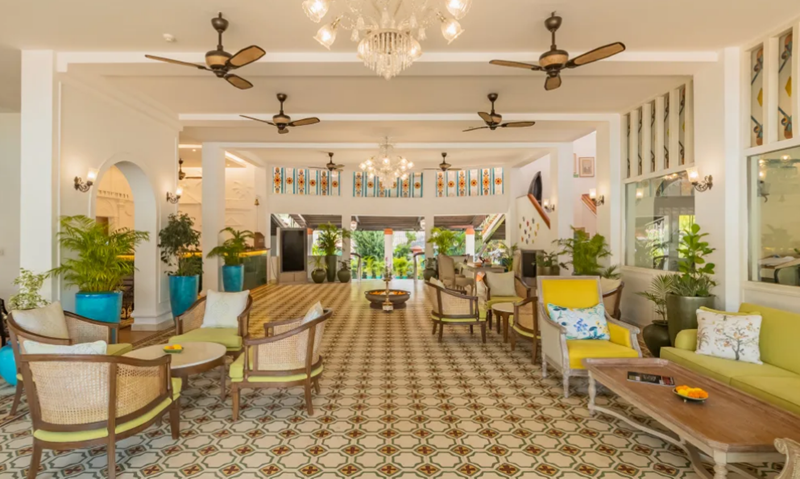 Heritage Village Resort: A Colonial Style
Just a few minutes walk from Arrosim Beach, the Heritage Village Resort is ideally situated for a beach holiday in Goa. Five restaurants and bars on site mean you don't have to leave if you don't want to and the five star service leaves you wanting for nothing. Outside of the hotel's walls, bars, shops and local restaurants are easily accessible by foot or tuk-tuk. This is not just another concrete resort hotel. The Portuguese-style architecture is notable the minute you walk through the hotel's doors and the gardens are designed with a distinct colonial feel to them.
Where: South Goa
Best for: All-inclusive on a budget