India 08.07.2020 David Abrams
The decision whether to turn left (north) or south (right) on leaving Goa's Dabolim airport is one that every visitor to the region has to make when planning a holiday to Goa. North Goa and South Goa are distinctively different, with definite pros and cons and each needs to be considered alongside the best places to stay in Goa.
Given enough time, the ideal would be to spend some time in both - as well as Goa's southern neighbour: Kerala which rivals the state in many ways making travellers have to decide which one of the two states to travel to. But in reality, most people tend to stay put once they've unpacked, venturing beyond their chosen resort only for the odd day trip, which means getting the location right at the outset can make or break your beach holiday – whether you're taking a short break on the end of a longer holiday to India, or booking a full-blown fly-flop beach holiday focused squarely on sea and sand.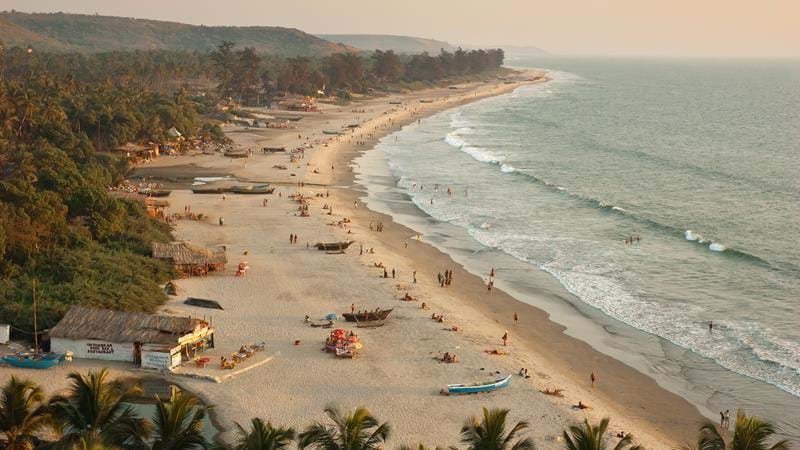 About North Goa
Broadly speaking, the north of the state, beyond the capital Panjim, is more developed and lively, with a broader choice of shops, bars and restaurants. The busiest strip is the ribbon development backing the huge, golden-sand beach stretching from Fort Aguada to Baga, which includes the resorts of Candolim and Calangute. This was the first bit of Goa to welcome tourists and remains the epicentre of charter tourism in the region, these days dominated by visitors from Russia and metropolitan India.
Further north, beyond Anjuna and Vagator, things grow considerably more sedate. In fact, one of the loveliest, most tranquil stretches of beach in the whole state is to be found here, along with a couple of beautiful heritage properties, including a scattering of traditional Portuguese-era houses on the dunes with uninterrupted ocean views and abundant wildlife on the doorstep (about as far removed from the popular image of Goa as it's possible to imagine).
The far north, around Arambol, is the area most favoured by backpackers and travellers interested in alternative therapies and yoga. The village itself is a bit scruffy but it's worth pressing on across the Terekol River to visit the old Portuguese hill fort guarding the mouth of the estuary, which has been converted into an atmospheric boutique hotel.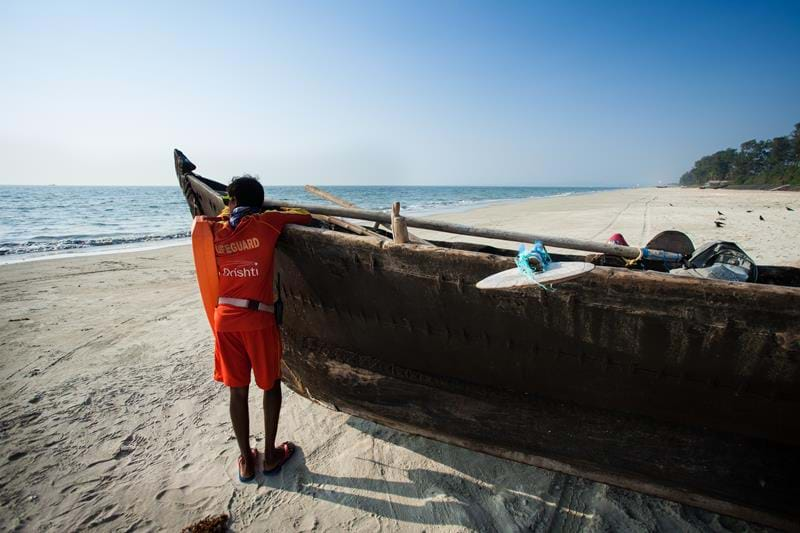 About South Goa
The south of Goa offers a similarly mixed bag, though is generally less densely built-up than the north. Close to the airport, magnificent Colva Beach sweeps southwards for 25km, dotted with luxurious five-star hotels and little Goan-Catholic fishing villages nestled under the palm trees. Local churches, bakeries, markets and bars are still very much in evidence – proof that the area retains a life outside tourism (nearly every family has relatives working in the Gulf or on ships). With the exception of Colva itself, which is best avoided, few stretches of this glorious beach ever get really busy. In ten minutes, you can walk or pedal away from the last bar and have miles of empty sand to yourself.
The properties we use in this area are international-standard and offer great value for money. You're also within reach of some of the prettiest coves on the Konkan Coast, around Cabo da Rama and Agonda, which lie within easy reach of day trips involving fun ferry crossings and drives through exquisite tropical rice terraces and forest.
With its backdrop of gently inclined coconut palms and spectacular arc of golden sand, Palolem, in the far south, is Goa's real poster piece. Sadly, it's also gets hopelessly overcrowded, especially around Christmas and New Year, and lacks any decent hotels, so again, we recommend visiting on a day trip.
The beaches of Rajbag and Galjibag, in the far south, are the places to head if you want a taste of what Goa was like 25 or more years ago. Both remain wild and unspoilt, though neither are safe for bathing due to dangerous rip currents. Galjibag is famous as a nesting site for Olive Ridley marine turtles.

Best for Kids
In north Goa, the best stretch of coast if you're travelling with children is Aswem Beach, home of one our favourite heritage properties, 'Elsewhere'. The sand here is gently shelving and surf rarely likely to sweep little ones of their feet.
In south Goa, Benaulim and Majorda – both along Colva Beach – are the recommended options (again, because of the absence of serious undertows). Out of school hours, you'll also encounter plenty of local children playing on the beaches while their parents fix nets and boats, and they'll happily team up with yours for games of cricket and football.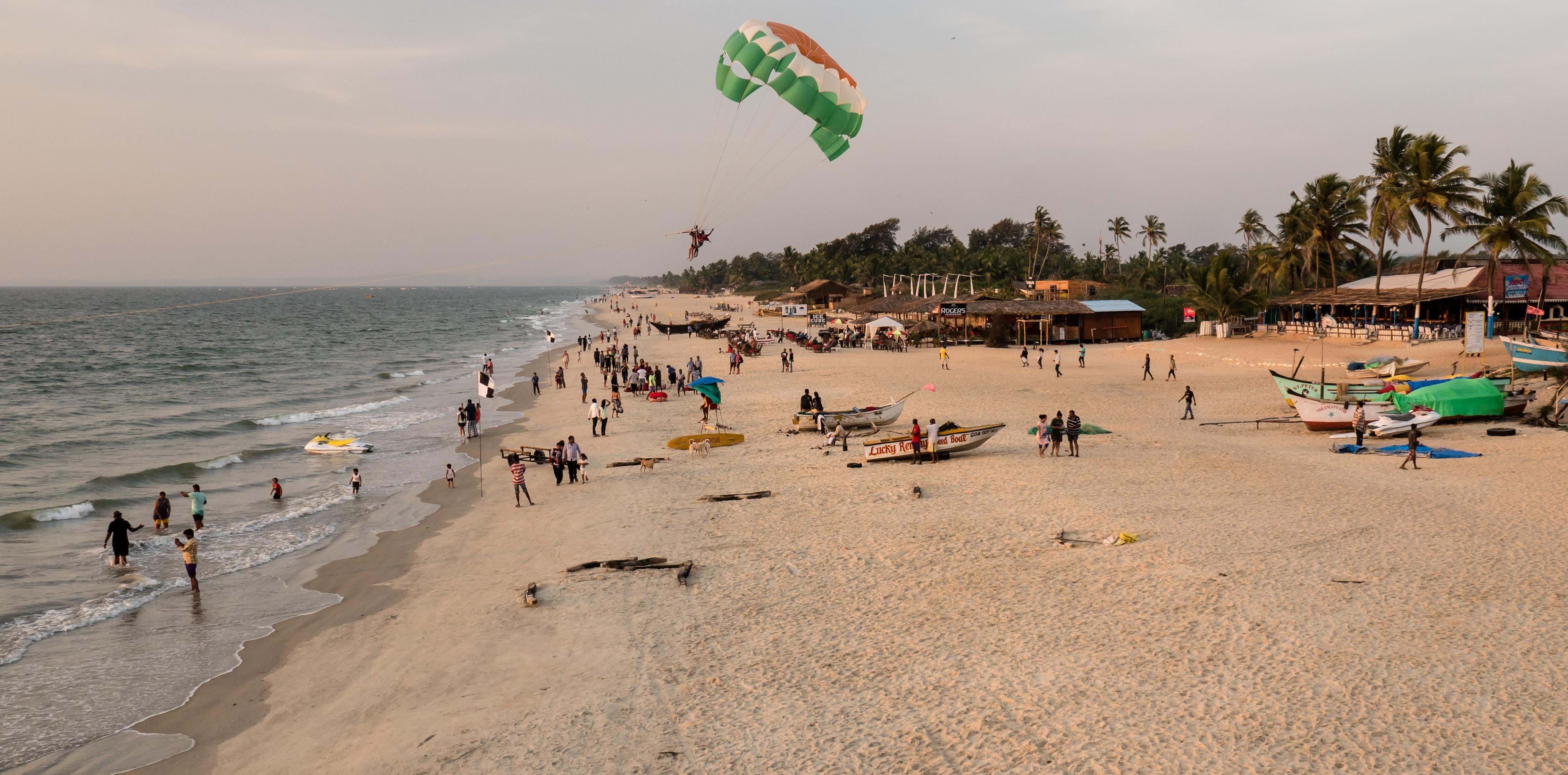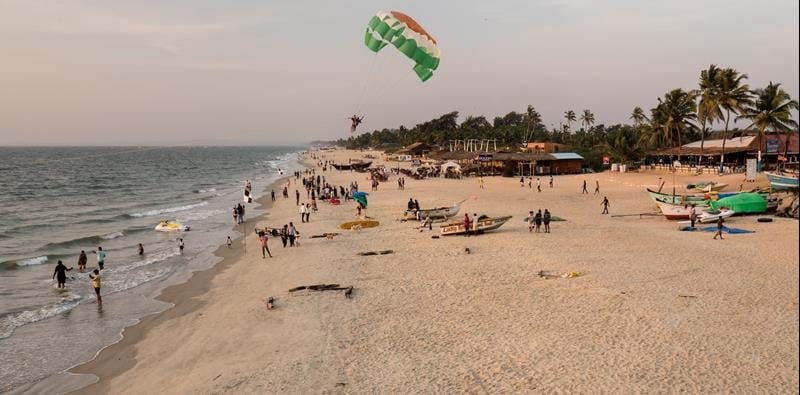 Best for Watersports
Neither north or south Goa could, it has to be said, be described as 'watersports destinations'. With the water silty and opaque, diving involves long boat trips off shore to clearer waters.  Many of the larger resorts have paddle boards and sea kayaks for rent. Arambol, in the far north, however, is also popular with kitesurfers, some of whom have equipment available for rent at stalls on the beach. But on the whole, the 'watersport' enjoyed by the majority of visitors to Goa is paddling and body surfing in the warm waves off the Arabian Sea!

Best for Nightlife
When it comes to the nightlife, North Goa wins hands down if you're looking for a touch of glitz and glamour. Baga and Aswem are the resorts favoured by India's A-list film stars and cricketers, and the wealth of hip places to eat and drink reflects this.
Nightlife in South Goa, by contrast, focuses squarely on the 'shacks' dotted along its breezy beaches, where the menus tend to be less adventurous than the décor, and local seafood barbeques take centre stage.

Best for Day Trips
Old Goa, the former Portuguese capital, is the number one target for day trips inland. As it's in the dead centre of the state, the UNESCO-listed World Heritage Site is just as easily reached from north as south Goa. The same applies to the quirkily designed 17th-century temples around Ponda, an hour's drive from the coast, where the Hindu deities from the region's former temples were hidden after the Portuguese annexed the territory in 1510.

Best for Shopping
Every Wednesday, half the tourists in Goa descend on the village of Anjuna in north Goa to shop for souvenirs. The weekly market is packed with mostly cheap beach wear and Indian handicrafts, though the local Tibetan community usually show up with quality silver jewellery and repro antiques.
As well as Anjuna market, north Goa also boasts the region's best designer stores and genuine antiques emporia. In the south, you'll be limited to the regular Kashmiri handicrafts shops that are to be found outside all upscale hotels. These specialize in expensive silk carpets, fine metal work and intricately decorated papier maché items.
If you end up in the north, do make a point of visiting the daily fresh produce market in Mapusa, whose flower section is one of the state's most colourful spectacles. In south Goa, its equivalent is in the town of Margao, 20 mins' drive inland from Colva Beach.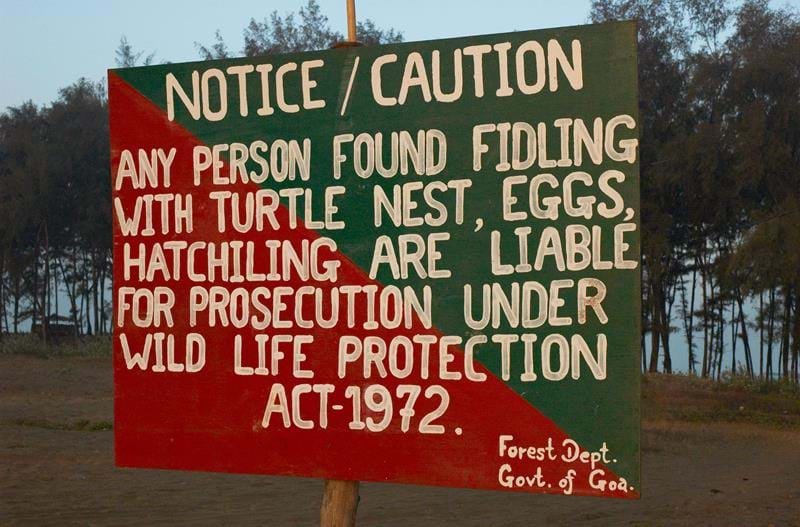 Best for Wildlife
Although there have been recent sightings of tigers in the forests of Goa's interior, the state is not generally regarded as a wildlife hotspot, as the larger mammals tend to remain well hidden. You have to holiday to Kerala to spot wildlife. That said, Cotigao Sanctuary, in the far south, retains some bird-rich forest and varied flora, while the Salim Ali Sanctuary, near Old Goa, is a must for ornithologists.
Several nesting sites of Olive Ridley marine turtles are also to be found in the region: at Galjibag in the far south; Aswem in the north; and a rarely visited beach on the opposite side of the river from Terekol, in the far north. Local wardens will be able to tell you when nests are due to hatch – a heart-warming spectacle which visitors are welcome to observe.