India 11.05.2020 David Abram
Rough Guide to India author, David Abram, weighs up whether Goa or Kerala is better for your India holiday.
Having written guide books to both Kerala and Goa, I am often asked by people planning a trip to India for the first time which I prefer and which of Kerala and Goa is better. Or more accurately, which I'd most recommend for a beach break at the end of a two week trip around the Golden Triangle.
On the surface, there seems little difference between Goa and Kerala: they're both tropical states on India's southwest coast, edged by long, sandy beaches that have been popular with visitors for decades. Kerala has incredible hotels and some of our favourite hotels are in Goa too. Both have strong cultural identities that set them apart from the rest of the country. And they're easy to reach, with efficient international airports and good internal road networks.
In terms of atmosphere, however, Goa and Kerala are much further apart than you might imagine – and offer very different experiences.
So whether you're considering a quick beach extension at the end of a longer India tour or are looking for some guaranteed winter sun or a seaside holiday with a bit of local colour on the side, read on: the following 'Goa or Kerala' comparison will help you decide on which holiday destination will suit you best.
Climate in Goa and Kerala
The first time I visited Kerala, I flew there from Goa – just an hour's hop down the Konkan Coast. It was November. The weather in south Goa was blissful, with opalescent blue skies, cool nights and uninterrupted sunshine from dawn to dusk – the norm between early November and mid-April.
Contrast that with the thick rain clouds and sporadic downpours that accompanied my arrival in Kerala. The monsoon should have been long gone, or so I thought. What I hadn't appreciated back then was that the far south of India receives a second deluge of wet weather in November and December: the so-called 'Northwest' or 'Retreating' Monsoon.
This ensures the region of Kerala remains gloriously green when much of India is already baked dry, but if you've come for the beach, the leaden skies will be less than welcome. For sunbathing and other outdoor activities, the months after Christmas (Jan–March) are a better time to visit Kerala.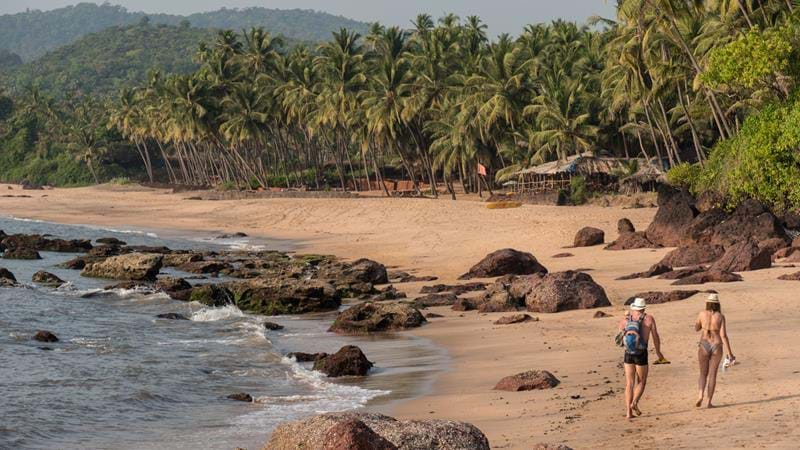 The Beaches: Goa or Kerala
Although there are a few notable exceptions, Goa's beaches tend to be a lot more crowded and developed than Kerala's. They're also generally much safer to swim from, with gently shelving sand and shallow water that won't even trouble a toddler. Kerala, on the other hand, sees strong rip tides and heavy swells for much of the year and, while delightful for a sunrise or sunset stroll, tends to be avoided by all but the strongest swimmers in favour of the hotel pool.
Can I wear bikinis in Goa or Kerala?
Thanks to the Portuguese, who ruled it for 451 years, Goa has a more European, liberal attitude to beach etiquette than anywhere else in India. Bikinis are the norm for women and won't provoke any unwanted attention.
In Kerala, however, bikini wearers may have to take local sensibilities into account when enjoying the sand and surf. This is particularly true of resorts in predominantly Muslim areas in the far north the state. The same does not apply to resort hotels, where you can wear what you would in Europe or the US.
The landscape
Barely 100km from north to south, Goa is much smaller and a fraction of the size of its more southerly cousin Kerala, but does boast a similar gamut of landscapes, ranging from the sandy beaches and laterite headlands of the coast, through lush hinterlands of rice paddy and coconut groves to the forested mountains of the interior.
Whist the landscape does vary in Goa between north and south and deciding in whether north Goa or south Goa is better is another decision, the principal differences are scale. In Kerala, the mountains are much higher and enjoy a completely different climate to the coastal belt. Tea, coffee and spice plantations carpet the higher slopes, and there is considerably more forest (and wildlife) than in Goa.
Local Culture in Goa and Kerala
A Portuguese colony from 1510 until 1961, Goa has a mixed population of Catholics and Hindus, with a sprinkling of Sikhs and Muslims. The Christian influence, most discernible in the numerous whitewashed churches dotted around the centre of the state, and in the European-style tailored dresses worn by many women, remains strong. For outsiders, however, the distinctive Goan-Catholic way of life offers little by way of spectacle beyond the weekly Sunday mass held at the Basilica of Bom Jesus, in the former colonial capital, Old Goa.
Kerala has some incredibly unique experiences and is also culturally mixed, but Hinduism, in its many and varied forms, is very much the dominant religious faith in the region. Non-Hindus are not permitted to enter temples, but are welcome to attend the many festivals that punctuate the region's ritual calendar, from processions of caparisoned elephants and drum orchestras to the masked 'teyyem' rituals, where elaborately costumed dancers are 'possessed' by the spirit of a shrine's presiding deity.
Goa or Kerala for Sightseeing and Experiences
The pleasures of sun, sea and sand are very much Goa's raison d'être as a holiday destination. When it comes to beaches, you'll be spoiled for choice. Each morning a fleet of white Maruti taxis sets off from the resort hotels to take visitors to coves and quieter stretches of sand in the less developed far north and south of the state. When it comes to cultural day trips, the great 16th and 17th-century Portuguese churches at Old Goa, the former capital, and the modern-day hub of Panjim, which has a pretty colonial quarter, are the main targets.
The range of sightseeing options and unique experiences on offer in Kerala is considerably broader and there is lots to see and do in Kerala. You could easily plan a couple of days of sightseeing among some time on the beach or by the pool. Experiences range from backwater cruises in traditional 'kettu valam' houseboats to jungle treks and performances of ritual dance dramas and music. The old colonial trading post of Fort Cochin, which retains the largest concentration of 17th-century European buildings in Asia, is a another must for anyone planning holidays to India.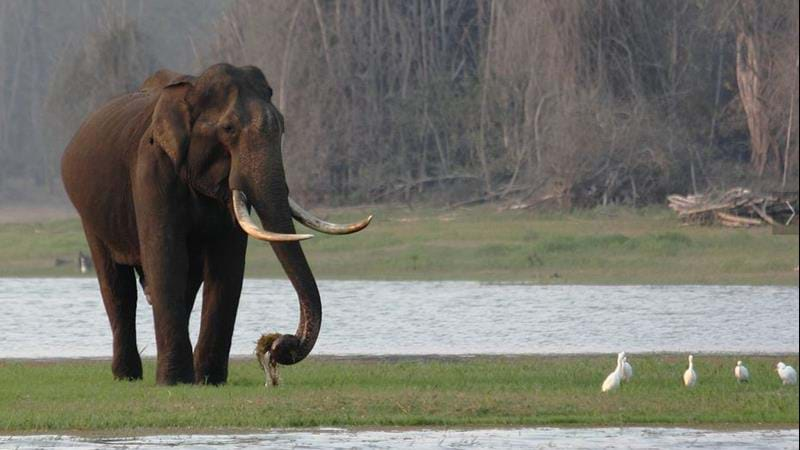 Wildlife in Kerala
Kerala also wins hands down when it comes to wildlife. Large swaths of the world-renowned Nilgiri Biosphere, one of the most important regions of Asia for biodiversity, sprawls over the mountains inland, where a series of national parks and nature reserves offer the chance to sight wild elephant, Indian bison, rare 'tahr' sheep and, if you're lucky, even the odd tiger. These parks are also serviced by some outstanding places to stay, including remote bungalows deep in the forest and camps on riverbanks frequented by hundreds of species of tropical birds.
The Great Outdoors
Kerala is also the place to head if you want to incorporate outdoor adventures into you itinerary. The giant peaks lining the border with Tamil Nadu offer excellent trekking opportunities, while the backwaters are perfect for canoeing and cycling.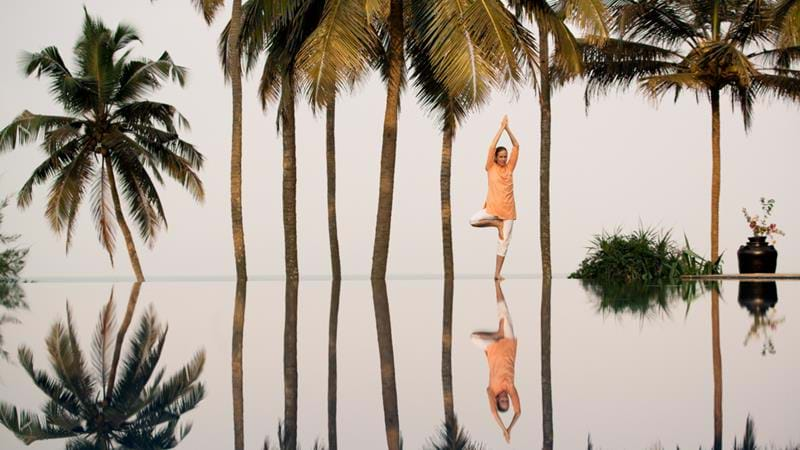 Wellness Holidays in Kerala or Goa
Most luxury hotels, including those favoured by TransIndus, these days have world-class spas attached to them where you can enjoy massages using traditional Ayurvedic herbal compresses and oils, along with a range of other therapies drawn from traditional Indian medicine.
Kerala is India's principal centre for Ayurveda, and if you're considering a journey to India for more serious treatment for a chronic health condition or to recuperate from illness, then the far south is likely to be a better option than Goa.
Goa, however, is recommended for yoga as the region attracts expert teachers from across the world during the winter months.
Sustainability
Despite stringent environmental laws limiting construction close to the shoreline, development behind the principal beaches in Goa has been exponential over the past fifteen years. We're not talking Benidorm here: even the large resort complexes are low rise and well screened. But if you're looking for a pristine, natural environment and a more sustainable approach, options are limited.
Even major hotels in Kerala, on the other hand, are at pains to demonstrate their green credentials. For example, the wonderful CGH Earth chain, the company behind some of the state's loveliest properties, puts responsible tourism at the heart of its business, with great emphasis on recycling, minimizing environmental impact and employing locally recruited staff – a model that has been enthusiastically adopted by many of its competitors.