India 27.05.2020 Transindus
Whether you are travelling to Kerala for a honeymoon, with your family or enjoying some time there on a first-visit to India, the rich cultural heritage and scenic diversity of India's tropical state is vividly reflected in the broad choice of places to stay and hotels on offer in the state. Whether you're looking for a beachside bolthole or a hideaway in the hills, we have a hat full of suggestions of the best hotels in Kerala, drawing on over three decades of designing holidays to India.
The following represents our travel specialists top picks of Kerala's best 10 hotels, listed from south to north but for information on what to see and do in Kerala, check out our absolute guide to it here.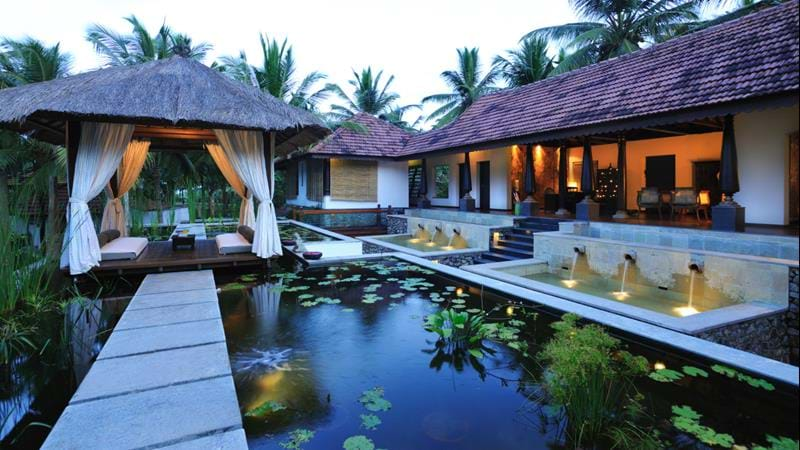 Niraamaya Surya Samudra
Best for: honeymoons and ocean spa
Dreaming of a snug, stylish villa on a tropical clifftop, with views of the glinting Indian Ocean through the palm trees and a tempting spa to retreat to? Look no further . . . The property was the brainchild of Swiss-born architect and interior designer, Karl Damschen, who has lived in Kerala for over thirty years and is responsible for some of south India's most exquisite hotels. Karl was the first to incorporate traditional, antique Keralan houses into luxury boutique resorts – a concept that has been widely copied but here, in a coconut grove overlooking the sea, finds its most complete expression.
Find out more about Niraamaya Surya Samudra.

Chittoor Kottaram
Best for: Heritage chic
Soak up the distinctive sights of Cochin's backwaters from the luxury of an exquisitely restored century palace, where the local Raja used to escape to with his family in the 18th century. The old mansion has been beautifully restored using original materials and local artisans, and is now run with great taste and attention to detail by the wonderful CGH Earth chain. Traditional red-oxide floors, limewashed walls and antique wood furniture create a soothing feel to the rooms, which open on to pillared verandas and a lush, well shaded garden with a pool – the perfect base from which to explore the crowded streets of Fort Cochin as well as the local backwaters, both on the doorstep.
Find out more about Chittoor Kottaram here.

Baymaa's
Best for: Fusion architecture
After a busy day's sightseeing in the city, retreat from Cochin to a private island deep in the backwaters, where a modern mansion blending earthy South Indian materials and modern design concepts offers a luxury retreat. Baymaa's is for travellers who like their architecture sleek and minimalist, but with a definite sense of continuity. The building's design fuses South Indian terracotta tiled roofs and lathe-turned wood pillars with contemporary glass, stylish lighting and original art works. While the waterfront setting and tree-shaded pool are just heavenly.

Eighth Bastion
Best for: stylish city living
Suave and sophisticated, this boutique property sits within strolling distance of Fort Cochin's historic core, but occupies its own serene universe, under the shade of giant rain trees. You're more aware of the bird song and busy squirrels darting overhead than the traffic, though the occasional blast of a ship's horn in the distance occasionally reminds you that you're at the heart of the former spice port, only a stone's throw from the 17th-century Dutch cemetery and church where Vasco da Gama attended mass.
Find out more about Eighth Bastion.

Brunton Boatyard
Best for: colonial nostalgia
The elegant Dutch-style arches, clay-tiled floors and grand façade facing the water hark back to the Raj era. But this breezy haven on Cochin's harbour front is in fact a masterpiece of Retro architecture. Its designers went to extraordinary lengths to capture an early-20th-century feel – down to using bakerlite switches, stringing old punka fans from the ceilings in reception, and resolutely refusing to lower the tone with TVs and other unnecessary mod cons in the rooms. The latter have breezy balconies offering ring-side seats for the marine activity sailing through the entrance to the harbour. But most of all we love the garden pool – which is enormous, and boasts a palm-shaded terrace where you can enjoy the morning sunshine over a gourmet South Indian breakfast.
Find out more about Bruton Boatyard.

Cranganor
Best for: history and culture buffs
Located close to the remains of ancient Muziris, Kerala's own 'Lost City', this serene backwater property offers the perfect springboard for explorations of the state's cultural heartland. The building is modern, which means the rooms and balconies are of a generous size, as is the outdoor pool, from where you can watch the comings and goings on the river. Given the proximity of the city and airport (the latter is less than a half-hour's transfer away), the air of tranquillity comes as a welcome surprise, which is why we often recommend this property as a first landfall in India.
Find out more about Cranganor.

Pepper Trails
Best for: coffee afficionados
The Wayanad region in northern Kerala provides a peaceful alternative to Munnar if you want to experience the heavenly vistas, green expanses and profuse wildlife of Kerala's hillcountry, and this restored Scottish planter's bungalow ranks among our all-time favourite plantation stays. It's located at the heart of the region, halfway up a mountain amid 200 acres of coffee plants and spice groves and is particularly recommended for birders and walkers. The property also boasts a shimmering outdoor pool – perfect for lazing in after lunch, while waiting for the afternoon heat to subside.
Find out more about Pepper Trails

Neeleshwar Hermitage
Best for: beach buffs
Sidestep the tourist scene altogether at this elegant resort on a golden sand beach in northern Kerala. The idyllic location, coupled with its particularly spacious thatched villas, make this our favoured pied-à-terre on the Keralan coast. Clients rave about the mirror-like infinity pool and breezy interiors of the cottages, as well as the dawn yoga sessions and perfect beach here. Evenings may be spent in private contemplation, soaking up the sea air on your own veranda, or at talks on Indian history, art and culture from a resident scholar.
Find out more about Neeleshwar Heritage.

Lotus House Boat
Neeleshwar Hermitage (above) run their own boutique houseboat for luxury backwater cruises around a network of waterways in northern Kerala – a supremely comfortable window on a world seen by few foreign visitors. The 'Valiamparamba' region centres on a large lagoon, separated from the ocean by a slender sandbar. Local people live from inshore fishing, coconut cultivation and coir harvesting – expect to see all of these in action at various stages on your cruise. The boat itself is one of the best designed of any we've come across in Kerala: the Lotus is a veritable floating boutique hotel, complete with raised observation deck where gourmet meals are served at parasol-shaded teak tables.
Find out more about Lotus House Boat

Taj Bekal
Best for: five-star comfort at an off-track location
Close to the Karnatakan border in Kerala's far north, this recently opened resort offers the kind of international luxury synonymous with the Taj chain, but in a wonderfully remote spot, close to a windswept laterite fort and some magnificent beaches. It was built to entice high-rolling dot-com execs down form Bangalore, but we tend to use the property as a stopover on journeys up the lush southwest coast – one of India's most interest but least explored regions. Kayak trips on local backwaters, visits to windswept Bekal Fort and long sunset walks on deserted beaches are the order of the day.