Malaysia 10.04.2017 TransIndus
Orangutans – the ginger-furred 'Old Man of the Forest' – number among the rarest mammals on the planet. Only two vestigial populations survive, in remote tropical enclaves on the islands of Sumatra and Borneo. Numbers have been decimated in recent decades, and look set to drop further over the coming years unless the trend can be halted by the efforts of governments and conservation charities.
In this article, we focus on the work of one such partnership – between the Sepilok Centre in Sabah (Borneo) and their UK-based fund-raiser, Orangutan Appeal UK (OAUK). TransIndus sponsor the work of OAUK and encourage clients to visit the centre to see the wonderful rescue and rehabilitation efforts it supports. 
Earlier this week, we caught up with OAUK's founder and chairperson, Sue Sheward MBE, to find out more about the charity.

Since Sepilok was established in 1964, have the prospects for orangutans and other wild jungle species improved?
In the locality of the Sepilok Centre itself, yes. Having a rehabilitation centre with a dedicated team of rescuers and vets in situ means that orangutans who have been injured, displaced or taken illegally from the wild stand a good chance of surviving.
However, the situation for orangutans as a species is increasingly worrying. Between 1950 and 2010 the population in Borneo has decreased by a shocking 60%, with a further decrease of 22% predicted by 2025. Last year the Bornean orangutan was reclassified from 'Endangered' to 'Critically Endangered', which is just one step away from extinct!



What are the biggest obstacles to securing a safe habitat for wild animals in Sabah?
Habitat loss is one of the main problems. Agriculture and forest fires mean that the orangutans' native habitats are significantly decreasing in size: 2015 was a particularly bad dry season for the Indonesian half of Borneo because of the huge forest fires that broke out in the Kalimantan region. We were able to provide emergency funds to our conservation partner (the Borneo Nature Foundation) in the affected area to support their fire-fighters on the ground as well as purchasing a state of the art drone, which could be used to locate and track fires breaking out across the rainforest. Nonetheless, with climate change meaning temperatures are on the increase, fire will continue to be a threat. 
An additional challenge comes from hunting – both by workers who view them as pests, and poachers trying to find young orangutans to sell on the illegal pet market. It is so important that protected orangutan habitat is kept safe from these threats. In the protected Tabin reserve, our post-release monitoring assistants patrol the area, arresting anyone engaging in illegal activity. As well as this, the wardens visit local schools and agricultural plantations in the region to help educate local people about the importance of orangutan conservation and protecting their habitat.

Why are there so many young orangutans at Sepilok, and why does it take up to seven years to rehabilitate them? What do they need to learn?
Young orangutans grow at a similar rate to humans. An orangutan baby will stay with its mother for around 8 years or more, learning the vital skills they will need to survive in the forest. This includes complex behaviours such as building a nest out of leaves and branches, foraging for many different types of fruit, leaves and bark and being able to climb high into the treetops and recording a map of the forest to memory. When orangutan babies are brought to the centre they have often lost their mothers at a young age but still need to learn everything their mother would have taught them.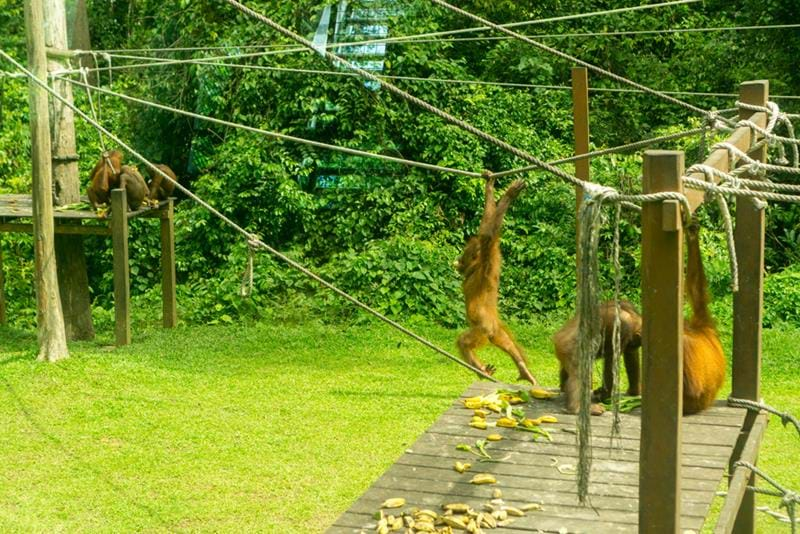 What is the relationship between OAUK and the Sepilok centre?
Orangutan Appeal UK are the UK-based charity who were appointed by the Sabah Wildlife Government to provide support to the Sepilok Rehabilitation Centre and assist in raising funds and awareness. OAUK selects areas in need of assistance at Sepilok and adopts these as projects, providing expert veterinary staff and training coordinators to help the orangutans through their rehabilitation. This year we have also been able to purchase an x-ray developer for Sepilok's veterinary clinic, which has enabled the veterinary team to administer essential care to orangutans and other wildlife. 

What prompted you to get involved originally?
I was inspired to help over 30 years ago when I saw my first orangutan at the Gerald Durrell Institute on Jersey. I was struck by how much orangutans were in need of our help and was determined to do as much as I possibly could. I went to Borneo to see the problem for myself and volunteered at the Sepilok Rehabilitation Centre. Returning to the UK, I decided to dedicate myself to saving these beautiful creatures and began fundraising. In 2001 we achieved official charity status and became the first UK-based NGO to work with Sepilok and the Sabah Wildlife Department.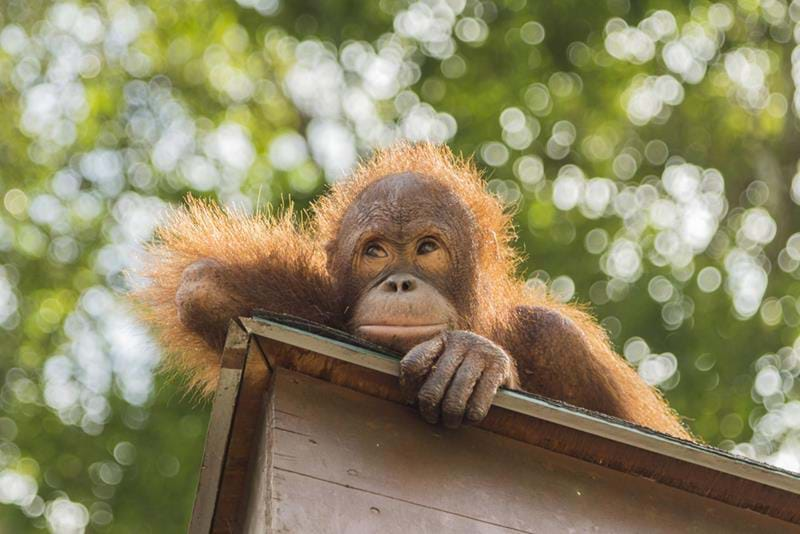 What have been your most memorable achievements since you set up OAUK?
Back in 2001 we carried out the world's first helicopter translocation of an orangutan. The animal in question, King Ghaz, was a rehabilitated male who had been released into the Kabili reserve surrounding Sepilok, where his size and dominance had become a threat to the rangers and other orangutans. We relocated him to the remote Tabin reserve where he could live happily and independently while at the same time contributing to increasing the breeding numbers in the wild. 
For the past eight years we have been operating a ground-breaking post-release monitoring programme in the Tabin Reserve, to track rehabilitated apes using transponders. This has allowed us to determine the success of the programme and has contributed to conservation schemes worldwide. As of last year, we had a 100% birth rate of wild babies born to our rehabilitated females in Tabin; an achievement we are incredibly proud of!
More recently we have been pleased to be able to support both Sepilok with a brand new rescue vehicle for the Wildlife Rescue Unit, and provide our conservation partner – the Borneo Nature Foundation – with donations towards their fire-fighting work in Kalimantan. 

What are your fundraising priorities and project goals at the present time?
Our fundraising priorities are, as ever, to support the orangutans at Sepilok, and throughout Borneo, in the ways they need the most. We provide expert staff and vital veterinary equipment to give the young orangutans the best chances of survival. Our goal is to help as many apes get back to the wild where they belong and encourage them to breed and increase their current numbers.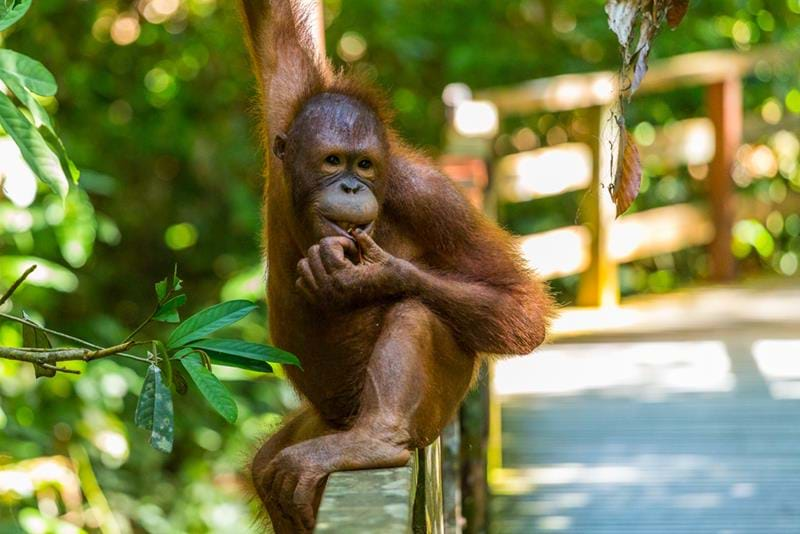 How do you see the scheme expanding in the future, if at all?
Orangutan Appeal UK is dedicated to saving the orangutan from extinction and will continue to work to achieve this mission as long as it is necessary. We are a very small team in the UK and this means we can keep our administration costs as low as possible. We are very proud that 80p out of every £1 we raise goes directly to helping the orangutans in Borneo and this is something that is important for us to maintain in the future. 

Is it possible for travellers to make a positive contribution to wildlife conservation in the region?
It certainly is. At the Sepilok Rehabilitation Centre, visitors have the opportunity to watch orangutans in their natural habitat. OAUK has a Liaison Officer based at the Centre who introduces a video presentation about the work carried out there, and by our charity, and which tells people how they can help. Visitors also have the opportunity to 'adopt' one of the babies on the rehabilitation programme, and to contribute to their care and training. A donation of as little as £5.00 can provide food for an orangutan at Sepilok for 2 weeks.
Perhaps the biggest way that travellers can contribute, however, is by spreading awareness of the orangutans' plight. Visitors to the region who see first-hand the work being done are best placed to spread the word of how much the orangutans need our help.