Vietnam 16.10.2019 TransIndus
The emerald waters and towering karst islands of Halong Bay are the jewels in Vietnam's scenic crown. Joining the World Heritage list back in 1994, this natural wonder is quite rightly one of the country's most popular attractions. A two-day cruise around Halong Bay will feature on the vast majority of first-time visitors' itineraries but those who have a little more time to spare will find extending their cruise to three days will reap the rewards. Here we take a look at what those rewards might be.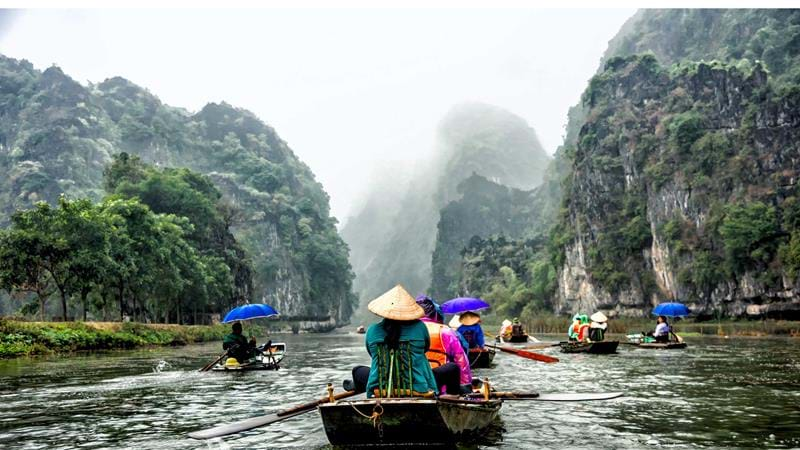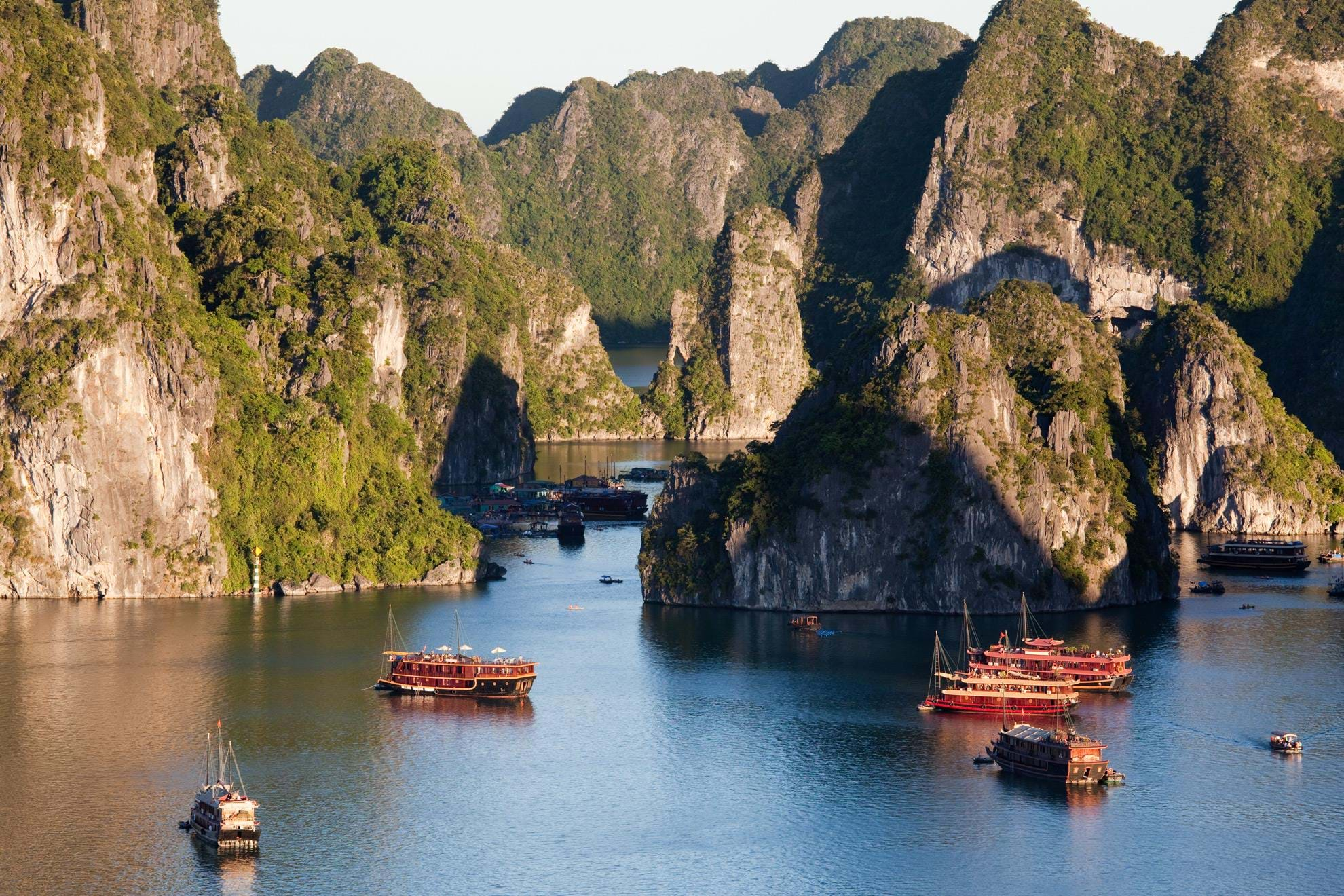 1. Get off the beaten track
The region within the Gulf of Tonkin that encompasses the famous Halong Bay is actually made up of three individual bays - Halong, Lan Ha and Bai Tu Long. Each bay has something slightly different to offer. However, on a one-night cruise, ships stick to a fairly standard itinerary through the heart of Halong Bay. 
With a two-night cruise, you have time to sail into the waters of Bai Tu Long where the limestone islands are set further apart and the scenery feels more expansive. On your second day, you'll be able to admire Lan Ha Bay - the smaller of the three - where the 400 or so islets are packed more closely together. Sailing through a narrow passage flanked on either side by forest-clad islands is perhaps one of the most memorable experiences of the entire cruise. 
Getting off the beaten track (or overly sailed waters, in this case) and making it as far as Lan Ha Bay also exposes you to a greater selection of white-sand beaches that line some of the craggy peaks. It also allows time to visit Cat Ba Island, one of the largest islands in the region. Here you can cycle to pretty small villages and visit local community farms.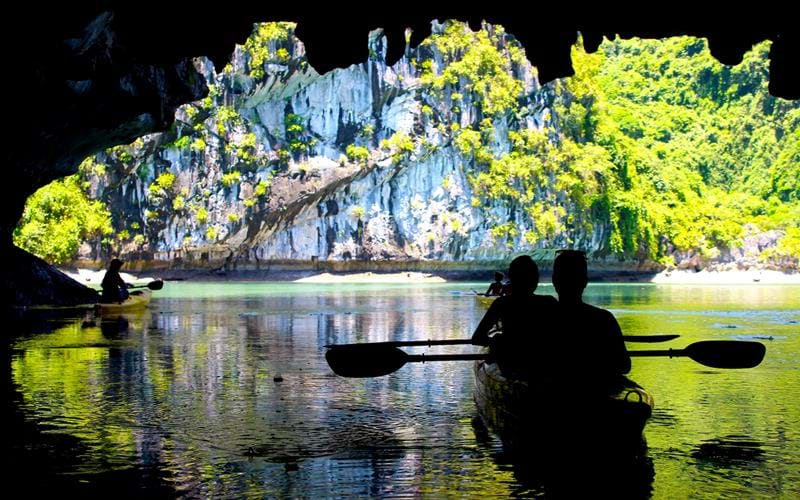 2. More time for activities
All boats cruising Halong Bay offer a choice of activities while on board. The most popular excursions are kayaking trips around the karst islands with a stop at a beach for swimming. You'll also have the chance to explore caves, visit picturesque floating fishing villages by row boat or even cycle through farming villages on land on Cat Ba Island. 
With a three-day cruising itinerary, you'll have twice the opportunity to partake in these activities, which in turn means you get to explore even more of this incredible World Heritage Site. For those seeking a more relaxed pace of holiday, it means you can choose to relax one day and opt for an excursion the next, giving you greater flexibility.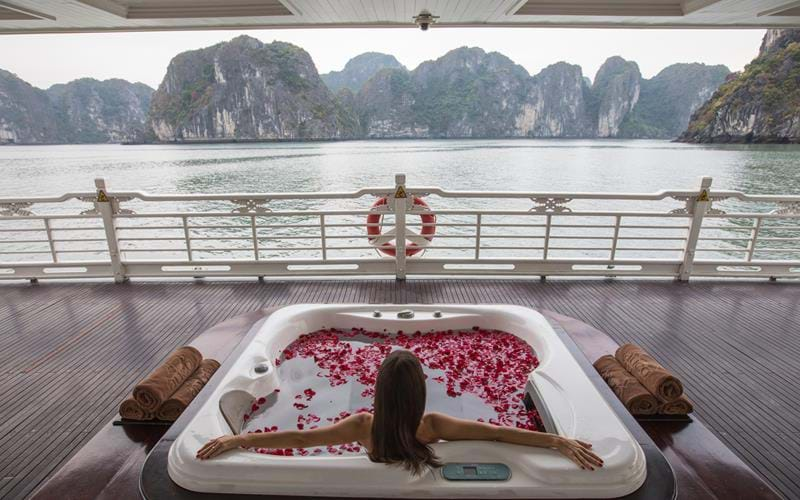 3. More time to relax and enjoy the boat
It should go without saying that the longer you spend cruising around Halong Bay, the longer you have to sit back, relax and make the most of the boat's facilities. On the Au Co cruise ship, every cabin comes with a private French balcony, which is the perfect place to simply sit and watch the watery world go by. And if you forget to bring some holiday reading material, there's always a chance you'll find something of interest in the ship's library. 
Before dinner each night, the on board bar keeps guests in high spirits with a two-hour-long happy hour of buy-one-get-one-free on a tempting selection of classic cocktails. Later in the evening there are movie screenings under the stars and interactive cooking demonstrations to keep you entertained. 
For those in need of a bit of pampering, the on board spa offers a menu of massage and beauty treatments that are the perfect antidote to a day of activities. And if you're combining a cruise in Halong Bay with a longer touring itinerary, this could be the perfect opportunity to unwind before travelling around more of Vietnam.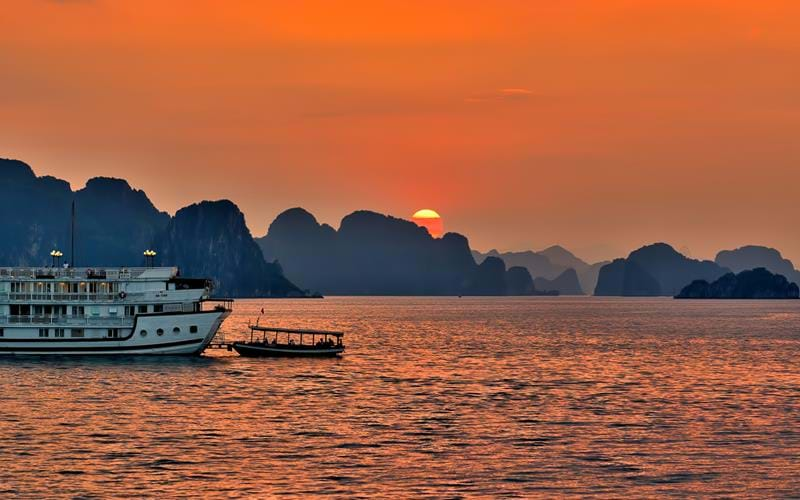 4. Double the number of sunsets
The sun tends to rise and set rather quickly in this part of the world. Twilight is a somewhat short affair and the sun can fall below the horizon in a "blink and you might miss it" sort of fashion. Sunrise, on the other hand, can be a little too early for some travellers, especially those who made the most of the prior night's happy hour at the bar!
But if you spend two nights cruising Halong Bay, you of course double your opportunities to watch a beautiful sunrise or set in this incredibly scenic landscape. And if you're a photography fan, you have two chances to perfect your images, with a dummy run to find the best spot on the boat from which to capture the scene.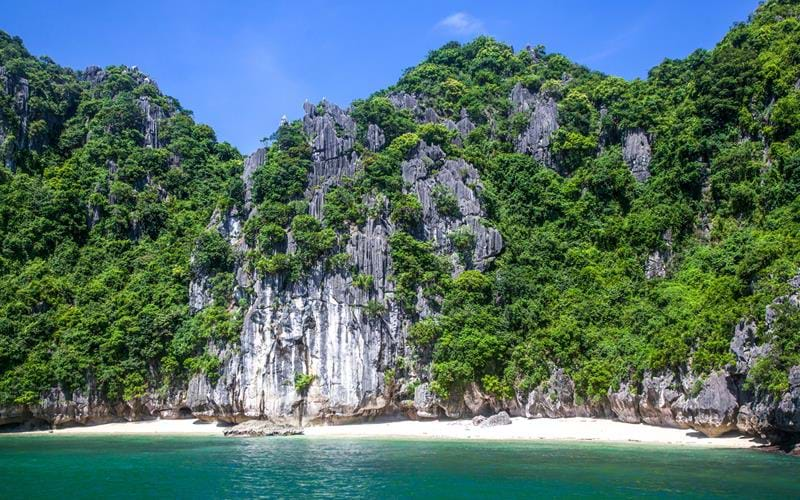 5. More time to reconnect with nature
It's impossible not to be totally awed by the power of nature whilst cruising among the limestone islands of Halong Bay. Formed by tectonic activity and subsequent water erosion over the course of 500 million years, these islands are a glorious reminder of just how old and changeable our planet really is. 
A two-day cruise is enough time to ensure the images of Halong Bay are forever etched in your memory but a three-day cruise allows time to pause for a moment and reconnect with nature. And with WiFi connection becoming more temperamental the further into the bay you go, there are few digital distractions. 
There's certainly plenty of natural beauty to admire here, from the rich green waters to the white sand beaches, the sheer rock faces decorated with shrubs to the terraces of paddy fields backed by mountains. 
If you would like to experience the highlights of Halong Bay on a two-night cruise, contact our team of experts to start planning your tailor-made holiday to Vietnam.