China 13.06.2014 Transindus
The giant panda is one of the real icons of China, and coming face-to-face with these creatures is something that everyone should do at least once in their lifetime. However, as they are endangered, this is something you can do in just a few locations in the world - and perhaps none are as remarkable as the Chengdu Research Base of Giant Panda Breeding.
Recently, efforts have been made to strengthen links between the UK and Chengdu, which may mean that travelling to Chengdu is easier than ever before. 

The Chengdu Express 
Last month (May 21st), the Heathrow Express temporarily changed its name to the Chengdu 72 Express as part of this drive to strengthen links between the Chinese destination and the UK - and to raise awareness of the Chengdu 72 service, which allows British travellers to visit Chengdu for 72 hours without a visa.
And passengers on the renamed Heathrow Express enjoyed more than the temporary name change - the 10:42 service to Paddington from Heathrow's Terminal 5 on May 21st included artwork of pandas relaxing in Chengdu's lush greenery, so travellers could get an idea of what delights await in the city.
About the research base 
The Chengdu Research Base is a celebrated centre for conservation, research, breeding and education. As well as being home to giant pandas, the centre also provides a base for other endangered creatures, including peacocks and red pandas.
It was established in 1987 and extended the work initiated by Chengdu Zoo, which was already making panda conservation efforts. The aim of the facility was - and still is - to rescue and protect giant pandas, and it employs a variety of means in order to do so.
For instance, it implements conservation strategies outside of the base to help pandas in the wild, as well as breeding and taking care of pandas at the base itself. The centre simulates the pandas' natural environment in order to give them the best care possible, and to help them adjust if they are released back into the wild. 
In addition to these measures, the base also offers educational tourism, which means travellers can come here not only to see these beautiful creatures, but to learn about how to protect them.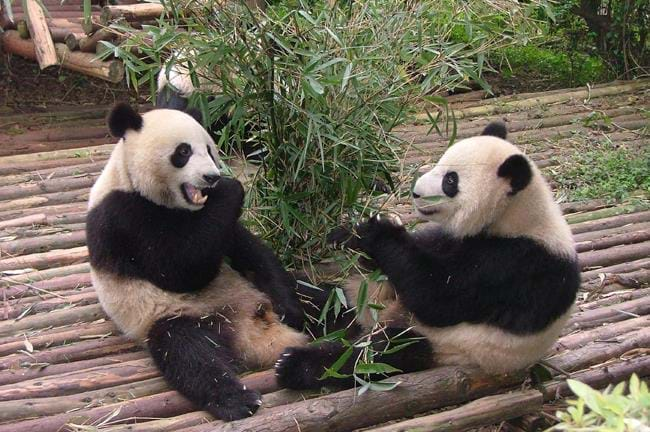 What you can do and see 
Visiting the Chengdu Panda Base is not like visiting a zoo; this facility is primarily geared towards conservation, breeding and research, and educational tourism is something it provides in addition to these things. So, when you come here, you can expect to learn a lot, in addition to seeing some unforgettable sights.
As you stroll around the bamboo forests, woods, dens and more, which replicate the natural habitat of the giant panda, you can spot these gentle giants eating, drinking, playing and more. At the nursery section, you might even be lucky enough to see panda nursing her cubs - a truly magical sight. 
As you explore, be sure to keep your eyes peeled for the other animals that call the centre home. Adorable red pandas, butterflies, swans and peacocks are among the colourful creatures you may come across during your time here. 

Things to remember when you visit 
You are likely to leave the centre with the sense that conservation is something that all of us need to be concerned with - but it's worth bearing this in mind during your visit as well. Indeed, the centre requests that its visitors take care not to disturb the delicate environment of the base as they explore.
Fortunately, doing so is simple by following some basic rules, such as being as quiet as possible so as to not scare or stress the animals, and making sure you are not tempted to feed them - foods they are unused to can easily make them sick.
Other tips include taking care not to drop any litter, as well as avoiding picking flowers and using camera flashes. Sticking to the paths will help ensure you don't damage any delicate vegetation, while you should also refrain from smoking.