India 15.02.2017 TransIndus
The second series of the BBC's wonderful Real Marigold Hotel is due to be aired at 9 pm this evening. We loved the first, filmed in the Rajasthani capital Jaipur, and are looking forward to seeing what this new group of celebrities makes of Kerala, in the far southwest of India. Rumour has it they'll be sequestered in one of our own favourite beach hideaways at some point in the four-part series, and we are sure they'll have lapped up the shimmering palms, powder soft sand and abundant greenery. Not to mention the amazing seafood.
To mark the return of the Real Marigold Hotel to our screens, we thought we'd put together a selection of our consultants' recommended hideaways on Kerala's coast and backwaters. Set amid breathtakingly beautiful scenery and featuring gorgeous traditional architecture and décor, each offers a perfect base from which to savour the distinctive atmosphere of this intensely tropical state – whatever your age or stage in life!

Marari Beach Villas, Mararikulam
A little bird has told us that this exquisite cluster of beach-side villas not far Kochi was where at least one of the programmes in the series was shot, and we hope for their sakes the celebs stayed here for most of the filming, because it's a true paradise. Nestled under shady coconut trees on the edge of a working fishing village, the six serviced villas are built in traditional Keralan style, with breezy pillared veranda and high-pitched, terracotta-tiled roofs. All have their own private walled gardens; some have pools and fabulous ocean views. The interiors and décor are achingly chic, especially after dark, when staff light traditional oil lamps. You can literally lie in bed and hear the surf crashing on the sand only a stone's throw away.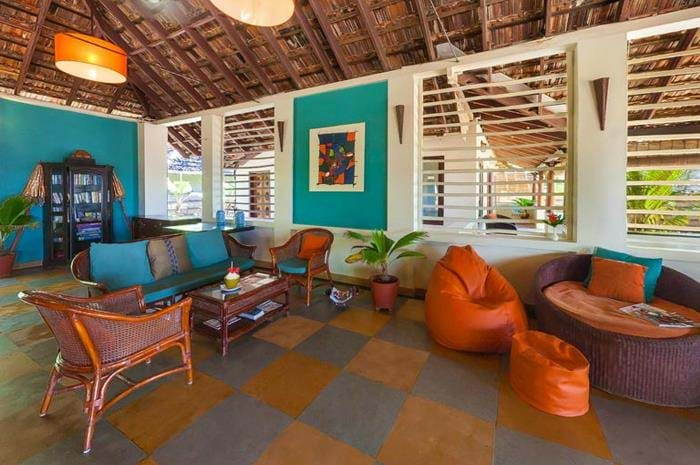 Karikkathi Beach House, Kovalam
If you're looking for somewhere to live out a Robinson Crusoe fantasy, but without leaving your creature comforts behind, then this is just the place. A pair of beautiful stone cottages, discretely sited among huge palms on the slopes of a rugged, rocky stretch of coast scalloped with little sandy coves, it offers a sublime slice of tropical nature, uninterrupted views of the churning sea and exceptional privacy. Staff remain out of sight most of the time, so you really do feel secluded rather than pampered – though wonderful Keralan cuisine, Ayurvedic massages and long drinks are only a buzz away should you feel the need.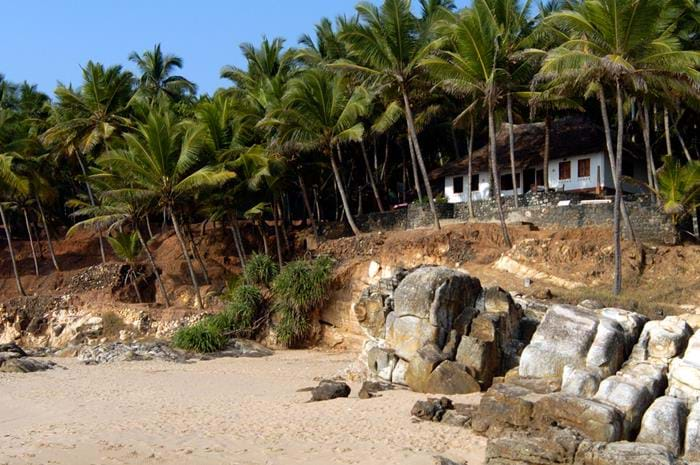 Kannur Beach House, Kannur
Way up in the north of Kerala, the eponymous beach house is an effortlessly stylish, low-key B&B run by a welcoming Keralan family who dropped out of the dot-com rat race to return to their roots. Hosts Nazir and Rosie have created a haven of light, airy, cool rooms fitted with hand-carved hardwood beds and beams. Meals are served on a long communal table out front, a short stroll from an idyllic palm-backed beach. After a day's idling in the sun, there's no more memorable a way to experience the compelling 'otherness' of south India than a visit to a nocturnal Theyyem ceremony at a nearby temple, where theatrical dance rituals involving outlandish costumes and traditional music are performed by firelight in the cool night air.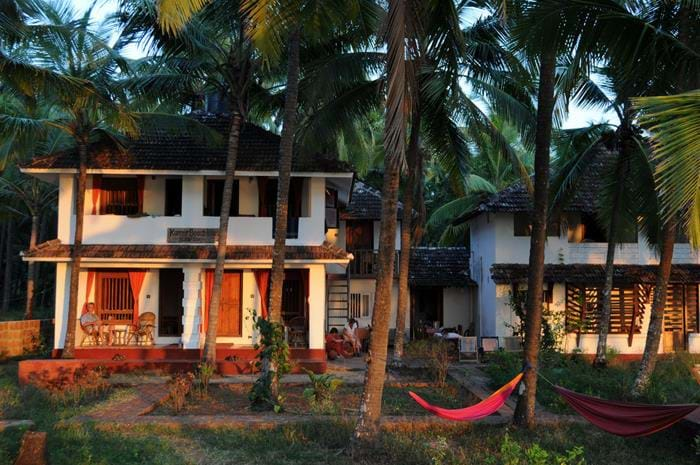 Olavipe, Alleppey
This was one of the first ancestral homes to open its doors to paying guests in the Keralan backwaters, and in our opinion remains one of the best, as much for the authentic architecture, furniture and décor as the fact it presides over a working estate where fruit and spices are cultivated by age-old methods. To experience the extraordinary world of the Kerala's watery hinterland you merely have to peddle through the lanes surrounding Olavipe, cross the belt of pepper, banana, papaya and palm groves, and follow the canal banks and lake shores splashed with lotus blooms and lilies. Meal times are a real treat, giving you the chance to experience the wondrous flavours of the Kuttinad region's healthy, seafood-rich cuisine.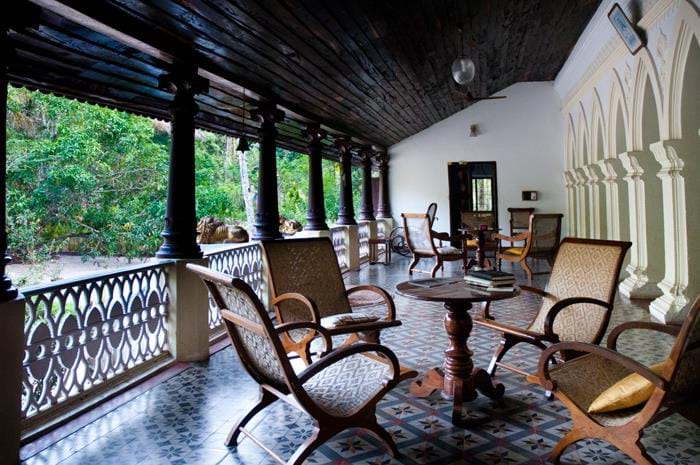 Vismaya Lake Heritage, Vembanad Lake
Gazing across Vembanad Lake, a vast body of water at the heart of the Keralan backwaters, air and water seem to merge into a vast expanse of light. Occasionally, a houseboat or fishing canoe ripple the surface. Reflections of egrets and cormorants skim past, as patches of mauve and crimson cloud colour form a magical backdrop for this beautifully restored teakwood house. Set amid rustling palms and fruit orchards, it has deep, shady verandahs, cool stone floors and an infinity pool to wallow in. Service is discrete, and every care taken to ensure your stay is as serene as the location. With a double and twin room, the house is flexible enough to accommodate couples, families or small groups.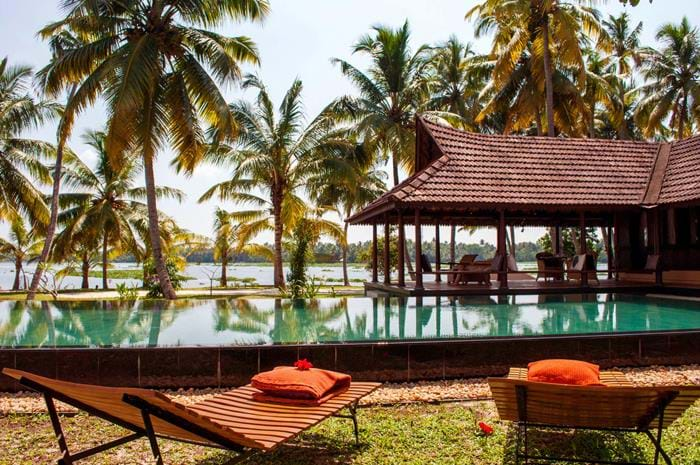 Gramam Homestay, Kochi
Although only a short taxi ride out of bustling Fort Cochin, this delightful hideaway feels as if it's buried in the middle of nowhere. Owners, Jos and Lyma Neduveli have built a heavenly home on an island in the backwaters, where you can stay in a wing of the main house or a separate cottage, swathed in mature mango trees and coconut groves. Either way, expect refined, traditional Keralan architecture and interiors, and sumptuous meals to match. Along with the hospitality (the couple are a mine of information on the local area) the location is the principal focus here: jump on a bicycle to explore the network of tracks winding through the palm plantations to the site of numerous Chinese fishing nets, and be sure to accept the offer of binoculars – the birdlife hereabouts is colourful and prolific.