India 21.01.2021 Agomoni Ghosh
TransIndus India Holiday Specialist, Agomoni writes first-hand about the anxiety around leaving London for Delhi and what life is really like there. To find out more about Agomoni, visit her page here.
Preparing to travel to Delhi
Like most Asian nations India has followed strict protocols since the start of the Covid-19 pandemic leaving many of us gasping in horror with stories and images of day-wage workers left without a means of earning and out-of-state migrant workers unable to get home. With a population of 1.3 billion, the pandemic tore open the thin veil of ignorance on the huge economic disparity between the rich and poor in India. News channels portrayed a nation that had fallen apart in one of the most serious human crisis of our generation. 
Midst this chaos, I found myself rushing from London to New Delhi to care for my elderly mother who'd just been diagnosed with cancer. Having seen the plight of our beloved NHS I was filled with dread at the thought of what to expect and the prospect of getting cancer treatment efficiently for a 74-year-old. I fretted over the delays that might interrupt treatment as a result of Covid and the loss of valuable time.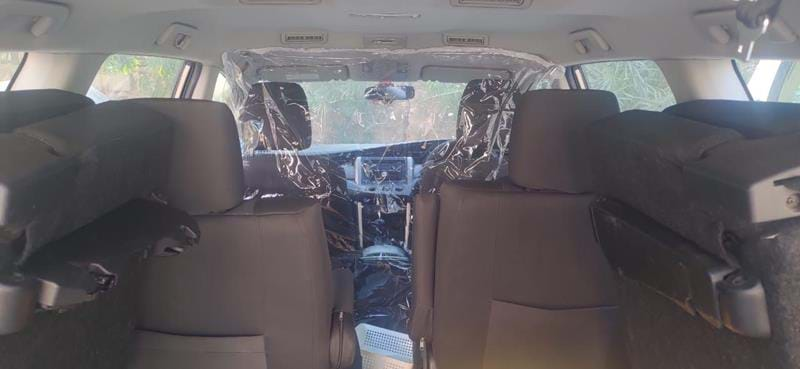 Arriving in Delhi, Quarantine & Life Outside
After spending the seven mandatory days in quarantine at home, I drew a deep breath inside the four walls of home and observing the 'Hands, Face, Mask' rule ventured out, unsure of what to expect! Out on the streets of Delhi, I saw life was just going on, nothing seemed to have stopped. Everyone on the street however wore a mask, covering their mouth and nose and had adapted to the new way of life easily. My taxi driver had a secured a plastic sheeting around his seat, as a barrier between him and his passengers and windows were all open to circulate. Everywhere I looked I could see evidence of people using common sense to fight Covid back while getting on with their daily lives. 
To my surprise and significant relief, Covid-19 had not stopped any treatments of other conditions. Covid and non-Covid hospitals had been segregated and significant measures put in place in both to prevent spread. I was especially pleased to see the measures taken by the Indian Institute of Biliary Sciences (ILBS), a non-Covid hospital where my mother was to be treated. Patients and visitors were all required to take a Rapid Antigen test (at no cost) and wait in an outbuilding until a negative report was received before being allowed to enter the main hospital building.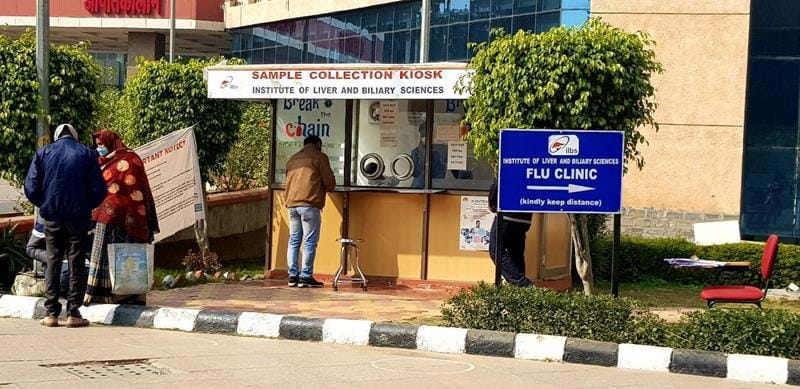 Face masks were mandatory in all areas at all times.  With a separate testing area established for senior citizens meant our wait was remarkably short. For a hospital receiving thousands of patients every day, this was a humungous task, that seemed to be running efficiently with everyone doing their bit and following rules.  To minimize further hospital visits blood tests for my mother have been administered at home and we have been encouraged only to return to hospital for major consultations, MRI and scans, which themselves have been conducted with a new-found efficiency. 
Looking Forward into 2021
Since the announcement of the new strain of Covid-19 emerging in the UK, all recent arrivals into the country have been contacted.  Although I arrived in India well before the new strain emerge, I have been contacted three times by the 'Corona Virus surveillance team' to enquire after my health and to check if I have experienced any symptoms. Those who have arrived more recently have received home visits to take samples for RTPCR tests and new entrants are being asked to present a negative PCR test taken 96 hours before arrival and quarantine for 10-days in government operated hotels close to airports. 
It has been an absolute eye opener to witness India's response to Covid first-hand and to see life progressing - a 'new normal' of social distancing, hands, Face and mask'.   
Local authorities have tried to do their best to implement measures as practically as possible to safeguard public health and although the country has very sadly seen some of the largest numbers of infections, the death rate have remained low compared to the USA, Europe and the UK.  Considering the size of the country and a population of 1.3 billion the crisis could have been far worse but for the actions taken.  
Now in January 2021 as the nation begins one of the most ambitious vaccination drives in world history, people in India stand proud knowing that we could have fallen apart but have survived.