India 28.04.2020 Jess Millett
Just six weeks ago, the world was a small place, connected by a vast network of many thousands of daily flights bringing friends and family closer together. Friendships were forged through these flight routes, which in turn allowed us to build relationships in far flung parts of the world only connected by local buses or trains. Today, the world is a different place, but those connections are not forgotten. Whilst we are separated by oceans, we have reached out to some of our friends in New Delhi to find out how they are doing during the Coronavirus outbreak.
Update: Read Covid-19: Stories from India Part Two (Published September 2020)
Rakesh Kumar
We are working from home during this lockdown period since 24th March. The family is keeping well too and we are all together at home.
We have a joint family with my son, wife, sister and parents living together. I have indulged myself in a lot of activities which always keeps me busy and motivated - cleaning utensils, mopping, a bit of cooking and trying my hand with roasted chicken, helping my son with his school homework, teaching him about world geography and places of interest vis-à-vis travel in India and, of course, playing carrom, skipping rope and cricket with him at our terrace.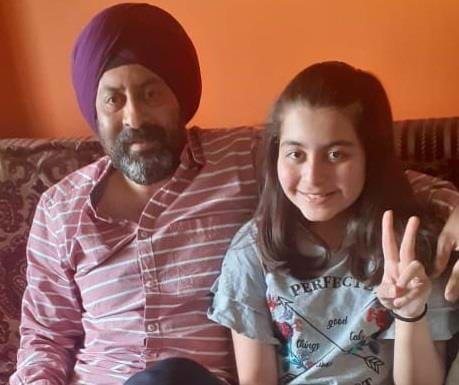 Vinay Dhall
My family and I are spending some quality time now that we are all quarantined together.
New Delhi and its people have handled themselves with poise, remaining indoors as much as possible and well-maintaining social distancing. My neighbours, too, highlight this encouraging picture, remaining indoors and venturing out only for the barest of the essentials. PM Modi, over the last 30 days, had encouraged us, the citizens of India, to show our appreciation for our health workers by lighting lamps, clapping etc, and we have been doing all these and more but from the safety of our homes. There is this sense of community, of togetherness in these tough times, and that we are not alone but will overcome this together as a society, as a country.
Work doesn't always allow uninterrupted time with my kids; I am taking this opportunity to indulge in more and more indoor yet fun activities.
One evening, I had also taken up Turban tying - a fond nod to my Sikh roots. Generations back, my forefathers practised Sikhism. It had always been my wish to pay homage to them in a special way. So I grew a beard over the month, tied the turban (flawlessly!), and voilà!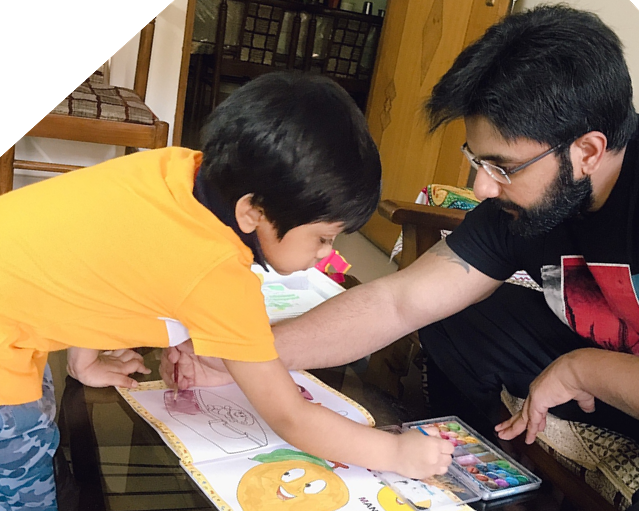 Rahul Sarin
It is an unprecedented experience for all of us during this lockdown period due to the Covid-19 pandemic. Almost everyone is going through a rough phase and finding it challenging to deal with the abrupt change in lifestyle.
In order to adapt to this change and to utilise my time wisely, I am keeping myself occupied in multiple day to day activities. Our company has issued 'work-from-home' (WFH) for its staff to maintain social distancing and to comply with Government mandates. This downtime has helped me maintain balance in my professional and personal responsibilities.
I made sure my routine is not affected much by this lockdown. My usual wake up time remains the same as I am an early riser, followed by my workout regime to keep me healthy and strong, physically and mentally.
For my kid, the initial excitement of extra holidays disappeared very soon as the schools re-started within a few days with online classes and homework. So, I constantly try to keep him in a good mood and motivated enough to keep up with the routine, followed by an hour of fun-filled activities to accelerate his learning process.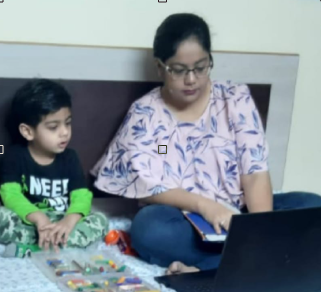 Geeta Sharma
A warm Namaste to all in TransIndus! As the world is submerged in this momentary chaos, everyone is made to remain inside their homes. By the grace of God, till now, my family and friends are doing fine, and I am lucky enough to be staying with my family during these difficult times. My heart goes out for those who are far away from their families and stuck somewhere else. As a responsible citizen of the country, I am doing my bit by staying indoors, maintaining social distancing which seems to be the only solution to this disease which has caused havoc in so many people
Still, on a more positive note, this pandemic is helping mankind and nature to revive itself. The everyday hustle and bustle has suddenly changed into an eerie silence interrupted only by the barking of dogs and loud chirping of birds.
I have a small kiddo, aged 03 years, who keeps me on my toes throughout the day as it is a treat for him to have his mother available 24X7 at his beck and call! It is his cheerfulness and innocence which gives me the strength to keep my hopes and spirits high.
I tried my hands making some mouth-watering Indian dishes like Gol Gappas (Crispy fried puff ball filled with stuffing and spicy tamarind water), Vada Pao (Bun stuffed with fried mashed potato balls), Banana walnut cake, Momos (steamed dumplings with vegetable stuffing) accompanied with spicy tomato garlic sauce. And the list goes on. My kid loves doing this with me.
Ankur Shrivastava
I am doing good these days; all well in my family as well and everyone is Home Quarantined. It's over a month since PM Narendra Modi announced the nationwide lockdown. I am coming up with new ways to pass my time and remain positive. I know how to make the trying times entertaining. 😊
Amid the nationwide lockdown, I am learning some culinary skills from my wife, spending quality time with my loved ones, chilling with my daughter and playing cards. 
In order to remain positive these days, I have started practising yoga and meditation. While the coronavirus lockdown is in effect in India, my daily routine has been changed now - Basic cooking, cleaning, workout, practising yoga, sleep, staying positive, some introspection and repeat all! :D  
This lockdown season has also turned me into a gardener. I am growing some plants in my terrace with a little help from my wife. 
If you enjoyed this blog, read part two on Life in India today, written by journalist and freelance writer Lucie Grace.
TransIndus Supports GiveIndia
However uncertain things are at home here in the UK, we are in an incredibly privileged position compared to other parts of the world. Where possible, we are doing our best to support those most in need and forging a  partnership with GiveIndia is the least we can do at this time.
Just £50 will feed a family of four for a month, supplementing loss of income and covering the essentials.
For more on this GiveIndia, go to:
https://indiafightscorona.giveindia.org/