India 05.08.2020 Lucie Grace
Lucie Grace is a freelance writer and digital nomad who found herself in India as the Coronavirus Pandemic began to take hold worldwide. A continuation of our popular blog post on what life is like in India for locals, we speak to Lucie. Writing from Rishikesh in Uttarakhand, Lucie describes what life is like in India right now, focusing on Jaipur and Pushkar. For more articles from Lucie, click here.
As a freelance writer who lives and works nomadically, the "stay home" mantra that circled the world this March didn't work for me. "Quickly find a place to make your home" would have been more applicable, as in the course of a week I had to make some swift decisions and secure a safe place to self isolate, then lockdown. I was writing in beautiful Udaipur the day both India and the USA announced their international border closures. Udaipur handily, is only a six hour drive from Jaipur, where I knew I would have a safe place to stay, in a wonderful guest house owned by some friends of mine, so I headed there to hunker down as the world's borders began to close. Four months later, I'm still absolutely sure I made the right decision.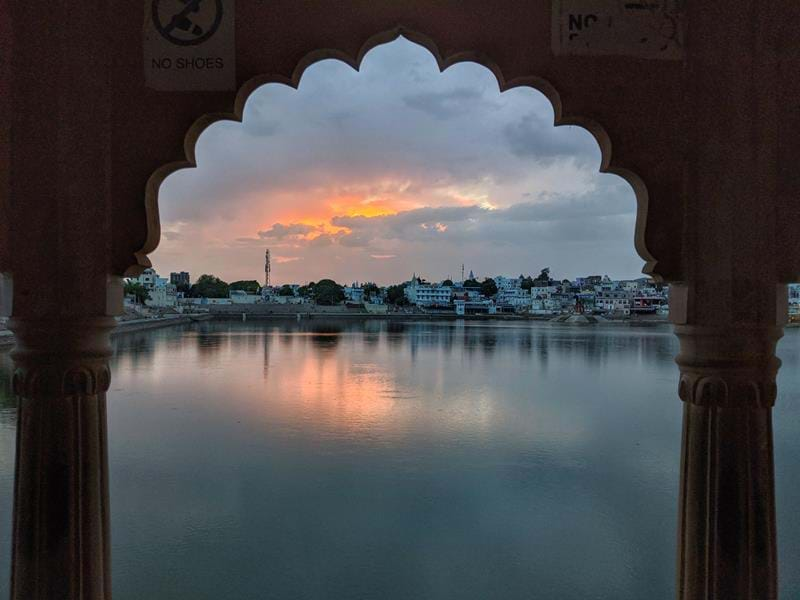 Arriving in Jaipur
On arrival in Jaipur I self isolated immediately, as although there had been no report of the virus in Udaipur at that point, I had been in Hyderabad not long before, where a handful of cases had been treated. Self isolation soon turned into India's nationwide lockdown and before I knew it, I'd been inside a building in Jaipur for six weeks with no idea of the city that existed outside my four walls. I read novels based in India, to remember where I was and envision towns I hadn't been to, imagining myself there, but the reality of the strictest lockdown in the world was tough. Only a brief dash to the nearest "essentials" shop was allowed, which our guesthouse receptionist nobly ventured out to do, covering the grocery shopping for us. So with no daily walks, no public transport, all regional borders firmly closed and the streets heavily policed, my day to day life as part of the second largest population in the world ground to a halt.
I developed a strict lockdown routine of reading, cooking then watching movies, doing the same thing every day on autopilot. My five o'clock fruit salad of delicious mangos, melon, pomegranate seeds and banana was also the same day on day, which I'd eat as I listened to the call to prayer from the surrounding minarets of the closed mosques. In time we were able to order groceries online as Jaipur hosts a number of useful home delivery apps, so as a vegetarian with a dairy intolerance, I didn't want for anything. Soya milk was plentiful. This was the first advantage to being locked down in a city. More were to follow.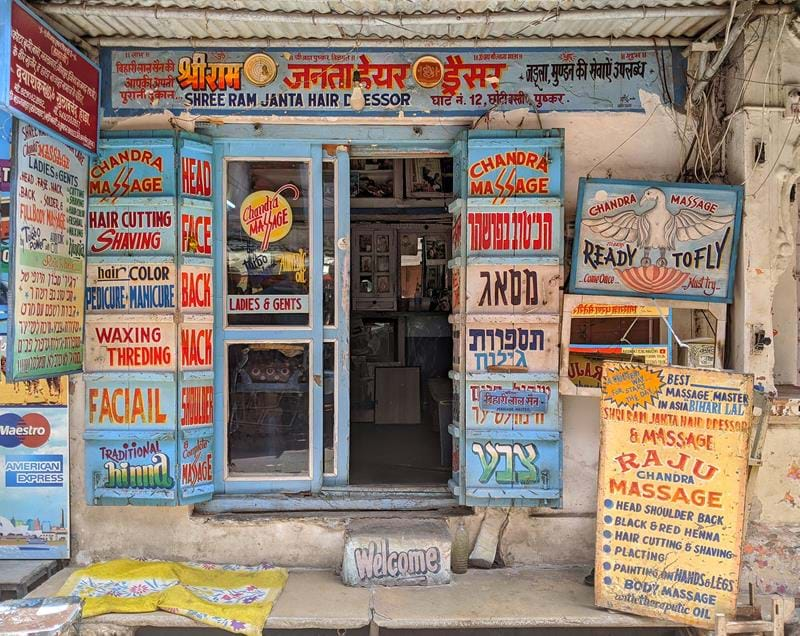 Lockdown Ending
Watching Jaipur slowly awaken from its slumber was eerie to say the least. All the science fiction films in the world can't prepare you for wandering an empty Indian city. Jaipur is home to 3.9 million people but little life was to be found as the usual soundtrack of car horns, train horns, bike horns, people shouting everything from greetings to insults, and dogs, cows, and sometimes even camels grunting was absolutely silenced in the first days of 'Unlock', which began in very early May. Strict rules were adhered to, wearing a face mask became law and anyone caught without one received (and still receives) a steep fine. Empty boulevards and silent paths hosted my meandering round the capital of Rajasthan, as visiting a mini-mart or finding a good green grocer became the highlight of my day. I became obsessed with the architecture of the C-Scheme neighbourhood, finding patterns and symbols on the exteriors of the modernist homes I passed on my explorations.
It was another month before Rajasthan opened its museums and monuments, all free of charge, on 1st June and I truly realised how incredible my adopted city was. I'd heard of the ingenuity of the Rajput maharajas but it's not until you visit their feats of architecture, science and arts that it really sinks in. I assumed there must be dozens of stranded foreigners around and that I'd bump into some at the opulent Amber Fort or the Janta Manta park of astronomical instruments, but the only other tourists at these sites were locals, who like me, had their temperature checked and hands sanitized before entry was permitted. Social distancing wasn't a challenge, as the heritage sites were virtually empty, with only a handful of people visiting at a time. The overwhelming privilege of visiting these stunning empty places and seeing them as their creators intended is honestly something I'll never forget.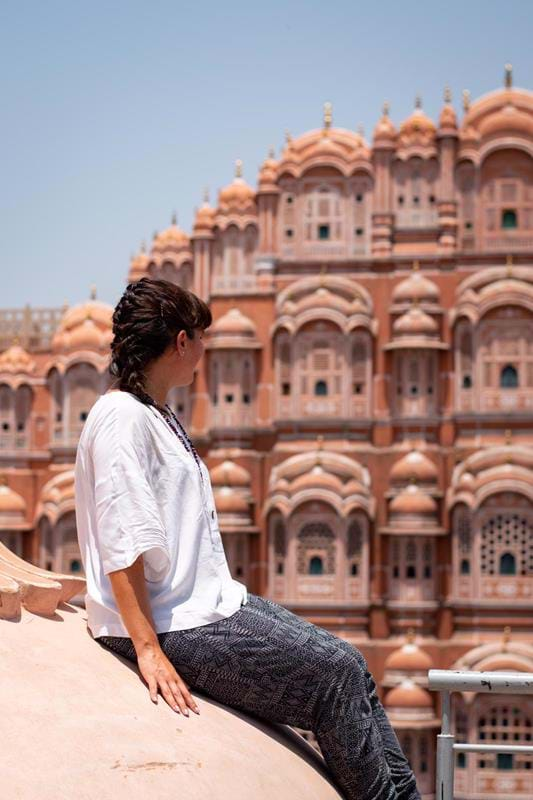 Casual (and masked) tourism aside, just how quickly Jaipur pepped up and got back to business was impressive. The street food vendors reappeared, their carts full as the queues returned. Non-essential stores and malls were allowed to reopen and all industrial activity was encouraged to reboot. Cafes and restaurants initially invited us to take away but some establishments braved the new regulations and allowed customers in. The chai menu at hippy-ish Chaisa is something of a marvel and the stunning interiors of Caffe Palladio were as delightful as the Italian menu. The thing that became apparent in those renaissance weeks was Jaipur was not deeply affected by the pandemic. It's citizens are resilient, resourceful and they grafted on. It is a famous tourist destination and we were met with a warm comeradie as we all emerged post-lockdown, but the city's economy is not dependent on tourism.
Visiting Pushkar 
Jaipur's touristic self-sufficiency only really dawned on me after a few days in Pushkar. Post-lockdown I drove three hours south west to Rajasthan's lakeside town following a lead for a story. I'd heard that it's a hectic, busy place, awash with western travellers who hole up in the cafes and hotels alongside Hindu and Sikh pilgrims who visit the temples all year round. A holy site for thousands of years, Pushkar became a firm favourite on the hippie trail and in recent generations has grown up around the needs and demands of modern tourism. But what I arrived to, on first look seemed rather a sad picture. When you strip away the international flights full of tourists and close the temples entirely, damming the flow of local pilgrim visitors, the town feels alarmingly empty. Desperate store owners sold their silks for a fraction of the usual rate. Concerned restaurateurs stood on their stoop, deciding whether to open that night at all. Tales of bankrupt hostels and hotels were whispered on the grapevine. Pushkar without its tourists seemed quite desolate, as cows formed the main footfall down the all but deserted streets.
Having said that, over the course of my weeks there, pockets of a lively community introduced itself and I ended up rather in love with this deeply spiritual place. The peaceful streets and still lake were completely nourishing, as I got involved with the pilgrims practise of a clockwise, barefoot evening stroll around the banks of the holy site. The cafes that did bravely stay open, such as the gastro-treat Tico's or the lavish Mamacita, were staffed by cheerful, friendly folk with their chins firmly up. When not walking its circumference, I sat on the lake edge and watched daily rain ceremonies, overwhelmed by the power of sound, song and instruments, performed here since time immemorial. The priests' communications with the spirits of the water seemed eternally knowing, harnessing the melodies that would call for monsoon rains so desperately needed by sweltering Rajasthan. The empty towns around the world give us all something to think about, just how vital tourism is, how enriching travel is and the great industry of people and communities who depend on it.