India 30.09.2020 Transindus
Back in April, we reached out to our partners on the ground in India to find out how they were coping with one of the worlds strictest and most sudden of lockdowns. The stories from India were so similar to our own. Our friends in India were baking and cooking, gardening, home schooling and spending time with family. Sadly however, as the lockdown came to an end in India, cases began to surge. With the country closed to international tourists, we reached out to our teams again to find out how they have spent the last few months.

Dr Amit Sharma
The Coronavirus pandemic, its lockdown - the most unexpected phase brought many different situations and learnings in front of us. 
During this time, I got invitations from two Indian universities to have brainstorming sessions about "Role of Product Management" as well as on "Consumer Behaviour".
I, also, participated in a discussion forum pertaining to the new draft of National Tourism Policy. The document was later shared with the Ministry of Tourism.
Recently, I travelled to my hometown in the northern state of Himachal Pradesh, and it was a pleasure to see the ongoing life with new normal conditions of social distancing, usage of sanitisers and masks along with many others.  As all restrictions for entry into the state have now been lifted, I could notice many tourist vehicles during my long drive to and from Delhi. The hotels were busy and so were the tourist spots. I also spoke to some of the hoteliers in Dharamshala and Shimla, and was informed how the hotels are closing on 40-45% occupancy with domestic travellers during the weekends, these days. Pleasant weather, picturesque locations surrounded by the mighty Himalayas and warm hospitality from the locals is what makes this region a "traveller's paradise". I met and spent quality time with my parents after a long while. I travelled to a local deity temple, a short drive from my home, with my wife and kids. It was a refresher for all of us during these times.

Geeta Sharma
The world, at the moment, is in midst of a radical change and, if we look closely, they are more positive that have come out of this pandemic that will contribute towards remaking a better society and build a better future.
From attending weddings with limited attendees to socializing with family and friends over a cup of coffee on Zoom and other similar platform, a lot has changed in the life of the ordinary man in these few past months. The pandemic in some way or the other has restructured social interactions and transformed the manner in which social bonds are sustained. To get back to our normal lives, everyone is impatiently waiting for the much talked about vaccine; it seems like a scene out of Samuel Beckett's "Waiting For Godot". But I am optimistic that our wait will end very soon!
During all these months I tried my hands at wide range of the dishes and preparations, but now the chef inside me has gone for a walk. My new passion nowadays is gardening which I find very soothing and calming for the mind. My 3-year-old son also gets engaged with me and both of us enjoy doing this together. have also started practising yoga, which keeps me charged for the day and brings in a lot of positive energy.  To get rid of boredom sometimes, I groove to Bollywood numbers with my son who enjoys dancing a lot! A child, I must say, can take off the pressure and makes you feel joyful and alive. 
However, this forced set up of life could be, at times, demotivating and disheartening. I badly miss my friends, colleagues and, most importantly, my workplace. But, there's light at the end of the tunnel and I pray that we all get to see this light very soon, and that it dissipates the darkness which has held the whole world captive.

Nitin Mathur
Before these tough times, my contribution to household chores was minimal and was limited to daily grocery visits. And after sitting at home for almost six months, things still haven't changed much. I could muster courage only once to enter the kitchen. To compensate, though, I have started dusting and deep cleaning the house regularly. Like many of my colleagues and friends, I cannot make any more claims towards my contribution, but I have become a bigger and more ardent fan of the superior power of women over any other species in the world. For the last six months, seeing the women of the house managing everything around the house is a sign that they are the nucleus around which everything revolves.  
As I live in a joint family with my mother and two married brothers with four children, life every day is anyways a roller coaster. As schools are closed, kids are not getting involved in any physical activity. Thus, I have taken up playing cricket with them for an hour in our driveway. I am lucky that food is the binding force in our family. So twice or thrice a week, either of my brothers would cook delicious Indian dishes over the clay oven and on the weekend, we do family movie "outing" on the terrace. Lately, I have started going out for walks and hikes around the Aravali Mountains once or twice a week, which is a new and a very rewarding experience as it has great views of Amer as well as Jaigarh Fort. I had also visited City Palace and Amer Fort recently. As always, it was a treat to the eyes, but also a tad more as we had the whole monuments to ourselves for our viewing pleasure. I feel that the next three to four months would be the best time to visit monuments in India, when we know there would be fewer visitors around. Of course, we are and will be taking all precautions to make sure that all of us are safe.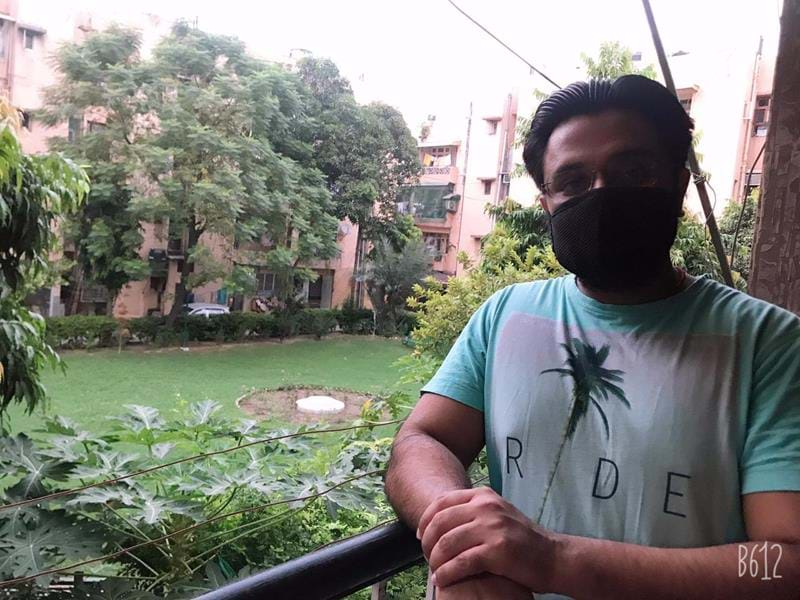 Rahul Sarin
Since the announcement of Unlock 1.0 in India, things have slowly but surely have started returning to normal.
Working from home has been a unique experience but returning to office is altogether a different feel these days – a good feel. Our seating plan are in accordance with social distancing norms, shift-based working style has been introduced; attending virtual partner and client meetings, maintaining hygiene protocols, provisions of hand sanitisers at our desks, wearing face cover or mask all time inside office premises are all now part of our office's New Normal.
In Delhi as well as in the rest of the country, shops are allowed to reopen only if they adhere to carefully laid out measures. This include limiting the number of people in shops and restaurants, hand sanitizer on entry and exit etc. Although schools are yet to open, kids are taking classes online at home.
After having spent months stuck at home with nowhere to go, people have now finally started travelling, visiting safe short roadtrip options. Popular option from Delhi, these days, seems to be the Himalayas in Uttarakhand and Himachal Pradesh.
Vinay Dhall
Life was going at a certain pace these past few months. Much needed relief came in the form of cycling – a new-found passion introduced by a colleague. For the past couple of months, I have been exploring the lanes, by-lanes, parks, outskirts around my locality in Delhi and what a pleasure it has been! It's easy to get lost in the beauty of these places, especially when you least expect it. Who thought that I would find swans in an immense park with lake while paddling along the rough trails or that I would find a centuries-old long lost step-well in the middle of nowhere! It has all been a pleasant surprise.
With the restart of domestic tourism in many parts of India, I, too, along with my family enjoyed a lovely ride to Uttarakhand a couple of weeks back. It was a long journey yet no complaints from me as we were headed towards the mountains! My wife's parents have a quaint farm in Dehradun, and we spent a perfect weekend there amid breath-taking greenery, gushing streams fed by rainwater, farm animals, lovely people and petrichor.