Indonesia 21.08.2014 Nishma
I have just been to Bali and I must say it's been one of the most aspiring places that I have visited. The sheer warmth of the Balinese people and their aspiration instantly makes you feel that you belong there. I would say it's more than a place; it's a mood and a tropical state of mind. 
There is an awful lot to do in Bali from beaches and spas to culture and natural sites. There will always be something to do for everyone. The two highlights of my trip were Ubud and Mt. Batur.



Ubud
No trip to Bali is complete without a visit to Ubud, the artistic heartland of Bali. The town centre main street Monkey Forest Road is buzzing with shops and boutiques selling local paintings, jewellery, crafted homewares and statues. It is most famous for art and there are several art galleries that you can visit and watch them paint too. At the end of the road is the Monkey Forest Sanctuary – full of cheeky macaques but be sure to leave your snacks at home otherwise the monkeys will win over them. 
The most spectacular views are of the lush rice paddy fields that look like spiralled green ribbons crested by coconut palms. Enjoy a paddy experience by walking around it or follow the terraced path right to the bottom. 
Don't miss the night dance in temples such as Pura Dalem. The most striking is Kecak dance – a fire and trance dance show performed in moonlight.
Ubud also has an abundance dining options from fine dining restuarants overlooking the lush tropical gardens to roadside cafes or Warungs serving succulent seafood, crispy duck and a variety of other dishes.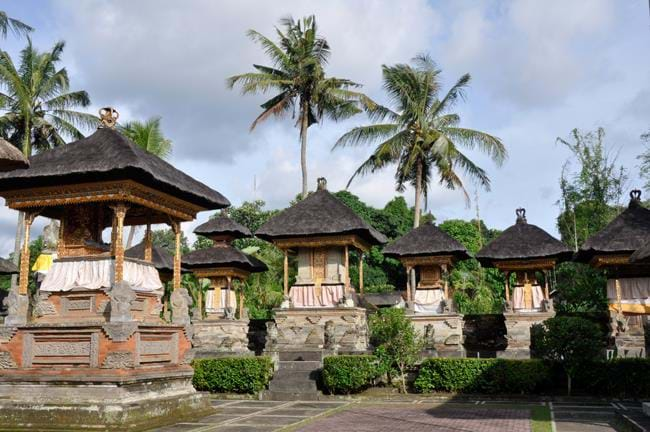 Mount Batur
Far from the bustle of Denpasar, Mount Batur sits in northern Bali and is home to a popular sunrise climb. Mount Batur is 700 meters above sea level and still an active volcano, and a sunrise trek is a great experience for more energetic travellers.
The climb to the top starts at 4am in the darkness of night, guided only by flashlight. It takes about 2 hours and once at the top, you are greeted at a small hut where tour guides offer coffee and pastries for breakfast followed by eggs cooked in the volcano's steam vents. The sky slowly shifts from black to deep blue, to pink and orange as the sun rises up over the valley to reveal Lake Batur and the villages below.