India 24.06.2020 David Abrams
Exploring north India doesn't necessarily have to mean "trains, planes and automobiles". Harking back to a more gentile era, a handful of visionary companies also operate river cruises in India in specially constructed ships along the Hooghly, Brahmaputra and Ganges Rivers. As well as offering a very relaxed way to experience the country, a luxury river cruise enables you to visit regions few tourists ever see, experiencing ways of life little changed since the era when the first British, French and Dutch traders arrived in India.
Life On Board a River Cruise
All of the ships featured on our river trips are essentially floating hotels. You sleep in luxurious, air-conditioned cabins with large windows. The food (included in the price) is gourmet standard and served by impeccably well trained, liveried staff. Evening entertainment, in the form of Indian classical music and after-dinner lectures, is often laid on, while various workshops are also frequently on offer, from sunrise yoga sessions to Indian ritual flower arranging and henna painting. There's usually a well-stocked library on board, too, but for the most part, gazing over the water and socialising with other travellers tend to soak up most free time.
Shore Excursions
Every day of the cruise features excursions to market towns and villages along the river you're following. Shore trips may be undertaken in air-conditioned mini-buses or local auto-rickshaws, depending on the distances involved and individual needs of passengers. You'll be accompanied by an English-speaking guide on visits to local potters, sari weavers and metal workers, as well as an array of historic monuments, among them the ruins for forgotten colonial posts and regional capitals that once ranked among the richest ports in Asia.
River Cruise Routes in India
Luxury river cruises in India generally operate on three distinct router. Although they all include a comparable mix of on-board comfort and half-day shore excursions, each offers a slightly experience, reflecting the geography and culture of the hinterland you'll be crossing.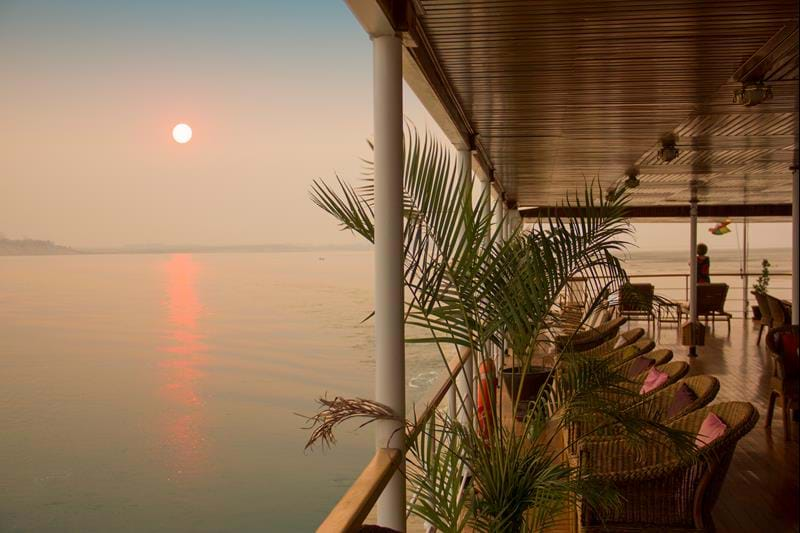 Lower Ganges
Beginning and ending in Kolkata (Calcutta), cruises of the so-called 'Lower Ganges' cover the Hooghly and its sibling, the Bhagirathi (major tributaries of the Ganges). Our favourite is Pandaw's 'Lower Ganges' cruise. Every day features a visit to a different market town or village, many of which hold remarkable monuments, from temples to decaying old British, French and Dutch mansions. You learn about local crafts, explore fascinating religious sites and generally soak up the atmosphere of off-beat India. Highlights include the extraordinary 18th-century palace at Murshidabad and the huge Krishna temple at Mayapur.
Departures run from October through April.
Upper Ganges
The longest cruises in India follow the course of the Ganges between Kolkata and Varanasi in 14 nights. In the time of the East India Company, before the advent of the railways, this waterway served as the country's principal transport artery. Today, there's very little traffic on the water but plenty of interest in the 20 or so towns and villages you stop at along the route, which crosses a region rarely visited by foreign tourists. Explore the ruins of ancient Buddhist monasteries and temples on sacred islets in the river, battlefields, old Mughal forts, the world's largest opium factory, early colonial mansions, the famous Bihar School of Yoga, and the holy city of Varanasi.
Conducted in purpose-made 'shallow draft' vessels, cruises on the Upper Ganges operate between October and April.
Brahmaputra
Crossing a much less densely populated region of the country, cruises on the Brahmaputra generally last eight to ten days, and offer an exceptionally varied experience, both in terms of landscape and culture. You'll get to track wild tigers and one-horned rhinos in Kaziranga National Park, explore the ruins of ancient Sibsagar, former capital of the Ahom Dynasty, and experience the ritual theatre of Vaishmava monks on Majuli, the world's largest river island. Visits to Commonwealth war graves, silk weaving workshops and a tea plantation fill out the picture of this diverse, lesser visited part of India.
Brahmaputra cruises operate from October to May.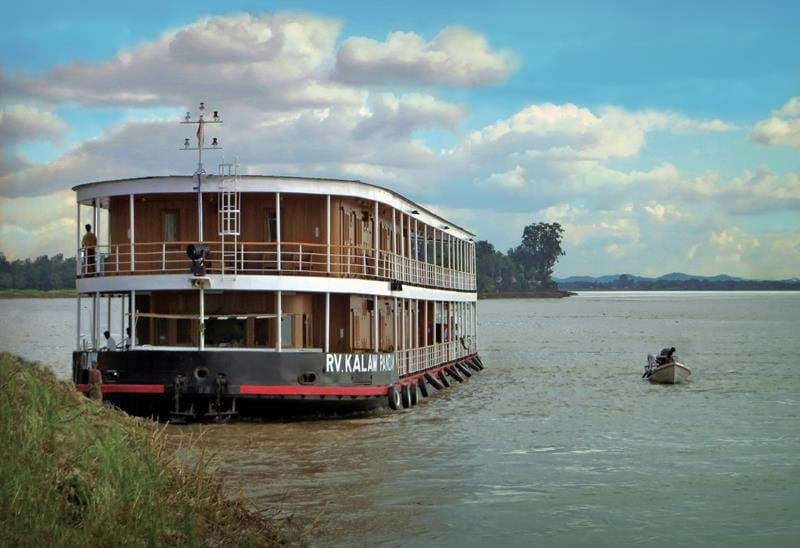 Recommended Cruise Lines in India
We work with three different companies in India. They offer comparable routes, but costs differ slightly between them, reflecting levels of luxury and crew-to-passenger ratios.
Assam Bengal Navigation
The pioneering ABNG company operate the largest luxury on India's river, ranging from large Retro steamers to smaller houseboats for a more intimate experience. All are handsomely furnished and extremely comfortable throughout. ABN also offer great flexibility, with itineraries of 3, 4, 7 or 8 nights, which you can combine if desired.
Pandaw
Pandaw began life in 1995 on Burma's Ayeyarwady River but has since expanded to offer itineraries across Indochina – and now, for the first time, India. Covering the Hooghly and its sibling, the Bhagirathi, as well as the Brahmaputra, all their cruises are on the company's 1940s-style vessels. The luxury is understated and great effort is made to re-create the feel of bygone eras, as well as experiencing authentic local life as far as possible.
Exotic Heritage
EH currently operate the most luxurious vessels cruising in Eastern India. The 56-berth Ganges Voyagers I & II  and Ganga Vilas are richly appointed triple-deck boats that run trips of between 5 and 8 days starting and finishing in Kolkata. You've the usual range of shore excursions and on-board facilities, but everything is just that little bit glossier. They also run an exclusive, 19-metre cruiser – the Nauka Vilas – with just one spacious bedroom and an 8-man crew: perfect for honeymooners or anyone celebrating a landmark anniversary!