Cambodia 02.02.2015 Transindus
Its origins may date back as far as the 12th century, but it is work carried out in the late 20th century that shapes the stunning landmark that is Angkor Wat. Found in Siem Reap, a northern province of Cambodia, Angkor Wat stretches out over around 400 sq km and is tucked deep within the region's dense forests.
Built first as a Hindu temple for King Suryavarman II, who ruled from 1113 to 1150, Angkor Wat was later occupied by Jayavarman VII. Into the 13th century the temple shifted away from it Hindu roots and became a Buddhist monument.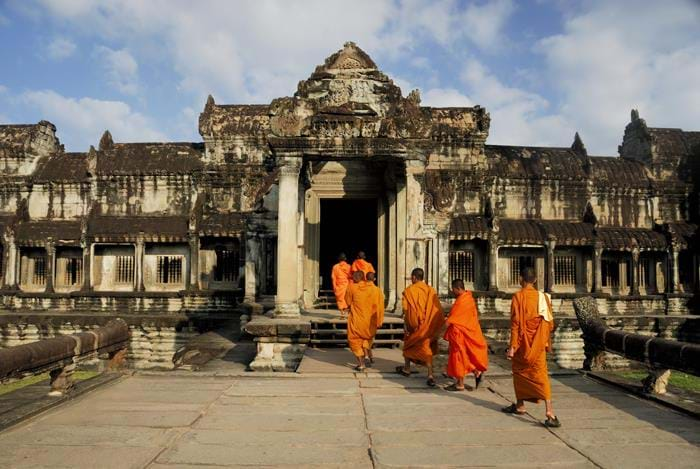 After many years falling into a state of disrepair, a major restoration process was undertaken by the Archaeological Survey of India in 1986. This work was completed in 1992 and saw Angkor restored to the sublimely impressive monument that it once was, leading to Angkor Wat becoming a major tourism destination. It is thanks to the loving restoration that the temple has been rediscovered by travellers from all over the world.
The 500-acre site is today not only one of the largest religious sites in existence, but it is also one of the most visually stunning. The jewel in this crown is undoubtedly Ta Prohm, a picturesque temple that has undergone minimal restoration in order to leave it stood in as close to its original glory as possible.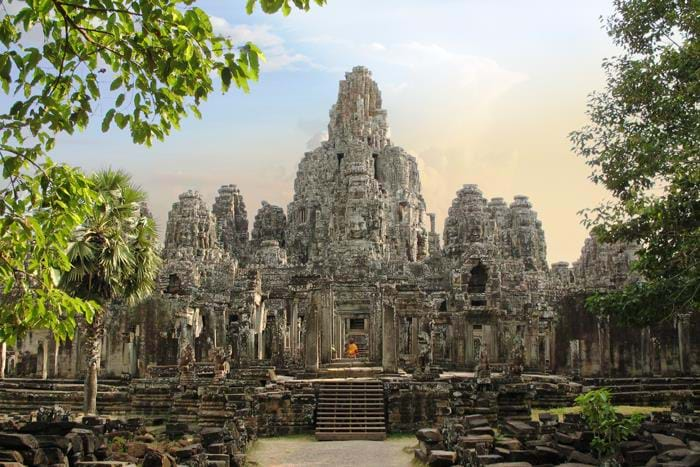 Shooting as high as just shy of 700 ft tall, Angkor Wat is a sprawling mass of stone towers, courtyards and walkways. Today it stands proudly as Cambodia's most iconic and well-known temples. But there is much more to Angkor Wat than its huge stone structures, water also plays a key part in the appeal of the heritage site to the tourists that flock to the region. West Baray is the largest of several swathes of water within the area. Measuring a colossal eight km in length and almost two-and-a-half km in width, this is one of many reservoirs and canals within the grounds of Angkor Wat.
The Angkor Archaeological Park is spread across a vast 150-plus sq m and is filled with lovingly restored temples which were originally built as far back as the 9th century.
The tourism boom that Angkor Wat has experienced in the last 20 years has resulted in an upturn in attractions and accommodation for visitors. Today, holidaymakers will find a vibrant nightlife, bustling shopping districts and even undeniably impressive five-star hotel complexes. For those on a budget more modest guesthouses and hotels are also available.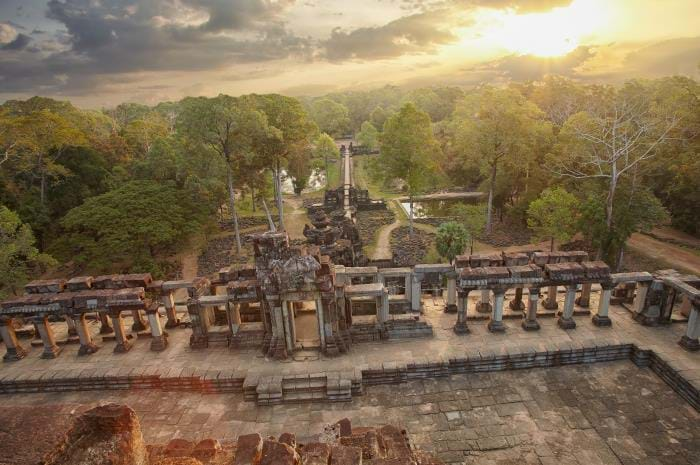 Angkor Wat has a tropical climate, with defined dry and wet seasons. The region is at its busiest during December, January and February, at which point rainfall is at its lowest. During these months on average 10mm, 0.7mm and 3.5mm of rain will fall, while average temperatures will still spike in the 80 and 90s degree F. The sun burns a little brighter through the middle section of the year, but this also coincides with Monsoon season. During the months of June, July, August and September rain will hammer down, with average rainfall coming in at 221 mm, 236 mm, 151 mm and 276 mm respectively.
Thanks to its status as a UNESCO World Heritage Site, Angkor Wat is now fully protected, meaning it will remain in its full wonder for many decades to come. This was further reinforced by region being named a World of Heritage in Danger site in the 1990s. The latter came about due to the threat of illegally carried out digs and excavations, as well as the danger of landmines which were thought to be spread throughout the area. The efforts of those behind the restoration and the widespread of tourism that has come wave after wave since the early 1990s led to the removal of the threat, which saw Angkor Wat drop off the danger site list in 2004.