India 02.04.2014 Transindus
Indulging in a luxury railway journey through an exotic destination is something that most people dream of doing at least once in a lifetime. And there is no train more luxurious than the Maharajas' Express - one of the newest and most exceptional rail journeys in India.

The Maharajas' Express: An introduction 
At nearly half a mile long and often named as the most luxurious train on the planet, the Maharajas' Express gives you a chance to experience all the lavishness and grandeur of the days of the maharajas. Indeed, this train does just about everything it could to make you feel just like royalty. 
Comprising 23 carriages in total, it is home to two superb restaurants that are not only sumptuously decorated, but also known for serving exquisite food. Plus, there are several lounges and bars, where you can relax with a drink and watch the spectacular Indian scenery sip by. 
The train offers a selection of four itineraries, each of which are exclusive to this particular locomotive. These give you the opportunity to visit some of the most famous destinations in the country, including the 'Pink City' of Jaipur and Agra, home of the Taj Mahal.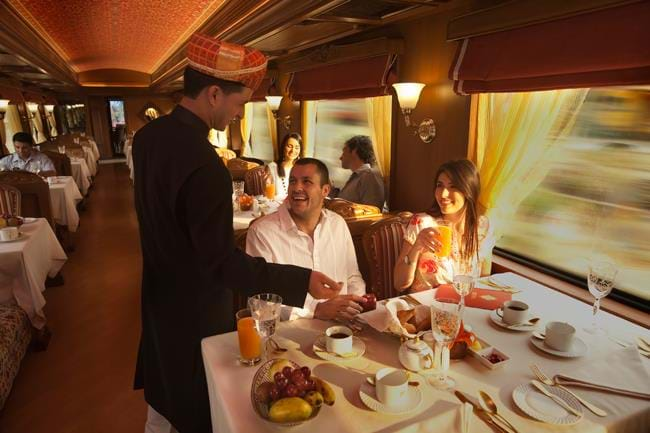 What to expect on board 
This train is famous for its luxury, and luxury is certainly what you should expect - and on a truly grand scale. Despite its size, the train accommodates just 82 passengers - something that means you not only get plenty of space, but also that the staff have time to attend to your every need.
There are several different types of carriage to give passengers more choice about the kind of accommodation they stay in. There are five deluxe carriages, six junior suite carriages, two suite carriages and one presidential suite (which is a full carriage in its own right). No matter what accommodation you're staying in, though, you can expect large windows that allow you to drink in the views of the local scenery, as well as individual temperature controls, a TV, a DVD player, telephone and a safe. 
There are two restaurants, both of which offer fine dining experiences and serve complimentary house wines and beer. The Safari Bar has an excellent collection of spirits, wines and beers, as well as offering complimentary snacks. For a really relaxing drink, meanwhile, you can head to the Raja Club, which has exceptionally comfortable armchairs for you to unwind in.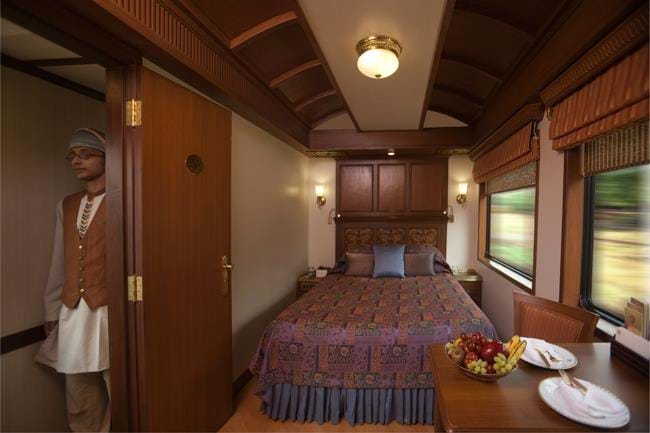 Where you can travel to 
As we've already mentioned, the Maharajas' Express gives you the chance to explore some of India's finest attractions. Where exactly you go will depend on the itinerary you choose, but among your options is one that will take you from Delhi to Agra, Jaipur, Jodhpur and Udaipur, among other destinations. 
On this kind of itinerary, you will board the Maharajas' Express in Delhi, from where you'll then travel directly to Agra and the world-famous Taj Mahal. Celebrated for its beautiful symmetry, this mausoleum was built by Mughal emperor Shah Jahan in memory of his wife Mumtaz Mahal. 
Spend some time exploring this stunning white marble building, as well as its picturesques gardens, before choosing between going on a shopping trip in Agra or a sightseeing tour to another local UNESCO World Heritage Site.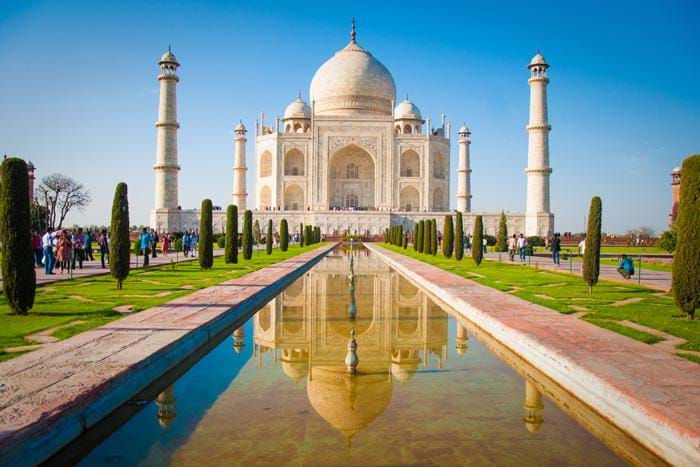 The Maharajas' Express will whisk you to Jaipur next, where you can explore Ranthambore National Park. Famous for its tiger population, this reserve is an absolutely excellent place to spot these big cats - and you'll be taken out on a game-viewing excursion to see them. 
Next, you can head into the city of Jaipur to explore a few of its famous attractions, including the spectacular Hawa Mahal (also known as the Palace of the Winds) and the observatory Jantar Mantar. 
Among the other destinations you will visit is Bikaner, where you can visit the Lalgarh Palace, and Sam sand dunes, where you'll be able to have a short camel ride, followed by cocktails. The stunning lake city of Udaipur, meanwhile, is sure to be a highlight of your trip - particularly if you're able to take in the son-et-lumiere show at the City Palace.