Tailor-made Tour

14 days from £3000 per person
Places Visited:
Kuala Lumpur, Melaka, Cameron Highlands, Ipoh, Penang
This two-week tour focuses on the Legacy of the British Empire and other cultures in Malaysia, starting in the capital and progressing to the cooler climes of the Cameron Highlands, before exploring the decaying mansions and period architecture of Ipoh. You'll finish in Penang – an island with a distinctive fusion of different cultures and a unique atmosphere. The choice of accommodation, varying from mock-Tudor mansions amid the tea plantations to Art-Nouveau palaces with sea views, includes some of the most lovely and characterful luxury hotels in all of Asia.
Holiday Types
Cultural Tours
Suggested itinerary
Day 1
UK
Fly overnight from the UK to the Malaysian capital, Kuala Lumpur.
Day 2
Melaka
On arrival, you'll be met by your TransIndus driver and guide, and transferred to the historic city of Melaka (Malacca) for a two-night stay.
Day 3
Melaka
A full day's sightseeing in Melaka.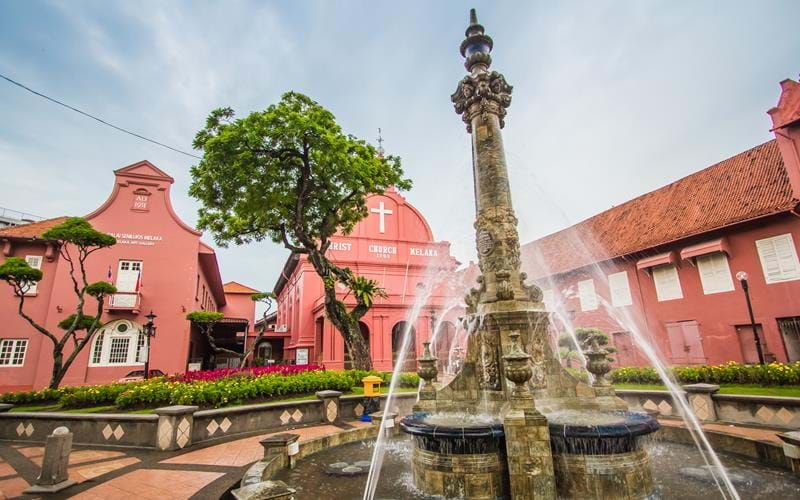 Start your guided tour at Bandar Hilir, for a glimpse of a ruined Portuguese fort, salmon-coloured Dutch Square and Chinese clan houses and temples – just part of the rich heritage of a town whose role in the early maritime spice trade with Europe kick-started the formation of the Malaysian state. Since being awarded UNESCO World Heritage status in 2008, Melaka's historic core has seen much renovation. On weekend evenings, Jonker St, the main thoroughfare of Chinatown, hosts an atmospheric Night Market specialising in antiques and handicrafts. Several lavishly decorated Chinese-Palladian townhouses belonging to the Baba-Nonya community have also been opened to visitors.
Day 4
Kuala Lumpur
Return in the morning to KL, where you'll stay for three nights. The evening's tour will end with a local cultural performance. Afterwards, visit the Observation Deck on the 86th floor of the Petronas Towers, the capital's most iconic buildings, for a matchless view over the metropolis.
Day 5
Kuala Lumpur
Take an orientation tour of the capital, visiting a local tea house along the way.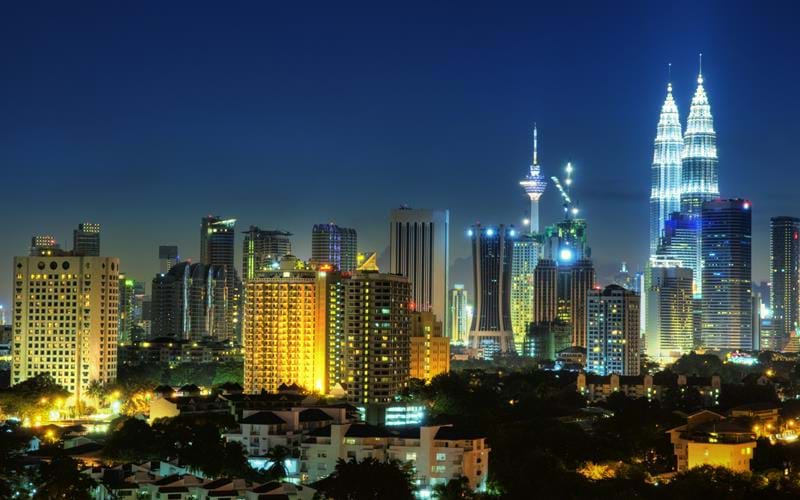 KL a stridently modern, cosmopolitan, upbeat place whose high-rise core – a glittering spectacle at night – epitomizes the modern, forward-looking face of Malaysia. For a glimpse of the city's roots, look no further the old colonial quarter across town, where the intricate, Moorish-style Jamek Mosque is the standout building. To its south, Chinatown's shophouses, traditional cafés and colourful Buddhist temples give a sense of what KL might have been like half a century ago. The superb Islamic Arts Museum, whose ultra-modern premises is crowned by a turquoise-tiled Persian dome, is another of the city's key sights.
Day 6
Kuala Lumpur
Day at leisure for shopping, relaxing at your hotel or exploring the city on your own.
Day 7
Cameron Highlands
Drive to the Cameron Highlands today, stopping at the Batu cave temple and Iskandar falls en route; stay two nights.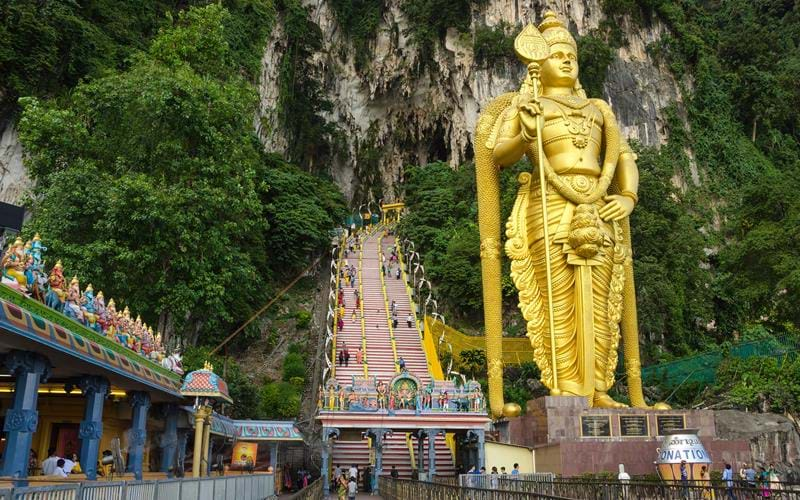 The Batu Caves complex holds the country's most revered Hindu shrine, approached via a flight of 272 steps and a colossal gilded statue of Lord Murugan. Connected to the coast by road only in the 1930s, Cameron Highlands was one of very last hill stations to be established by the British, and the area still evokes the twilight of the empire. Miles of lush tea plantations carpet the rolling hills of this hidden plateau land, which at a mean elevation of around 1,500m (5,000ft) is considerably cooler than the coastal strip, offering the perfect spot to break the long journey between the capital and Penang.
Day 8
Cameron Highlands
Take a half-day tour of the area, featuring a visit to a tea plantation.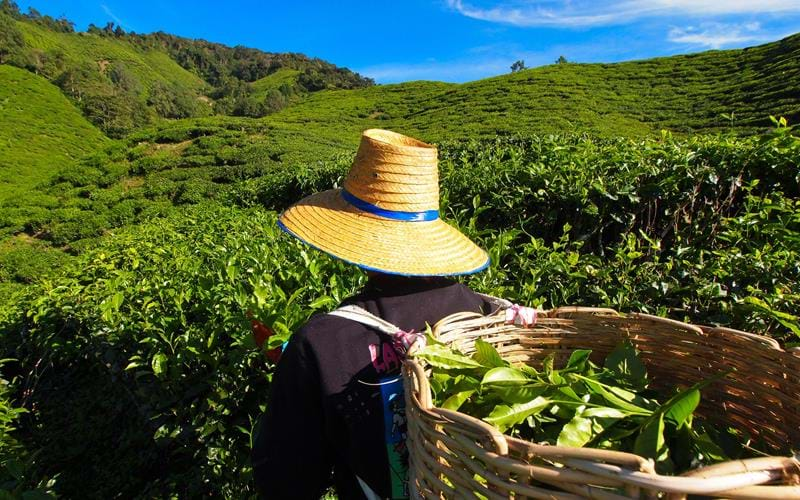 Tea production continues to dominate the local economy of the Highlands and plantation visits are popular among visitors, along with trips to honey, strawberry and butterfly farms. British travellers hankering for a taste of home should also drop into the Smokehouse in Tanah Rata, the hill station's main town, for a Devonshire cream tea, served in a quintessentially English, half-timbered, wood-panelled dining room with horse brasses on the walls. A network of walking trails to viewpoints and Orang Asli villages provides gentle post-prandial workouts.
Day 9
Ipoh
Depart for Ipoh in the morning, pausing on the way at the Kek Lok Tong Cave Temple and Kuala Kangsar. Explore the city's colonial mansions in the afternoon.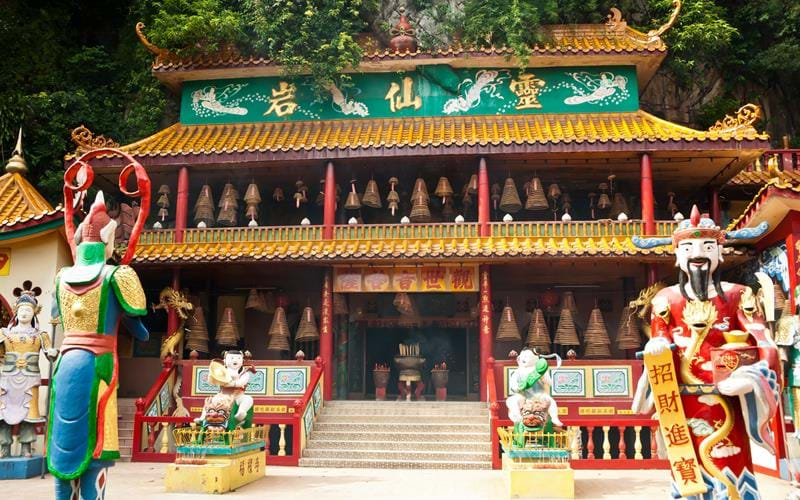 Malaysia's third city, Ipoh, rose to prominence in the 1880s, following the discovery in its hinterland of tin reserves. This, coupled with the later introduction of rubber by the British, spawned the boom from which its grand Edwardian-Baroque railway station and other colonial buildings date. With lanes of little pastel-painted Chinese shophouses, Ipoh's central market district retains the feel of this prosperous era.
A natural limestone grotto approached via a pretty lotus lake and encircled by spectacular cliffs, Kek Lok Tong is usually visited en route to Kuala Kangsar, Malaysia's third city and the site of its most ostentatious colonial-era buildings.
Day 10
Pengang
Drive to Penang, where you'll stay for three nights. Dinner is included on the evening tour of Georgetown.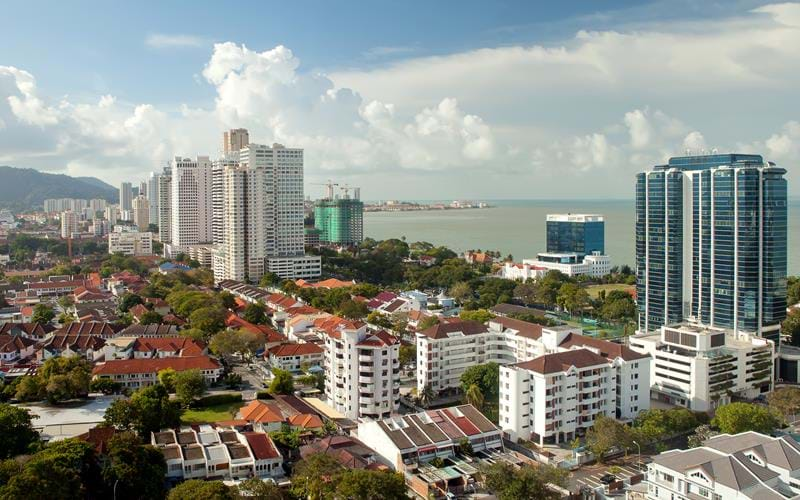 Georgetown, capital of Penang state on the northwestern side of the Malay Peninsula, was the East India Company's first outpost in the region, and preserves behind its high-rise blocks and modern intersections a wealth of colonial vestiges, from the mildewed ramparts of Fort Cornwallis to vintage shop-houses and resplendently ornate Chinese guildhalls and temples, whose incense-filled interiors writhe with coiled dragons and Confucian sages.
Day 11
Penang
Visit restored Pernakan shophouses and street markets on a tour of Georgetown, followed by an excursion up Penang Hill on the funicular train, for stellar views over the city.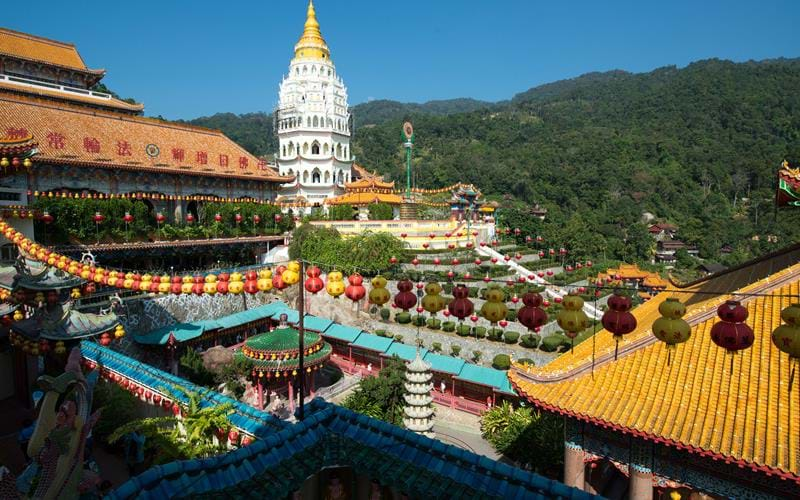 Chinese merchants grew wealthy on regional trade in the 19th century and lavished huge sums on their mansions, of which numerous fine examples survive in Georgetown's time-worn streets. This is also Malaysia's culinary capital, renowned particularly for its spicy Pernakan (Chinese-Malay) cuisine, which can be sampled in fine-dining restaurants or out on the street at rough-and-ready food stalls. Reached by a white-knuckle ride in new, Swiss-made, air-con funicular coaches, Penang Hill is a wonderful place to visit at any time of day, or after dark. The panorama extends over the clay tiles of Georgetown to the sapphire sea.
Day 12
Penang
You'll be free today to explore the city at your own pace, squeeze in some last-minute shopping or relax by the pool ahead of your journey home.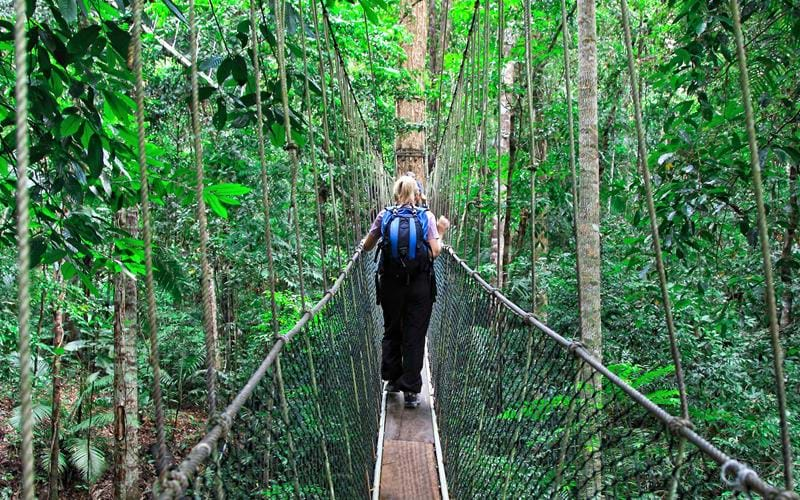 One idea for a breezy day trip would be the tip out to Taman Negara Pulau Pinang, a 3,000-acre patch of jungle on the northwestern corner of the island that's edged with beautiful white-sand beaches. You can hire a long-tail boat for the ride to Monkey Beach – perfect for a lounge in the sun – before the 90-minute hike back via a string of hidden coves.
Day 13
Penang, Kuala Lumpur
It's time to bed farewell to Malaysia as you drive to the airport in the evening to pick up your flight back to the UK.
Day 14
Kuala Lumpur, UK
Arrive in the UK early in the morning.
Tailor-made Tour

14 days from £3000 per person
What's included

✓   International flights from London
✓   11 nights accommodation
✓   All internal transportation and transfers
✓   English-speaking guides
✓   Breakfast daily
✓   Entrance fees to sites and monuments listed in tour itinerary
Places and Experiences in this tour
Plan your 2022 Adventures
With the world now largely open again, now is the time to begin planning your 2022 adventures in Asia. Our Travel Specialists are ready to take your call and discuss the adventure you have spent the last 2-years dreaming of.
Or call us on 0208 566 3739
TransIndus Brochures 2022
Join our mailing list