New
Tailor-made Tour

15 days from £4475 per person
Places Visited:
Galle, Sinharaja Forest Reserve, Yala National Park, Gal Oya, Dambulla, Mannar, Anamaduwa
With a range of widely contrasting habitats in a relatively compact area, Sri Lanka offers exceptional variety as a wildlife destination. This tour cherry picks all of the island's top safari and birding hotspots, and strings them into a wonderfully varied two-week trip, during which time you can expect to see leopard, elephant, sloth bear and some of the planet's most astounding marine mammals, including blue whales and sperm whale (if you plan your trip to coincide with their annual migrations), as well as a wealth of other species.
While the focus of this holiday is squarely on wildlife and bird watching, you'll also travel through some magnificent mountain and jungle regions, swim in vivid turquoise sea water and explore a wealth of atmospheric ancient monuments and temples.
Most overnight halts featured offer a choice of accommodation – all of it an absolute delight. Whether you're a wildlife buff or merely travelling with one and looking forward to some down time with a good book while your companion/s are out tracking leopards, we think you'll find plenty of inspiration in this expertly designed trip.
Holiday Types
Cultural Holidays Wildlife Holidays Family Holidays Honeymoons Beach Holidays Adventure Holidays
Suggested itinerary
Day 1
UK
Fly overnight from London Heathrow to the Sri Lankan capital, Colombo.
Day 2
Colombo - Galle
On arrival at the Bandaranaike International Airport, you will be welcomed by your chauffeur-guide and driven south down the coast for a couple of hours to Galle, where you'll spend a couple nights. Relax in your hotel for the remainder of the day, perhaps venturing out for a stroll late in the afternoon.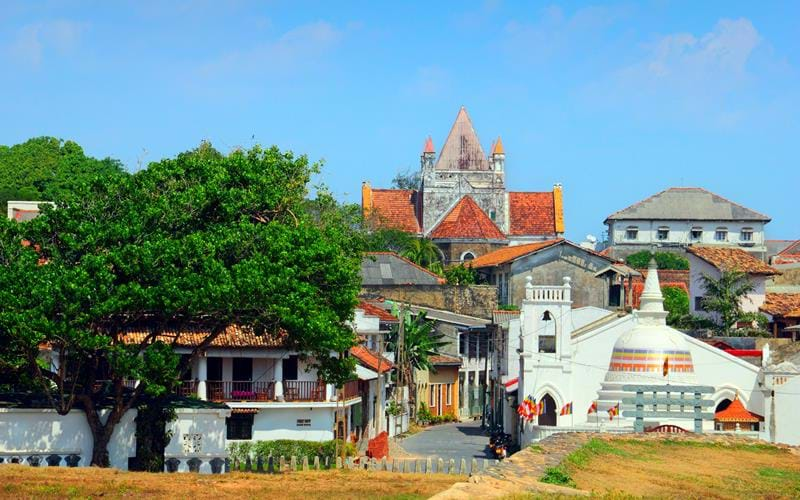 Galle is an atmospheric, colonial-era port that flourished under the Portuguese and, later, the Dutch, who added bastions and a pair of gateways to its rambling 17th-century walls. These can still be enjoyed today and form a charismatic backdrop for ambles around the old town, whose pretty period houses and cobbled streets are huddled on the tip of a peninsula, surrounded on three sides by ocean and on the fourth by the famous cricket ground. A good target for an acclimatizing stroll would be the lighthouse, reached via a breezy promenade along the top of the ramparts.
Accommodation Options
Day 3
Galle
Climb aboard your own private catamaran at first light for an exclusive whale-watching cruise off Galle. Breakfast and lunch will be served on board. In the afternoon, explore the fort's most interesting landmarks in the company of a local history buff.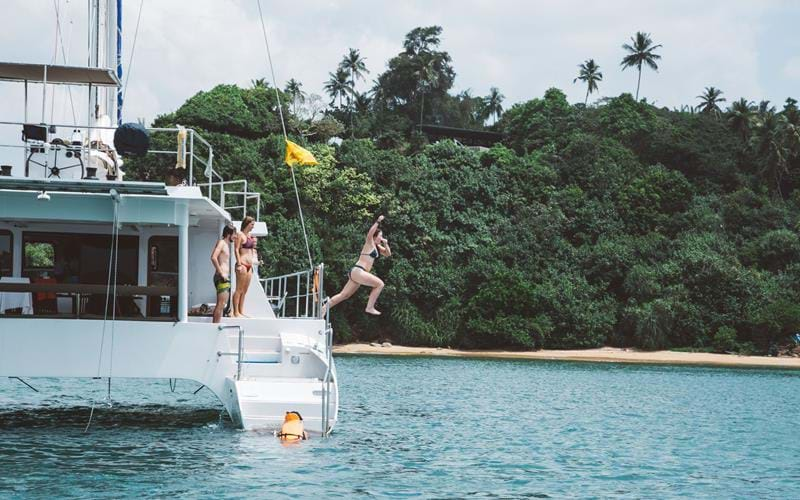 Sri Lanka's shoreline lies unusually close to the continental shelf, which means the deep waters where whales congregate may be easily reached by boat from the south coast. Good sightings occur on nine out of ten trips. On this TransIndus tour you'll be taking a trip on a luxury catamaran, complete with chef to whip up a delicious full breakfast and a three-course lunch. Returning to port, the crew will anchor for a spot of paddle boarding and swimming. All equipment will be provided.
Galle's colourful history is etched across the streets of its fort, and on our popular walking tour a local expert will guide you through the highlights, bringing the past vividly to life with tales of sieges, shipwrecks and skirmishes between the European powers.
After dark, enjoy a delicious Sri Lankan hopper with prawn curry and spicy sambol sauces at a local restaurant, or push the boat out with a slap-up supper of melt-in-the-mouth grilled tuna or crab – both great Galle delicacies.
Accommodation Options
Day 4
Galle - Sinharaja
In the morning, rejoin your car and driver for the two-and-a-half-hour journey inland to Sinharaja, one of the island's top biodiversity and birding hot spots.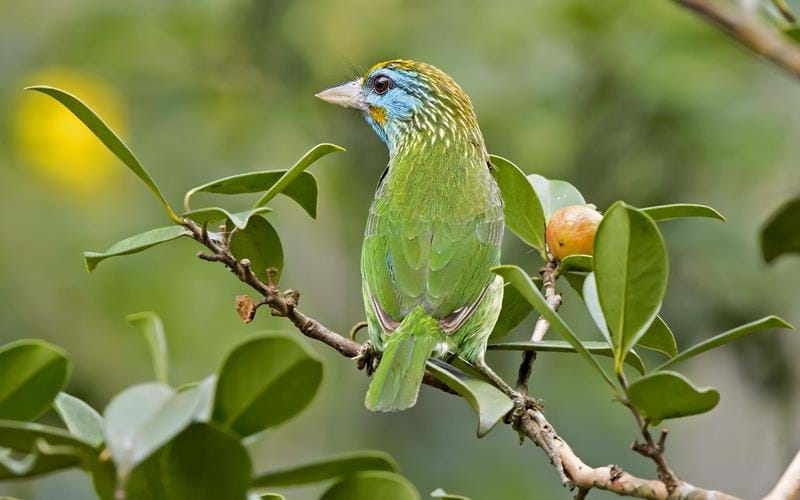 The 34-sq-mile (88-sq-km) Sinharaja Forest Reserve is the country's last viable area of primary tropical rainforest. Damp, dense and extraordinarily fecund, the reserve is best visited in the relatively dry months of August and September, and from January to April. Birders should note the striking phenomenon of mixed species of foraging flocks, comprising up to 50 species on occasions. Several nature trails, ranging from gentle walks to strenuous full-day hikes, offer an intimate experience of this pristine forest. You'll arrive in time for a two- to three-hour guided walk in the evening.
Accommodation Options
Day 5
Sinharaja Forest Reserve
Enjoy guided walks in the reserve morning and evening, with the afternoon at leisure back at the lodge.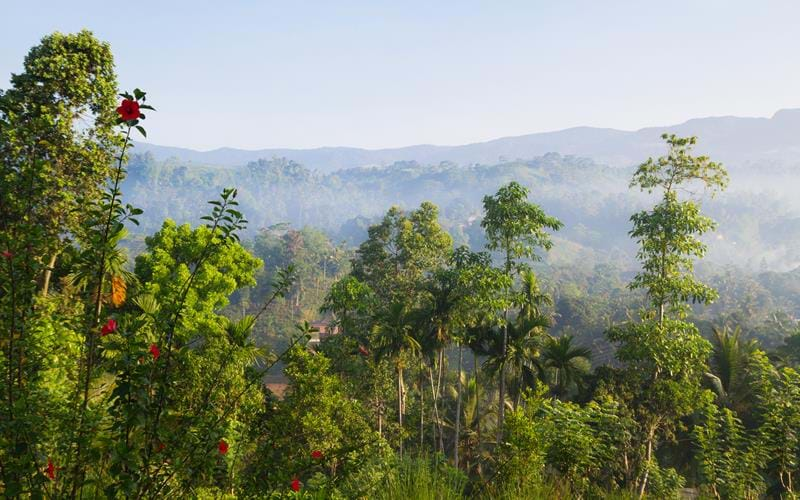 The only way to explore Sinharaja's protected forest is on foot, which will give you the best chances of great bird sightings. An amazing 147 species have been recorded in the reserve, among them 21 of the island's 26 endemics; the green-billed coucal and Sri Lankan blue magpie both regularly put in appearances. Botanists are also in for a treat, with 500 types of indigenous plants present, which attracts a wealth of exotic butterflies and other insect life. You may be offered the opportunity to take a night walk with your naturalist-guide, when you're likely to see several species of bats and possibly a civet cat or two.
Accommodation Options
Day 6
Sinharaja - Yala National Park
A long drive today as you travel east to Yala National Park on the coast. You'll pause for lunch at a restaurant off the highway, and arrive in time for an evening safari.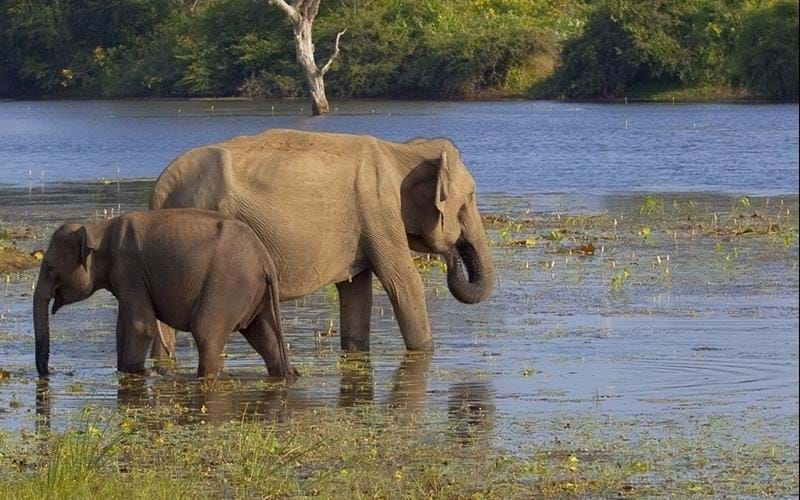 When it comes to spotting leopards, the woodlands and scrub of Yala National Park are unrivalled. This is the country's most popular reserve, with varied landscapes encompassing forest, parkland, rocky outcrops, small lakes and lagoons. Despite the prolific birdlife and large herds of roaming elephant, the big cats are why most people come. Yala currently has around a population of 35 – among the highest densities anywhere in the world. Sightings, however, remain a matter of luck. A typical jeep safari with an obligatory tracker covers just one section of the park and the best encounters tend to be along the rougher, lesser-used tracks.
You'll be staying at a camp from where access to three of the least used entrances is relatively easy, allowing you to explore regions visited by far fewer vehicles than those closer to the majority of Yala's accommodation.
Accommodation Options
Day 7
Yala National Park
First thing in the morning after an early breakfast you'll be driven 90-minutes west to the wetlands of Bundala National Park – a superb spot for birds. Return to Yala in time for a freshen up, supper and nocturnal safari.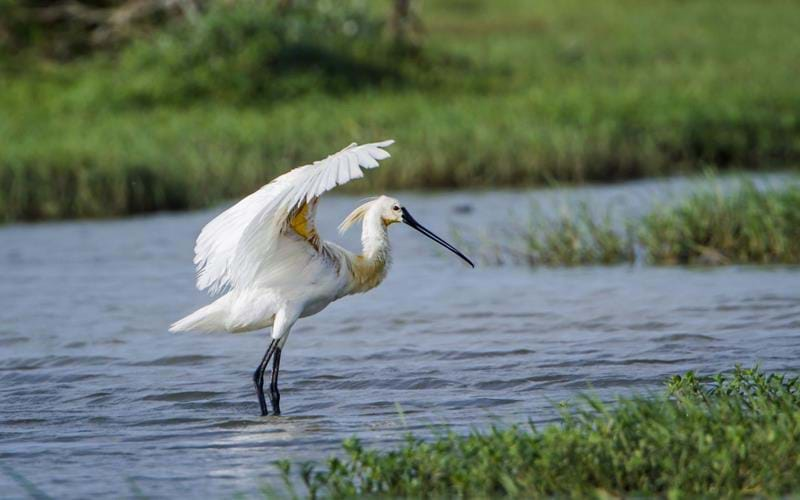 Scores of migratory birds flock to breed on Bundala's chain of brackish coastal lagoons, or 'lewaya'. The landscape is not quite as pretty here as at nearby Yala, but it's correspondingly quieter, which our clients tend to consider a good trade off. Iconic photo opportunities include grazing pink flamingos (this is their last stronghold on the island) and wild peacocks perched in rosewood trees. You also stand a good chance of sighting elephant, crocodile and spoonbills.
Accommodation Options
Day 8
Yala - Gal Oya
A memorable four-hour drive north from Yala today takes you from the coast deep into the island's interior at Gal Oya National Park. You'll arrive in time for lunch and a dip in the pool before embarking on a boat safari across Senanyake Samudhraya, the island's largest reservoir – another wildlife hotspot famed for its swimming elephants.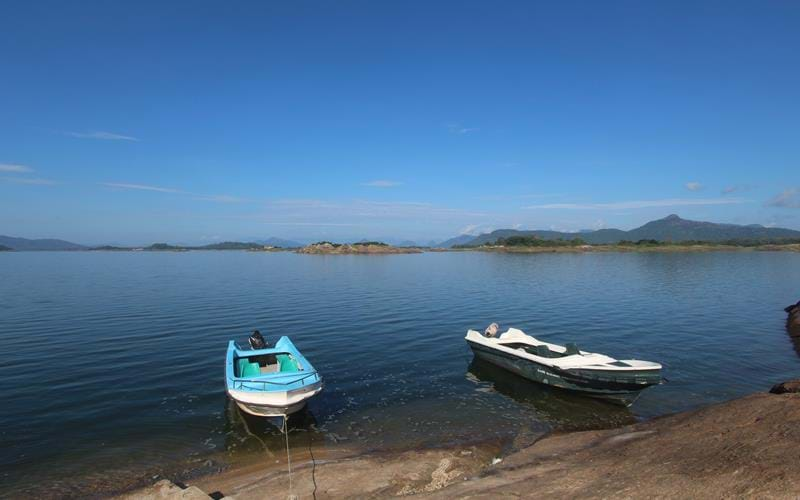 Despite its astounding scenery and plentiful wildlife, Gal Oya, in southeast Sri Lanka, sees surprisingly few visitors, which is why it's one of our favourite parks in Asia. This is also the only reserve on the island where you can go on safari by boat to see wild elephants swimming. Look out for crocs in the shallows, jackals and buffalo on the shoreline, and wild peacocks perched in the treetops.
Accommodation Options
Day 9
Gal Oya
Begin the day with an ascent of 'Monkey Mountain' in the company of a local guide. Later, enjoy a jungle wildlife walk in the adjacent reserve.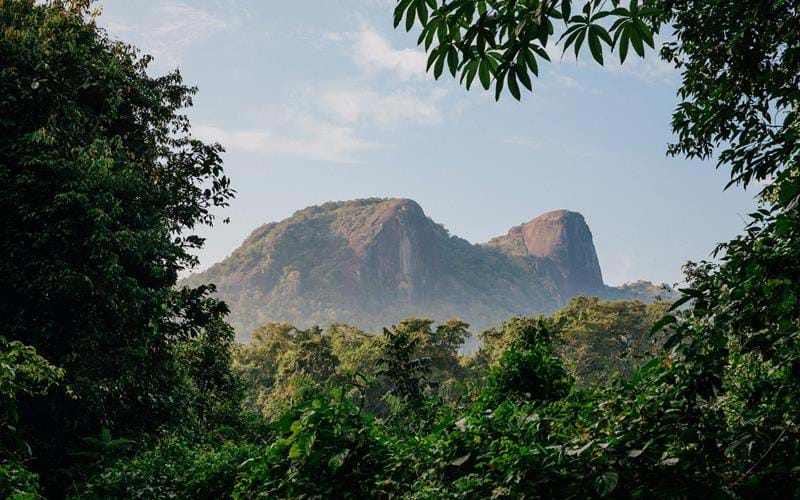 'Monkey Mountain' is one of the prominent peaks overlooking the Lodge at Gal Oya. It takes around an hour and a half to reach the top, where an astounding view over the valley is the reward for a stiff climb, aided by slender trees which bend as you hold them for support – the source of the mountain's name.
Pangolins are the star species of the forest hereabouts, and if you're lucky you'll catch sight of one, along with numerous other kinds of insects and amphibians, as you trek through the jungle on your final evening at Gal Oya.
Accommodation Options
Day 10
Gal Oya - Dambulla
Rejoin your driver for a four-hour trip to the heart of Sri Lanka's Cultural Triangle in the morning. You'll be staying at Dambulla, site of one of the Asia's most extraordinary cave temples, and will arrive in time for a safari at one of the region's three main wildlife parks.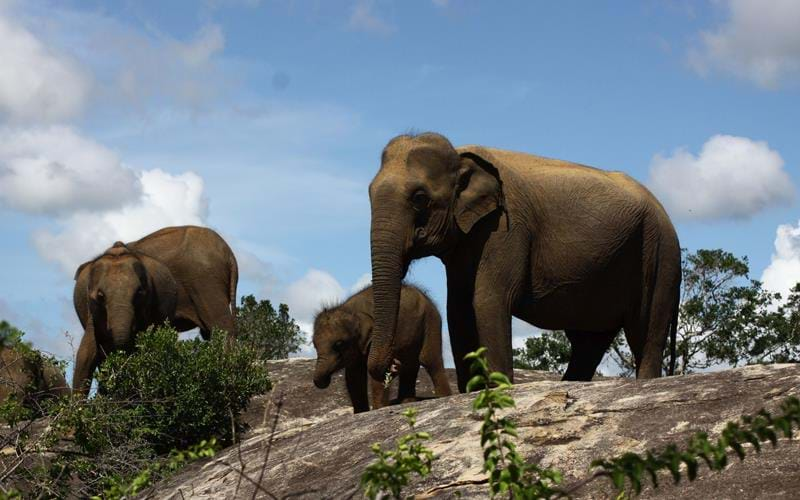 The dry zone in the centre of the island holds a trio of contiguous national parks: Minneriya, Kaudulla and Hurulu. Your resident naturalist-guides will decide on the best to visit, taking into account the latest sightings. 
At the heart of the protected zone stands the famous Minneriya Tank, a huge 3rd century reservoir surrounded by forest, grasslands and marshes. Elephants are the main attraction here, particularly during the famous 'Gathering' of August and September when hundreds of pachyderms graze and bathe in the cool waters of the ancient reservoir.
Accommodation Options
Day 11
Dambulla - Mannar
An early departure on the eleventh day of your tour is recommended for the half-day journey northwest to one of the least frequented corners of Sri Lanka, Mannar Island, where you'll be staying at a deliciously remote boutique hotel. Having checked in and freshened up, head out on a guided birdwatching trip to the nearby lagoon.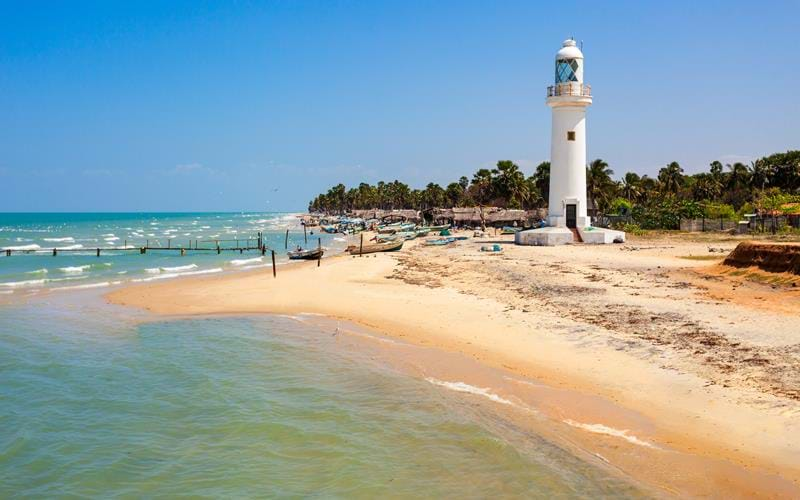 Crossing a dreamy seascape of low-lying marshland, sand bars and shallow, blue-green water, the journey over the causeway to Mannar is a memorable one undertaken by few foreigners. Look out for flocks of flamingos as you approach the island, which is something of a world apart from the rest of the country. It's replete with mythological associations, being one of the stepping stones over which Rama and Hanuman's monkey army marched to rescue Sita from the clutches of the demon Ravana in the Hindu epic the Ramayana.
Believed to have originally been introduced by Arab and Somali traders in the 15th century, donkeys are a distinctive feature of Mannar life. A sanctuary here cares for stray animals who have been abandoned by their owners because they have fallen ill and are no longer able to work.
Accommodation Options
Day 12
Mannar
Rise early again today for a sunrise bird-watching trip around Adam's Bridge – a chain of 16 sand islets stretching across the straits to India. Spend the afternoon lazing by the pool. A visit to the local town is an optional extra recommended for anyone interested in colonial history.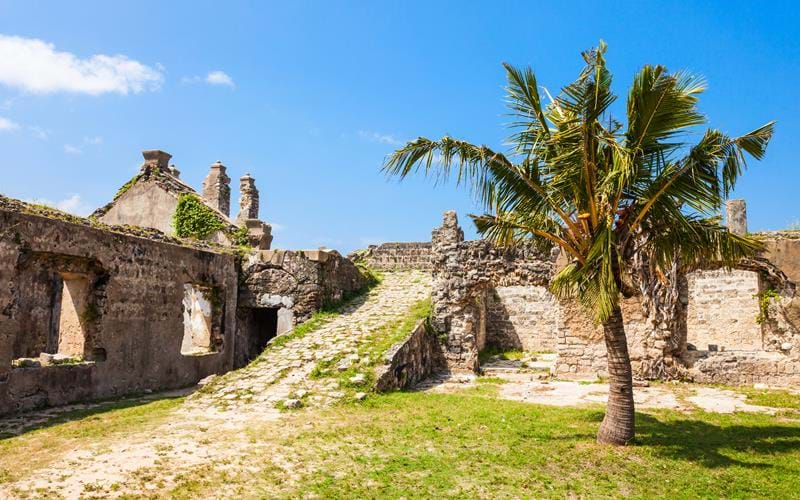 The vast open flood plains, salt marshes, mangroves and dunes of Mannar Island provide the perfect habitat for migratory birds. Flocks of pink and white flamingos are a highlight along with black-tail godwits, pintail ducks and white-bellied sea eagles.
Culture and history rather than nature take centre stage in the afternoon as you explore Mannar fort, built by the Portuguese 450 year ago. Another remnant of the island's pivotal role in the seaborne commerce of the Indian Ocean is a huge baobab tree – one of four planted by Arab traders.
Accommodation Options
Day 13
Mannar - Anamaduwa
Delve deeply into Sri Lanka's rural hinterland today as you head south to an unspoilt region where you'll be staying at a retreat with a unique style and atmosphere.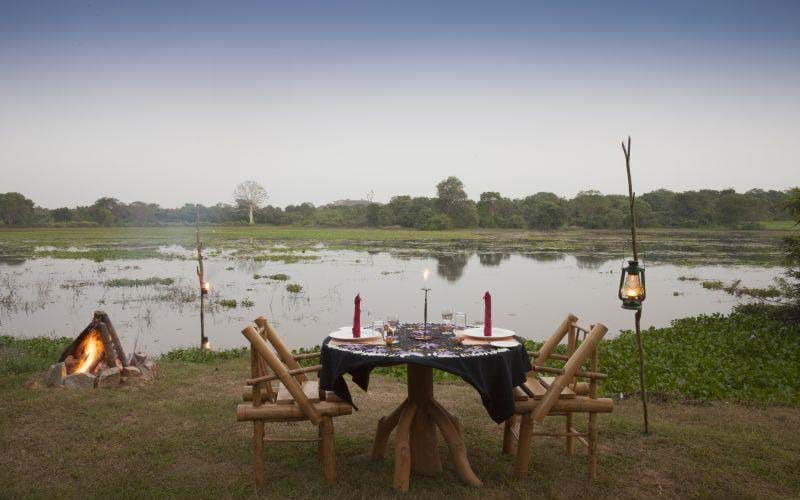 Having freshened up and explored the extensive grounds of the Mud House, head off to visit a local hilltop temple, reached via a flight of 120 steps. This is a great introduction to the area as the views over the surrounding farmland and forest are superb. At sunset, head off to the lake nearby in search of birdlife, keeping your eyes peeled for lorises in the tree branches.
Accommodation Options
Day 14
Anamaduwa
Enjoy a full day of rustic fun at the Mud House. Wildlife walks, cookery workshops and kayaking trips on the lake are all on offer.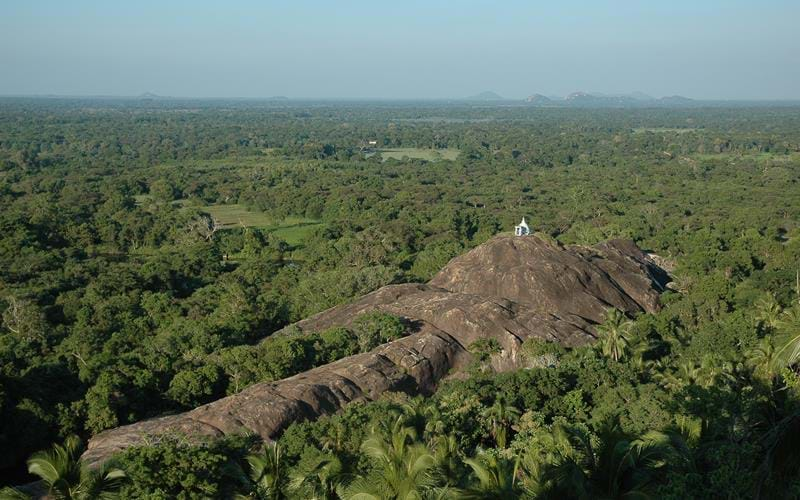 Most of the roads around the property are made of earth and the local village of Paramakanda was only connected to mains electricity in 2012. The nearest town, Anamaduwa, is slowly moving with the times but retains a very traditional, simple charm and is worth a visit, particularly on Fridays when it hosts a market.
Vast networks of man-made 'tanks' (lakes) are used to irrigate the paddy fields around the Mud House, and these also support a wide array of wildlife, from ibexes and pelicans to giant squirrels and boar, to say nothing of the exotic dragonflies and butterflies constantly flitting through. This is one place you can actually feel like you're on safari while swaying in a hammock!
Accommodation Options
Day 15
Anamaduwa - UK
It's a three-hour drive from the Mud House to Colombo airport, so you'll be making a start on the journey promptly after breakfast. The contrast between the rural charm of Anamaduwa and the island's international travel hub will be extreme!
Tailor-made Tour

15 days from £4475 per person
What's included
International flights from London
13 nights accommodation
All internal transportation and transfers
English-speaking guides
Breakfast daily
Entrance fees to national parks, sites and monuments listed in the tour itinerary
Whale spotting cruise by catamaran
10 safaris accompanied by expert naturalist-guides
Places and Experiences in this tour
Plan your Next Adventure
With the world now largely open again, now is the time to begin planning your next adventures in Asia. Our Travel Specialists are ready to take your call and discuss the adventure you have spent the last 3 years dreaming of.
Or call us on 0208 566 3739
TransIndus Brochures 2023
Join our mailing list