Tailor-made Tour

15 days from £3995 per person
Places Visited:
Colombo, Puttalam, Wilpattu, Mannar Island, Jaffna, Anuradhapura, Negombo
If you've visited Sri Lanka before and seen the main sights, or merely wish to explore some of the island's lesser travelled and off the beaten track corners, this adventurous two-week holiday could be perfect for you.
It focuses mainly on the northwest of Sri Lanka, which only a decade ago was closed to foreigners by the civil war, and includes a three-day live-aboard catamaran cruise around Palk Bay and the chimeric Jaffna Peninsula. You'll get to experience some of the forgotten monuments of the UNESCO-listed Cultural Triangle, and head out on safari through Sri Lanka's largest area of pristine wilderness at the Wilpattu National Park. There's even a beach interlude at one of the last truly unspoilt coastal areas on the island, the wind-lashed, wildlife-rich Kalpitiya promontory, a hotspot for whales and spinner dolphins.
Plans are afoot for a major re-development of the region, so experience its distinctive atmosphere while you can on this ground-breaking adventure, which features some of our all-time favourite properties on the island.
Holiday Types
Cultural Holidays Wildlife Holidays Family Holidays Honeymoons Beach Holidays Adventure Holidays
Suggested itinerary
Day 1
UK–COLOMBO–PUTTALAM
Fly overnight from the UK to Sri Lanka's capital, Colombo.
Day 2
PUTTALAM
On arrival at Colombo airport, you'll be greeted by your chauffeur-guide and transferred to your hotel in Puttalam, on the northwest coast. Once you've checked in, spend the rest of the day recovering from your journey in the comfort of your room or by the poolside, venturing out for a stroll around the neighbourhood at sunset time when the heat has subsided.
A fusion of Buddhist, Tamil, Christian and Arab cultures, Puttalam is a bustling market town mid-way up Sri Lanka's northwest coast. Located on the shores of a glassy lagoon, it's our favoured springboard for explorations of the Kalpitiya Peininsula's windswept beaches. The town itself sees very few foreign visitors, but is all the more interesting for that, with plenty of authentic Sri Lankan atmosphere to enjoy, particularly in the fresh product market.
Accommodation Options
Day 3
PUTTALAM
Spend a full day today enjoying the sights of the Kalpitiya Peninsula, beginning with an early morning dolphin spotting cruise before an afternoon at leisure on the beach.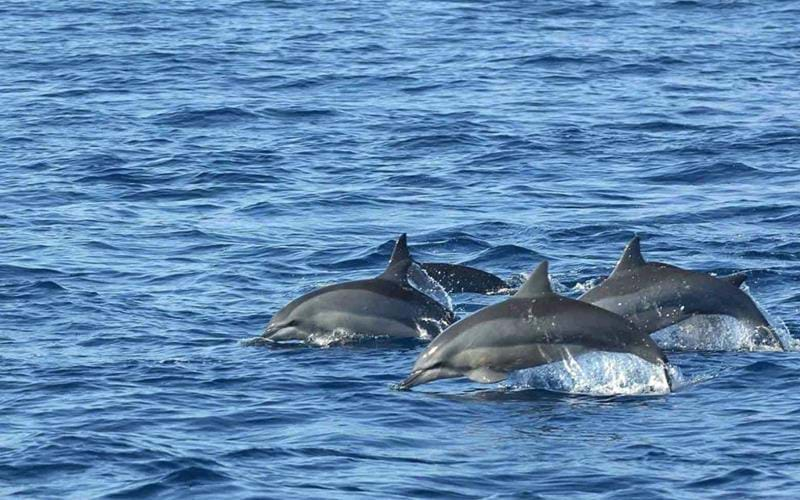 One of the largest pods of dolphins in Sri Lanka frequents the lagoon lining the eastern shore of the Kalpitiya Peninsula, and sightings of spinner dolphins are all but guaranteed if you take to the water early enough. With luck you could be treated to one of the displays of acrobatics for which this playful cetacean is renowned.
Well worth slotting in between spells on the beach is a visit to the old port town of Kalpitiya, at the north end of the peninsula, where a Dutch fort is the most conspicuous vestige of colonial rule. In the 16th century, the Portuguese fortified a settlement here in order to exert control over local trade, principally in cinnamon, which the Dutch East Indies Company (VOC) later monopolized. On the outskirts of town stands the oldest Protestant church in Sri Lanka.
Accommodation Options
Day 4
PUTTALAM
With a driver and vehicle at your disposal, you'll be free today to explore the Kalpitiya Peninsula at your own pace. Consider a trip to its northernmost extremity – a wild, windy and de-populated stretch of coast with lots of atmosphere. Diving and snorkelling around Bar Reef, further north still, is another option you may wish to discuss with your TransIndus consultant.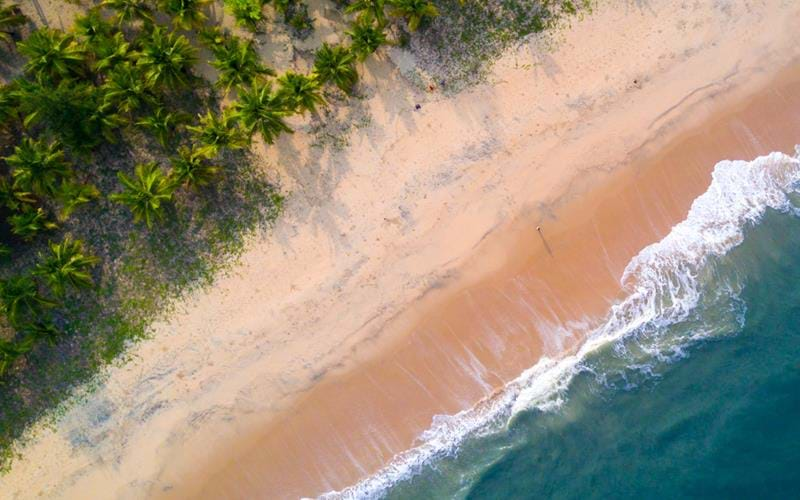 Bar Reef, off the northwest tip of the Kalpitiya Peninsula, is one of only a few pristine coral banks in this part of the world. Its shallow, warm waters support the greatest biodiversity of any in Sri Lanka, with over 280 species of fish present. Expect more dolphin action as you chug out to the reef by launch from the beach area.
Accommodation Options
Day 5
WILPATTU
A change of atmosphere today as you drive north to Wilpattu, Sri Lanka's largest national park, where you'll spend two nights in a luxury safari camp.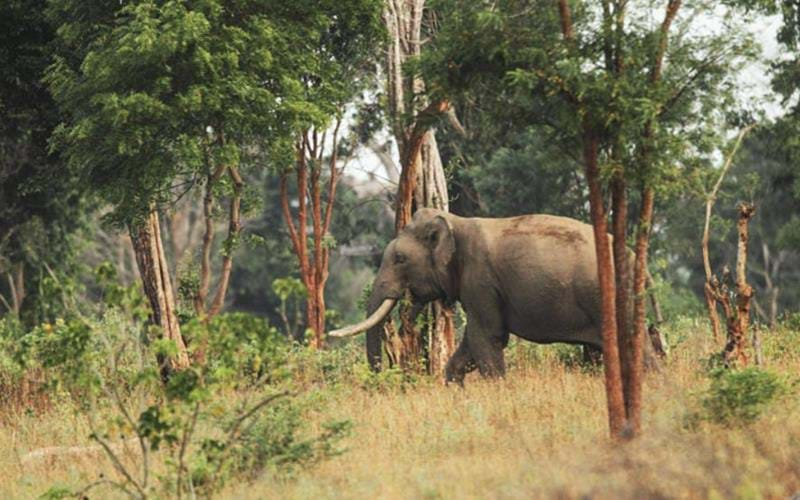 Wilpattu supports 31 species of mammal, including leopard, large herds of elephant, sloth bear, jackal, sambar deer, spotted deer, buffalo and jackal. Don't expect the same frequency of sightings as at Yala – populations are more spread out, and less used to people. This is, rather, somewhere to come to savour atmosphere of pristine jungle and the many freshwater lakes for which the area is famous. It's also a paradise for birdwatching, with endemic Ceylon jungle fowl, Ceylon grey hornbills, lesser adjutant storks and spot-billed pelicans among the resident rarities.
Accommodation Options
Day 6
WILPATTU
Two safaris in the park bookend the day: one early in the morning (departure at 5.50am sharp!); the other in the afternoon, starting around 3pm. Between times, relax back at camp on the terrace of your luxurious tent, or in one of the communal dining areas.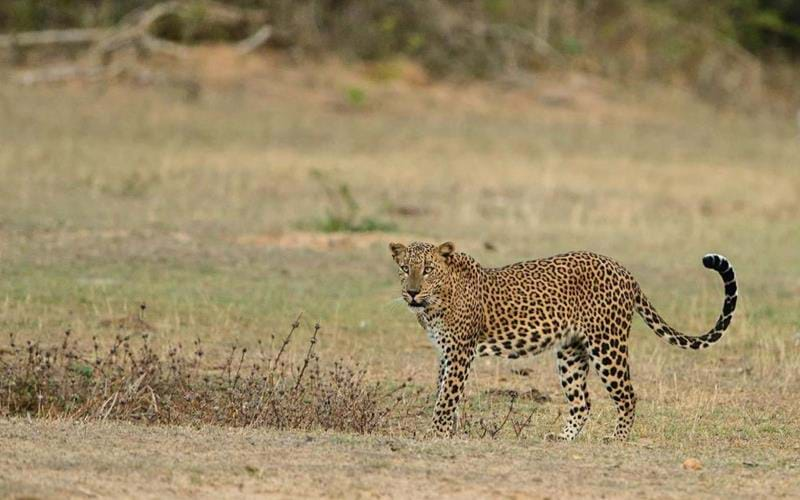 Safaris at Wilpattu are conducted in Toyota Landcruisers, and are accompanied by an expert local naturalist-guide. Along the way you'll pause for tea and tiffin, returning for an early lunch at 11.30am. Evening safaris last just a couple of hours. After driving back to camp you can enjoy a sundowner under the stars before supper, which is served at 8.30pm.
Accommodation Options
Day 7
MANNAR ISLAND
A relatively short drive today takes you north to Mannar Island – a long, slender presque-île joined to the mainland by a sandy causeway. Before arriving at your hotel you'll visit an animal sanctuary to see how abandoned donkeys are cared for by a local charity.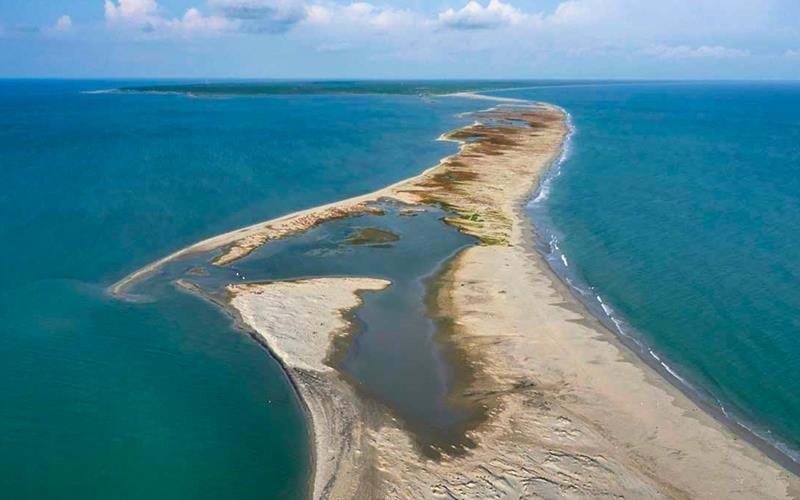 Crossing a dreamy seascape of low-lying marshland, sand bars and shallow, blue-green water, the journey over the causeway to Mannar is a memorable one undertaken by few foreigners. Look out for flocks of flamingos as you approach the island, which is something of a world apart from the rest of the country. It's replete with mythological associations, being one of the stepping stones over which Rama and Hanuman's monkey army marched to rescue Sita from the clutches of the demon Ravana in the Hindu epic the Ramayana.
Believed to have originally been introduced by Arab and Somali traders in the 15th century, donkeys are a distinctive feature of Mannar life. The sanctuary cares for stray animals who have been abandoned by their owners because they have fallen ill and are no longer able to work.
Accommodation Options
Day 8
MANNAR ISLAND
An early departure this morning for a sunrise bird-watching trip around Adam's Bridge – a chain of 16 sand islets stretching across the straits to India. In the afternoon, head out on a sightseeing excursion to Mannar town.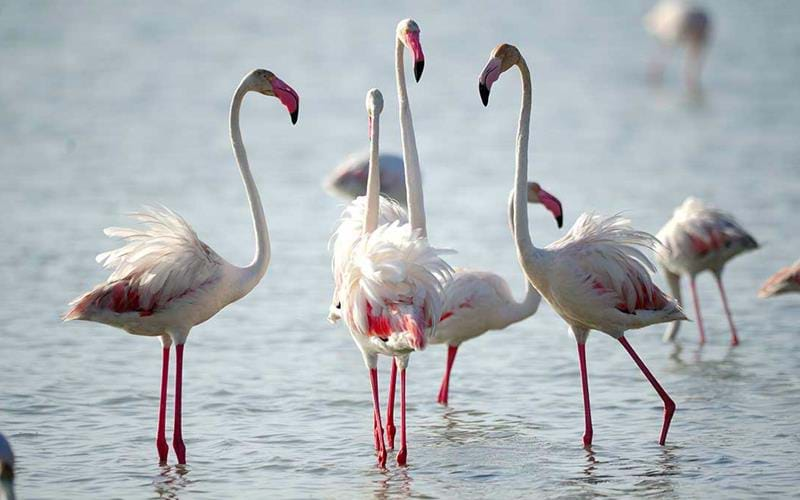 The vast open flood plains, salt marshes, mangroves and dunes of Mannar Island provide the perfect habitat for migratory birds. Flocks of pink and white flamingos are a highlight along with black-tail godwits, pintail ducks and white-bellied sea eagles.
Culture and history rather than nature take centre stage in the afternoon as you explore Mannar fort, built by the Portuguese 450 year ago. Another remnant of the island's pivotal role in the seaborne commerce of the Indian Ocean is a huge baobab tree – one of four planted by Arab traders several centuries ago, and a splendid sight still. A visit to an ancient Buddhist temple and Shiva shrine round off your tour of the town's historic landmarks.
Accommodation Options
Day 9
JAFFNA
After breakfast you'll begin a three-hour drive north to Jaffna – the predominantly Tamil capital of northern Sri Lanka. Visit the impressive Nallur Kandaswamy temple before lunch, before continuing on to Kurikadduwan Jetty later where you'll check in for your catamaran cruise.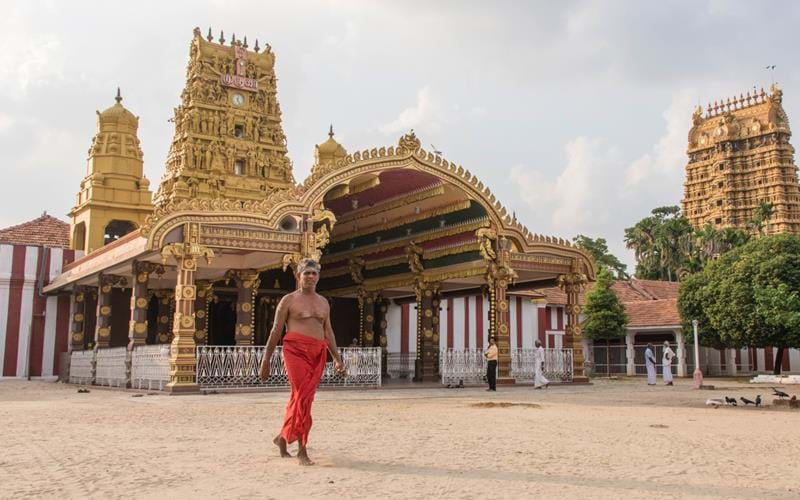 Dedicated to the God Murugan, Nallur Kandaswamy is Sri Lanka's largest and most revered Hindu shrine. Hundreds of visitors from the island and Tamil diaspora pour beneath its huge gopura tower every day, walking barefoot along ornately decorated walkways flanked by rows of gold-arched alcoves and an impressive ablutions tank to worship at the main sanctum. Most of what you see today dates from the 18th century, the Portuguese having destroyed the more ancient structure two centuries earlier.
Accommodation Options
Day 10
CRUISE
Begin your cruise in the morning with a trip across Palk Bay to Delft Island before a spot of wild swimming and another night on board.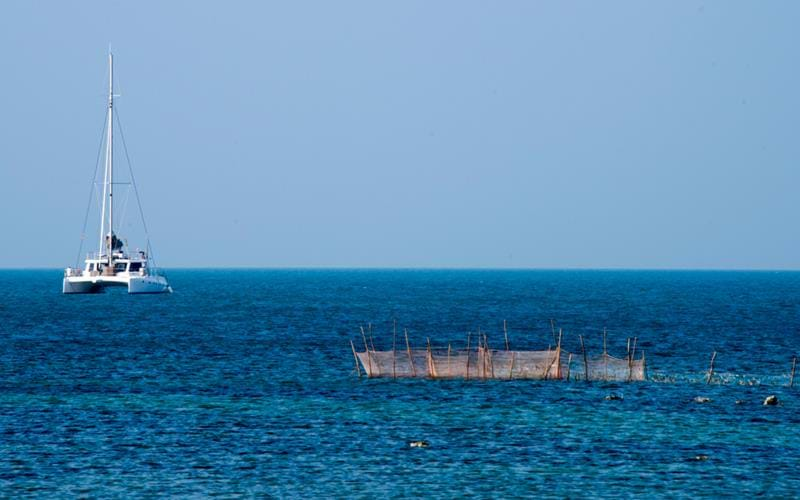 Delft Island, or 'Neduntheevu' in Tamil, is the largest and most interesting of the many islands off the Jaffna Peninsula. Low-lying and largely arid, it is ringed with coral sand beaches and bands of shallow, turquoise water. Chunks of coral were in centuries past used to construct the drystone walls that patchwork the rocky fields, where local people grow papayas and bananas. Your guide will lead you on a visit to an ancient Hindu temple and ruins of a Dutch fort. Along the way you may be lucky enough to catch sight of the feral ponies who also make Delft their home – descendants of animals brought to the island by its European colonizers. Round your visit off with a swim on a quiet beach before returning to the catamaran for supper.
Accommodation Options
Day 11
JAFFNA
In the morning you'll set sail for Jaffna, pausing at Nainativu Island to visit its famous temple. Once disembarked, your chauffeur-guide will transfer you to your hotel in Jaffna town where you can spend an afternoon relaxing by the pool.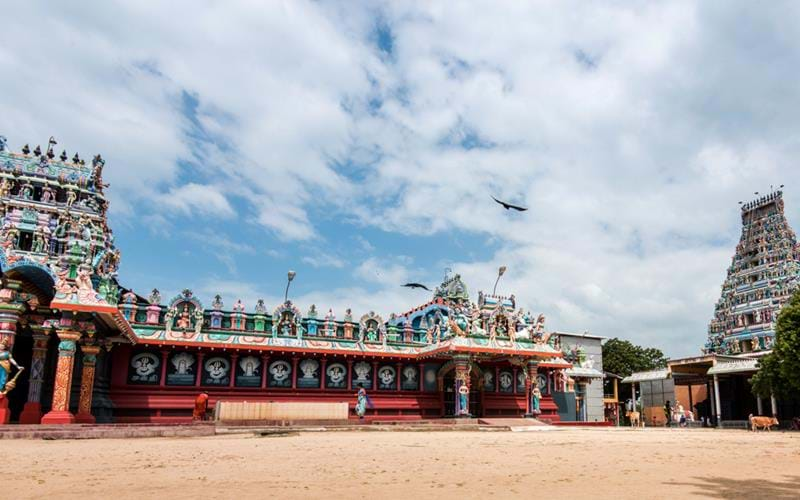 Dedicated to Shiva's consort Parvati, the Nainativu Nagapooshani Amman Temple occupies a prominent position in Tamil tradition. It was mentioned by Ptolemy and survived from antiquity until the Portuguese destroyed and looted it in 1620, whereupon it was rebuilt, only to be blown apart by the Sri Lankan army during the recent war. Today's structure is mostly of recent origin but is splendid nonetheless, with its four soaring, intricately decorated gopura towers.
Accommodation Options
Day 12
THIRAPPANE (ANURADHAPURA)
Spend the morning relaxing, perhaps venturing out before the heat builds to visit Jaffna's busy fresh product market, before transferring to the railway station in the afternoon for your journey south to the Cultural Triangle. On arrival in Anuradhapura, you'll be met by your chauffeur-guide and driven to your hotel, a 40-minute ride out of town.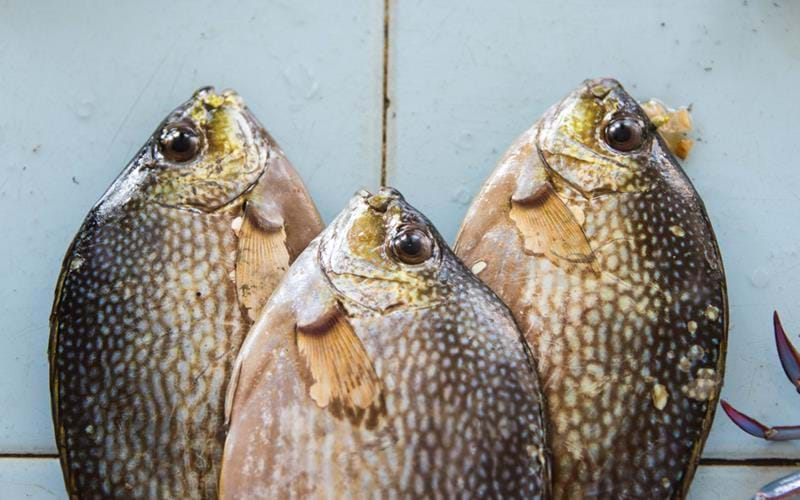 After being on the move for much of the day you probably won't wish to leave the confines of your gorgeous chalet, whose glass walls yield panoramic views over the lush grounds, green rice paddy and scrubland beyond. Look out for the resident monkeys and peacocks, along with the 70 species of birds and 100 types of butterfly who inhabit the gardens.
Accommodation Options
Day 13
THIRAPPANE (ANURADHAPURA)
In the morning, enjoy a visit to the remote and wonderful Thanthirimale temple, an hour's drive from your hotel, before a guided sightseeing tour of Anuradhapura, Sri Lanka's ancient capital.
Thanthirimale is the site of one of the oldest Buddhist shrines in Sri Lanka, carved from rock outcrop on the edge of an ancient village. It marks the site of one of eight sacred Bodhi trees believed to have been off-shoots of the original sapling brought to Sri Lanka by the first Buddhist missionaries island in the 3rd century BC. A splendid whitewashed stupa attests to the great sanctity of the spot, which lay forgotten and in ruins until the 1960s, when it was rediscovered and restored by a local monastic order.
Anuradhapura, which you'll visit in the afternoon, is one of Asia's great archeological sites – the remnants of a vast Sinhalese capital that endured for nearly a millennium from around 377 BC. The first Buddhist town on the island, it was formerly the home of the famous Tooth Relic, which was enshrined in what is now the Isurumuniyagala Monastery, a small but charming temple hollowed out of a dark, boulder-strewn hillock around a sunken water pool.
Today, Anuradhapura retains great appeal for both tourists and pilgrims. It is the sheer scale of its dagobas, or stupas, which impresses most. While Sri Lanka is dotted with these typically bell-shaped and whitewashed memorials, but the largest and most impressive are found here.
Accommodation Options
Day 14
NEGOMBO
After breakfast, check out and begin the last leg of your journey with a 3–4-hour drive to Negombo on the west coast, where you'll be spending your final night in Sri Lanka.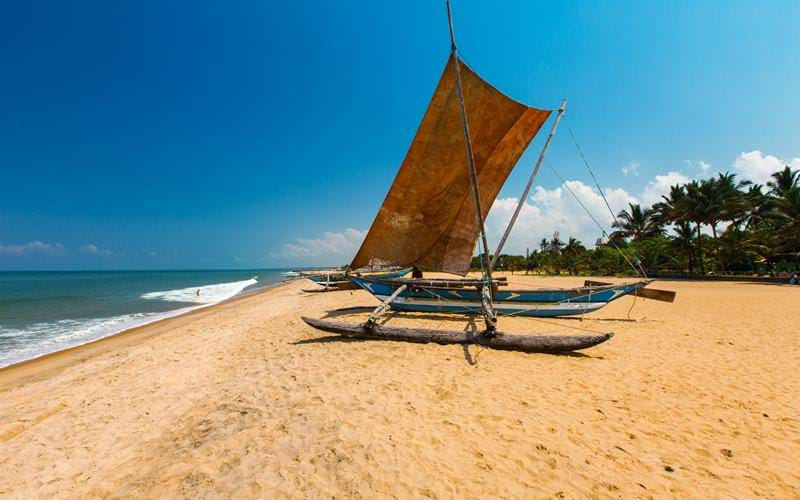 A short ride from Colombo's airport, Negombo is the closest resort to the international terminal and a convenient place to overnight before catching your flight home. The beach is at its most picturesque around sunset time, when local Karava fishermen mend their nets and prepare their boats ahead of night fishing trips. The strip of restaurants and cafés behind the beach, Lewis Place, is lively after dark and a great place to sample local seafood.
Accommodation Options
Day 15
UK
Transfer to the airport in the morning for your return flight to the UK.
Tailor-made Tour

15 days from £3995 per person
What's included
✓  International flights from London
✓  13 nights accommodation
✓  Overnight cruise
✓  All internal transportation and transfers
✓  English-speaking chauffeur-guide
✓  Breakfast daily
✓  Entrance fees to sites and monuments listed in tour itinerary
Places and Experiences in this tour
Plan your Next Adventure
With the world now largely open again, now is the time to begin planning your next adventures in Asia. Our Travel Specialists are ready to take your call and discuss the adventure you have spent the last 3 years dreaming of.
Or call us on 0208 566 3739
TransIndus Brochures 2023
Join our mailing list