Tailor-made Tour

14 days from £3425 per person
Places Visited:
Hanoi, Halong Bay, Hue, Hoi An, Mekong Delta, Ho Chi Minh City
Experience the unique flavours of Vietnamese cuisine on this food-focused, two-week tour. It follows the classic north–south route from Hanoi to Ho Chi Minh City (Saigon), via Halong Bay, Hué, Hoi An and the Mekong Delta, but in addition to visiting the must-see sights in each location, you'll also be guided through their respective culinary highlights.
The dishes you'll encounter range from intricate delicacies served in the former royal palaces to flavour-packed noodle bowls dished up to hungry office workers. You'll dine both in über-hip rooftop restaurants and hole-in-the wall cafés, seated on the decks of suave cruise liners gliding beneath the karst stacks of Halong Bay and on low plastic chairs in the back alleys of crowded market districts.
Throughout, the keynote is 'authenticity' because as with most other Asian countries, the tastiest, most refined food is not necessarily always to be found in the top hotels! With our local experts to guide you, rest assured that all the tasting stops and eateries featured serve freshly prepared, hygienic food, representing the cream of Vietnam's regional cuisine.
You'll be staying in luxury hotels and travelling in comfortable, chauffeur-driven vehicles (except where we suggest you jump in local cyclos to penetrate narrower backstreets). For anyone with a keen interest in food and cooking, this itinerary offers the best possible mix of experiences attainable in a fortnight of travel in Vietnam.
Holiday Types
Cultural Tours
Suggested itinerary
Day 1
UK
Fly overnight from the UK to Hanoi.
Day 2
Hanoi
On arrival at Hanoi's Noi Bai Airport, you'll bet met by your TransIndus representative and escorted to your hotel in the city's old quarter, where you'll be staying for two nights. Having recovered from the journey, enjoy a wander through the streets around your hotel, which was once a district devoted to boat building, but which is now a lively commercial area full of typical Vietnamese cafés, restaurants and little tailors' shops.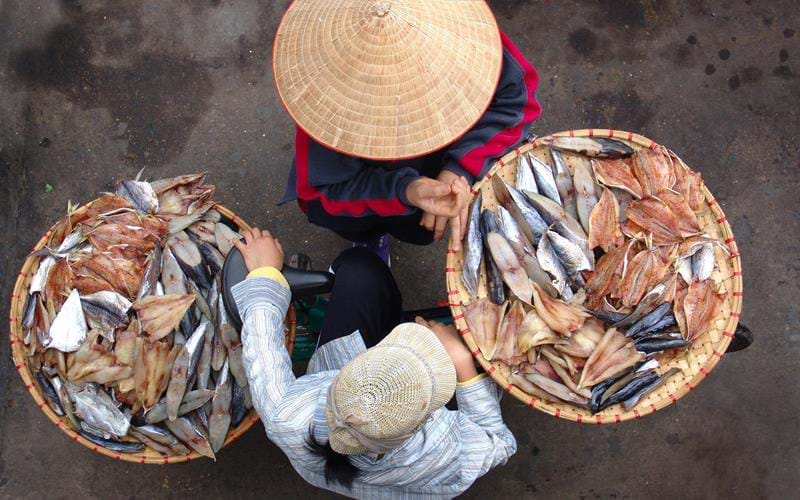 Sometimes referred to as the '36 Streets', Hanoi's Old Quarter teems with life: '36' refers to the number of crafts guilds that arose over the centuries in the neighbourhood, and many survive here today. Highlights include the vibrant paper votive offerings on sale along Hang Ma Street, and the shops selling freshly ground coffee and local sweets on Hang Buom. As the shadows lengthen, cross the red-painted Huc, or 'Sunbeam Bridge', on Hoan Kiem Lake to visit the delightful Turtle Temple – the best place in the city for sunset – before catching a performance of traditional puppetry at the nearby water theatre.
On the way back to your hotel, why not try a bowl of spicy hot 'pho' from one of the old quarter's traditional hole-in-the-wall vendors.  Slippery rice noodles steeped in a flavoursome broth with flakes of slow-cooked beef, the dish is the quintessential Hanoi pick-me-up. It is typically served with handfuls of zingy, fresh herbs and a squeeze of lime, seated at low tables in the street. 
Accommodation Options
Day 3
Hanoi
If you feel up to a spot of sightseeing after breakfast, our recommended option would be a trip to Ho Chi Minh's mausoleum, followed by a visit to the Temple of Literature. Later, head into the bustling city to sample some of its most famous dishes and favourite Vietnamese eateries, guided by an expert local foodie.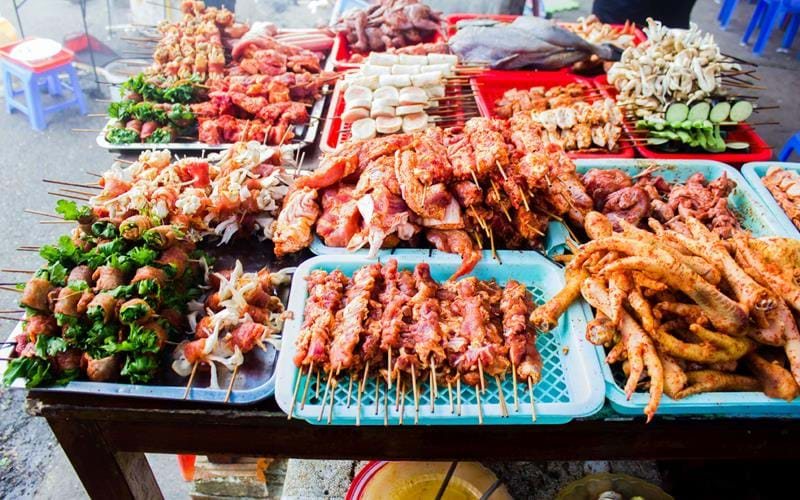 Set amid a maze of formal gardens and fig trees, the Temple of Literature is a particular delight in the morning, when you might see local students dressed in embroidered silk ao dai dresses praying for good exam results at the shrine of Confucius. The nearby Mausoleum of Ho Chi Minh, which houses the embalmed body of the former president, is an altogether more imposing edifice built of polished grey marble in the 1970s. Armed troops in crisp white uniforms perform a striking 'Changing of the Guard' ceremony in front of it – a spectacle as definitive of Hanoi as the comparable ritual at Buckingham Palace is for London.
Beginning at around 5pm, your evening street food tour features the most illustrious of Hanoi's local dishes. You'll be travelling by open-top Jeep. First stop will be the tiny restaurant where Barack Obama famously ate a plate of 'bun cha' in 2016, washed down with cold Vietnamese beer drunk straight from the bottle! You'll be able to order an identical meal, comprising rice noodles and strips of pork marinated in lemongrass and garlic. Next up is a café specializing in 'banh cuon', steamed rice-flour pancakes filled with a deliciously spicy stuffing.
Accommodation Options
Day 4
Hanoi - Halong Bay - Lan Ha Bay
Re-join your car and driver in the morning for your journey to Tuan Chau Marina, where you'll be transferred by speedboat to your cruiser on Halong Bay.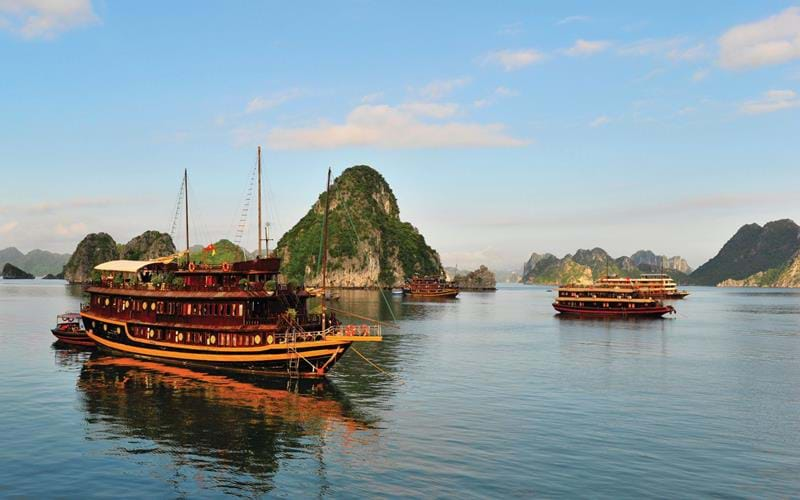 First highlight of the cruise will be lunch on board, served in a light, airy restaurant affording 360-degree views across the water. Afterwards, relax on deck in the infinity pool or at the spa as the boat chugs through an otherworldly landscape of karst limestone stacks and islets en route to Lan Ha Bay, one of Halong's quieter and most picturesque corners. Many of the islands you pass are fringed by exquisite white sand beaches, among them Cat Ba, where you'll hop on to a bicycle or electric buggy for a tour of local fishing and farming villages, set deep in a zone of protected forest.
Back on board, there should be time for a tea tasting class or spa treatment before the boat moors up for the night. Later, savour the magnificent landscape of Lan Ha Bay by moonlight from a recliner on deck, cocktail in hand.
Accommodation Options
Day 5
Lan Ha Bay
Continue your cruise today with a more in-depth exploration of Cat Ba's unique landscapes and habitats. Most of the island is designated as a national park, hosting an extraordinary 1,500 species of plant, 39 mammals and 78 species of birds, as well as three-hundred local families.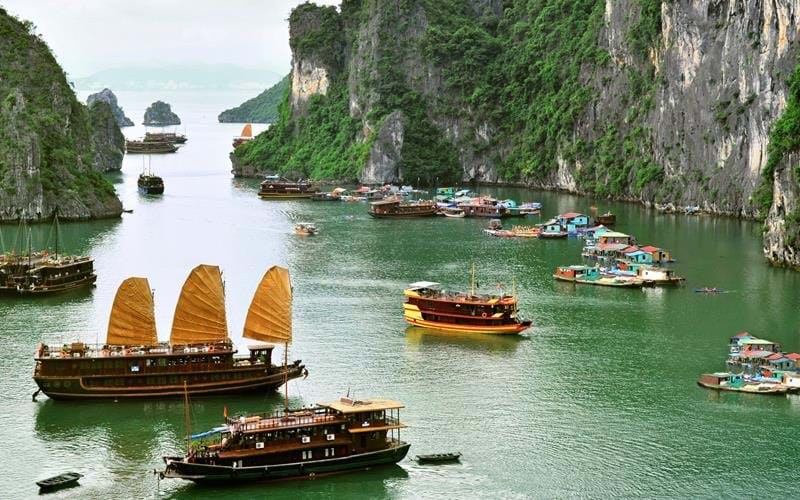 At the southern tip of Cat Ba Island, your cruiser will stop for a shore visit to Ben Beo village, where fisher families live in floating houses. Later, you'll have a chance to stretch your legs with a guided walk through the old-growth forest of the national park. Alternatively, remain on board for a spa treatment or al fresco Tai Chi session.
From midday, the boat will chart a course back across the labyrinth of islets and limestone stacks of Lan Ha Bay, eventually mooring at a secluded spot for passengers to kayak to a nearby beach for a swim and sunbathe. In the early evening, a food carving demonstration will be held at the restaurant, followed by an optional 'Tibetan singing bowl' ceremony in the wellness centre. Later, enjoy the serenity of the bay from the seclusion of your private balcony.
Accommodation Options
Day 6
Lan Ha Bay - Hue
Start your final morning on board with a pot of Vietnamese coffee and dip in the ocean from the cruiser's swimming platform. After breakfast, disembark and transfer to the airport for your onward flight to Hué, where you'll be spending two nights.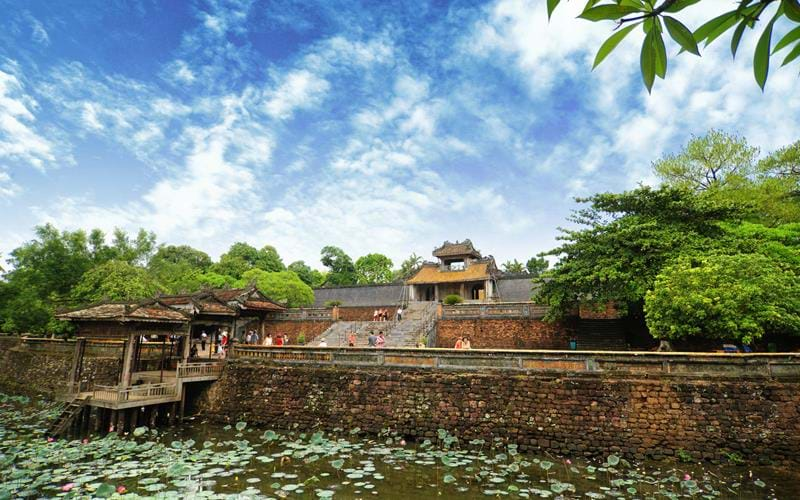 One of the finest historic monuments in Southeast Asia, Hue's Imperial City was where the Ngyen Emperor, his Queen and five ranks of concubines, servants and eunuchs resided amid fabulous pomp in the 19th century. Open courtyards and lawns divided the various buildings, which are all richly decorated and surmounted by beautiful glazed tile roofs. Some of the rulers who resided in it are entombed in suitably extravagant mausolea on the outskirts of town, around the banks of the Perfume River, where the tombs of Tu Doc and Khai Din are the standout monuments.
Spend your first evening exploring the backstreets and waterfront of the Perfume River near your hotel, and relaxing by the pool.
Accommodation Options
Day 7
Hue
Enjoy a guided sightseeing tour of old Hué in a traditional cyclo, followed by a visit to the great Imperial Palace complex. The tour winds up at the beautiful Thien Mu Pagoda, Hué's best preserved religious monument. In the evening, visit the home of renowned local chef, Mme Nhu Huy, to learn how to prepare a dish much loved by members of the former ruling dynasty, from whom your host is a direct descendent.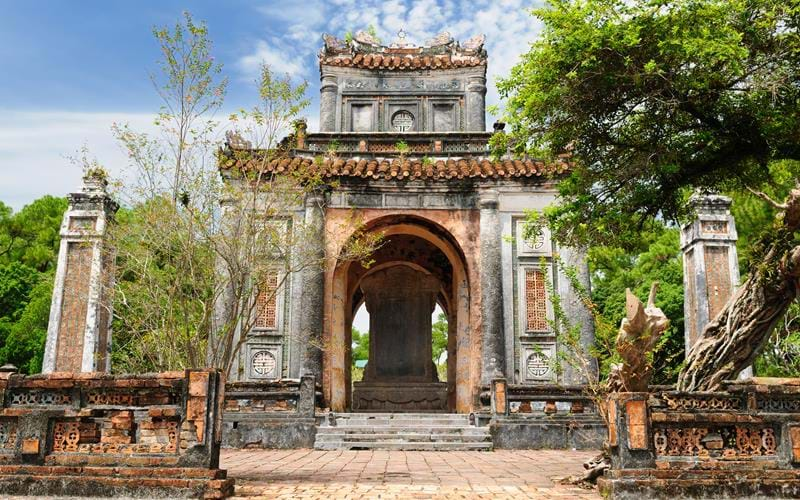 Drawing on a rich combination of flavours derived from sesame, lemongrass, galingale and shrimp, the dish you'll be preparing with Mme Nhu Huy involves a mixture of frying, steaming and braising. A member of the local royal family, your host has spent her lifetime researching and reviving forgotten recipes from the Ngyen court and this will be a unique opportunity to learn about the gastronomic tradition that held sway in Hué in the 19th century.
The era's architectural legacy will form the focus of your sightseeing tour earlier in the day, which begins in a typical local cycle ride through the streets of the old town and concludes with visits to some of the finest surviving royal palaces and pagodas rising from the banks of the Perfume River.
Accommodation Options
Day 8
Hue - Hoi An
Re-join your car and driver after breakfast for your journey by road to Hoi An. Taking around three hours, it ranks among the most spectacular road trips in Vietnam so expect regular photo stops along the way. Having checked in to your hotel and enjoyed a light lunch, spend the remainder of the day relaxing by the pool and exploring old quarter at your own pace.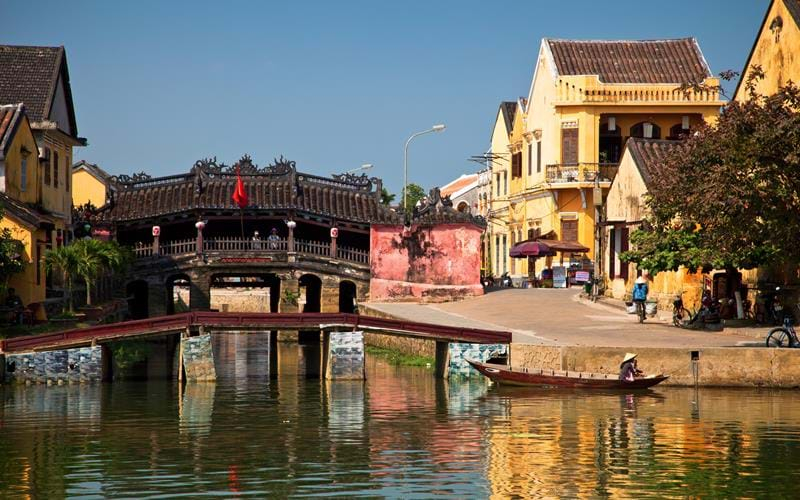 A thriving port before it was eclipsed by nearby Danang, Hoi An's Old Quarter preserves a unique cultural legacy spanning more than three-hundred years of colonial trade. Wandering its grid of 17th-century streets, you'll pass some fine examples of old tube houses, Chinese pagodas, elaborately decorated community halls and shrines, and a wonderful Japanese covered bridge, as well as a restored French enclave. After sunset, savour the traditional Vietnamese atmosphere of the riverfront and market district, or shop for locally made art, crafts and silk, displayed in numerous boutiques around the backstreets. Hoi An's traditional tea shops and restaurants are particularly good places to sample local 'cau lau' noodles and white-rose dumplings.
Accommodation Options
Day 9
Hoi An
Hoi An's narrow lanes are best explored on foot, and most of the morning of your ninth day will be taken up with a walking tour of the old quarter, guided by a local expert. Lunch will be at a restaurant acclaimed for its regional specialities.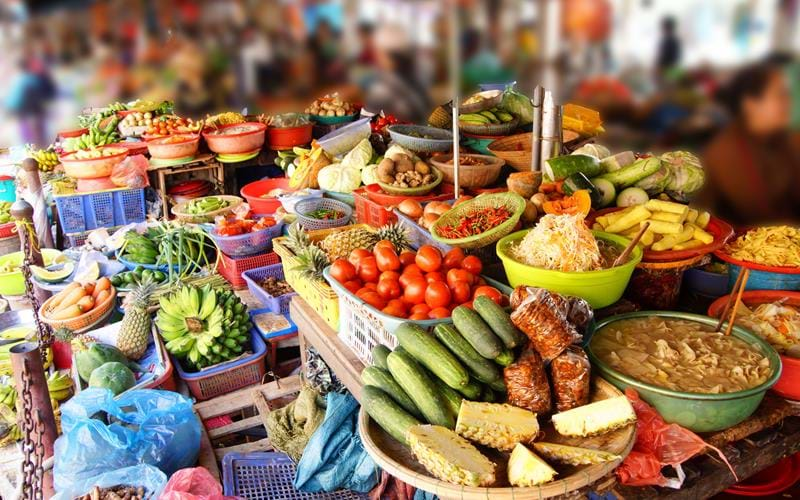 Hoi An's rich mercantile legacy is clearly discernible in its antique buildings, which reveal influences from across the late-medieval world, when it formed a lynchpin in the international sea trade with China. In the course of your guided exploration you'll visit an exquisitely decorated Chinese Assembly hall, a number of elegant merchants' houses bearing influences from as far afield as India and Portugal, and a covered bridge built by Japanese craftsmen in the 17th century. The trade in silk that made the town rich also retains a high profile, in the form of numerous textile and tailoring shops where you can choose your cloth and have garments made to measure in a matter of hours.
In the evening, we recommend taking a stroll across the bridge to An Hoi islet, whose riverfront is lined by bars serving a refreshing local lager, 'bia hoi', brewed fresh each day. You can sip and watch the fishing boats chugging in and out of the harbour. Later, tuck into a plate of charcoal-grilled pork, chicken or shrimp at one of the stalls in the riverside food market. The meat is cooked on skewers then rolled in rice paper and dipped in spicy peanut sauce and sesame seeds – scrumptious!
Accommodation Options
Day 10
Hoi An
In the morning, join other guests at your hotel for a guided tour of Hoi An's culinary hotspots, culminating with an introduction to local cuisine from food expert, Neville Dean.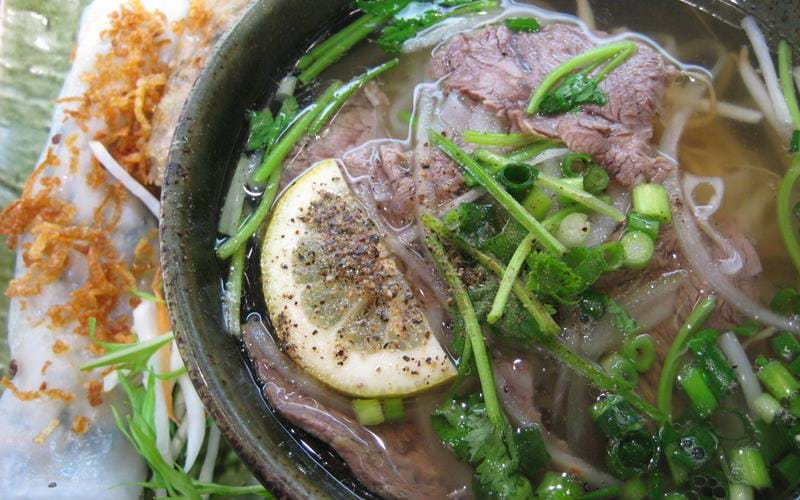 Hoi An's cultural makeup is vividly reflected in a distinctive culinary tradition, which you'll experience first hand on this food-focussed tour of the old quarter. Standout dishes include 'white rose dumplings', 'nun thit nuong' steeped in rich satay sauce and, most typical of all, 'cao lau' noodles, which are prepared in lye water drawn from a secret source on the outskirts of town, then tossed with rice crackers, fresh herbs and spices to create a wonderfully flavoursome, hearty meal. Needless to say, you should limit yourself to a very light breakfast, saving your appetite for the morning's tour.
Spend the afternoon working off the calories at the hotel pool or cycling around Hoi An's rural hinterland. Trips to the nearby beaches may also be arranged if desired (additional costs would apply).
Accommodation Options
Day 11
Hoi An - Can Tho
Most of today will be free for you to relax or explore the town and surrounding area at your own pace. Those wishing to deepen their understanding of the region's history and culture may venture inland to explore what remains of ancient My Son, a complex of beautiful ruined Cham temples. In the evening, transfer to the airport for your onward flight to Can Tho.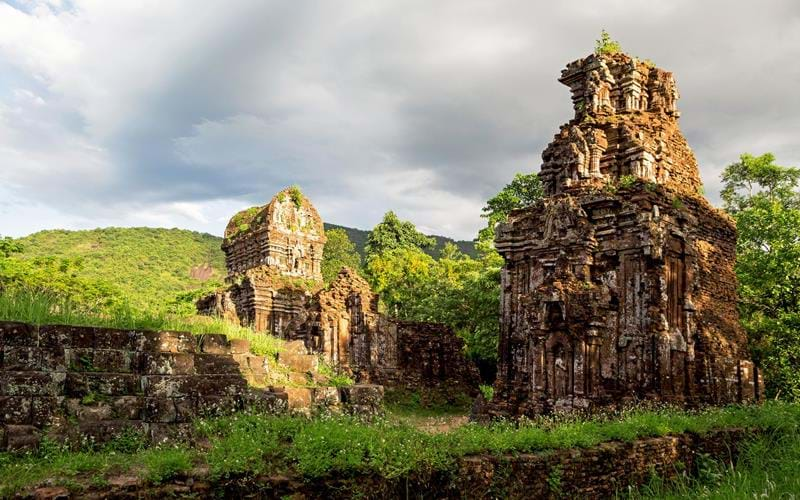 Set in a pretty valley enfolded by forested hills, My Son's ruins are all that's left of a once thriving city built by the Cham Dynasty between the 4th and 14th century. The site is today classed as a World Heritage Monument by UNESCO, and ranks among the most evocative archaeological complexes in Southeast Asia.
It was originally made up of 70 structures, although only around 20 remain intact today (the rest having fallen prey to American carpet bombing in 1968). They include tall sanctuary towers, or 'kalan', adorned with decorative brickwork and exquisite sculpture depicting Hindu deities, celestial nymphs (apsaras), dancing girls, demons and musicians. The figures exhibit traits drawn from both Javanese and Indian tradition.
An excursion to My Son can comfortably be slotted into this itinerary, leaving plenty of time for the airport transfer in the evening, though please note that additional charges will apply. Ask your consultant for more details.
Accommodation Options
Day 12
Can Tho - Ho Chi Minh City
Enjoy a cruise around the Mekong Delta region in the morning by sampan, starting with Can Tho's 'floating market', which attracts traders and shoppers from across the region. Later, re-join your driver and vehicle for the short drive to Saigon, where you'll be staying for two nights. Having checked in, head out into the hustle and bustle for our popular 'Saigon Street Eats' tour.
Known as 'Vietnam's Rice Bowl', the Mekong Delta is one of the most intensively farmed, densely inhabited regions in Asia. Mile upon mile of lush paddy fields carpet the flat landscape, lined by fruit orchards and coconut groves. Chugging along the waterways in a traditional sampan ('song xanh') boat is a great way to experience rural life in the region. You'll see field workers in conical straw hats hunched over rice paddy; houseboats piled high with cargoes of pink dragon fruit; and children sluicing water over their buffaloes in the morning, or pedalling home from school later in the day.
The great ethnic diversity of the Delta is reflected in the rich architectural heritage of towns such as Can Tho, many of whose inhabitants live crammed into houseboats on the river, or in stilt houses perched above it. The selection of food and drink on sale at the local markets is astonishing. Vendors advertise their wares by stringing them to the tops of long poles. Shoppers chug around in smaller boats, tasting the produce, haggling over the prices and enjoying tasty snacks cooked and served on the water.
Our 'Saigon Street Eats' tour offers a great introduction to the culinary life of Ho Chi Minh City. After meeting your guide at a local coffee shop, you'll join the queue at a famous 'banh mi' joint to taste the best roast pork sandwich in the city, followed by supper at a café serving the definitive 'banh cuon' (steamed rice flour crêpe filled with pork). Be sure to save some room for dessert of delicious 'chuoi nep nuoung' (grilled banana with coconut milk) at the third and final stop of the evening.
Accommodation Options
Day 13
Ho Chi Minh City
Enjoy a full day's sightseeing in Ho Chi Minh City today in the company of your TransIndus guide.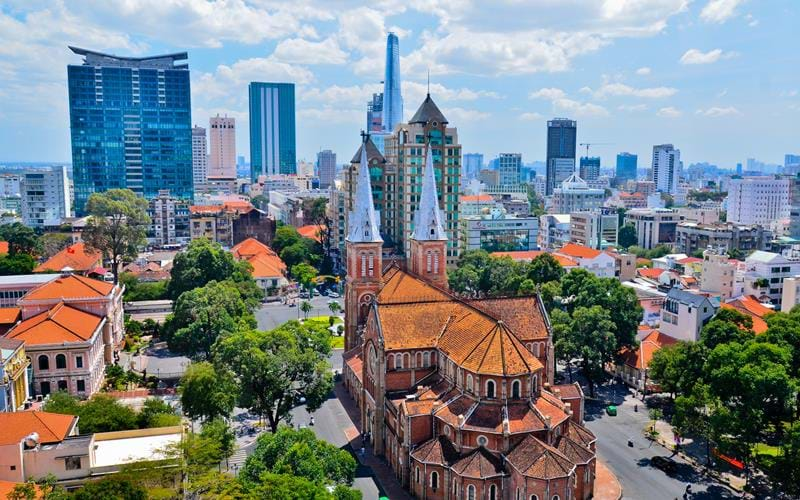 As 'Saigon', Ho Chi Minh City earned the epithet 'Paris of the Orient', and more than a hint of Gallic grandeur survives in the swanky Dong Khoi district (setting for Graham Greene's novel, The Quiet American). Visit the beautiful Jade Emperor Pagoda, with its array of gilded Buddhist and Taoist deities, then wander around the atmospheric Cholon quarter, whose markets are brimming with silk, spices and jade souvenirs. Other landmarks featured on your tour include the former Presidential Palace, Opera House and Salon Saigon, a hip new art space. You'll also explore Chinatown and FITO, a museum dedicated to traditional medicine. As ever, the precise makeup of your city sightseeing tour will be fixed after discussing your priorities and interests with one of our experts.
In the evening your guide will join you for a 'farewell supper' at Ngon, a restaurant set up like a local food market serving specialities from many different regions of Vietnam.
Accommodation Options
Day 14
Ho Chi Minh City - UK
Spend your final morning in Vietnam packing and, time permitting, getting in some last-minute souvenir shopping before your transfer to the airport, where you'll catch your return flight to the UK.
Tailor-made Tour

14 days from £3425 per person
What's included

✓   International flights from London
✓   12 nights accommodation
✓   All internal transportation and transfers
✓   English-speaking guides
✓   Breakfast daily, all meals mentioned in itinerary
✓   Entrance fees to sites and monuments listed in tour itinerary
Places and Experiences in this tour
Plan your 2022 Adventures
With the world now largely open again, now is the time to begin planning your 2022 adventures in Asia. Our Travel Specialists are ready to take your call and discuss the adventure you have spent the last 2-years dreaming of.
Or call us on 0208 566 3739
TransIndus Brochures 2022
Join our mailing list