Tailor-made Tour

16 days from £2495 per person
Places Visited:
Mysore, Ooty, Madurai, Chettinad, Thanjavur, Tranquebar, Puducherry, Mamallapuram
Revolving around colonial trading centres on the coast and the great Chola temples of Madurai and the Kaveri Delta, this culturally rich tour takes you through a succession of fascinating towns and cities before winding up with a relaxing spell on the beach at Mamallapuram – itself a UNESCO-listed World Heritage Site, thanks to its array of ancient Pallava shrines, chiselled from the villages giant granite boulders. You'll also spend time in atmospheric Mysore, experience the cooler climes of Ooty, with its tea plantations and famous narrow-gauge railway, and get to stay in a succession of authentic heritage properties dating from the colonial heyday of the 18th and 19th centuries.
Holiday Types
Cultural Tours
Suggested itinerary
Day 1
UK
Fly into Bengaluru (Bangalore) on a direct service from London Heathrow.
Day 2
Bengaluru, Mysore
On arrival, you'll be met by your TransIndus driver and guide and transferred to Mysore, where you'll stay for two nights. Spend the rest of the day recovering from your journey, perhaps venturing out to explore the neighbourhood around your hotel in the evening.
Mysore, or 'Mysuru' as it was recently re-dubbed by the Karnatakan government, is popularly known as the south's 'city of culture' thanks to its profusion of palaces and arts and crafts workshops – a legacy of its status as capital of the Wadiyar dynasty, who ruled the region until 1956. Aside from several extravagant royal palaces and temples, the city holds a particularly atmospheric market, and hilltop temple complex. It's also a great place to sample traditional South Indian cuisine.
Day 3
Mysore
A full day's sightseeing today in Mysore and nearby Srirangapatnam, former island capital of Tipu Sultan.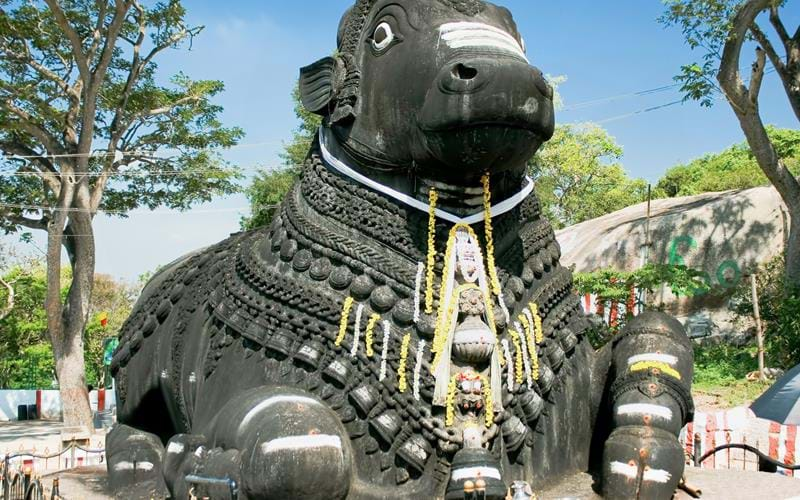 Mysore is dominated by its grandiloquent Maharaja's palace, a building designed in a surreal combination of architectural styles. Beneath its gilded domes, a lavishly decorated interior holds two durbar halls, dozens of royal apartments and temples. On Sundays, the exterior is festooned with thousands of light bulbs – a great photo opportunity. Photographers will also enjoy the city's open-air market, where sandalwood incense and kunkum powder are local specialities.
On an island in the Kaveri River, Srirangapatnam was the site of the region's capital for more than seven centuries, until the defeat of Tipu Sultan by the British in 1799. Tipu's summer palace, Daria Daulat Bagh, and the dynastic tomb complex, Gumbaz, hold some of the loveliest buildings in south India.
Day 4
Ooty
Drive to Ooty in the morning for an overnight stay, visiting the Botanical Gardens in the afternoon.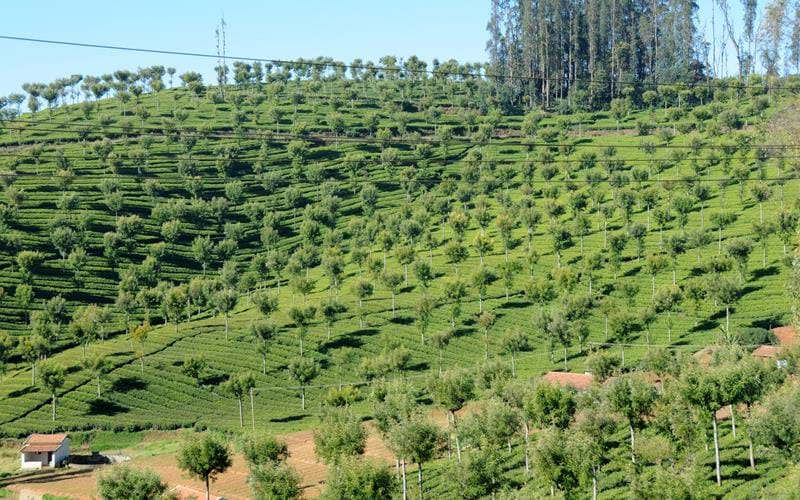 Located high in the Nilgiri Mountains, Ooty was developed by the British as a hill resort in the early 19th century, when it became the summer capital of the Madras Presidency. Its mild, subtropical climate makes it a perfect place for growing plants from a wide range of climatic zones, as you'll see in the famous Botanical Gardens, whose collection is dispersed over 55 acres of lush, terraced slopes and mature woodland.
Accommodation Options
Day 5
Madurai
Enjoy a ride on the Nilgiri Mountain Railway to Coonoor in the morning before continuing on by car to Madurai in the afternoon.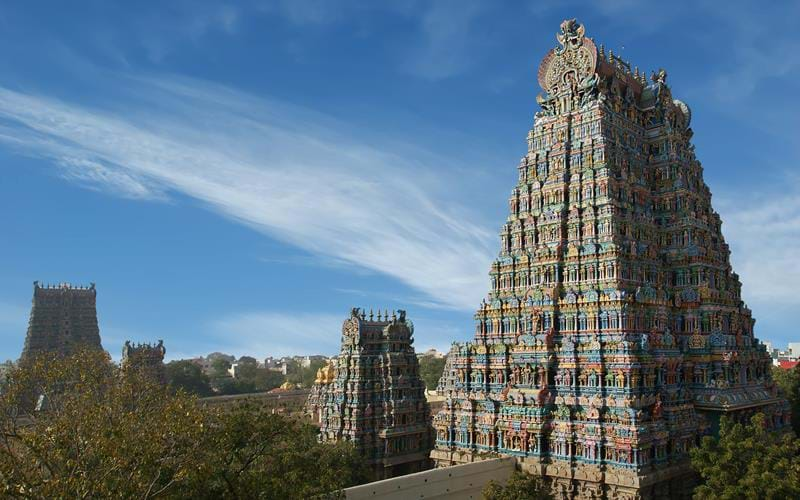 For sheer visual impact, no Hindu temple in South India can match the Meenakshi-Sundeshwarar in Madurai. The temple's gigantic, multi-coloured gopura towers soar 46m above the city's streets, writhing in stucco figures of gods and mythical monsters. Below, a labyrinth of richly carved pillared halls, colonnaded walkways and interlocking courtyards host a never-ending round of rituals.
Although now a sprawling modern city with a population of over one million, Madurai, with its lively covered bazaars and traditional udipi restaurants, remains one of India's undisputed highlights.
Accommodation Options
Day 6
Madurai
Visit the UNESCO-listed Meenaakshi-Sundeshwarar Temple in the morning, followed by the 17th century Thiruvamalai Nayaka Palace. In the afternoon, drop in at a Vedic school for Brahmin boys to watch the young students learning Sanskrit chants by rote, before returning to the temple again in the evening.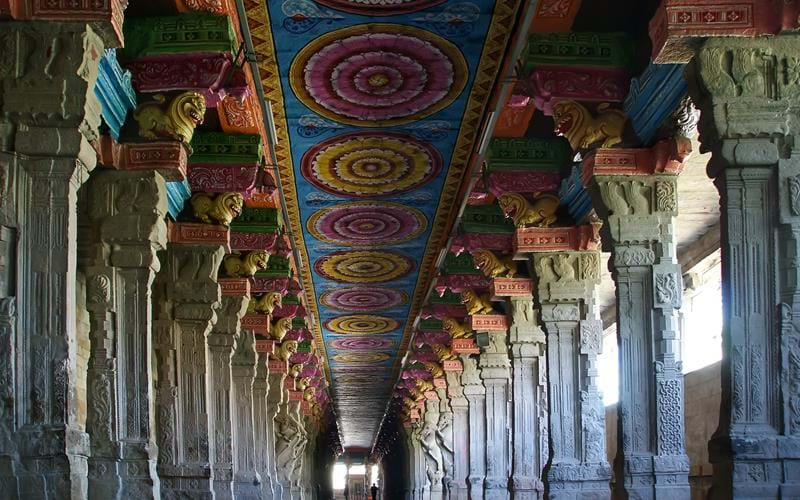 A repository of learning and ritual for over two-and-a-half millennia, Madurai's Shri Meenakshi-Sundeshwara temple forms the spiritual heart of the city, its huge gopura gateway towers dominating the skyline and surrounding countryside for miles. One of the largest of towers was erected by the Nayak Dynasty, whose splendid Thiruvamalai Palace, with its grand courtyard and pillared dance hall, are among the region's finest surviving architectural treasures.
Accommodation Options
Day 7
Chettinad
Drive to the Chettinad region, a couple of hours north of Madurai by road, for a two-night stay in a heritage property.
Chettinad's caste of traders and moneylenders, the Nattukotai Chettiyars, grew wealthy in the 19th century, when they amassed vast fortunes in the British colonies of Burma, Ceylon and Indochina. The scale and sophistication of the mansions they built back in their homeland stand as testaments both to their business acumen and changing fashions in architecture. While outwardly following the European trends of their day, the houses adopted more familiar, traditional designs indoors. Also of interest in Chettinad are ranks of large, terracotta horses, bulls and elephants standing guard on the outskirts of villages. Made of painted terracotta, the figures are offerings to the local protective deity, Aiyanar. Your guide will show you some of the best collections in the area.
Accommodation Options
Day 8
Chettinad
Explore this fascinating region in the company of your TransIndus guide, visiting a selection of mansions from different periods, as well as crafts workshops and shrines to local folk deities.
Dotted over a landscape of palm groves and rice paddies amid the plains of southern Tamil Nadu, Chettinad's mansions cut incongruous forms, with their turreted walls, ornate parapets and ostentatious arched gateways rising grandly above the surrounding rooftops. Inside, polished stone and teak pillars frame courtyards paved with expensive Italian tiles, while Belgian crystal chandeliers gleam overhead and ranks of protective Hindu deities gaze beneficently down from elaborately decorated wall niches. Almost as surprising as the survival of these beautiful antique buildings is the fact most of them remain empty, the descendants of their original owners having long since emigrated overseas.
Accommodation Options
Day 9
Thanjavur
Drive north to the city of Thanjavur, former capital of the Chola Dynasty, where you'll spend one night. After checking in to your hotel, visit the magnificent Brihadeshvar Temple.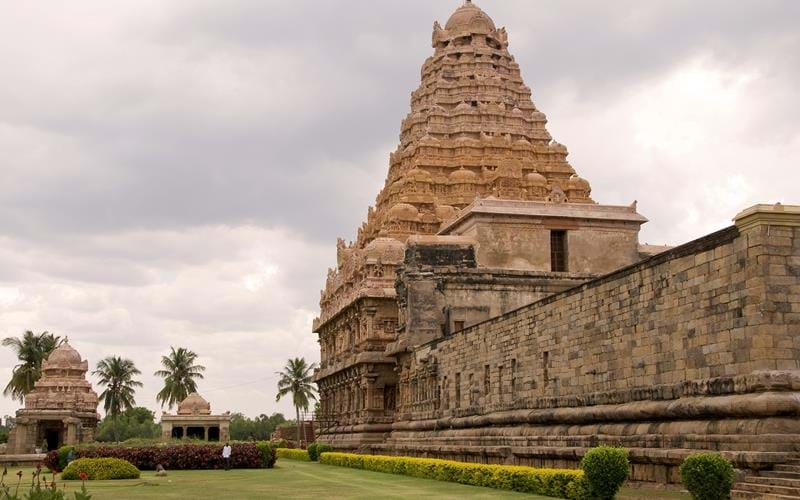 Completed in 1010AD, Thanjavur's great Chola shrine recently celebrated its 1000th birthday. Its construction marked the apogee of Chola power and reflects the engineering prowess and artistic genius of the period. The shrine's defining feature is a giant, richly carved sanctuary tower. Measuring 61m (200ft) from base to crown, the vimana is capped with an 80-tonne dome of solid granite that required 7-mile-long ramp and team of elephants to install. The complex is set in pleasant gardens and is floodlit after dark – a spellbinding spectacle.
Accommodation Options
Day 10
Tranquebar
Visit Thanjavur's museum in the morning before continuing east across the Kaveri Delta in the afternoon, pausing to see the temples at Kumbakonam en route to the former Danish trading post of Tranquebar.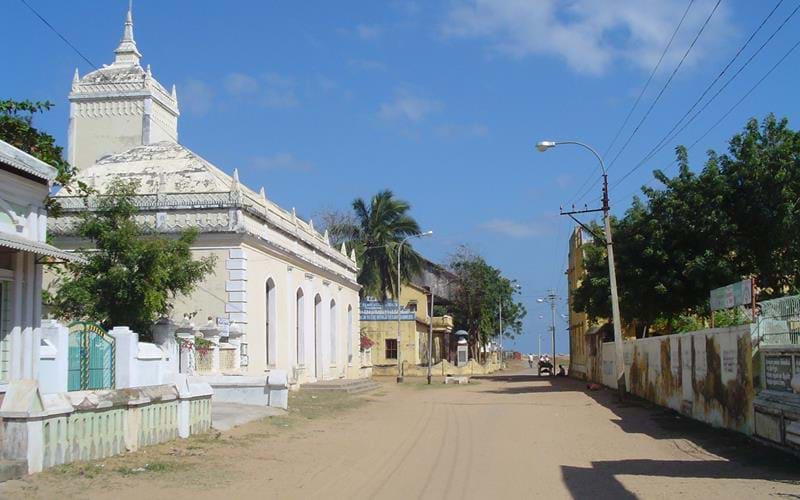 The former Danish colony of Tranquebar (a corruption of its original Tamil name, Tarangambadi) was founded in the 1620s as a 'factory' for trading pepper and cloth. Aside from a crumbling fort and a couple of Lutheran churches, the only surviving reminder of this forgotten era is a beautifully restored heritage hotel called the Bungalow on the Beach, located, as its name suggests, a stone's throw from the churning surf of the Bay of Bengal. Full of period atmosphere, it makes a delightful base from which to explore the temples and other religious sites of the Kaveri Delta.
Accommodation Options
Day 11
Tranquebar
Explore the former Danish colony on foot in the morning, visiting the colonial-era fort and 700-year-old Masilimani Nathar Temple.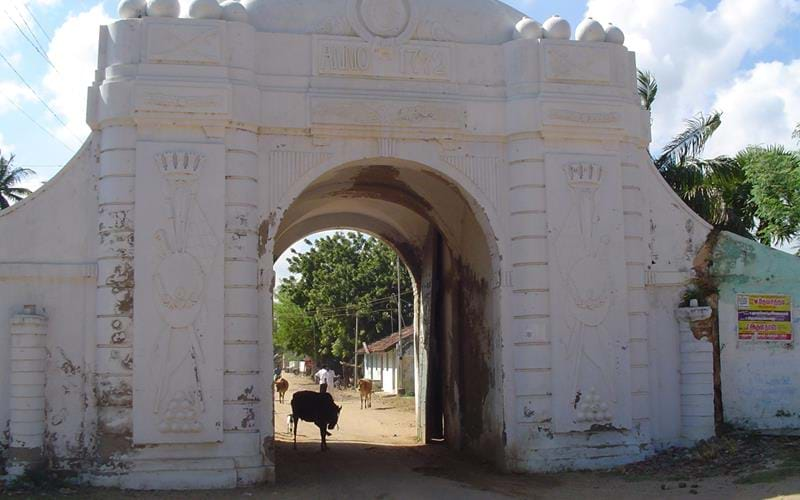 The weather-beaten Danish fort holds a small museum with an interesting collection of artefacts relating to European trading activity in the area. Nearby, the Masilimani Nathar temple appears to be literally crumbling into the flood defences. It dates from the Pandyan era of the early 14th century and has a unique, Chinese-influenced design, which archaeologists believe may have been chosen to attract passing Chinese ships.
Accommodation Options
Day 12
Puducherry (Pondicherry)
Drive to Puducherry today, pausing at Chidambaram to visit its huge Hindu temple.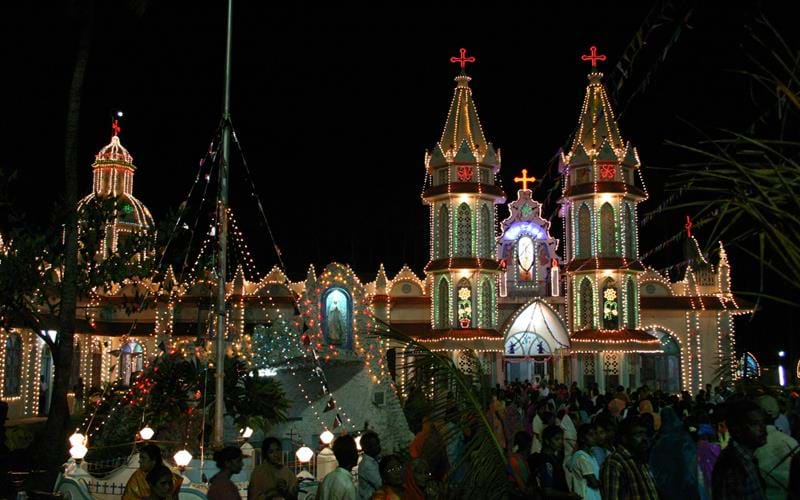 Chidambaram's Thillai Nataraja Temple is among the largest and most important centres of Shiva worship in India – a famous pilgrimage destination for over two millennia. Its presiding deity – an image of Lord Shiva as the cosmic dancer, Nataraja – occupies pride of place at the heart of a vast complex boasting nine gateways, four enormous gopura towers, five pillared halls and innumerable shrines, presided over by a legion of 360 shaven-headed priests, or Dikshitars.
One of the most atmospheric locations on India's southeast coastline, the former French colony of Puducherry (Pondicherry, or 'Pondi' for short) is the perfect place to chill for a couple of nights before rejoining the temple trail.
Day 13
Puducherry
Wander around the backstreets of the town's old colonial quarter in the morning, before venturing up the coast to the ashram at Auroville in the afternoon.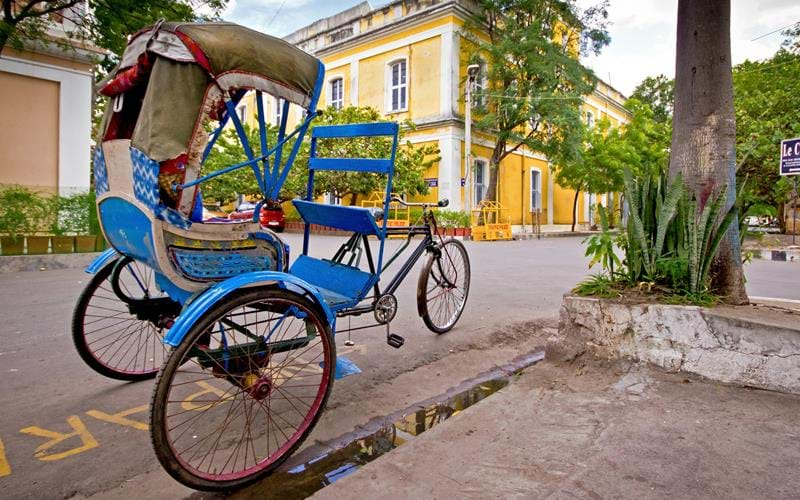 Pondi's colonial heritage is most visibly manifest in the pretty period architecture of its Ville Blanche quarter, whose backstreets are lined by houses with louvred windows and colour-washed Neoclassical facades. Other echoes of the Gallic era abound, from the red képis worn by local policemen to the games of pétanque played on the palm-shaded seafront square.
Auroville, a short drive up the coast, is the ashram founded by the spiritual teacher, Mirra Alfassa, an acolyte of the Bengali guru, Shri Aurobindo. Visitors are welcome to join guided tours of the site, whose focal point is a gold-metallic, spherical temple called the Matrimandir.
Day 14
Mamallapuram (Mahabalipuram)
Drive to Mamallapuram to see the ancient Shore Temple and other Pallava monuments.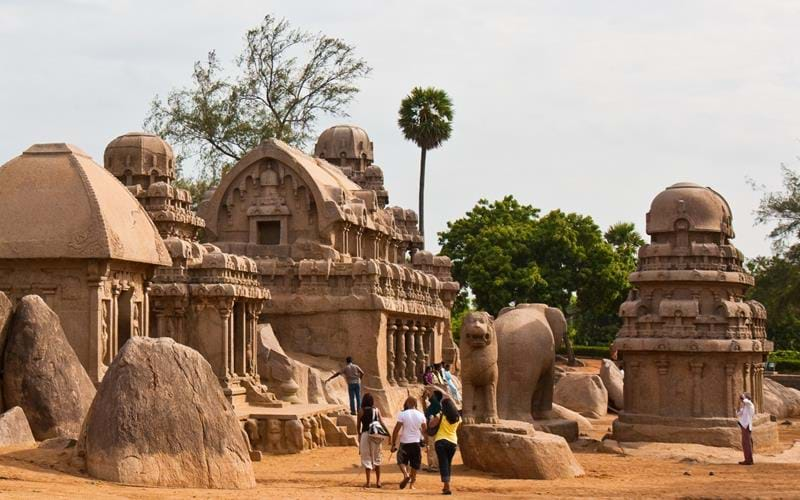 The coastal town of Mamallapuram (formerly known as 'Mahabalipuram') boasts a unique assemblage of ancient monuments, the majority of them carved from granite boulders in the time of the Pallava Dynasty (5th–9th centuries), when the site was a major port. The most iconic of them is the Shore Temple, whose eroded sanctuary tower stands imperiously above the beach. Temple chariots (rathas), cave sanctuaries (mandapas) and giant open-air reliefs are also dotted around the village, which makes a great place to unwind. Lining the beach, local restaurants do a brisk trade in fresh lobster, tiger prawns and other fresh seafood.
Accommodation Options
Day 15
Mamallapuram
Spend today relaxing on the beach or souvenir shopping around Mamallapuram village. Alternatively, you could also embark on a final day of sightseeing in Chennai (Madras).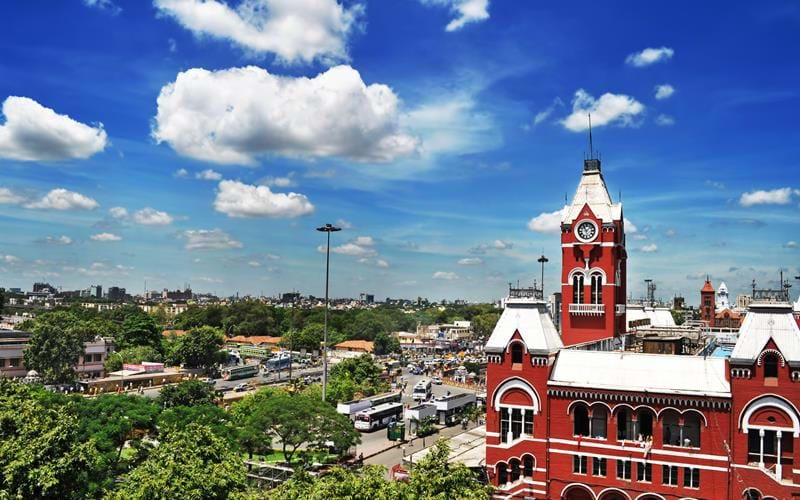 The capital of Tamil Nadu, Chennai is a fast-paced, traffic-filled metropolis of nearly five million. This strip of the Coromandel Coast first rose to prominence in 1640s, after the East India Company constructed Fort St George, the sloping-walled citadel was where Robert Clive and his fellow company servants fended off repeated attacks from the French. A fascinating museum in the fort holds a selection of lithographic prints and other colonial memorabilia that vividly evoke the feel of the times, when new arrivals would have to brace themselves for an often inelegant transfer from their ship by native boat, pitched headlong by rolling breakers on to the beach.
Accommodation Options
Day 16
Chennai, UK
It's time to bed farewell to South India as you drive to the airport to catch your flight back to the UK, which will arrive in the evening of the same day.
Tailor-made Tour

16 days from £2495 per person
What's included

✓   International flights from London
✓   14 nights accommodation
✓   All internal transportation and transfers
✓   English-speaking guides
✓   Breakfast daily
✓   Entrance fees to sites and monuments listed in tour itinerary
Places and Experiences in this tour
What Our Clients Say About Us
Start thinking about your next holiday
Whilst we stay at home, there is no better time to start thinking about your next holiday. Our Travel Specialists are ready to start planning your dream trip whether that is for some winter sun or a 2021 holiday. We don't need to confirm dates or lock-in deposits, let's just get the conversation going.
Or call us on 020 8566 3739
TransIndus Brochures 2020
Join our mailing list