Myanmar 16.04.2014 Transindus
Still off the beaten track for many travellers, Myanmar is relatively little-known compared to other Southeast Asian nations. So, for first-time visitors to the country, its cuisine is something of an unknown quantity too. You can find out all about what to expect from Burmese cuisine with our guide.

Dining style
Let's first look at how a typical Burmese meal is formed. As we'll talk more about below, rice is the staple food here, and features heavily in most meals. Typically, individual dishes are quite simple - but what you need to remember is that they're always served with lots of sides.
Indeed, no matter what you order in a Burmese restaurant, you can expect a host of other little dishes to arrive on your table as part of your meal. These typically include soup (either a sour soup or a lentil soup, similar to Indian dhal), and a selection of fresh vegetables and tasty dips. Meals are also often rounded off with a dish of fermented tea leaves, sesame seeds, fried garlic, peas, peanuts and more, which is known as laphet or leq-p'eq.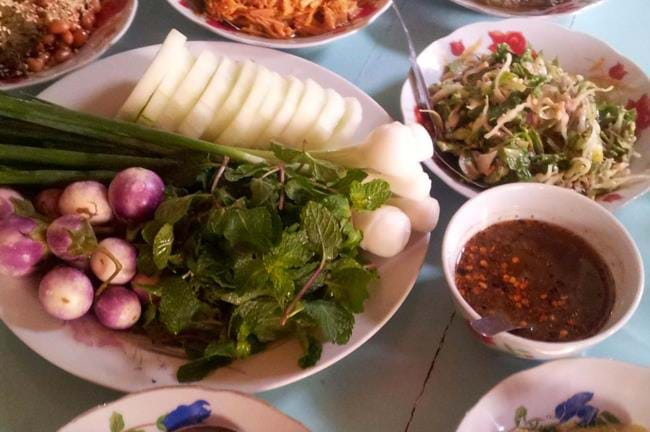 Unusual ingredients 
While Burmese cooking can in many respects be compared to that of other Southeast Asian nations, it differs in many ways. This is largely down to the unusual ingredients it uses, such as pickled tea leaves and lesser-known vegetables, such as roselle leaves (a tangy ingredient often added to soups and curries).
Fermented soya beans are another popular ingredient that you won't often find elsewhere, though fish paste or ngapi is something you'll come across frequently in Thai cooking.

Rice and noodles 
Rice is the staple food in Myanmar, and typically makes up the core of most meals, as you'll often find in other southeast Asian countries, and is served with an array of other dishes as described above. 
While rice might be the centre of Burmese meals, noodles play an important role too, and often feature in salads - which are in themselves one of the most distinctive parts of Burmese cooking. Noodles also form a major part of other light meals, which are typically eaten as snacks between main meals, as well as breakfast.
Among the most popular noodle dishes is mohinga, a fish and shallot broth containing rice noodles and topped with either lentils or deep-fried vegetables.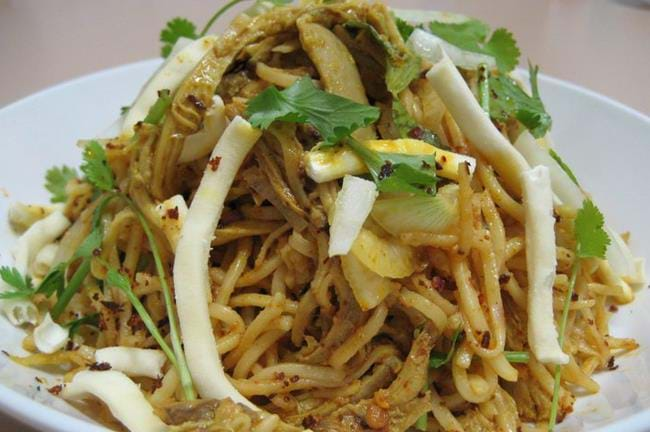 Meat and fish 
Fish is a common ingredient in Burmese cooking, more so than meat. It's particularly important in Intha cooking, as the Intha people live on Inle Lake, making fish one of their main resources (interestingly, tomatoes are often used more heavily here than in other parts of Myanmar, as they're one of the main crops grown on the local floating farms).
In terms of meat, pork, mutton and chicken are what you're most likely to come across - especially in Mandalay and Shan State, where noodle broths featuring chunks of pork or chicken are a favourite meal.

Pulses 
While fish is very popular, you often won't see much meat on Burmese menus, with pulses and beans being much more common. Lentils, kidney beans, soya beans, sesame seeds and peanuts are also staples, and you're likely to come across them in a wide array of dishes.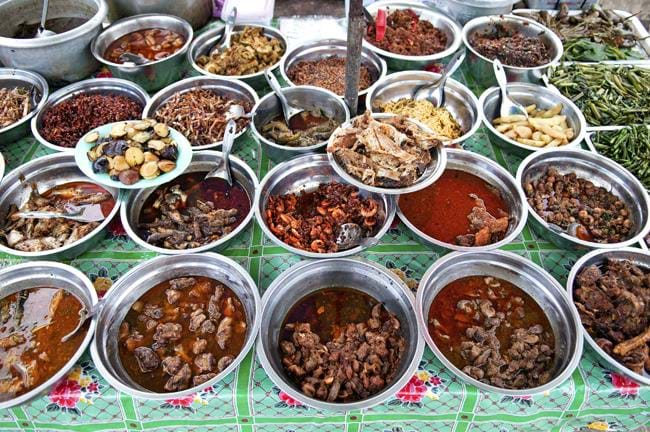 Tips for a happy tummy 
Discovering Myanmar's culinary culture is a fun element of any trip to the country, but it's worth bearing in mind a few rules if you want to keep your tummy happy - after all, it can be tricky adjusting to dramatic changes in diet.
The number one rule is to stick to bottled or treated water, or water that's been boiled, rather than drinking from the tap. As a quick tip, this means avoiding having ice cubes in any drinks you order too. 
In terms of meals, it's wise to ease yourself into local cooking to allow your system time to acclimatise. Avoid fresh green salads and raw vegetables, and always be cautious with any milk products, including cheese and ice cream. By following these simple steps, you can look forward to some delicious Burmese dining experiences!