China 09.10.2019 TransIndus
If you're wanting to venture to exotic lands for the impending Yuletide season, Asia offers a plethora of options. For a magical white Christmas, the Far East of Asia is your best bet. Here you'll find beautiful snow-covered landscapes in parts of China, Japan and South Korea while if you prefer to swap a winter wonderland for a tropical paradise, Southeast Asia, Sri Lanka and the south of India are where to go.
To help you decide, here's our choice of the best places to spend Christmas in Asia.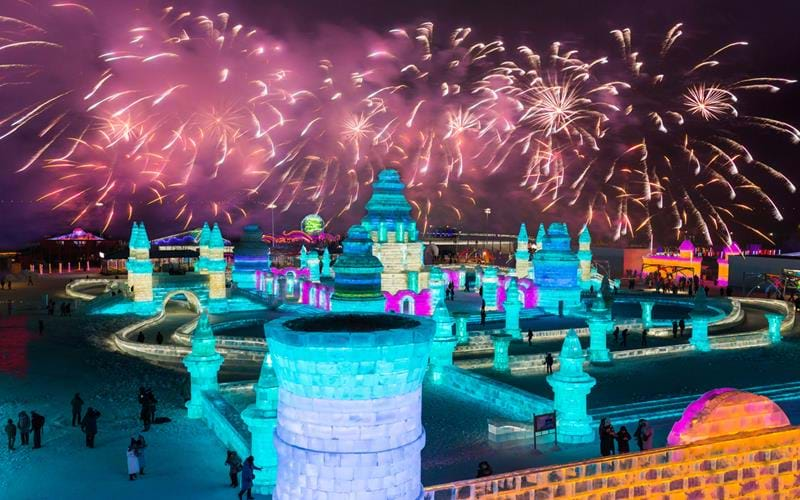 China
If you enjoy wrapping up warm and watching twinkling lights against a black sky at Christmas, the city of Harbin in the northeast of China is hard to beat. Each year the city hosts the now world-famous Harbin Ice and Snow Festival.
Talented sculptors from around the world create spectacular sculptures from blocks of ice and snow, which are illuminated with a rainbow selection of lights. Visitors are amazed by the iconic monuments recreated with ice, from Rome's Colosseum to Beijing's Temple of Heaven. 
The festival officially opens on the 5th January 2020 though the amusement park is open from the 21st December 2019. Here you can explore the large-scale ice and snow sculpture exhibition with a Christmas square to complete the festive feel.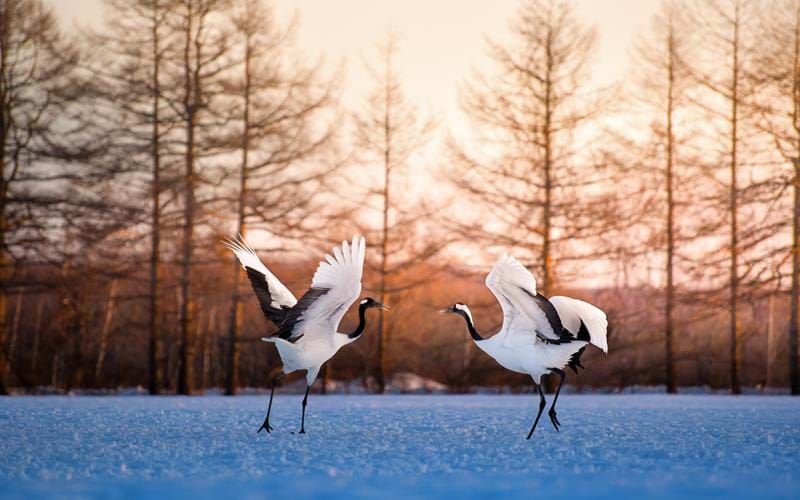 Japan
The island of Hokkaido in the far north of Japan's archipelago is another winter wonderland in December. Snow blankets the landscapes and the numerous ski resorts buzz with activity. Those looking for something more tranquil can enjoy the local onsen, bathing in warm, therapeutic hot spring waters after a day spent out in the cold.
Bird enthusiasts are well catered for too as Hokkaido is home to a resident population of red crowned crane. On late winter days pairs of these elegant birds call to one another and perform a series of movements as if dancing. It's a ritual they will perform yearly during their lifetimes. 
For urbanites, the city of Sapporo - capital of Hokkaido - embraces the Christmas spirit with an event known as the Sapporo White Illumination. Over half a million light bulbs illuminate Christmas-themed objects in Odori Park and the trees lining some of the city's busiest streets. There's also a German Christmas market selling hot wine, Bavarian food and gifts.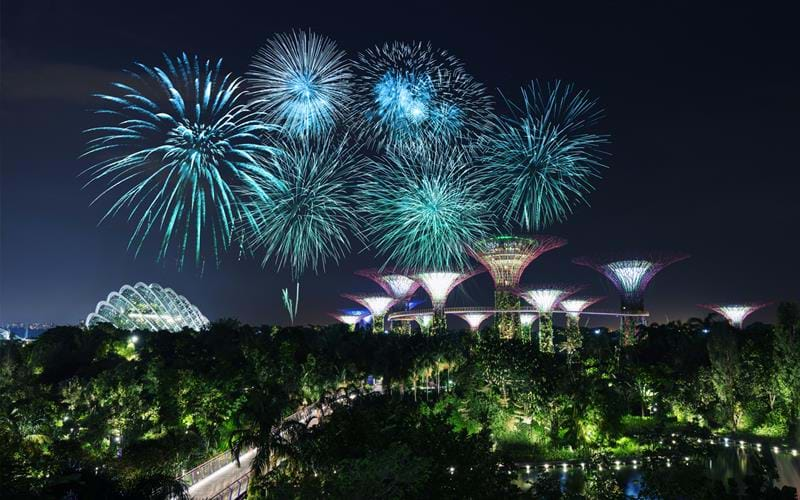 Singapore
Christmas is a big celebration in Singapore with an extensive menu of entertainment, world-class shopping and impressive dining options. Each December, the Lion City is transformed into a magical wonderland of sparkling lights and festive decorations that belie the notorious humidity and tropical climate. There's even fake snow and ice skating rinks!
Orchard Road, Singapore's busiest shopping street, is at the heart of this festive joy with creative Christmas displays, a spectacular street-length light show and street performances. A number of European-inspired pop-up markets also make an appearance across the city with boutique gift stalls, fun fare rides and appearances from none other than Santa Claus himself. 
It's not all about hedonism and indulgence, however. With almost 18% of Singapore's population identifying as Christian, the festive season still remains a religious celebration. Many Catholic churches hold a traditional midnight mass on Christmas Eve while Anglican churches often hold evening services to commemorate the birth of Jesus.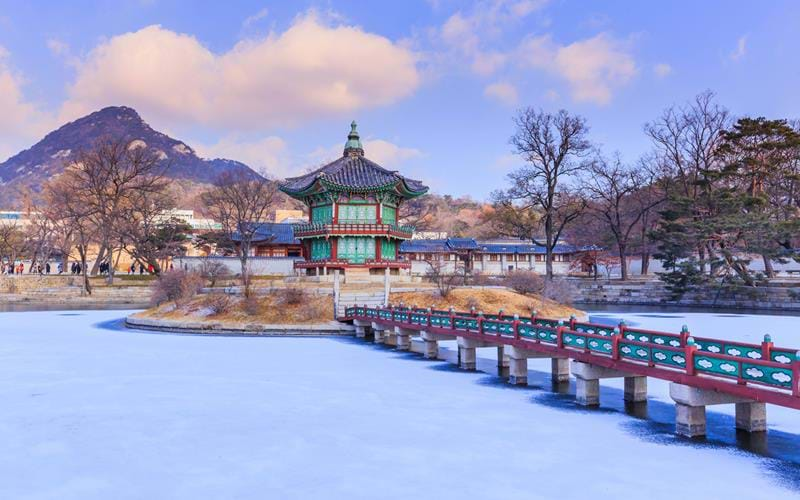 South Korea
Like its neighbours in the Far East, South Korea transforms into a winter wonderland in December with snow a common occurrence as the temperature plummets. The country's mountains are the go-to place for winter sport enthusiasts with a number of high-quality ski resorts open for the season while the larger cities host outdoor skating rinks that are particularly popular with families and couples. 
And like countries in the West where Christmas is well and truly commercialised, department stores across South Korea don tinsel, baubles and twinkling lights to entice shoppers. Though unlike the West, shoppers are less likely to be families and more likely to be couples as Christmas in South Korea is considered a romantic holiday somewhat akin to Valentine's Day. 
Having said that, Christmas is more of a religious celebration in South Korea than in the other Asian countries on this list due to the fact that between 25-30% of the population are Christian. It's an official public holiday and churches hold traditional Christmas services while many businesses close for the day. It's also common to see caroling parties in the evenings leading up to the main event.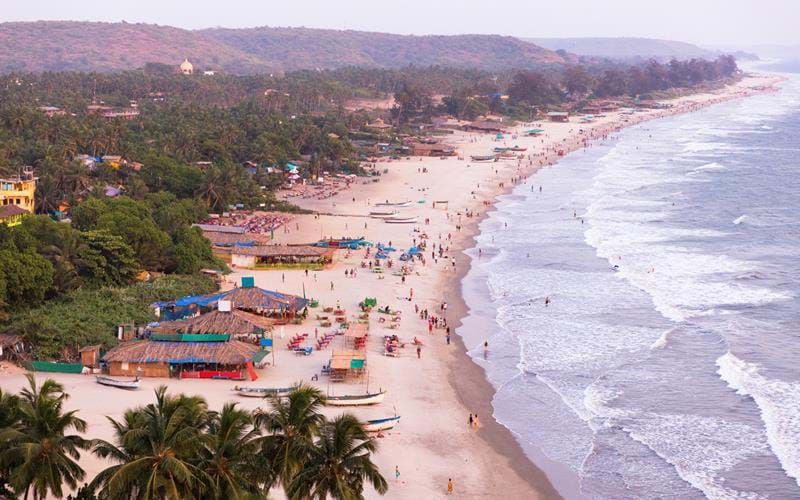 India
For those keen to leave behind the cold and grey of the UK over the holiday season, India is a good choice. Across India, the majority of hotels hold a special Christmas dinner and perhaps even a night of festive entertainment. The popular Windamere Hotel in Darjeeling is one such property though temperatures up in the Himalayan hill stations will not be as favourable as the southern states. 
Home to a relatively large Catholic population due to its history as a Portuguese colony, Goa is one of the best places to spend Christmas in India. In the state's capital of Panjim, colonial churches hum with festive cheer, Christmas carols and mass services. While Christmas dinner can range from fresh-caught fish at beach shacks to sumptuous feasts at fancy hotel restaurants. 
Kerala is another great place to enjoy the festivities with the colourful and boisterous Cochin Carnival held each year during the final week of December. The town of Cochin bursts into life with confetti, processions, music and dance to celebrate the principles of peace, adventure and progress, and welcome in the new year. This year the carnival begins on the 25th December and finishes up on the 1st January 2020.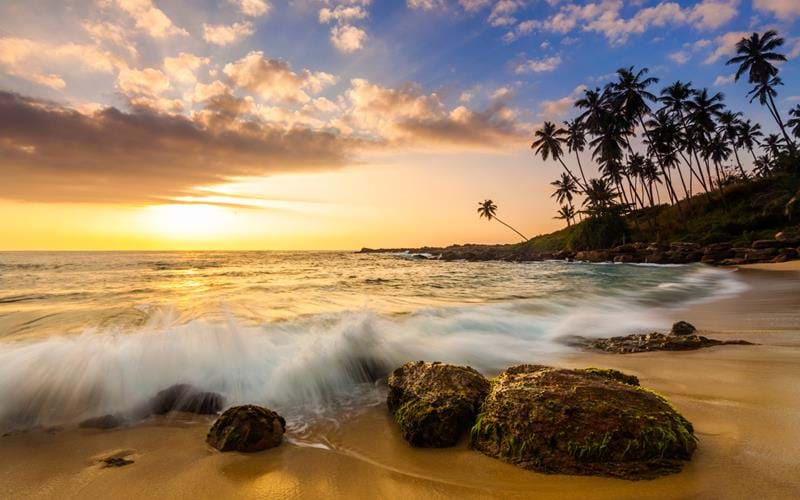 Sri Lanka
If your idea of the perfect Christmas is waking up to a golden sand beach, the western and southern coasts of Sri Lanka are a top choice. The rainy season has been and gone, giving way to clear blue skies and plenty of sunshine. 
Despite Christmas being peak season, there's still good availability at many of the island's top hotels, which means fewer people claiming sun loungers around the swimming pool first thing in the morning. Though you'll need to be quick as rooms are being snapped up quickly. 
Of course, a trip to Sri Lanka can be much more than just a beach break with the ancient monuments of the Cultural Triangle waiting to be explored or thrilling safari adventures to be had in the national parks of Yala and Udawalawe. 
If you've been inspired and would like to arrange a Christmas holiday in Asia, contact our team of experts to start planning your festive trip.