Myanmar 14.10.2014 Transindus
Inle Lake in Myanmar is a magical destination. Boasting beautiful, tranquil landscapes, floating villages and more, it is truly a wonder for travellers. Those who want to see the lake really spring to life, however, should time their visit to coincide with the spectacular Phaung Daw Oo Pagoda Festival, which takes place each September or October.
About Phaung Daw Oo Pagoda 
Before we talk about the festival itself, let's look at the pagoda that lies at the heart of it. Situated in Ywama on Inle Lake, the Phaung Daw Oo Pagoda is the most important religious site in this part of the Shan State. 
Inside, you will discover a shrine that houses five Buddha images - but these are somewhat different to those you may have come across before. This is because, over the years, devotees have covered the statues with so much gold leaf that their original shape is virtually impossible to discern. These statues are central to the festival, however, being paraded around the lake.
You might also like to take a look around Ywama, which was the first place on Inle Lake to be developed for tourism. An immensely pretty village, it boasts an excellent floating market, as well as a good range of shops and restaurants.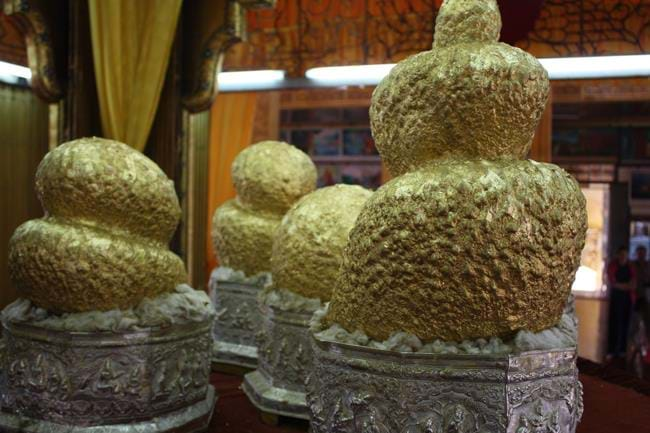 What to expect from the festival 
The Phaung Daw Oo Festival lasts for 18 days, and centres around the pagoda's celebrated Buddha images. Four of these are placed on a replica of a royal barge, then paddled around the lake, calling in at all of its villages, for all to see.
The barge is powered by the unique one-legged rowing style that the Intha people of Inle Lake are so well known for. If you're not familiar with this, expect to be wowed by the sight - it really is an exceptional and unusual skill. And indeed, you will not only have a chance to see it on the colourful royal barge, but also on the hundreds of smaller boats that follow it, creating a procession that's a real spectacle.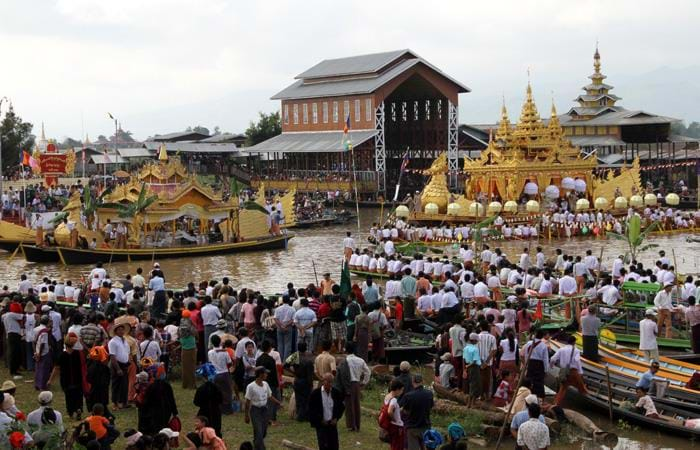 Being one of the biggest festivals in the area, it draws in sizeable crowds, so expect to have plenty of company as you stand on the lake's shore and watch the fun. There will be more to see than just the boat procession, too, including a nail-biting boat race, dance performances and even fun fairs.
It's important to remember to dress appropriately if you plan to attend the festival; after all, amongst all the fun, it is a religious affair and requires respect. This means wearing long sleeves and either trousers or skirts that fall below the knee; the same rules apply when visiting the pagoda itself.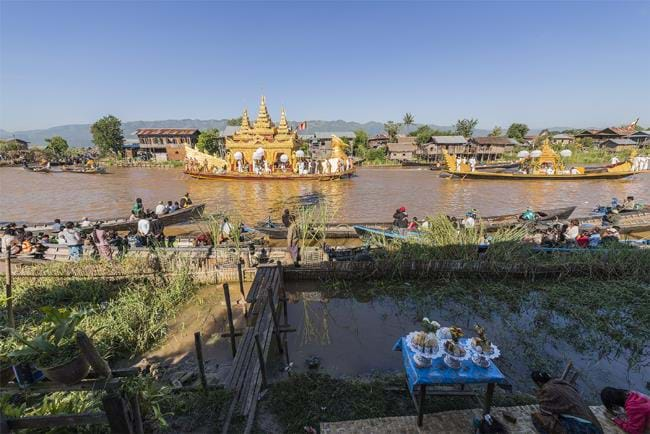 What else to do and see during your stay on Inle Lake 
Whether you will be visiting Inle Lake specifically to see the festival or not, you will find it is a wonderful place to explore, being one of Myanmar's most serene destinations. Despite its tranquillity, it also manages to offer a wonderful range of attractions, so it is well worth spending several days here.
As you may have gathered from the description of the festival itself, boating is a key attraction here, no matter what time of year you visit. This is because the bulk of the area's villages, houses and gardens are actually located on the lake itself, meaning the local Intha people's primary mode of transport is boating. This would perhaps be a novelty for tourists in itself, but the aforementioned one-legged rowing style of the locals makes it a real highlight, and there are plenty of tourist boats to help you get around easily.
If you are interested in seeing one or two other religious sites, meanwhile, pay a visit to the Nge Hpe Kyaung monastery. This place is particularly unusual, as the monks that live here have trained local cats to jump through hoops, which you might be lucky enough to see during your visit.
Another attraction not to miss is the 'five days market', which attracts people from all over the lake. Selling food and crafts, it is so named because it calls round its various stops over the space of five days, then begins its route again.