Vietnam 27.11.2013 Transindus
Vietnam is famous for captivating travellers with its beauty. Lush greenery, tranquil waterways and natural wonders combine to make exploring this country an unforgettable experience - and today we're going to take a look at some of the ultimate beauty spots to include on your itinerary.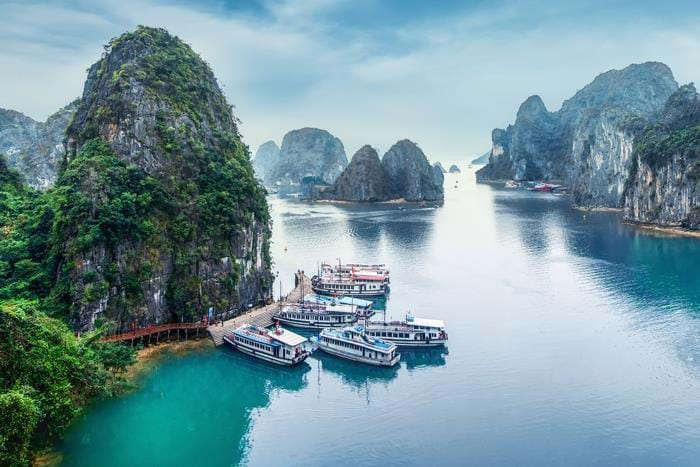 Halong Bay 
Halong Bay is probably the most famous and best-loved natural attraction in Vietnam, and is perennially popular among travellers. The magic of the scenery here lies in just how strange and almost otherworldly it is - vast limestone and dolomite outcrops tower out of the calm water, dotted with hidden coves, pinnacles, caves and more.
You can explore Halong Bay on a wooden junk, which is a traditional kind of boat. From this floating vantage point, you'll be able to visit a number of sites within the bay, with a typical trip focusing on its western side. However, if you're happy to spend a full day exploring Halong Bay, you can head out on a longer voyage to explore the other side, which also has some wonderful lagoons and grottoes just waiting to be discovered.
The largest of Halong Bay's isles is Cat Ba Island, and it's worth bearing in mind that this is a really popular spot for adventure sports. So, if you fancy an adrenaline rush, this is the place to come to.




Phu Quoc Island
Should you be keen to discover some of Vietnam's best beaches, a trip to Phu Quoc Island is a must. Lying just off the coast of southern Vietnam, this teardrop-shaped island is blessed with an enticing mix of translucent, sparkling water and beautiful white sand beaches. These are backed by a lush interior, much of which is made up of dense jungle.
Indeed, part of the irresistible charm of this island is not just its beauty and unspoilt nature, but how undeveloped and quiet it is. Approximately 70 per cent of the island has protected status.
Given its tranquility and scenic coast, relaxing on the beach is one of the top things to do here. But you don't need to spend day after day lazing on the sand if you like to be a little more active, because this is a wonderful place for activities like snorkelling and scuba diving, largely because the water is just so clear.



Mekong Delta 
The Mekong Delta is Vietnam's richest agricultural region, and is one of the most densely populated parts of the country. Its landscape is one of paddies and coconut palms, as well as the vast river itself, which is large enough that it has two daily tides.
And that's not the only reason for the region's importance. In addition to irrigating the rice paddies and other agricultural endeavours, it has a key role in terms of transport, including passenger ferries and floating markets - the latter you're bound to want to experience as you explore.
There's a lot of charm to discover here, with pretty riverside towns, fish farms and flower markets all being must-visits. Also worth a trip is the Bac Lieu Bird Sanctuary, which is home to approximately 50 species of bird. You'll also find it's lesser known among tourists and usually frequented by locals, largely because it is quite tucked away.

Mai Chau 
Last on our list is Mai Chau, a beautiful little town in northern Vietnam that's wonderful if you have relaxation in mind. Indeed, as it is perfect for hiking and cycling, it's particularly ideal for travellers who prefer active relaxation to more sedate options, like sitting on the beach.
While it's a lesser-known destination among tourists, it is actually just three hours away from the capital. And what will greet your eyes when you arrive is not a sprawl of urban buildings, but paddy fields, pretty villages and flat plains sprinkled with vast karst rock formations.
Indeed, the landscape here is utterly arresting, and because it's a little off the beaten track you should find far fewer tourists here than in more mainstream destinations - something that's bound to appeal if you like to feel as if you're forging your own path as you travel.