Vietnam 23.02.2015 Transindus
The discovery of Hang Son Doong in the Vietnamese province of Quang Binh made headlines all over the world, what with it being the largest cave ever found. While some brave adventurers are travelling to this vast cavern, which even houses a rainforest inside, other caves in the area are also getting attention.
What was once a sleepy backwater of the country relying solely on agriculture is now a travel destination that is bursting with potential. As the caves of Quang Binh province start to gain more attention, the best advice you can follow is to go now.


Hang Son Doong
Only discovered in 2009, Hang Son Doong stretches out for 5.5 miles and is a series of 150 caves all joined together. It was a local farmer by the name of Ho Kanh who first stumbled across it, but then lost the entrance before rediscovering it and taking scientists to see this incredible cavern.
Hang Son Doong came into being between two and five million years ago, with an underground river eroding the limestone away, leaving no trace of the cave from above. In recent years, some of the weak limestone above has fallen in, giving the impression of a canyon, while other areas maintain the darkness of a cave.
Visiting Hang Son Doong involves trekking for days through to jungle to reach its entrance, then descending an 80-metre drop to gain access. Once inside, most parties spend several days and nights exploring the cave and sleeping among its many stalagmites and stalactites.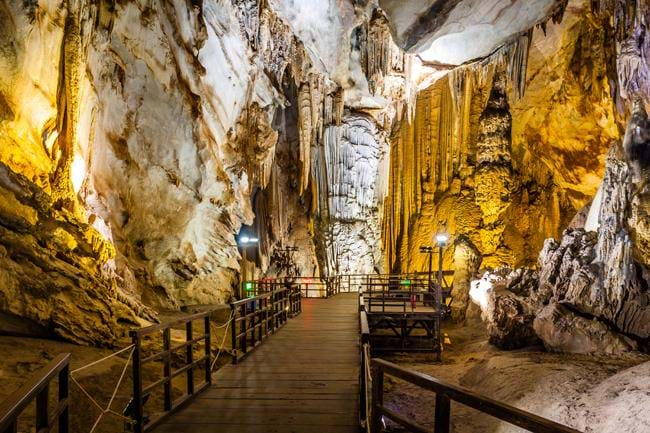 Other caves
New caves are constantly being created in this part of Vietnam, as the tectonic plates shift and rivers change their courses. This means that younger, lower caves are wetter than their higher, older counterparts, although the scale is still measured in millions of years.
Comprising of ten caves in all, Tu Lan was first discovered in 1992, although it has taken until relatively recently for the entirety of the system to be explored. It is more easily accessed than Hang Son Doong, located as it is near the village of Tan Hoa, though don't let this fool you into thinking what the experience will be a walk in the park.
After passing buffalo grazing in the fields, visitors must then splash through the river, before climbing up a rocky slope and into the jungle valley below. This is an incredible sight and from here the dry entrance to the first cave, Hang Ton, can be reached.
From here much of the Tu Lan cave system can be explored. Highlights include the beautiful limestone formations of Ken Cave, as well as incredible blue lakes, waterfalls and lush trees, which you would not expect to find underground.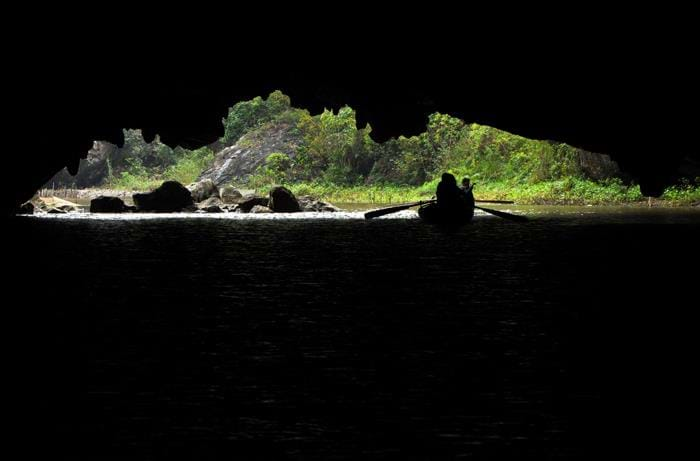 Unexpected features
Stumbling across the most impressive scenery below ground is certainly a surprise, but it is a good idea to be informed about what else lurks beneath the surface in Vietnam. For example, huntsman spiders call many of these caves home and you will see their eyes shiny in the dark. Other wildlife you can expect to see includes snakes, flying foxes and monkeys, all of which are fascinating to observe in this subterranean world.
Perhaps the most surprising discovery, however, is that of rare pearls, which have been created by calcium deposits over the years. As the caves of Vietnam are relatively unexplored, coming across these gems is not unusual and their iridescence provides the perfect contrast to the gloom of the caverns.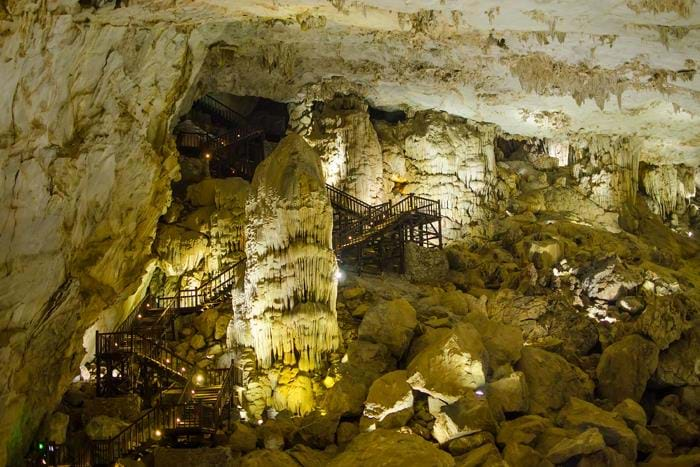 Be prepared
While the prospect of visiting this subterranean wonderland will fill many people with excitement, it is important to recognise that it is a challenging environment to tackle. A high level of fitness is required, as well as an attitude to adapt to whatever obstacles are thrown your way.
Packing properly is also vital, with lightweight clothing, comfortable footwear with a strong grip and waterproof bags all essential. It is also a good idea to bring binoculars for looking at areas of the caves at a distance, a headtorch to keep your hands free and a tripod to capture photos in this dark atmosphere.