Tailor-made Tour

15 days from £6650 per person
Places Visited:
Tokyo, Hakodate, Toya Onsen, Sapporo, Asahidake Onsen, Lake Akan, Lake Kussharo, Utoro
This itinerary is self-driven, for the simple reason that public transport connections to and from Hokkaido's national parks (which hold the most spectacular scenery) are infrequent, even in summer. Driving on Japan's northernmost island, however, is a dream. The roads are quiet, the landscape spectacular from start to finish, and, of course, the Japanese drive on the left. Our route scythes through magnificent mountain uplands, taking in breathtakingly beautiful caldera lakes, includes an ascent of the island's loftiest peak (Mt Asahi) and culminates with two full days exploring Japan's last area of true wilderness, where whales, dolphins and eagles are everyday sights.
Holiday Types
Cultural Holidays Luxury Train Holidays Family Holidays Culinary Holidays
Suggested itinerary
Day 1
UK - Tokyo
Fly overnight from the UK to Tokyo.
Day 2
Tokyo
Arrive in Tokyo and transfer by airport bus to your hotel. Spend the remainder of the day recovering from your flight, perhaps with a visit to the Old Quarter of Asakusa in the afternoon.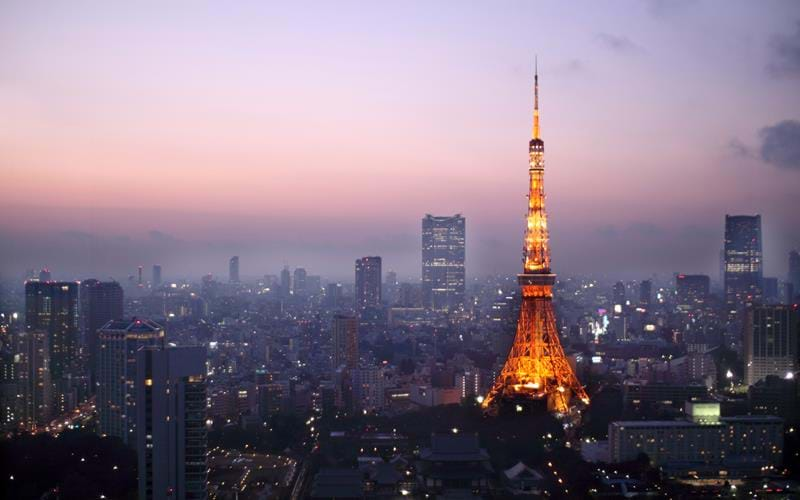 For a quick, jet-lag busting fix of old Tokyo, we recommend the eastern Asakusa district, home of the venerable Senso-ji temple. Watch worshippers light incense and bow before the city's oldest shrine, then enjoy the Japanese atmosphere of the surrounding streets, with their antique kimono boutiques and traditional kitchen utensil shops. For dinner, head for the main Ginza branch of the famous Kyubey chain, where you'll find out what real sushi should taste like. As with most high-end sushiyas, each piece is made in front of you and served one at a time. The flavours are nothing short of a revelation!
Accommodation Options
Day 3
Tokyo
A full day's sightseeing in the Japanese capital today gets underway with a visit to the Meiji Jingu temple, Tokyo's most revered Shinto shrine, and ends with a cruise on the Sumida Gawa.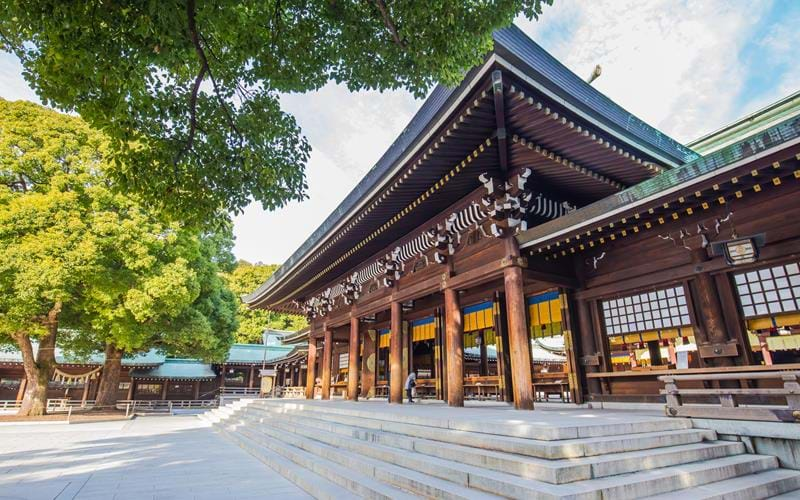 Meiji Jingu is Tokyo's spiritual nerve centre, attracting vast crowds of worshippers year round. Among the crowds you may, with luck, spot a bride and groom in traditional Japanese attire. Having admired the royal regalia in the adjacent Treasure Museum, and had your fill of gleaming samurai blades at the Sword Museum, head down Omotesando, Tokyo's own 'Champs-Elysees' for a round of the big department stores. In the afternoon, enjoy a cruise on the Sumida Gawa River to Hamarikyu-Teien, and exquisite Edo Period garden encircled by skyscrapers, where you can pause for a green tea and traditional sweet in the lakeside teahouse.
Accommodation Options
Day 4
Tokyo - Hakodate
After breakfast, transfer to Haneda airport for your flight to Hakodate on the island of Hokkaido. On arrival, pick up your self-drive car and check in to your hotel before heading into the city for a spot of sightseeing before supper.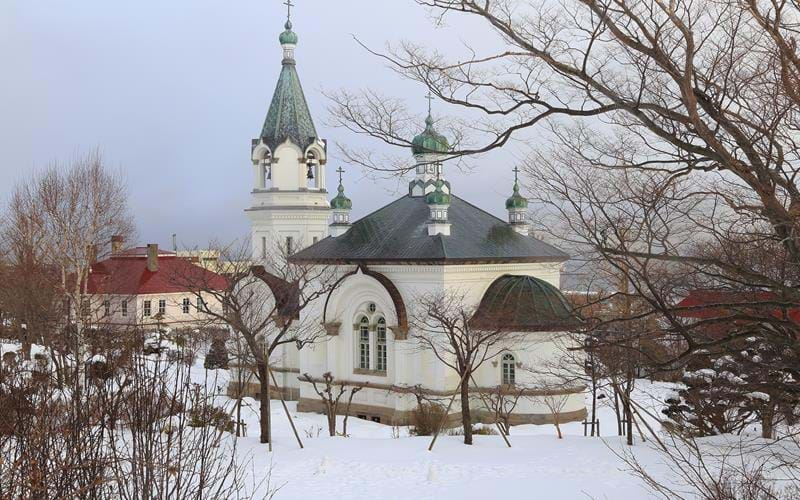 Start your round of Hakodate's sights with a visit to its standout monument, Goryokaku Fort, then hop on the cable car up Mount Hakodate for a spectacular sunset view over the city – a huge sprawl of sparkling lights framed by a hinterland of shadowy mountains.
Accommodation Options
Day 5
Hakodate - Toya Onsen
Tick off the city's remaining sights in the morning, then start your 95-mile (155-km) drive to Toya Onsen, one of the island's most popular thermal resorts, where you'll spend the night.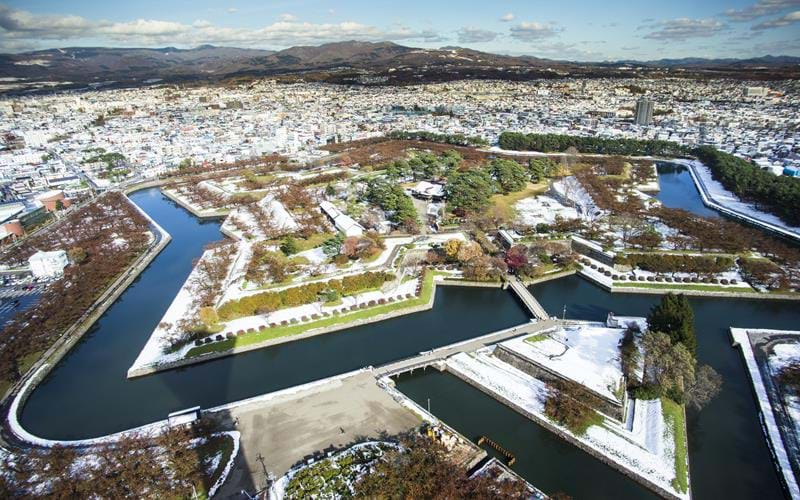 Continue your sightseeing in Hakodate with an exploration of the city's picturesque old quarter, with its pretty streets of 19th century European and Russian buildings, including a delightful onion-domed Orthodox Church. Then head over to Asaichi market to marvel at the selection of local seafood landed the previous night, before breaking for lunch at one of the fish restaurants in the famous Donburi Yokocho arcade – a Mecca for sashimi aficionados.
Accommodation Options
Day 6
Toya Onsen - Sapporo
Pass the morning enjoying a hot spring on the shores of lovely Lake Toya, then continue your journey north, skirting some of Japan's most recently active volcanoes as you leave Toya Onsen in the direction of the island's capital, Sapporo.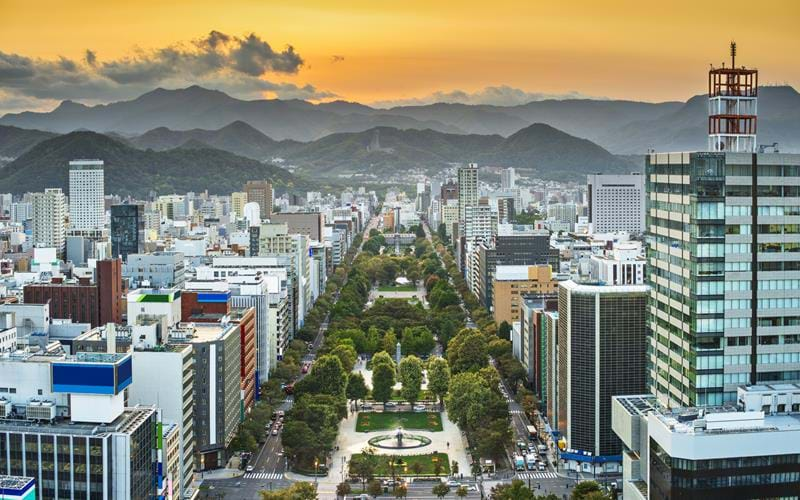 You should aim to reach Sapporo shortly after lunch, in good time for a round of its highlights. Start with a wander down to Odori Park, the green belt scything through the heart of the city, to see if a festival is in progress – in summer, the annual beerfest is a lively and sociable event, while in the autumn, the scarlet maple trees are the main attraction. For supper, don't miss the chance to sample Sapporo's famous, miso-rich ramen noodles at a local restaurant. The local variety is typically topped with sweetcorn, butter and bean sprouts, and think slices of melt-in-the-mouth roast pork, though there are many variations with seafood. One of our favourite ramen joints is the pint-sized Ramen Mokuren, near Maruyama Park.
Accommodation Options
Day 7
Sapporo - Asahidake Onsen
Today you penetrate the wilds of central Hokkaido as you drive northwest towards the Daisetsu-zan National Park. Your ultimate destination is a lodge at the foot of Mount Asahi-dake (2,291m / 7,516ft) – Hokkaido's highest peak – which you'll climb the following day.
Day 8
Asahidake Onsen
Rise early to begin your day-long ascent of Mount Asahi. In good weather, the climb presents no technical challenges, although should you prefer to tackle it with a local guide, you'll be able to hire one through your lodge.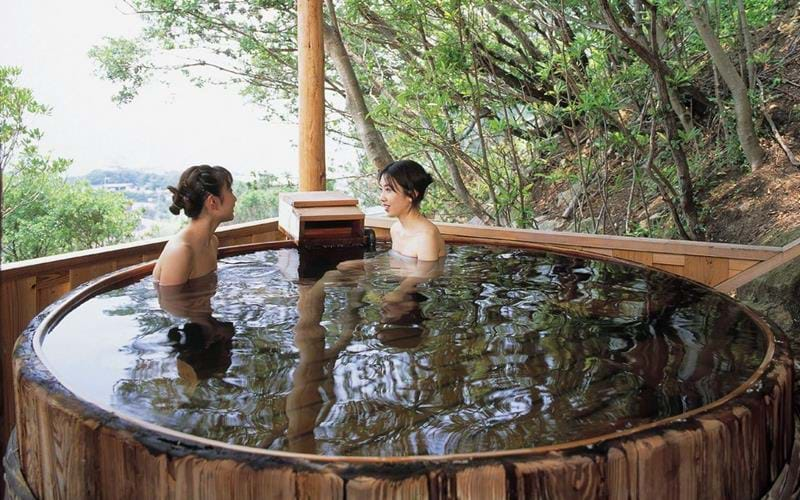 The route up the mountain starts with a cable car ride and proceeds via a path that's clearly defined and a joy to walk, with wonderful views over the volcanic uplands ranged around the peak. Return by the same route in time for supper at the lodge. Plenty of lower level walks are also available in the park. Ask one of our consultants for more details.
Accommodation Options
Day 9
Asahidake - Lake Akan
The ninth day of your tour involves a scenic, 4-hour drive east through the island's central mountain range to Lake Akan, where you should arrive in time for an afternoon boat cruise.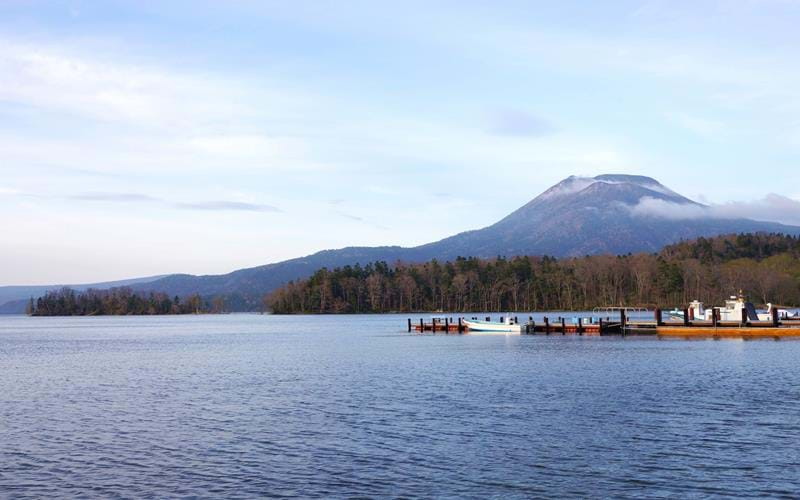 While chugging around Lake Akan, keep an eye out for the trademark balls of green marima algae on the bed of the caldera lake, which has a dramatic backdrop of smouldering peaks. The national park in which this lake is situated is regarded as Japan's most beautiful. Patches of bubbling mud and steaming sulfuroles are also common in this area of intense geothermal activity.
Accommodation Options
Day 10
Lake Akan - Lake Kussharo
An easy hour's drive from Lake Akan today takes you northeast to Lake Kussharo, another beautiful caldera lake that's set amid terrain ideal for hiking, biking and fishing.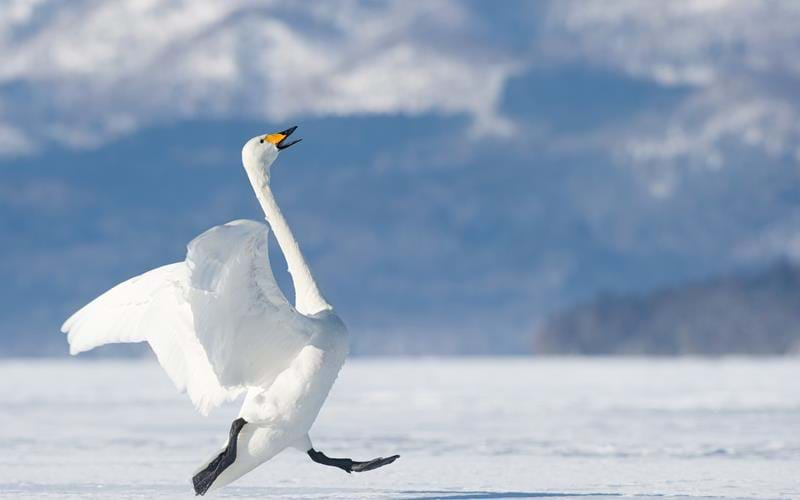 Numerous hot spring sites around the larch-lined shores of Lake Kussharo provide plenty of incentive to explore. With a circumference of 35 miles (57km), this is the largest lake in Hokkaido. A colony of hooper swans can usually spotted paddling across it, even in winter, when the water freezes solid except in a few spots where thermal vents keep the surface ice-free.
Accommodation Options
Day 11
Lake Kussharo - Utoro
It's time to head to the furthest extremity of Hokkaido today as you drive another two hours northeast to the wild Shiretoko Peninsula. Your base will be the fishing town of Utoro, on the northwest coast.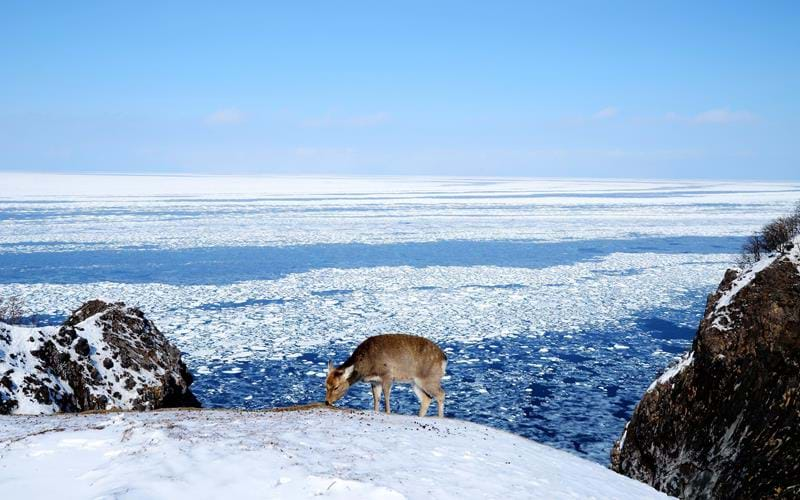 Spend the remainder of the day exploring the harbour, and sampling local urchins, crab, rock fish or salmon roe in the local restaurants. Some of the best are those on the approach road to the fishing harbour, where you'll see vast nets being removed from the trawlers by cranes each morning. A good place from which to watch the action is Oronkoiwa Rock overlooking the port.
Accommodation Options
Day 12
Utoro
After breakfast, make your way to the jetty to begin a whale and dolphin spotting cruise out in the Nemuro Straits.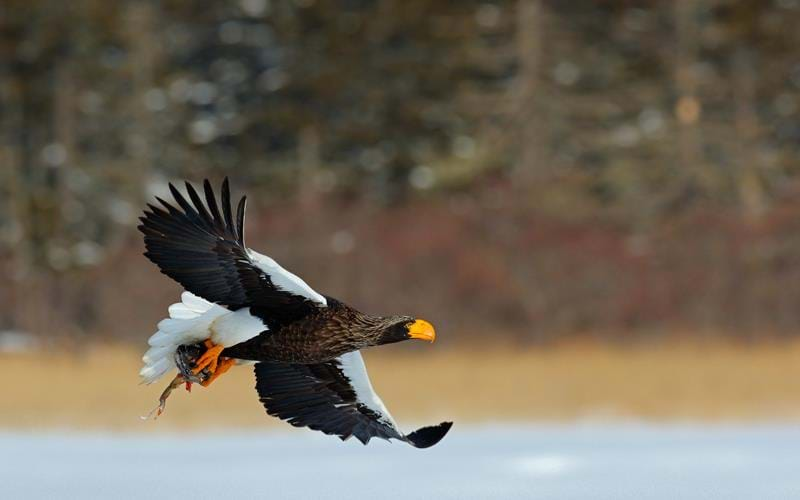 The summer months, between June and September, are the best time for spotting Orcas, which here congregate in pods of thirty or more. Blakiston's Fish Owl, Stellar's Sea Eagle, and White-tailed Sea Eagles are rare birds of prey you may also be lucky enough to spot. In the afternoon, either relax back in town, waiting for the fishing fleet return, or jump in the car for a drive up to the Shiretoko Pass, from where in clear weather you can see as far as the distant Kunashiri Islands.
Accommodation Options
Day 13
Utoro
Today you'll travel to the far side of the Shiretoko Peninsula to visit the Five Lakes, a cluster of exquisite little caldera lakes framed by snow-streaked mountains.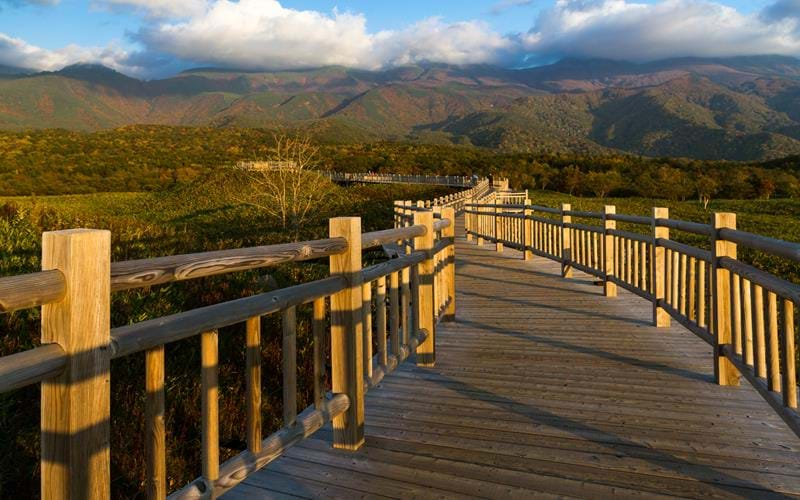 Access from the car park to the first of the lakes is via stilted board walk. The route around all five takes about ninety minutes and is scenic from start to finish. In the afternoon, follow the narrow, winding forest track further up the Peninsula's north coast to reach the Kamuiwakka Hot Falls, where a thermally heated stream cascades through the forest and plunges into the sea – one of Shiretoko's signature sights.
Accommodation Options
Day 14
Utoro - Tokyo
It's time to bid farewell to Hokkaido as you drive to Membambetsu airport, and drop off your car before catching your flight back to Tokyo in the evening.
Day 15
Tokyo - UK
Transfer to the airport for your return flight to the UK.
Tailor-made Tour

15 days from £6650 per person
What's included
Places and Experiences in this tour
Plan your Next Adventure
With the world now largely open again, now is the time to begin planning your next adventures in Asia. Our Travel Specialists are ready to take your call and discuss the adventure you have spent the last 3 years dreaming of.
Or call us on 0208 566 3739
TransIndus Brochures 2023
Join our mailing list