Group Tour

9 days from £1125 per person
Places Visited:
Kathmandu, Bandipur, Pokhara, Chitwan National Park, Kathmandu
A compelling mix of landscapes, exotic religious monuments and vibrant Nepali cultures are showcased on our popular, 9-day group tour through the Himalayan foothills of the Kathmandu Valley. It starts in the capital, with visits to Durbar Square and the historic town of Bhaktapur, site of the country's best preserved medieval temples, before heading west to Bandipur, where you'll get your first really spectacular view of the Himalayan ice peaks.
Next, it's on to the lakeside town of Pokhara, whose surrounding ridges offer more astounding panoramas of the nearby snow line. From there, you'll proceed southeast to Chitwan National Park in the tarai grasslands, where wild rhino and other rare animals may be sighted. A final night in Kathmandu, visiting the famous stupa of Swayambhunath, brings the trip to a suitably magical conclusion.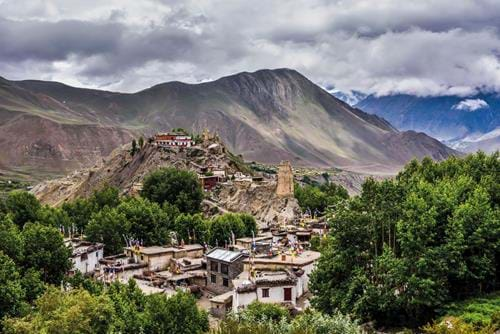 Holiday Types
Cultural Holidays Wildlife Holidays Family Holidays Honeymoons Adventure Holidays
Travel Arrangements
Group Size

6 -16 people

Internal Travel

Arrival & departure transfers. Internal travel by road

Accompanying Guide

English-speaking guides and naturalist. Accompanying tour escort when minimum group size achieved

Accommodation

8 nights

Meal Plan

Lunch on days 2, 4, 8. Dinner on day 1. Full board on days 3, 6, 7
Itinerary for Nepal Experience
Day 1
Kathmandu
Greeted on arrival in Kathmandu and transfer to the Kantipur Temple House or similar for two nights. The remainder of the day is at leisure. In the evening, enjoy a traditional seven-course dinner at the Bhojan Griha.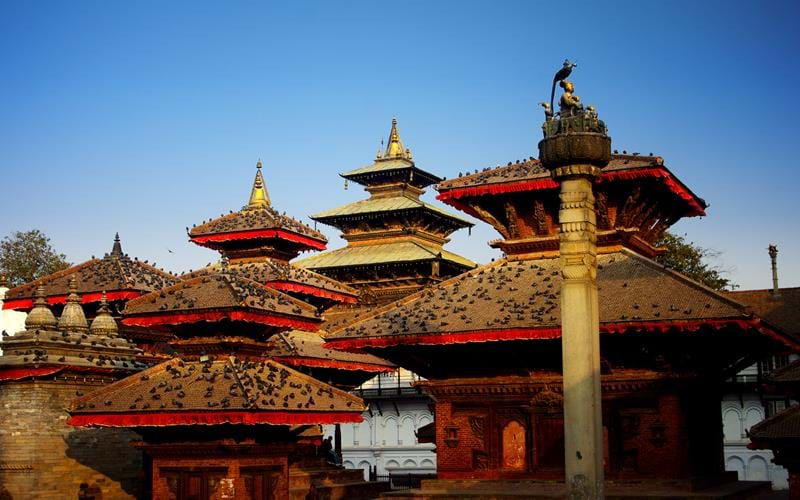 A sprawling modern city of nearly a million inhabitants, the Nepali capital can feel overwhelmingly crowded and chaotic on first impressions. But head for its ancient core and things improve dramatically.
Durbar Square forms the epicentre of the old quarter. More than fifty temples, 106 monastery courtyards (bahals) and countless shrines line its narrow, cobbled backstreets and stone-paved piazzas. Settle on to one of the terraced platforms of the Manju Devul tower to watch the exotic bustle of marigold sellers, saffron-clad sadhus, stray cows and pigeons. In the evening, the group will convene for a 7-course Nepali banquet at the famous Bhojan Griha restaurant in Dillibazaar.
Accommodation Options
Day 2
Kathmandu
A full day sightseeing of this vibrant city includes the renowned Durbar Square and an excursion to the ancient and beautifully crafted Newari city of Bhaktapur. Optional excursion: Mountain flight over Mount Everest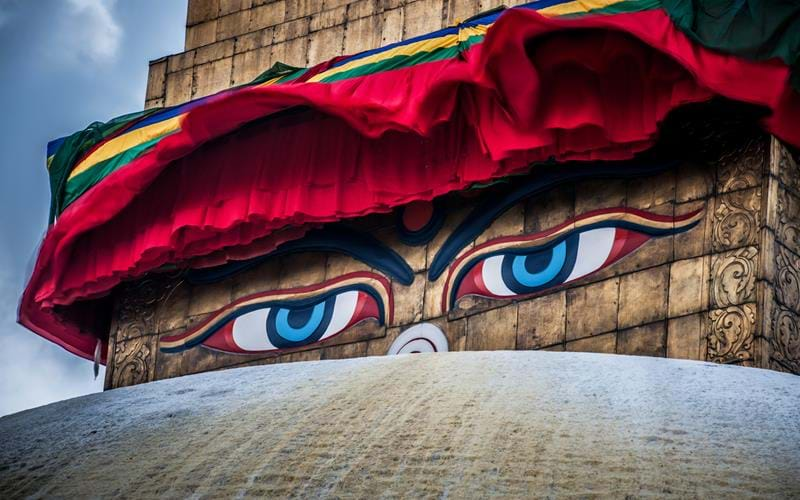 After breakfast, the group will head to Boudhanath, the largest stupa in the country, embellished with piercing eyes and strings of prayer flags dangling from a spectacularly gilded tower. Later, we'll board the group bus for the trip out to Bhaktapur, which boasts an impressive concentration of medieval palaces, courtyard monasteries (bahals) and monumental squares. Despite being Nepal's third city, it's a much more easygoing destination thanks to the absence of traffic from its centre.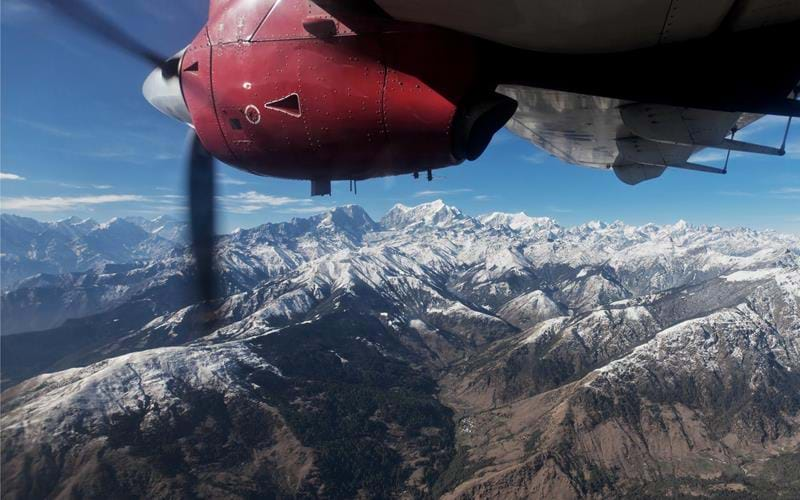 An optional – but highly recommended – extra on the third day of your Nepal adventure is the flight to see the world's highest mountain, Everest. At the crack of dawn, a fleet of small, 16-seater aircraft depart Kathmandu's airport for a scenic 45- to 60-minute flight which, weather permitting, yields unforgettable views of the ice giants lining the Nepali-Tibet border. All passengers have a window seat and for many this is the only practical way of getting up-close to some of the most magnificent scenery in the entire Himalayan range.
Accommodation Options
Day 3
Bandipur
An early start for a four-hour, winding drive to the breathtaking mountain village of Bandipur. Stay overnight at the Old Inn hotel. Spend the afternoon at leisure.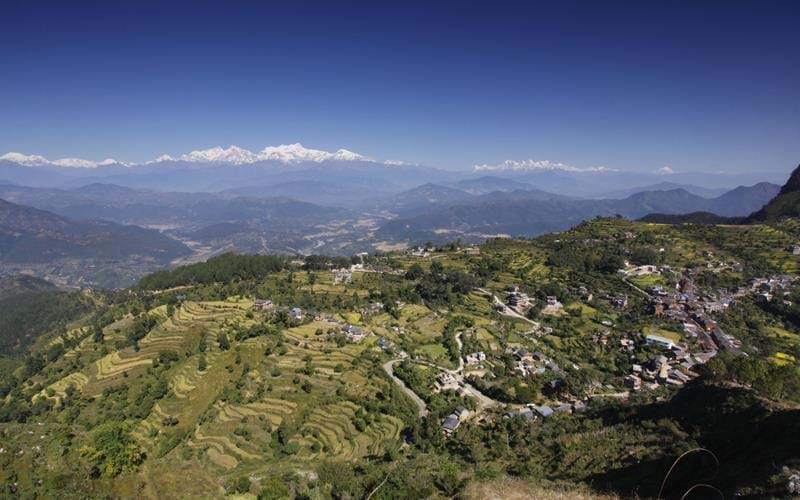 Newari traders from the Kathmandu Valley established Bandipur as a hub on the Indo-Tibet road in the late 18th century, bringing with them the rich architectural heritage that endures in the town to this day. Bypassed by the main Pokhara–Kathmadu highway, its core of brick and wood shop-houses and temple, beautifully embellished with traditional metal work and wood carving, has remained miraculously unsullied by concrete. Before supper, walk up to the old parade ground, or tudikhel, to enjoy the astounding sunset views of the Annapurnas, Mansulu range and Marsyangdi Valley from the avenue of fig trees along its western edge.
Accommodation Options
Day 4
Bandipur, Pokhara
Explore the streets of this delightful village, known for its medieval, rustic charm and take a cable car ride to see the local temple which is perched on a hill. Mountain views from this vantage point are tremendous. In the afternoon, drive three hours to Pokhara. Check in at the Temple Tree Resort or similar for two nights.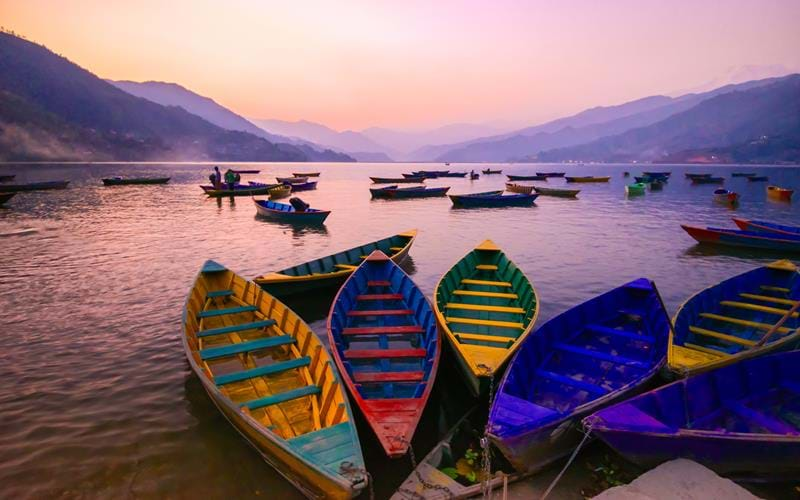 Pokhara is the only town in Nepal that could be described as a 'resort'. Lying 198km west of the capital along the Prithvi Highway, it owes its popularity to the magical view of Machapuchare ('Fish Tail') reflected in the glassy waters of beautiful Phewa Tal lake. Spend the rest of the day exploring the lakeshore and market area with your guide.
Accommodation Options
Day 5
Pokhara
The day is at leisure. For those keen to do a bit of walking and trekking on their own, there are several short trekking routes in this area which offer stunning views of the Himalaya. Optional excursions: Sunrise tour of the town. Afternoon trekking.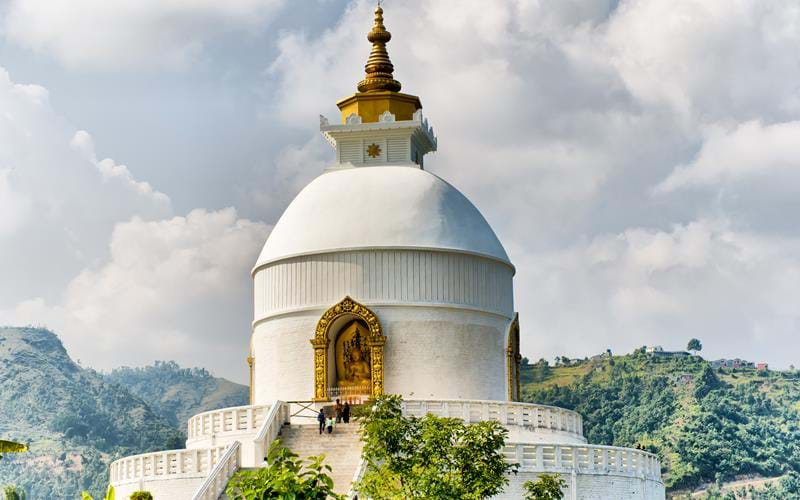 You can soak up the famous icy profile in a café on the lakeshore, or from the water on an evening boat cruise. Later, take the cable car up to the Peace Pagoda overlooking the town for a truly jaw-dropping vie  of the Himalayan summits to the north, which soar from 1000m to 7,500m in less than 30km. Your guide will be on hand to advise any keen walkers in the group who wish to undertake a short trek on their own.
Accommodation Options
Day 6
Pokhara, Chitwan National Park
A long drive (5-6 hours) through the countryside towards Chitwan National Park. Check in at the Machan Country Villa or similar for two nights.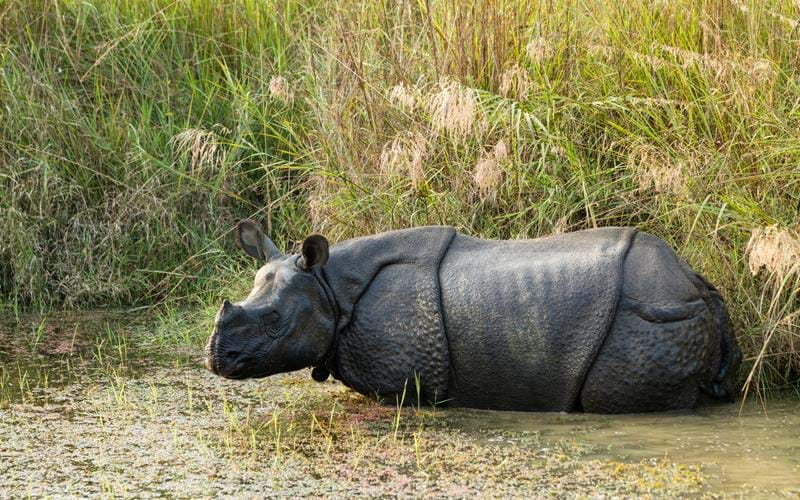 The one-horned rhinoceros is emblematic of this area, which it shares with a handful of wild (as opposed to domestic) elephants, crocodile, buffalo and bison. Deer such as the spotted and swamp varieties along with sambar are ubiquitous but there are also antelopes, tigers and leopards, hyenas, sloth bears and jackals. A handful of gangetic dolphins survive in the Karnali River and these may be sighted on boat trips.
Accommodation Options
Day 7
Chitwan National Park
A full day of jungle activities including a jeep safari, canoe ride and nature walk. Also visit the local Tharu villages and a co-operative that uses elephant dung to make paper.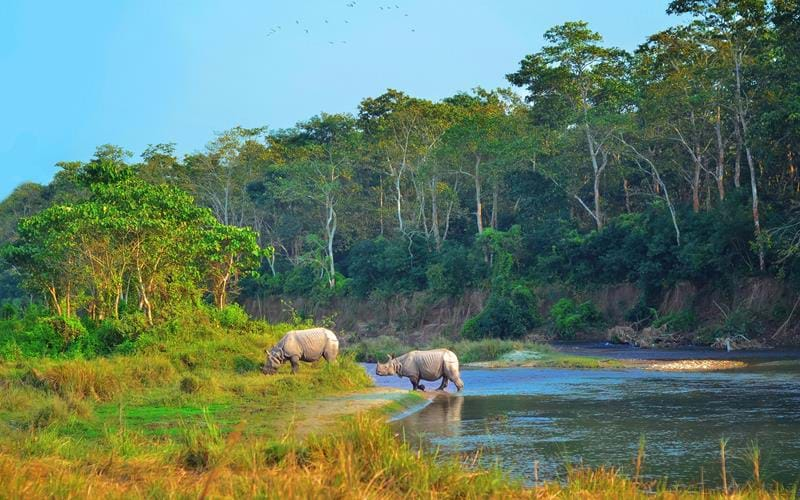 Get close to the Jurassic-looking rhinos that are Chitwan National Park's big stars, as well as the more elusive tigers inhabiting its core zone, on a jeep safari. Sightings of Gangetic dolphins and gharial crocs are almost guaranteed on the river, which you can explore by canoe. Later, visit the local Tharu village and a co-operative that uses elephant dung to make artisanal paper.
Accommodation Options
Day 8
Chitwan National Park, Kathmandu
In the morning, there is the option of a cycle ride around Sauraha or another safari in the park. Late morning drive back to Kathmandu for an overnight stay at the Kantipur Temple House or similar. Visit the impressive Buddhist stupa at Swayambhunath, to wind off the evening.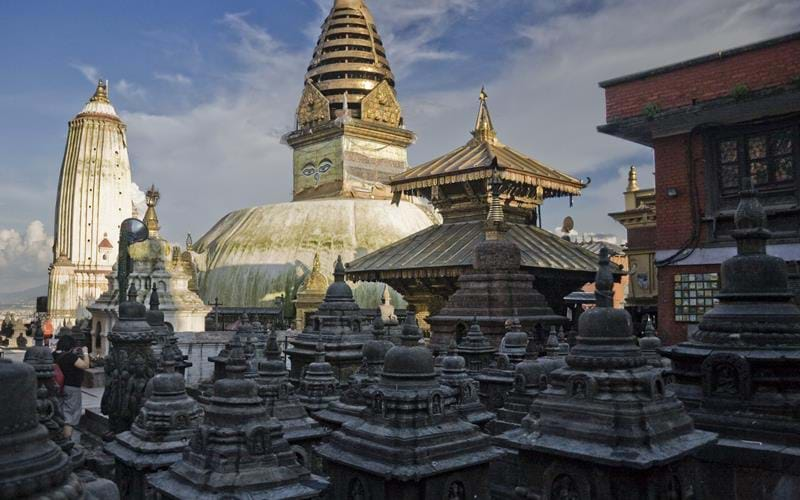 It's hard to think of a better place to spend your final evening in Nepal that the dramatic hilltop temple of Swayambhunath. Colloquially known as 'the Monkey Temple' for its resident population of macaques, the complex centres on magnificent stupa whose gilded tower and pair of huge, all-seeing eyes have become emblematic of Kathmandu.
Accommodation Options
Day 9
Kathmandu
Transfer to the airport for your onward flight.
Group Tour

9 days from £1125 per person
What's included

✓   8 nights accommodation
✓   Arrival & departure transfers and internal travel by road
✓   English-speaking guides and naturalist. Accompanying tour escort when minimum group size achieved
✓   Lunch on days 2, 4, 8. Dinner on day 1. Full board on days 3, 6, 7
✓   Entrance fees at monuments. Game drives and nature activities in national parks
tour prices for Nepal Experience
| | | | | |
| --- | --- | --- | --- | --- |
| DEPARTURE DATE | PRICE PER PERSON | SINGLE ROOM supplement | AVAILABILITY | |
Make an enquiry
Places and Experiences in this tour
Plan your Next Adventure
With the world now largely open again, now is the time to begin planning your next adventures in Asia. Our Travel Specialists are ready to take your call and discuss the adventure you have spent the last 3 years dreaming of.
Or call us on 0208 566 3739
TransIndus Brochures 2023
Join our mailing list