Tailor-made Tour

16 days from £5395 per person
Places Visited:
Muscat, Ras Al Haad, Wahiba Sands, Jebel Akdhar, Hal Al Shas, Salalah
A land of hypnotic landscapes and deep-rooted cultural traditions, Oman conforms more closely to the archetypal vision of a desert sultanate than anywhere else on the Arabian peninsula. On this carefully plotted tour, you'll experience the pick of its scenic and historic highlights, from the ochre dunes of the Wahiba Sands in the far south, to the chimeric Hajjar mountains in the centre, and dazzling turquoise water of the unspoilt coastline. Haggle for local frankincense and beautiful, hand-made daggers in the labyrinthine souqs of Mutrah and Nizwa. Snorkel off secluded beaches overlooked by pretty, wind-blown fishing villages, and trek amid the verdant terraces of almond and pomegranate trees inland. Nowhere else in the region offers such a rich diversity of experiences, and the accommodation on offer provides world-class luxury at some astounding locations.
In short: a fabulously exotic, varied fortnight combining beaches, high mountains, ancient monuments and atmospheric Arab markets, all from the base of blissful hotels.
Holiday Types
Cultural Holidays Honeymoons Adventure Holidays
Suggested itinerary
Day 1
UK, Muscat
Fly overnight from the UK to Muscat, capital of the Sultanate of Oman.
Day 2
Muscat
On arrival, you'll be met by your TransIndus driver and guide, and escorted in a private vehicle to your hotel, where you'll stay for three nights. Spend the rest of the day recovering from your journey, perhaps venturing out later for an acclimatizing trip to Mutrah.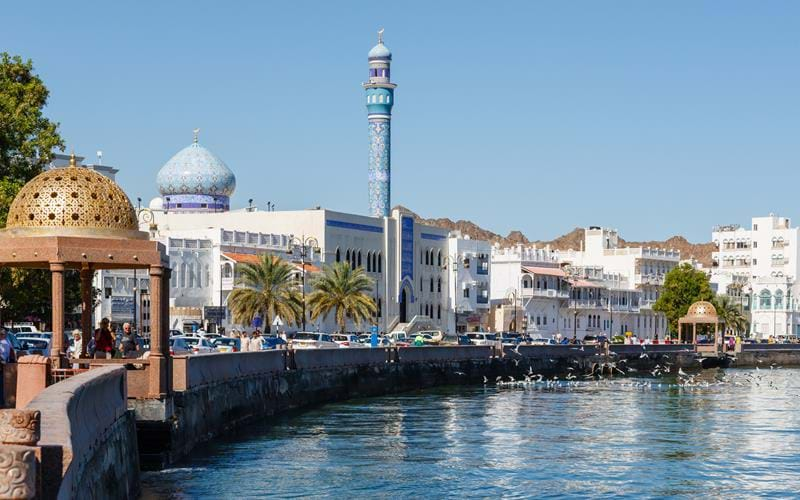 An ideal place to get your bearings is the historic seafront promenade at Mutrah, the commercial hub of old Muscat. A twenty-minute drive east of the new town, its waterside walkway sweeps from the ferry port in the west to leafy Al Riyam Park in the east, where a giant incense burner placed on a hilltop hill gives a superb view over the bay. After sunset, head to the Al Ahalam souq, one of the oldest and most atmospheric bazaars in the Arab world. As well as everyday items, the narrow, twisting alleyways of the market hold stalls devoted to frankincense, rose perfume, spices, richly embroidered Omani caps (kumahs), traditional knives and hunting falcons.
Accommodation Options
Day 3
Muscat
A full day's sightseeing in Muscat begins after breakfast with a visit to the Grand Mosque, followed by the Bait Al-Zubair museum. In the afternoon, head over to Mutrah again to see the Al Alam Palace and revisit the souq.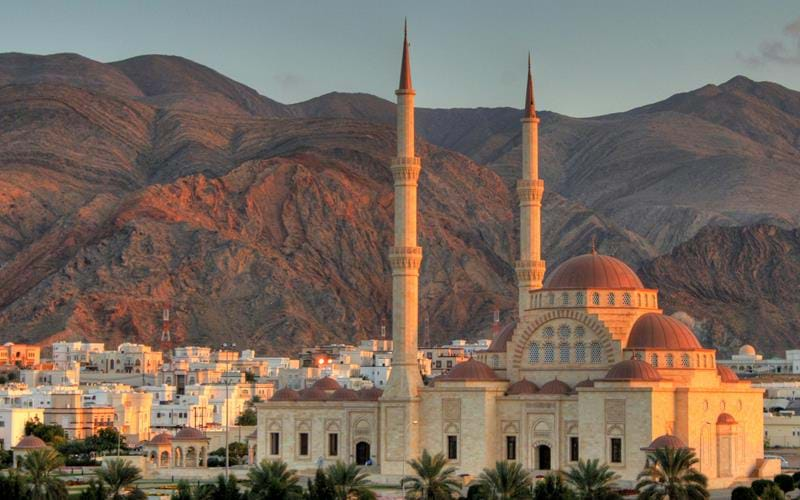 Start your sightseeing at the beautiful Grand Mosque, a glorious example of modern Islamic architecture, then head across town to Bait Al-Zubair Museum, whose collection of costumes and weapons serves as an ideal primer for local Bedouin traditions and history. From Bait al-Zubair, cross the street to the Bait Muzna Gallery for an introduction to local art before continuing your walk to the Sultan's Palace, Al Alam, principal residence of the Sultante's ruler, Qaboos bin Said al Said. At this point, you could break for a pitstop in a traditional Muscat coffee shop before returning to the souq for a more in-depth exploration. The section devoted to gold is particularly impressive.
Accommodation Options
Day 4
Muscat
Enjoy a memorable roadtrip today combining some of Oman's most wonderful mountain landscapes with visits to a succession of dramatic castles and wadis in the desert to the west of Muscat.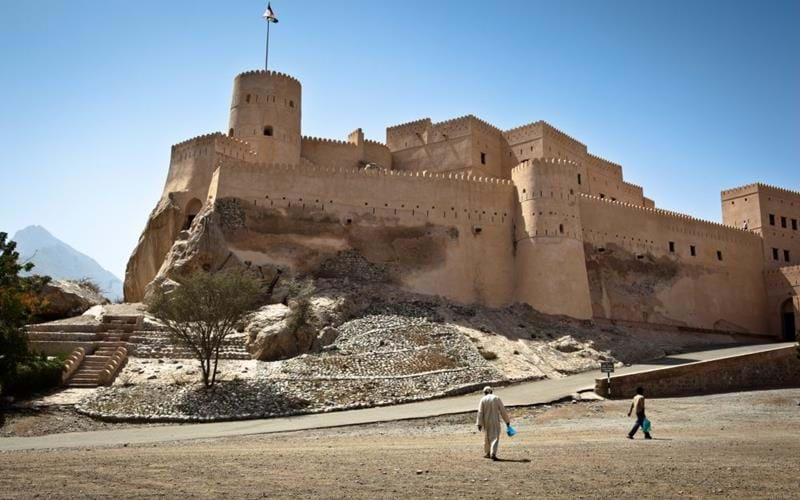 Drive along the fertile coastal plain, veering inland at Al Masnaah to Rustaq and Nakhl, where a pair of striking desert castles are framed by lush carpets of date palms and craggy, camel-coloured mountains. Afterwards, continue deeper into the mountains as far the remote village of Wakan, whose cluster of pastel-painted houses preside over orchards of apricots, pomegranates and grapes. You can walk through the terraces to an old watchtower at the top of the hamlet for a superb view over Wadi Mistal. Return to Muscat via Wadi Abheyad ('White Wadi'), pausing for a swim in a series of turquoise pools.
Accommodation Options
Day 5
Ras Al Haad
A varied days begins after breakfast as you head southeast down Muscat's spectacular coastal highway to Ras Al Hadd, on the eastern-most tip of the Arabian Peninsula, pulling over at the ruins of ancient Qalhat, a couple of beaches, fishing villages and wadis along the way.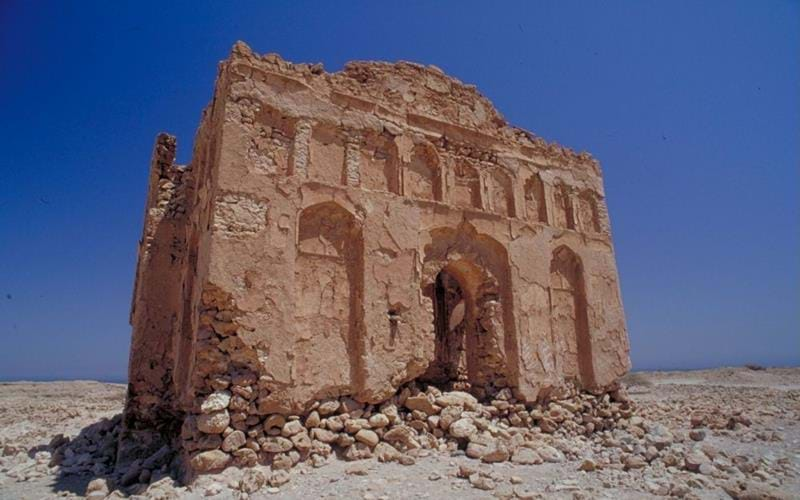 First stop on today's drive is the Bimmah Sinkhole, a flooded limestone crater which you can swim in. More dazzling turquoise water awaits at Fins, where a tiny fishing village huddles beside a beautiful white-sand beach. Next, take a short detour inland the towering cliffs of Wadi Tiwi, before winding up at Qalhat, one of Arabia's oldest seaports. Your final stop of the day will be at Ayjah, a picturesque fishing harbour opposite Sur.  After supper in Ras Al Hadd, you'll have the chance to watch nesting turtles on nearby Sharqiya beach, part of the Ras Al Jinz nature reserve (depending on the season).
Accommodation Options
Day 6
Wahiba Sands
After a short but memorable diversion to a pair of pretty desert villages, your journey down the wild east coast of Oman approaches the Wahiba Sands, where you'll spend a night in a camp amid the dunes.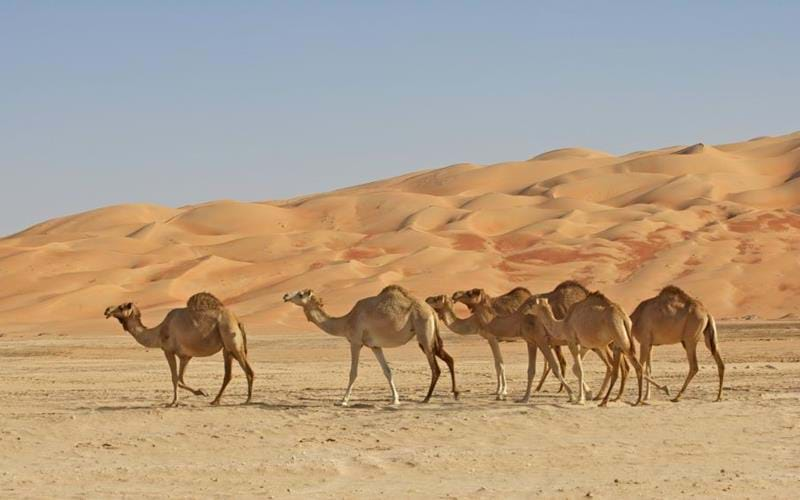 A traditional Omani atmosphere prevails at the twin villages of Jalan Bani Bu Hassan and Jalan Bani Bu Ali, where a couple of old domed mosques, watchtowers and fortified houses provide ample incentive to divert inland from the main coastal route. Later, you'll explore Wadi Bani Khalid, whose tempting green pools and bleached boulders provide a welcome wild swimming spot before you penetrate the more arid Wahiba Sands – a desert region noted for its biodiversity, giant dunes and population of semi-nomadic Bedouin people. Your luxury camp deep in the desert will provide the perfect springboard from which to experience this magical area, whether of foot or 4WD.
Accommodation Options
Day 7
Jebel Akdhar
An early start is required today to enjoy the surrounding dunes at sunrise, followed by another compelling day's drive, this time to Jebel Akdhar, deep in the East Hajjar mountains.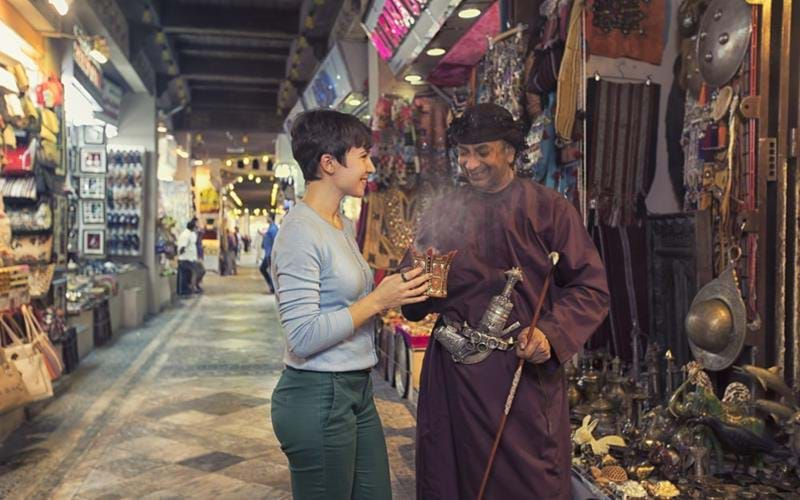 First halt of the day will be at the town of Ibra, capital of the powerful Al-Harthy Bedouin tribe, for a tour of its market area. The souq is particularly famous for its traditional silver workshops and Wednesday morning fresh produce bazaar. From Ibra, the road the winds steeply into the Hajjar mountains. Your base for exploring the region will be 2,000m (6,500ft) above sea level on the edge of the Saiq Plateau at Jebel Akdhar, one of Oman's highest massifs. A constellation of pretty whitewashed villages, fed by water channelled via ancient fajars from the high ground, are swathed in lush bands of fruit and nut trees.
Accommodation Options
Day 8
Jebel Akdhar
Today you'll visit the historic oasis town of Nizwa to see its bustling cattle auction, which takes place every Friday. Explore the castle and souq before returning to your resort in the mountains for an afternoon at leisure beside the cliff-edge infinity pool.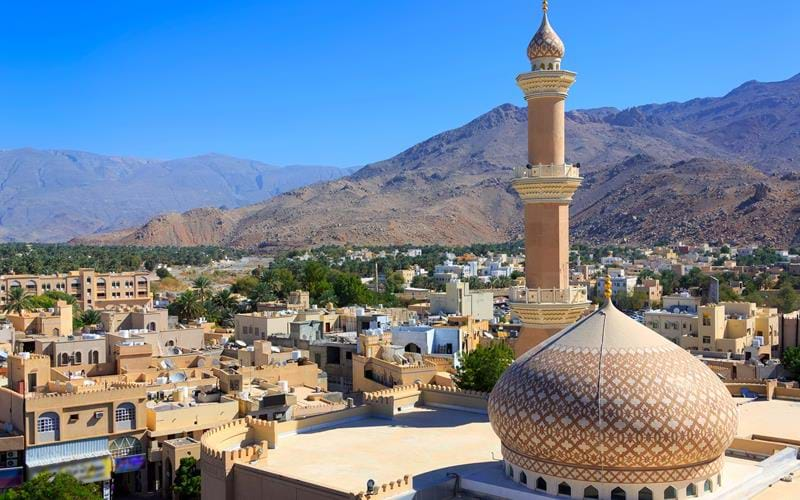 Nizwa served as the Omani capital in the 6th and 7th centuries, and remains the country's principal centre for study, culture and the arts. Its historic core holds several ancient mosques, whole streets of mud-walled buildings and a souk that's famous country-wide for its silver amulets, necklaces and khanjar daggers. Buying tends to be a leisurely affair. While settling on a price, expect to be plied with sticky local halwa and coffee laced with cardamom, rosewater and saffron.
Accommodation Options
Day 9
Hal Al Shas
A succession of spectacular Omani fortresses punctuate your journey into the Jebel Shams region today, where you'll experience the country's great natural wonder, the Wadi Nakhr gorge, before continuing to your hotel high in the mountains.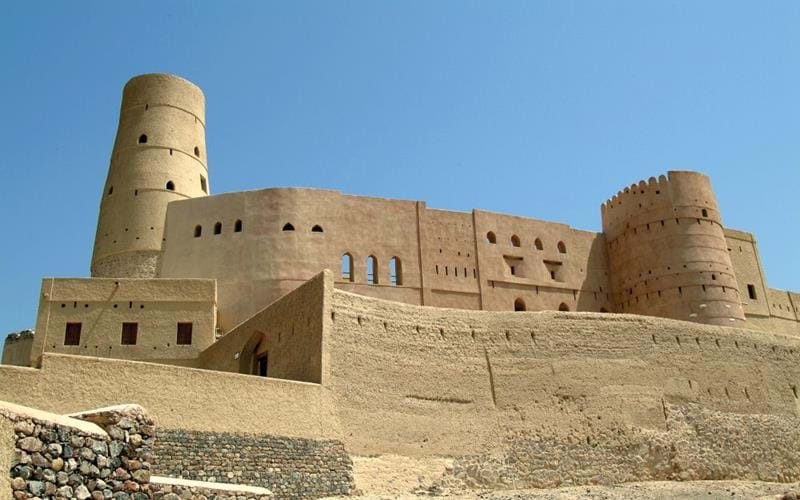 UNESCO-listed Bahla Fort, the first stop on today's itinerary, rises in spectacular fashion above a walled town of narrow, twisting lanes – former capital of the Bani Nebhan tribe, who ruled the region between the 12th and 15th centuries. The interest in nearby Jabrin Castle lies mainly in the exquisite wood carving and murals adorning its interiors. Both citadels lie at the foot of Oman's highest mountain range, the Jebel Shams, which you'll ascend via a detour to admire the jaw-dropping vistas over Wadi Nakhr, Oman's own 'Grand Canyon'. The isolated mountain village of Misfah, a centre of traditional rug weaving, will be your final stop.
Accommodation Options
Day 10
Salalah
Experience more amazing sights in Oman's high mountain area in the morning, before driving back down to Muscat to pick up an evening flight to Salalah, capital of Oman's Dhofar Province, where you'll be met by your TransIndus guide and accompanied to your hotel.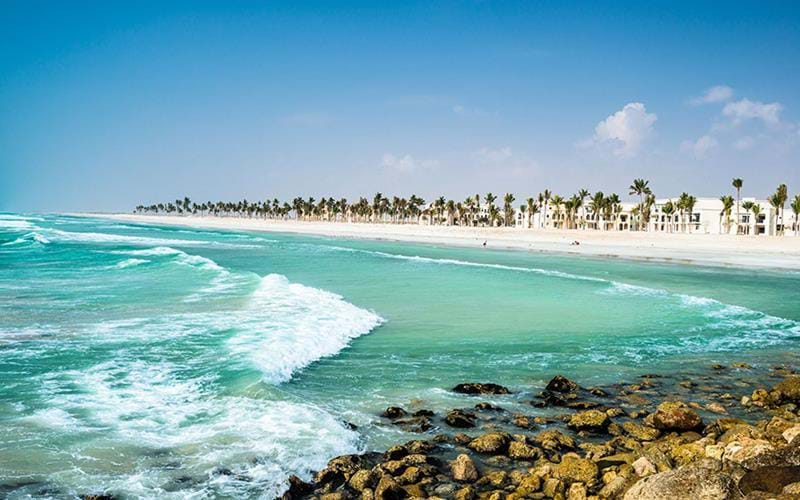 First stop on today's sightseeing tour will be the impressive showcave of Al Hoota – a 3-kilometre tunnel deep in the Hajjar range featuring a central chamber the size of a ballroom. Continue with a soft trek around a string of photogenic mountain villages where delicious honey is produced, then descend to Muscat airport to catch your onward flight to Salalah, in southern Oman. Famous for its summer monsoon, tropical fruit plantations and ancient frankincense trade, the city is the second largest in the country and enjoys a spectacular coastal location with long, empty beaches stretching to the horizon.
Accommodation Options
Day 11
Salalah
The town of Taqah, a fishing port with a striking castle to the east of Salalah, will be your first destination today. Later, continue to the ruins of ancient Samhuram and Mirbat, before heading into the Jebel Qara in the afternoon to see the tomb of the Prophet Ayoub (Job).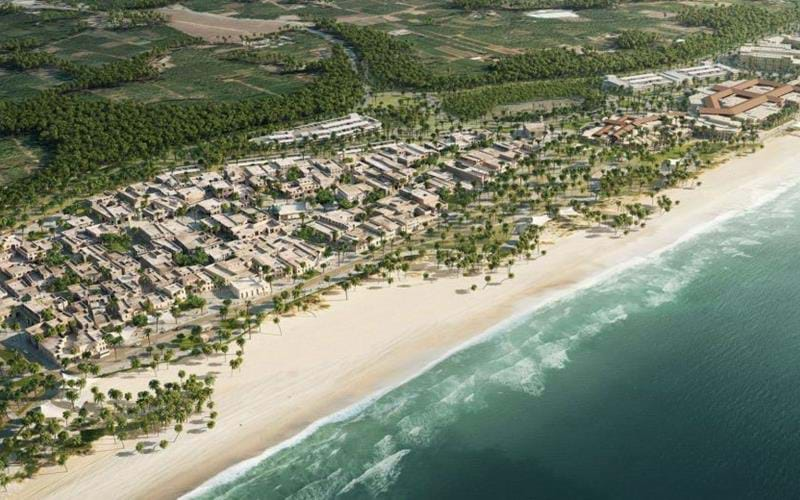 For thousands of years, Salalah – or more accurately the port city of Samhuram (near Khor Rouri) to its east – was the world's principal source of frankincense, a once valuable commodity originating in the wadis of inland Dhofar. The remains of streets, small buildings and temples have been unearthed on the site, which was deserted sometime in the 7th century AD. Another old frankincense port was the town of Mirbat, further up the coast, now one of the prettiest fishing towns in Arabia, with wooden dhows listing on a beach overlooked by a cluster of pastel-painted houses – a photographer's dream.
Accommodation Options
Day 12
Salalah
Tour the sights of Salalah city today, beginning with the museum and archeological site of Al Baleed.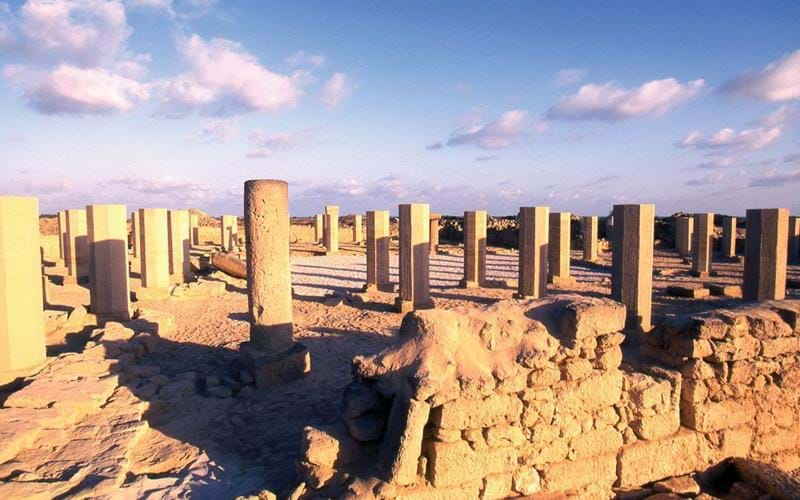 At Al Baleed, only a stone's throw from the Antara Resort, you can walk among the toppled columns of a 10th-century mosque and discover Oman's long seafaring history at the site's excellent museum. Spend the afternoon relaxing by the hotel pool, perhaps heading into town later to visit Salalah's souq, Al Husn, where you can pick up various kinds of local frankincense and rose attar.
Accommodation Options
Day 13
Muscat
After breakfast, head to the airport to catch your flight back to Muscat. On arrival, you'll be escorted by a local guide to your beachside hotel for a three-night stay.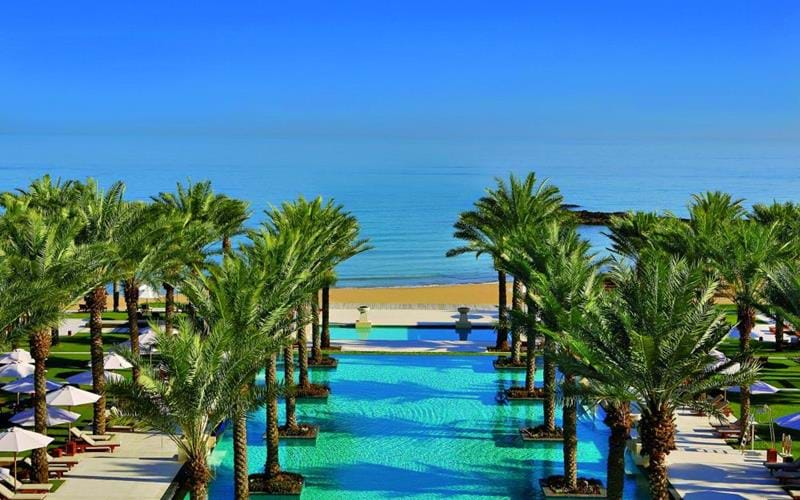 Muscat city offers plenty of scope for a beach break at the end of your tour. If you're chosen hotel is the Al Bustan Palace, the Chedi or Al Husn, you'll have a private beach on your doorstep with well spaced sunbeds and parasols, as well as a choice of pools to swim in. With a car at your disposal, you could also venture further afield to Qurum Beach, one of the longest in Oman, or Bandar Jissah, a rocky bay just outside the city, from where local fishermen ferry visitors out to remote coves that are great for lazing, picnics and snorkelling.
Accommodation Options
Day 14
Muscat
Another day at leisure to enjoy the transparent waters and pristine sands of the capital's beaches.
Day 15
Muscat
Your final day in Oman. Spend it catching some last rays, enjoying the subaquatic marine life and shopping for souvenirs at the souq in Mutrah.
Day 16
Muscat, UK
Time to bid farewell to the Sultanate of Oman as you head to the airport to catch your flight back to the UK.
Tailor-made Tour

16 days from £5395 per person
What's included

✓   International flights from London
✓   14 nights accommodation
✓   All internal transportation and transfers
✓   English-speaking guides
✓   Breakfast daily
✓   Entrance fees to sites and monuments listed in tour itinerary
Places and Experiences in this tour
Plan your Next Adventure
With the world now largely open again, now is the time to begin planning your next adventures in Asia. Our Travel Specialists are ready to take your call and discuss the adventure you have spent the last 3 years dreaming of.
Or call us on 0208 566 3739
TransIndus Brochures 2023
Join our mailing list