Tailor-made Tour

7 days from £2640 per person
Places Visited:
Muscat, Sur, Nizwa
This week-long taster tour showcases the cream of the Sultanate's sights and experiences – from the rugged wadis of the Hajjar range to the windswept beaches of the east coast and spectacular dunes of the Wahiba Sands. A succession of exotic Arabian castles and souqs punctuates a loop back Oman's mountainous interior to the capital, where you'll arrive in time for a final swim and shopping trip before catching the plane home. Accommodation will be in a mix of world-class luxury resorts and boutique properties, set amid some of the most otherworldly landscapes in the Middle East.
In short: a superbly varied week of exotic scenery, markets, monuments, beaches and desert ideal for those special trips celebrating a honeymoon or a special annivarsary.
Holiday Types
Cultural Holidays Honeymoons Adventure Holidays
Suggested itinerary
Day 1
UK, Muscat
Fly from the UK to Muscat, capital of the Sultanate of Oman. On arrival, you'll be met by your driver and guide and escorted to your hotel. Spend the rest of the day recovering from your journey, perhaps venturing out later for trip to Mutrah.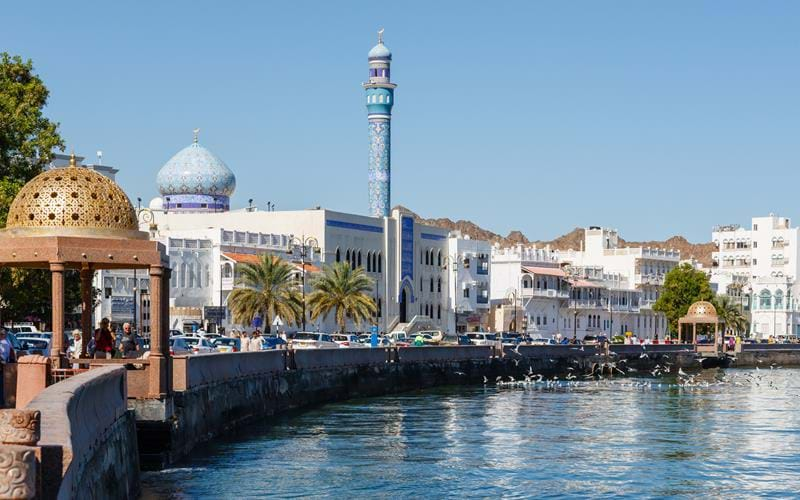 An ideal place to get your bearings is the historic seafront promenade at Mutrah, the commercial hub of old Muscat. A twenty-minute drive east of the new town, its waterside walkway sweeps from the ferry port in the west to leafy Al Riyam Park in the east, where a giant incense burner placed on a hilltop hill gives a superb view over the bay. After sunset, head to the Al Ahalam souq, one of the oldest and most atmospheric bazaars in the Arab world. As well as everyday items, the twisting alleyways of the market hold stalls devoted to frankincense, rose perfume, spices, richly embroidered Omani caps (kumahs), traditional knives and hunting falcons.
Accommodation Options
Day 2
Muscat
A full day's sightseeing in the capital today starts with a round of the museums and sights of old Muscat.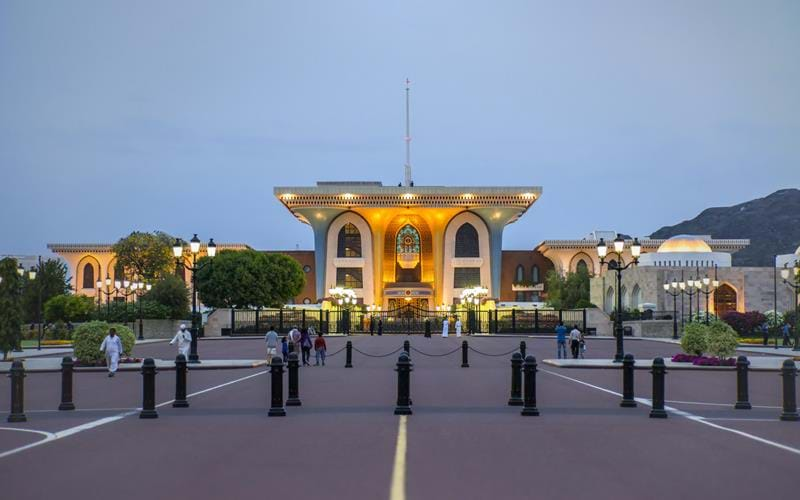 Start your tour at the beautiful Grand Mosque, a glorious example of modern Islamic architecture, then head across town to Bait Al-Zubair Museum, whose collection of costumes and weapons serves as an ideal primer for local Bedouin traditions and history. From Bait al-Zubair, your guide will show you to the Bait Muzna Gallery for an introduction to local art before continuing your walk to the Sultan's Palace, Al Alam, principal residence of the Sultante's ruler, Qaboos bin Said al Said. At this point, you could break for a pitstop in a traditional Muscat coffee shop before returning to the souq for a more in-depth exploration. The section devoted to gold is particularly impressive.
Accommodation Options
Day 3
Muscat
Enjoy a memorable roadtrip today combining some of Oman's most wonderful mountain landscapes with visits to a succession of dramatic castles and wadis in the desert to the west of Muscat.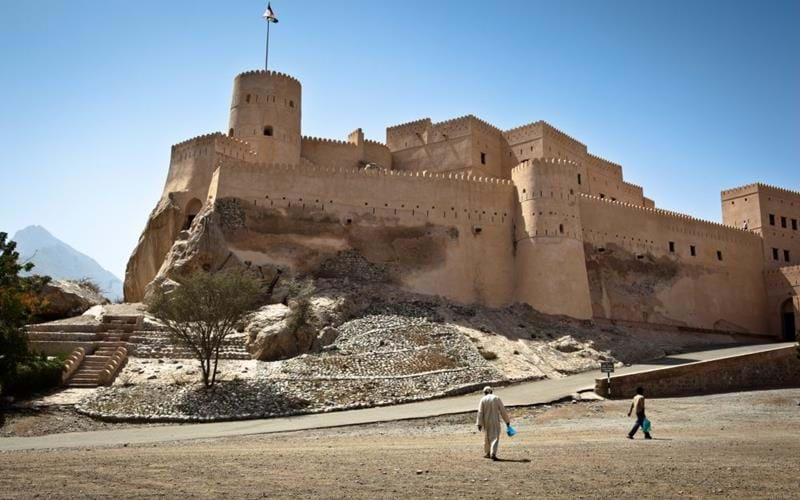 Drive along the fertile coastal plain, veering inland at Al Masnaah to Rustaq and Nakhl, where a pair of striking desert castles are framed by carpets of date palms and craggy, camel-coloured mountains. Afterwards, continue deeper into the mountains and the remote village of Wakan, whose cluster of pastel-painted houses preside over orchards of apricots, pomegranates and grapes. You can walk through the terraces to an old watchtower at the top of the hamlet for a superb view over Wadi Mistal. Return later to Muscat via Wadi Abheyad ('White Wadi'), pausing for a swim in a cool turquoise pool.
Accommodation Options
Day 4
Sur
A varied day begins after breakfast as you head southeast through the coastal range to Sur, pausing to stretch your legs at the fishing port of Quriyat and, later, to admire the vivid colours and refreshing river pools of Wadi Shab.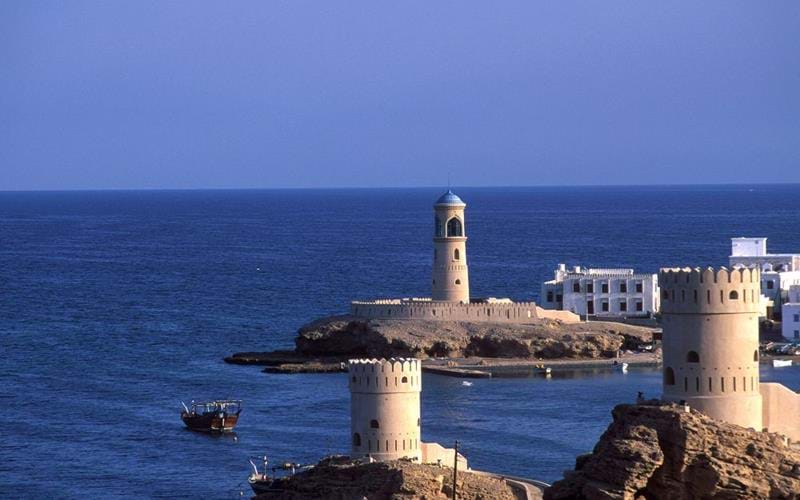 Quiryat is the first town of any importance on the coast south of Muscat, and is worth stopping at to visit its handsomely restored castle. Further south, Wadi Shab cradles a succession of deep, blue-green pools and waterfalls hemmed in by dramatic cliffs. Launches are on hand to ferry you to less easily accessible stretches of the canyon for some fabulous wild swims and walks through date plantations and narrow ravines. Having checked in to your hotel at Sur, head into town to visit the town's castle before a sunset walk on the seafront.
Accommodation Options
Day 5
Nizwa
Visit Sur's historic dhow-building yard after breakfast, then continue south to the Wahiba Sands region for a dune drive before arriving at Nizwa.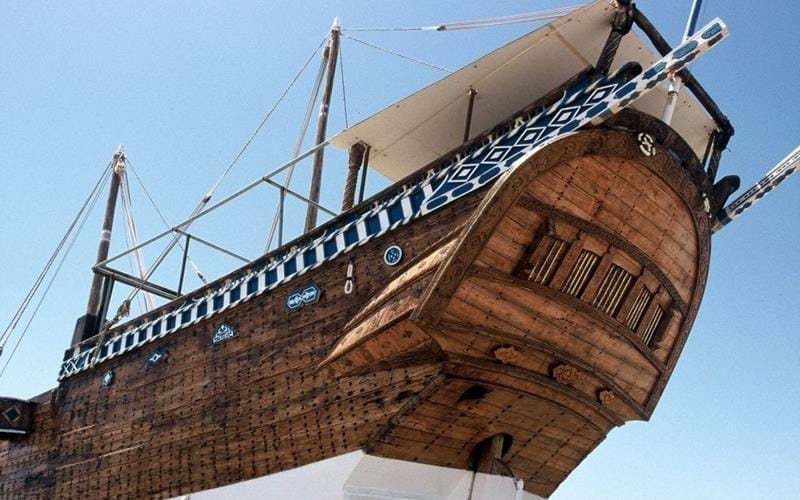 Sur has a long tradition of dhow building, and ocean-going ships of different sizes are still hand-made in the traditional way at the town's boatyard . . . using wood, but no nails! Once you've watched the shipwrights at work, visit the nearby Maritime Museum to learn more about the construction process and region's sea-borne trade.  An hour's drive south of Sur brings you to an area of huge, orange dunes known as the Wahiba Sands where you can get a flavour of the great Arabian desert before continuing northeast to Nizwa, a historic Bedouin town at the foot of the Hajjar mountains.
Accommodation Options
Day 6
Muscat
Spend the morning visiting Nizwa's 17th-century fort and wonderful old souq, then continue on to the castles of Bhala and Jabrin before returning to Muscat for your final night.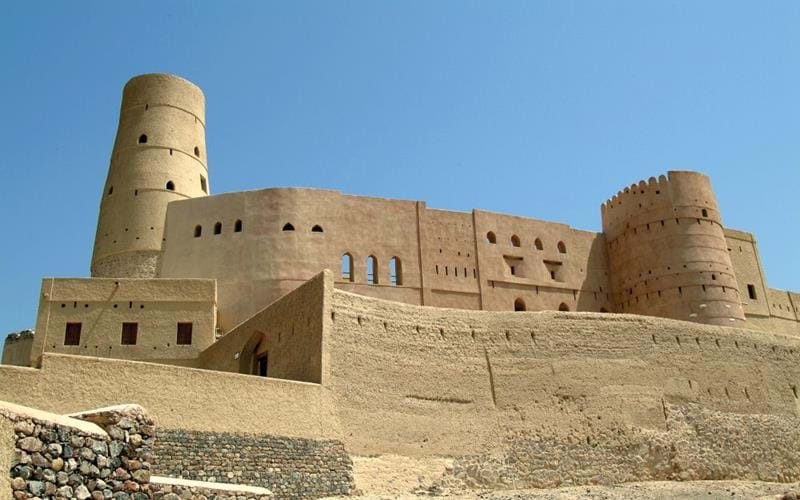 The Omani capital in the 6th and 7th centuries, Nizwa remains the country's principal centre for culture and the arts. Its historic core holds several ancient mosques, forts, streets of mud-walled buildings and a souq that's famous throughout the country for its traditional silver khanjar daggers. Buying tends to be a leisurely affair. While settling on a price, expect to be plied with sticky local halwa and coffee laced with cardamom and rose water. Rising in spectacular fashion above a walled town of narrow, twisting lanes, UNESCO-listed Bahla Fort is the penultimate stop, followed by nearby Jabrin Castle, whose interior is adorned with some exquisite wood carving and murals. Return to Muscat for dinner.
Accommodation Options
Day 7
Muscat, UK
Transfer to the airport after breakfast for your return flight to the UK.
Tailor-made Tour

7 days from £2640 per person
What's included

✓   International flights from London
✓   6 nights accommodation
✓   All internal transportation and transfers
✓   English-speaking guides
✓   Breakfast daily
✓   Entrance fees to sites and monuments listed in tour itinerary
Places and Experiences in this tour
Plan your Next Adventure
With the world now largely open again, now is the time to begin planning your next adventures in Asia. Our Travel Specialists are ready to take your call and discuss the adventure you have spent the last 3 years dreaming of.
Or call us on 0208 566 3739
TransIndus Brochures 2023
Join our mailing list