China 23.03.2015 Transindus
China's national capital and cultural heart, Beijing is packed with sights, sounds and smells to dazzle any traveller. If you're planning to visit it as part of a wider tour of China, you might find you don't have masses of time to explore this sprawling city, which is home to attractions that take whole days to discover in themselves!
Our guide will give you a few ideas of how best to enjoy the capital if your time is limited. Assuming this will be your first trip to Beijing, there are some sights that you really shouldn't miss. As we mentioned briefly above, some of these do take a long time to explore, so it's best to pick just one of these to focus on, then sprinkle some quicker attractions in around it. And, if you do end up having a little more spare time than you thought, you can always embark on a whirlwind visit of another larger attraction!

Tian'An Men Square
The largest public square on the planet, Tian'anmen Square covers an incredible 440,000 sq m. It's not only a must-visit because of its size though. Considered to be the symbolic heart of China, it is one of the most important sites in the city, and from here you'll be able to see an array of interesting buildings.
And while these buildings are compelling in their own right, they are perhaps more fascinating when regarded together. This is because there's a real mishmash of styles, including historical Chinese architecture and more Soviet-style buildings, which hark back to the time of Mao.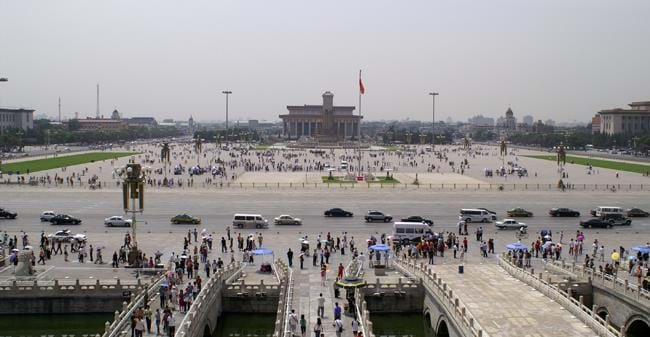 The Forbidden City
Our next few suggestions - the Forbidden City and the Summer Palace - are your options of where to go next. Generally speaking, if you only have 24 hours in Beijing, it's better to visit just one of these, simply because there's just so much to see at each. In fact, you could easily dedicate an entire day to each one, so don't be tempted to rush through both - if you do, you won't really have the best experience of either.
The Forbidden City is the world's largest palace complex, as well as China's best-preserved (and biggest!) collection of ancient buildings. Ringed by a vast moat, it was once home to the country's rulers; today, it is a major tourist attraction. It's worth picking up an audio guide, which updates automatically depending on where you are, to listen to as you explore - this'll help you get to grips with everything you see. 
One of the highlights is the Three Great Halls, which stand on a marble raised terrace. Recently restored, the Hall of Supreme Harmony is the largest building in the whole complex, and was used for official ceremonies, like coronations. Another highlight is the Clock Exhibition Hall, which is home to some absolutely beautiful timepieces.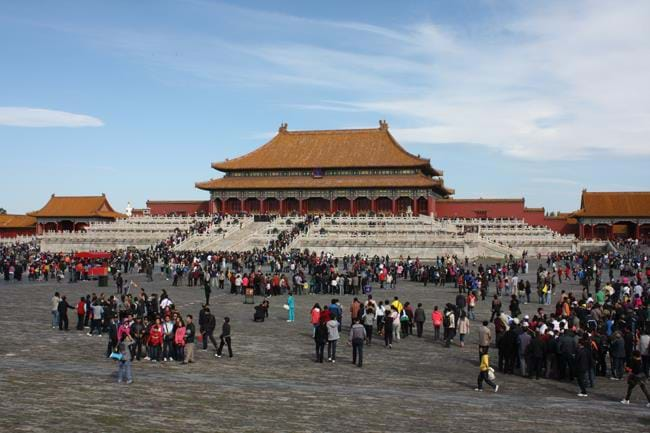 The Summer Palace
Visiting the Summer Palace is a good alternative to the Forbidden City. Once upon a time, this was a royal garden, and after being expanded and revamped by Emperor Qianlong in the 18th century, it became something of a fun green oasis where emperors could escape the summer heat. 
Its mixture of gardens, pavilions, temples, lakes and bridges are a beautiful triumph of landscaping, and make this place a real joy to stroll around. Kunming Lake takes up most of the park, while there are some impressive buildings that definitely merit a visit if you can tear your eyes away from the gorgeous scenery for a moment. 
The most important of these buildings is the Hall of Benevolence and Longevity, which you'll find over by the east gate. You can't actually go inside, but it's well worth taking a look nonetheless. Another highlight is the Long Corridor, which runs along the northern shore of the lake and is lined with some fantastic paintings.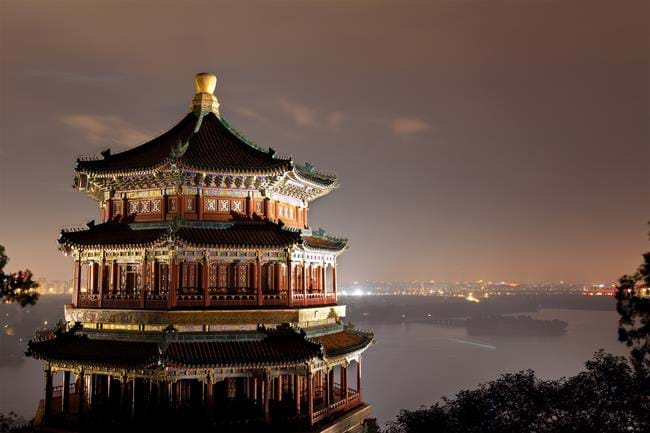 Try Peking duck
No matter how you decide to spend your day, your evening should be dedicated to tasting the delights of Beijing, the crowning glory of which is Peking duck.
Once upon a time, this was solely imperial food, but since the early 20th century it's been sold in restaurants throughout the city and beyond. Known for its crispy skin and juicy meat, this dish is served with light pancakes, sliced cucumbers, spring onions and fermented bean paste.