Thailand 20.02.2014 Simon Fransham
Vibrant, colourful, loud, smoky, bustling, exciting, turbo-charged, and conversely, often peaceful… all these adjectives appropriately describe Bangkok. Known as Krungthep in Thai; Bangkok, with a population of around eight million, is the first port of call for most visitors to Thailand. It is to Thailand what London is to England; not just in the sense that it is the capital city, but more that culturally it is a representation of every region from within the country it resides - Bangkok attracts a huge work-force from the provinces - (and some from neighbouring countries).
It is also very evident how cosmopolitan it is in relation to the rest of the kingdom. Cosmopolitan it may be, Bangkok still retains a strong sense of Thai culture throughout. Tradition and religion play a large part in Thai society, and this is demonstrated well in Bangkok, where modern skyscrapers sit very comfortably next to small colourful Buddhist temples, and these modern skyscrapers will have their Buddhist shrines, and spirit houses located outside the buildings, just as you would find at a rustic village home in rural Thailand.
Bangkok is a fascinating metropolis, a wonderful introduction to Thailand, and even if only planning to fly in and out of Bangkok to travel onto Burma or Indochina, I would urge you to spend a couple of days experiencing the city. It can be overwhelming to the first-time visitor, but luckily, having lived there I know it intimately, and so I've outlined exactly how you may just get the most out of your 48 hours in Bangkok.
The full Thai name of Bangkok is: Krungthep Mahanakhon Amon Rattanakosin Mahinthara Ayuthaya Mahadilok Phop Noppharat Ratchathani Burirom Udomratchaniwet Mahasathan Amon Piman Awatan Sathit Sakkathattiya Witsanukam Prasit.

Day 1

9am
Land at Bangkok Suvarnabhumi airport. Avoid the airport touts and taxi queues, and be met at the airport. Walk outside and the first thing you notice is the wall of humidity. Thankfully your car has air-conditioning. Suvarnabhumi airport is a large new airport, opened in 2006, and is located about 45 minutes' drive east of the city centre. Your driver will take the elevated toll-way so look out the window and see the many condominium buildings - you are passing through a largely residential suburb - the numerous magnificent Buddhist temples, and the occasional tall coconut palm reaching high to the morning sun.
10am
Arrive at your hotel. Your room may be ready (this is always at the hotel's discretion as official check-in time is usually 14.00). If your room is not ready, don't be too disheartened, there is a whole city out there waiting to be explored. Although, you may feel tired and need refreshing after your flight, so, check-in, drop-off your luggage, and…
11.30am
Go for a rejuvenating traditional Thai massage. One is never far from a traditional Thai massage centre whilst in Bangkok, and it is the perfect way to unwind. You will come out feeling like a new person, and it will be sure to give you energy for the coming day.
12.30pm
You may be feeling hungry, and noodle-soup (ba-me naam) is the perfect afternoon snack. Found on many street corners, simple roadside stalls cook and serve up piping hot noodle-soup, and if you can't eat very spicy food, don't worry, as chilli is never added by the vendors. Dried chillies are always in the middle of the table along with fish-sauce, and fish sauce mixed with fresh chillies, and vinegar, all as common as salt and pepper is in the UK.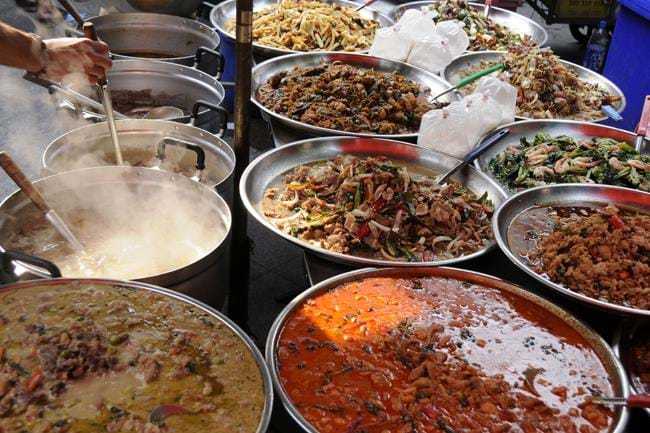 1pm
Perhaps this is your first time in Bangkok. The city sometimes feels like one large market, to the extent that in every direction there are stalls on the street selling anything one could possibly require. Go out and explore a market. If today is a Saturday or Sunday, consider visiting Chatuchak weekend market. This is an enormous outdoor and partially covered market that is possible to spend several hours browsing. Avoid the traffic by taking the Skytrain to Mo Chit station (the northernmost station). The Skytrain is an excellent way to travel - efficient, inexpensive, and offers an excellent view of the city from up-high.
Whilst at the market, be sure to try the coconut ice-cream. You should find several vendors, and it is normally served in a halved coconut-shell, with a refreshing glass of ice-cold coconut water. If you buy anything bulky that you would like to send home, there are various courier companies based in the market to bubble-wrap your prized teak-chest and post home for you to receive on arrival.
If not here on a Saturday, explore one of the other markets Bangkok has to offer. Take the Skytrain to Saphan Taksin station. Here, you can connect to an Express river-ferry at Sathorn. These ply the river ferrying around locals and tourists alike, are excellent value and with such a regular and efficient service, really puts London's river-ferry service to shame. Take the Chao Praya express ferry up-river disembarking at Saphan Phut (Memorial Bridge). From here, go straight-on from the river, then heading left (broadly west), take a stroll around the large flower market, known in Thai as Pakklong Talad.
Here you will find an interesting array of flowers and plants for sale over a large area. The market is mostly wholesale, and you will find locals bartering and wheeling carts up and down the road, which creates a vibrant and colourful atmosphere. You can spend quite some time here taking it all in. Walk back on yourself from the market and continue around the corner to the left (broadly north), along Thanom Chakphet, to find Pahurat - Bangkok's Indian district.
Here you will find a large Sikh temple, some fascinating bazaars mostly lined with fabric shops, and a mix of Thai and Indian culture, including some delicious Indian street-food snacks for sale. There is a samosa vendor next to India Emporium that serves very tasty samosas and pakoras. Walking into the soi (side-street) you will find Indian shops and small restaurants, additionally with a sizable Burmese community - and the opportunity to try Burmese snacks such as mohinga - a sumptuous fish and noodle dish.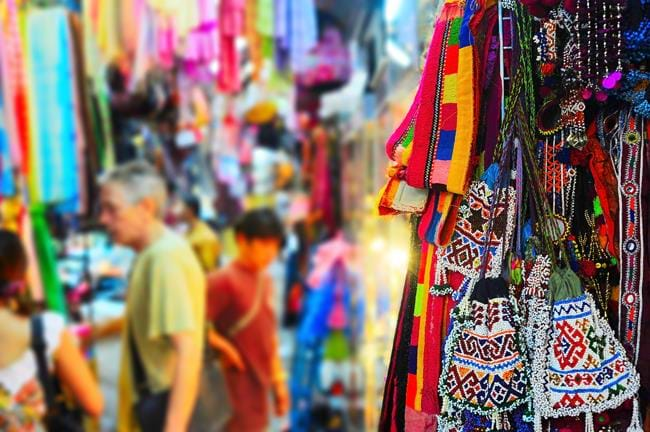 3pm
Head back to the pier to board the Chao Praya Express ferry, just heading southeast (to the left as you look at the river) one stop getting off at Rajchawongse pier. This brings you to the heart of busy Chinatown. It is worth spending an hour exploring this area - it is an energetic district and very integral, since the Chinese-Thai community plays such as large part and has such great influence within the country. I would recommend trying some of the street-snacks. If you see any street-food stalls with belly-pork on display, you should try a plate. In Thai, it is called khao-moo glob, and is served with rice, and a delicious sticky-sweet-spicy sauce. Another sumptuous dish is khao moo dang. This is roasted red-pork on rice with a mouthwatering mildly spiced sauce.
5pm
From Chinatown, either take a taxi or haggle for a tuk-tuk, and ask to go to Siam Square (pronounced say-yam sa-quare). Synonymous with Thailand, and larger than their Indian counterparts, tuk-tuks are a fun way to get around, but as there are no meters involved haggling is a must. Even after haggling, they often work out more expensive than taxis. Expect to pay around 100 baht (£2) for a 20 minute ride across town. Most tourists end up paying a lot more. Locals may pay slightly less.
Bangkok's modern centre is where moneyed Thais go to flaunt their cash at one of the many glitzy shopping malls, Thai youth go to slurp milkshakes and hangout, and fashionistas go to browse the countless independent clothing boutiques. This is Siam. Centred on Siam Square, and surrounded by Siam Paragon, Siam Discovery, Siam Centre, and MBK shopping malls, you can read where the emphasis lies. Shopping malls are not for everyone, and I wouldn't recommend flying to all the way to Thailand to spend time in air-conditioned malls, but it is really what goes on around these buildings that gives a fascinating insight into everyday Thai society.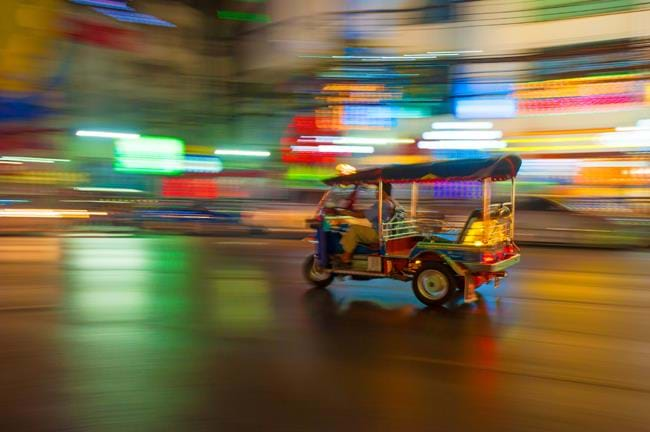 5.30pm
Spend some time walking around Siam Square, exploring and people-watching. Try some of the many street snacks on offer. On the opposite side of the road to Siam Paragon shopping mall (on the corner of Rama I and a road leading to Siam Square) is a vendor that serves up delectable mango and sticky rice (in Thai: kao neow ma muang). This is one of my personal favourite Thai desserts. It can be enjoyed at any time just as a snack. The sticky rice is infused with sweetened coconut cream, the mango is fresh and juicy. Combined, it is more than delicious. If you find this vendor, you will thank me. If not, be sure to look out for this dish in other places.
7pm
Walk up Rama I towards MBK shopping mall. With Siam Paragon on your right-hand side. Walk over the elevated Skytrain walkway and cross to BACC - Bangkok Art and Cultural Centre - for an insight into the contemporary Thai art scene.
7.45pm
Walk back over the elevated walkway to Scala cinema. Scala cinema is worth visiting if only to see the building. Built in the late 60s in art-deco style, the impressive cinema building has a magnificent foyer which evokes old Hollywood grandeur. A sweeping staircase leads to polished floors and a cavernous ceiling adorned with chandeliers. Here you can purchase your cinema ticket for 100 baht (£2).
8pm
If there is something on that you would like to see, then buy your ticket, be directed in by the staff in the yellow tuxedos, and enjoy the film. Remember to stand before the film when the king's anthem is played. This is mandatory, and is indicative of the huge amount of respect and reverence reserved for the king and Thai royal family.
If there is nothing showing that takes your interest (it is a one-screen cinema), then perhaps have a bite to eat in one of the many small eateries around Siam Square. I would recommend trying some tom kaa - a mild dish with chicken in a coconut broth flavoured with lemongrass kaffir lime leaves, and galangal. If you do see the film, and are hungry afterwards - opposite is a good-value authentic restaurant specialising in both north-eastern Thai food; grilled meats and very spicy and sumptuous som-tam (green-papapa salad), and roasted red pork on rice. The restaurant is called Marina HK.
10pm
Return to your hotel by Skytrain, taxi, or tuk-tuk. If you've made it this far, congratulations, you've done very well for your first day in Bangkok!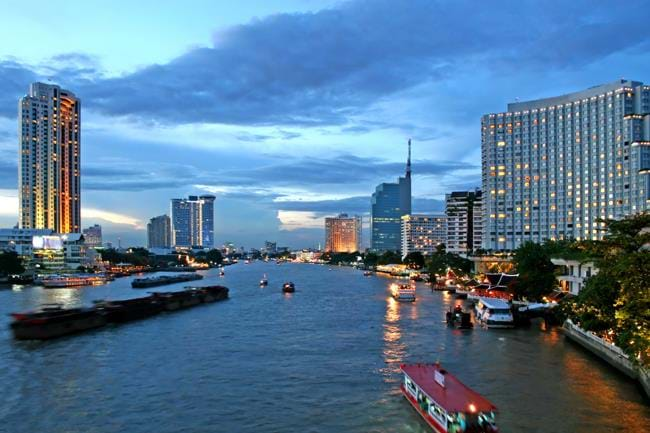 Day 2

7am
Take an early breakfast. Try to defy your jetlag.
7.30am
Head out to your nearest park to listen to the tropical birdsong, watch the burning hot sun swiftly heat up the city, and observe the numerous early risers practise Tai Chi. Lumpini Park is a good one for this. See if you can spot one of the many huge monitor lizards prowling around the park, like it's their Jurassic Park. To get there, you can take the Skytrain to Sala Daeng station, where it's a very short walk.
9am
After a stroll in the park, visit the Grand Palace. Either travel there by car, or for something more exciting, take a Chao Praya river express boat. As in the previous day, you can connect to the river ferry at Sathorn from Saphan Taksin Skytrain station. The Grand Palace is a royal palace and within the grounds is the highly revered Wat Pra Keow - Temple of the Emerald Buddha. You may spend a couple of hours walking around the complex, taking in the atmosphere, the serenity, and the beauty of the buildings and grounds.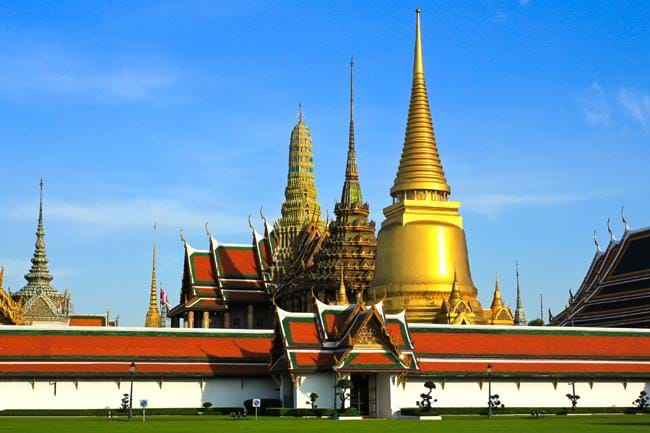 11am
Walk to the nearby Wat Pho. Wat Pho is famous for the huge reclining Buddha. The temple grounds are also very beautiful, and it is worth spending an hour or so here. If feeling tired and in need of rejuvenation, Wat Pho is well-known for its Thai massage school, and there are plenty of masseurs to keep you relaxed.
Midday
By now the temperature will be hotting up. Duck out of the sun and enjoy some food in a local restaurant. There are plenty around, the best ones being those with only Thai signage, and full of locals on their lunch-breaks; then you know the food will be good. Try pad krapow gai kai dow- a lunchtime favourite - this is chicken, mixed with chilli and Thai basil, and served on a bed of rice with a fried egg; absolutely delicious. Spice it up further by adding a couple of miniature scoops of chilli-infused fish sauce. Wash it down with a Thai iced-tea. This is very distinctive as the colour is brick-red, and the flavour is sumptuous, and nothing like you will have tried.
1pm
Take a shuttle boat over to the other side of the river. This area is known as Thonburi. Although the main river, the Chao Praya, has many bridges spanning it, passenger ferries still make the crossing at various points along the river, and cost around 3 baht (6p). Visit Wat Arun, the Temple of Dawn. If you have a head for heights you can climb up the steep stairs. Spend some time exploring the grounds, and admiring the view across the river to Bangkok proper.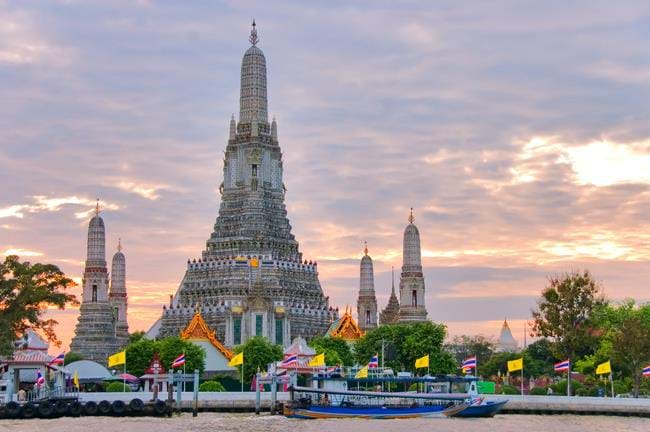 2pm
Walk behind Wat Arun, and you will find many covered walkways with cafes, restaurants and shops to browse. These are mostly popular with Thais, and it's therefore interesting to spend some time exploring, away from the majority of tourists.
2.30pm
Take the cross-ferry back over the river to Tha Thien. You are probably feeling a little tired. Time for some relaxation. It is well documented that Bangkok was once referred to as the Venice of the East. One only has to look at a good map of the city, and see the vast network of canals - klongs - that cover the city and surrounding areas. Here you can board a longtail boat. These boats run with old truck engines, which give them some serious power.
You may pre-book such as excursion with TransIndus, but if not, there are various boat-drivers that you can ride with, but be prepared to haggle. Expect to pay in the region of 1500 baht (£30) to charter the boat for an hour. You will move swiftly along the Chao Praya river, then turning off down one of the klongs in Thonburi, you will find yourself in an area with a relatively rural feel. Rustic stilt houses and banana plantations line the klongs in this area. Relax and enjoy the ride. The boats are normally partially covered to keep off the hot sun.
4pm
Take the Chao Praya express ferry back to Sathorn pier and connect with the Skytrain to get back to your hotel.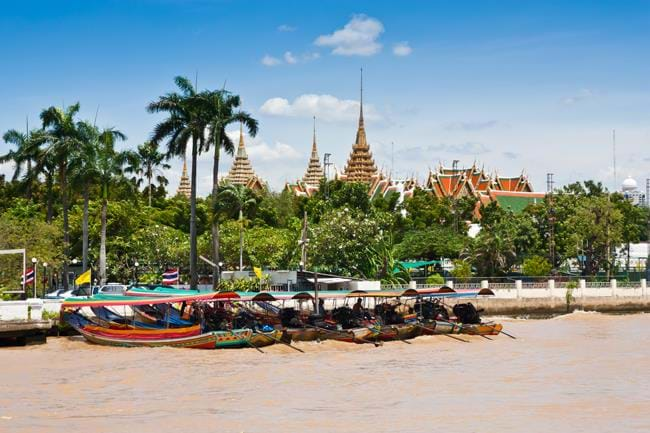 5pm
Arrive at your hotel. Continue to your room for a quick refresh and change into something smart- casual. Head to your hotel reception and take a metered taxi to the Lebua hotel (if you are not already staying there). The taxis in Bangkok should always use a meter, starting with a 35 baht fare (70p). If a taxi refuses to use the meter then don't take it. Or, for a little more excitement, take a tuk-tuk.
6pm
Arrive at the Lebua, take the lift to the top floor - booking is essential - and head to the open-air Sirocco Skybar for the most breathtaking view. A word of caution; not for those without a head for heights. Drink a cocktail in their open bar, which overlooks the cityscape. Watch the sunset, and enjoy the slightly, only slightly, cooler temperatures as the sun goes down. For the real Thai taste, look out for a cocktail which utilises Thai herbs such as lemongrass, kaffir lime leaf or galangal.
7pm
Time for some dinner. If it is fine dining you are looking for then stay where you are, for Sirocco offers the very best money can buy. If you would prefer something more traditional then there is a plethora of restaurants to choose from, too many to name here. You may like to eat at your hotel for convenience, however I would recommend you try food in a local restaurant. For authentic food, head to one with more Thais than tourists.
There are a variety of good and inexpensive seafood restaurants along the Chao Praya River. One of these is at Samsen soi 3. This will take about thirty-minutes by car to get to from the Lebua area. Here, you could try plaa neung manow (steamed whole fish with lime and chilli). Or perhaps the classic, tom yam goong (spicy soup with prawns). If you would like something hearty, and are not so keen on seafood, look out for massaman curry - a southern Thai coconut based curry, mildly spiced with cardamom and other delicate spices. Served of course with fragrant Jasmine rice.
10pm
Return to your hotel room for a good night's rest.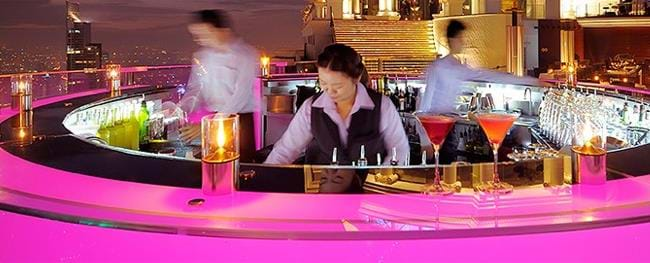 Day 3

7.30am
Wake up with some fruit. Manogsteen and rambutan are two of my personal favourite Thai fruits, and if in season, you may be lucky enough to have some complimentary in your hotel room. Mangosteens are so delicious, it is difficult to express in words. They are small purple fruits, when peeled open reveal a soft white flesh that is both sweet and juicy. Rambutans are also very enjoyable - small spikey fruits similar to lychee.
8am
Head down for breakfast. As you're now approaching 48 hours in Thailand, why not do as the locals and have some rice-soup. Flavour it with as much or as little chilli and fish sauce as you would like at this time in the morning.
9am
Check-out and continue your adventure.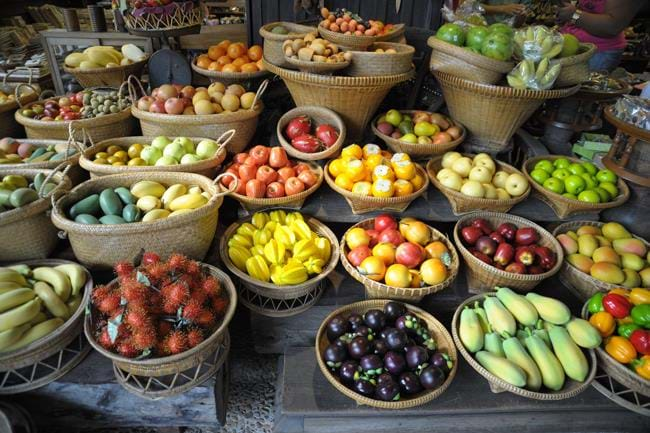 Holidays to Thailand

If Simon's 48 hours in Bangkok has inspired you to visit this great city then check out our selection of group and tailor-made tours to Thailand.