India 11.12.2013 Transindus
Founded in 1411 by Sultan Ahmad Shah, Ahmedabad sits on the bank of the Sabarmati River in the state of Gujarat in Western India. Over the centuries, the city has remained an important trade centre and a melting pot of various cultures ranging from the royalty and aristocratic families to various ethnic tribes and clans. Known as the 'Manchester of the East' at one point in time in recognition of its thriving textile industry, Ahmedabad has been the epicentre of many historic events. Remnants from each of these periods have created a brilliant kaleidoscope of cultures and societies, which is clearly reflected in the city's enterprising culture, community living, architecture, religious practises, food and festivals.

Day 1

10:30am
The Calico Museum of Textiles: Pride of the city, this unique museum houses the largest privately owned collection of antique textiles in Asia. The collection can only be seen as part of a guided tour conducted twice a day. The morning visit focuses on crafts and the afternoon visit on religion. The museum remains closed on Wednesdays.
12pm
Time for lunch. For majority of foreign travellers, Gujarati cuisine is unusual. That's mainly because Gujarat is a "dry" state and traditional food is mostly vegetarian. For those who wish not to miss out on their glass of wine or a pint of beer, foreign nationals are able to obtain a special permit that allows them to purchase alcohol from licensed shops to consume inside their hotel room.
Even with the permit, consumption of alcohol is not permitted in public areas including restaurants. Swati Snacks near Law Gardens, Agashiye rooftop restaurant and Greenhouse courtyard café at the House of Mangaldas Girdhardas Hotel and Vishala Village Restaurant are some of the places one can enjoy fine and authentic Gujarati cuisine.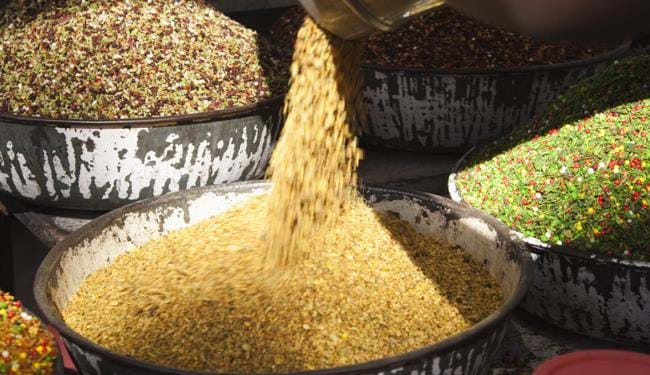 2pm
Gandhi Ashram (also known as Sabarmati Ashram): The city played a very important role in India's Independence Movement. Mahatma Gandhi lived here for almost 12 years with his wife Kasturba and it is from this residence that he led the historic march to Dandi known as the Salt Satyagraha. Gandhi's cottage with his belongings has been beautifully preserved and the residence complex also houses a memorial designed by the renowned architect Charles Correa and built in 1962.
3:30pm
Adalaj step-well: A typical feature of Ahmedabad and Gujarat in general, step-wells are multi-storeyed water structures that can be accessed by several flights of steps interspersed with landing floor or pavilions. They are beautifully designed and often showcase intricate stone carvings. Some of the wells date back to 600 A.D., but most of them were constructed between 11th and 15th century.
 
5pm
Sarkhej Roza: Ahmedabad is one of the few cities in the country where one can see fine examples of Indo-Saracenic architecture. Sarkhej Roza, built in 1451 AD is one of them. World-renowned French architect Le Corbusier once compared this mosque's design to the Acropolis of Athens. In the past, Sarkhej was a prominent centre of Sufi culture and home of the influential saint Ganj Baksh.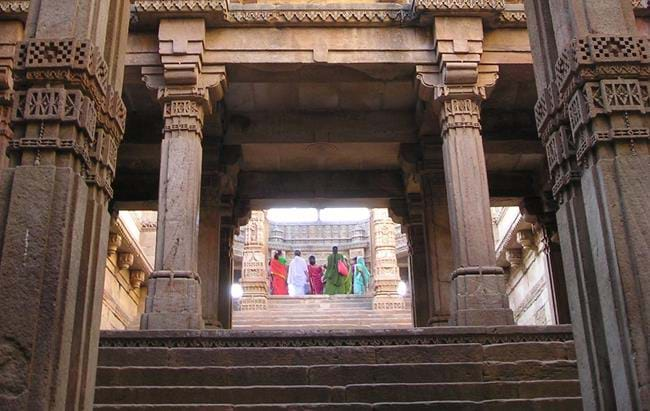 Day 2

8am
The Sun Temple at Modhera: Located in Modhera, about 2 hours' drive from Ahmedabad, the Sun Temple was built in 1026 AD. Dedicated to the Sun God, Surya, this is one of the 7 Sun Temples in India. The temple complex consists of the main temple and a large step-well.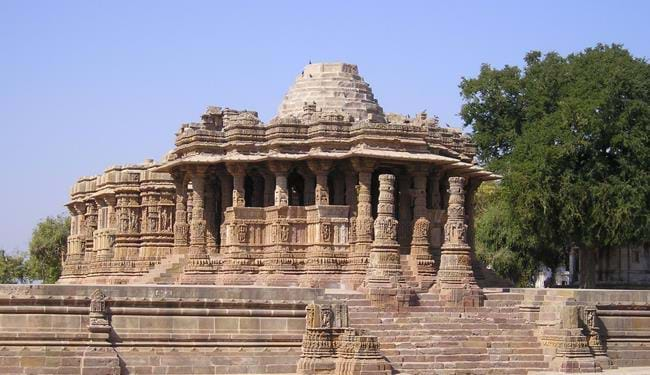 2pm
Patan: 40 minutes from Modhera and 3.5 hours from Ahmedabad, Patan is famous for its impressive step-well known as Rani-ki-wav or Queen's step-well and traditional art of double ikat weaving.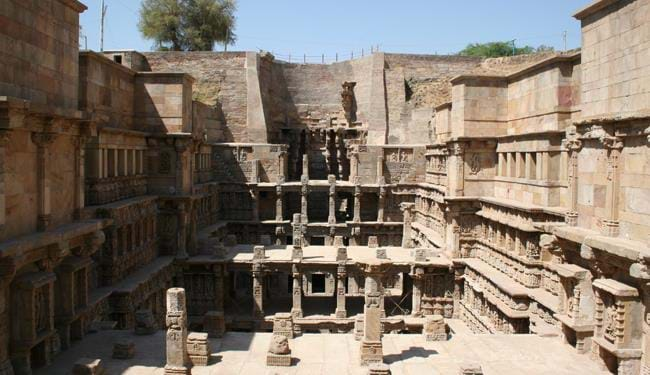 Day 3

8am
Old city: One of the most vibrant and interesting urban settlements in the world, Old Ahmedabad is known for its cul-de-sacs filled with traditional mansions with intricately carved wooden facades, temples, mosques, step-wells, markets and pigeon hole towers locally called Chabutaro. Each street locally known as 'pol' has a unique character depending on the community it belongs to. It provides an ideal living space for people from different communities to live in perfect harmony.
10:30am
You can enjoy a local breakfast at one of the small tea stalls or enjoy a more refined and sumptuous breakfast at the comfortable courtyard café at the House of MG hotel.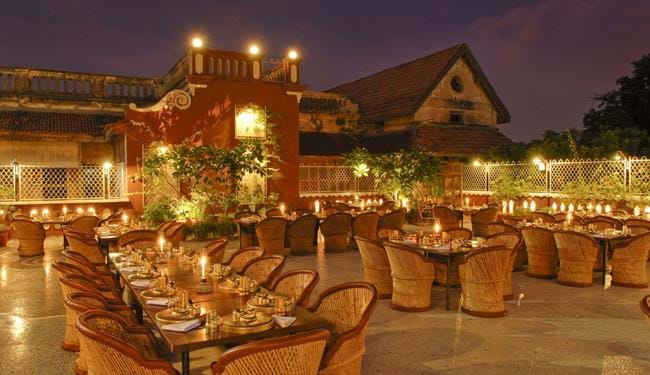 11:30am
Hutheesing Jain Temple: Built in 1848, this fine example of Jain temple architecture was commissioned by a wealthy city trader Sheth Hutheesing Kesrising. It is still owned and managed by the family trust.
3pm
New city: A complete contrast to the old city, the new city is famous for its contemporary architecture, created by world-famous architects such as Le Corbusier, Louis Kahn and Charles Correa. The Indian Institute of Management, City Museum at Sanskar Kendra and Ahmedabad Textile Mills Association are fine examples to name a few. Ahmedabad is also considered the Mecca of higher education, as the city is home to some of the finest institutions in the world, such as the Indian Institute of Management, National Institute of Design, School of Architecture at CEPT University, National Institute of Fashion Technology and Mudra Institute of Communications.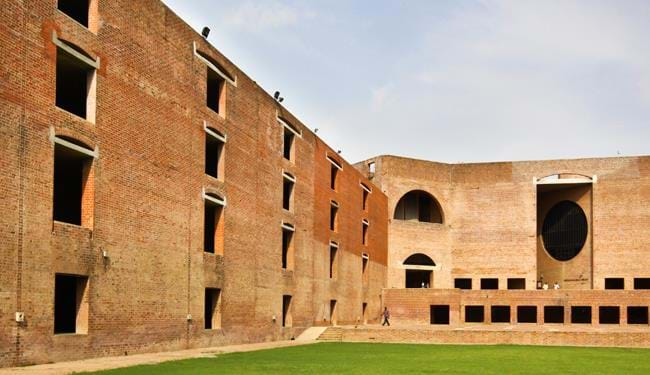 7:30pm
Vishala Village Restaurant: A visit to Ahmedabad is not complete without a meal at this unique village restaurant, where one can savour authentic Gujarati cuisine in a traditional rural setting. The Museum of Utensils located within the restaurant complex houses a large private collection of antique utensils.

And if you have extra time...

Pranlal Bhogilal Vintage Car Museum at Kathwada: A must go for any vintage and classic car enthusiast, this private museum owned by the city-based industrialist Pranlal Bhogilal houses one of the largest and finest collections of vintage and classic cars in the world.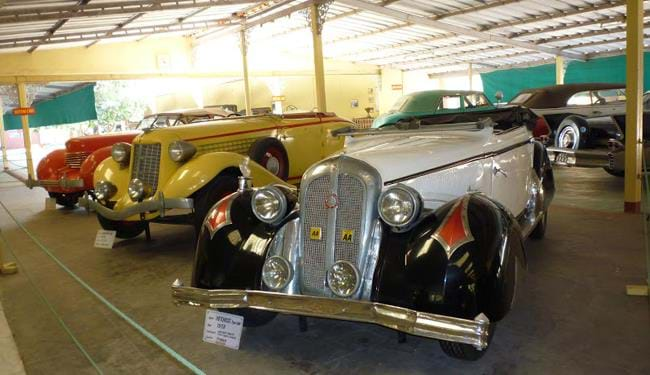 Getting to Ahmedabad

By Air
Emirates, Qatar Airways, Jet Airways and Air India operate indirect flights to Ahmedabad from London. Ahmedabad is also connected with most major Indian cities including New Delhi, Mumbai, Kolkata, Indore, Chennai, Bangalore and Hyderabad.
By Road
Gujarat has very good and extensive road network and Ahmedabad is well connected with the neighbouring states of Rajasthan, Maharashtra and Madhya Pradesh. It's only five and a half hours' drive from Udaipur and can easily be combined with a Rajasthan trip.
By Rail
Being a major junction, Ahmedabad is well connected with towns and cities across India. Superfast express trains operate between New Delhi- Ahmedabad and Mumbai- Ahmedabad.
Where to stay

House of Mangaldas Girdhardas
A charming boutique hotel in a converted family mansion, still owned and operated by a city based aristocratic family. It is located in the heart of the old city , opposite the famous Sidi Syed Mosque. The rooftop restaurant Agashiye and courtyard café Greenhouse are some of the best places in the city to sample authentic Gujarati cuisine.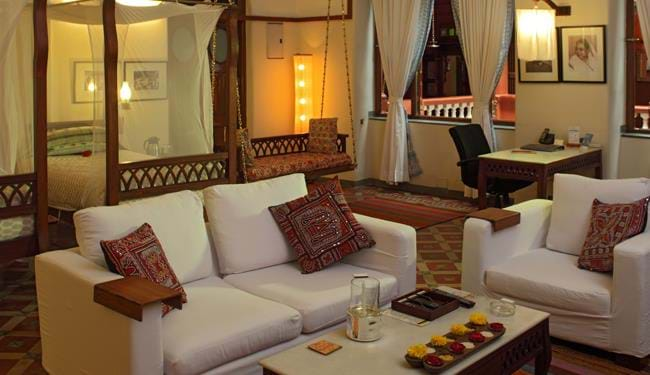 Gateway Hotel Ummed Ahmedabad
A First Class Modern Hotel, the hotel is managed by the Taj Group of Hotels and is located very close to the International Airport, away from the hustle and bustle of the city.
Fortune Landmark Hotel
This Standard Grade Modern Hotel is located in the heart of the new part of Ahmedabad.
Festivals

Navratri
This nine-day festival turns the entire region into a mega stage for folk dance and music. Ahmedabad is one of the famous centres where one can witness this vibrant spectacle. As per the mythology, the festival depicts one of the great battles from Ramayana during which Lord Ram and his army take on the mighty King of Lanka- Ravana to rescue and free Lord Ram's wife Sita who was kidnapped and kept captive in Lanka. The great battle continues for 9 days during which Lord Ram's devotees pray for his well-being and on the tenth day Lord Ram was able to kill Ravana and free his wife Sita marking the victory of good over evil. The tenth day is celebrated as Dussehra when effigies of Ravana are burnt all over the region with spectacular displays of fireworks. The festival dates depend on the local Lunar calendar, but it is generally celebrated before Diwali in October or November. 
Diwali
Also known as the festival of lights, Diwali is the biggest Hindu festival in the country. Unlike other parts of northern India where only the main Diwali day is celebrated, Diwali marks end of the year as per the regional Gujarati calendar and ushers in the New Year. For this reason, Diwali is celebrated over 5 days in Gujarat. 
Uttarayan (Kite Flying Festival)
Another vibrant and hugely popular festival, Uttarayan is celebrated on 14th and 15th January every year to mark the approach of the harvest season and the day winter begins to turn into summer. Ahmedabad hosts the International Kite Festival that attracts enthusiasts from all over the world to display their innovative kite designs. In 2012, participants from 42 countries took part in this festival. Besides the formal stage, the city transforms into a mega arena for local enthusiasts to compete with one another filling the sky with thousands of kites of different sizes and colours. Being public holidays, normal sightseeing will not be possible on these days, but witnessing this vibrant and hugely competitive sport is a not-to-be-missed experience. For food enthusiasts, being in the city over Uttarayan will be delightful, as one would get to savour traditional specialities such as Undhiyu (a special preparation of mixed vegetables) and Jalebi (a deep-fried wheat flour pretzel soaked in sugar syrup). The celebrations continue into the night and large kites are flown with paper lanterns attached to the string, filling the sky with rows upon rows of lanterns.
Holi
Festival of colours, like most parts of northern India, Holi is widely celebrated throughout Gujarat.