India 09.06.2020 David Abrams
Of all India's religious celebrations, Holi is the one that tends to attract the most attention outside the country and in 2021, India's Holi Festival perfectly coincides with the Easter weekend making it one of the best times to visit India.  Happy images of people plastering each other with powders and pigments, symbolising the triumph of good over evil and the traditional start of the harvest season, convey an atmosphere of unfettered joy and abandon that's a-typical of a country whose rituals are generally characterised by restraint and decorum. 'This is India letting its hair down', the pictures proclaim ' the subcontinental equivalent of a Thai New Year water-throwing party and beach rave all rolled into one.'
The reality on the ground, however, can be a far cry from any of the above – for foreigners in particular. Holi is marked in different ways by different segments of the population, but for its duration social norms are turned on their head and a traveller who has not researched or planned their trip in advance risks venturing into the streets or markets and can expect to be mobbed by gangs of over-excited youths, high on 'bhang' (a potent cannabis preparation) and wielding cycle pumps spewing dyes that will turn your clothes blueberry colour in seconds, and never wash out.
So before you make any travel plans, read our list of the best places to celebrate the Holi Festival in 2021 and beyond, ranging from full-on authentic to heavily managed and sedate.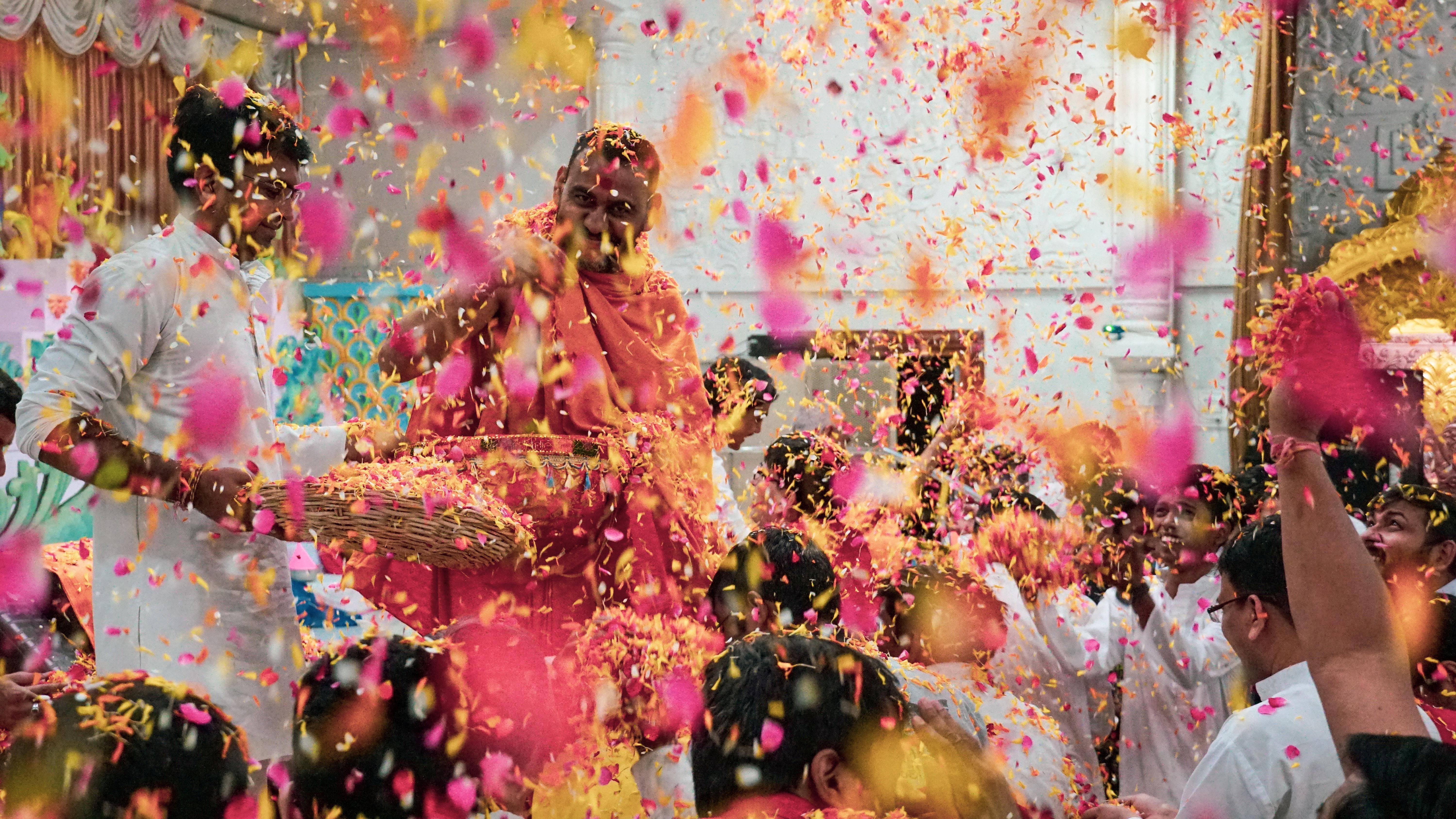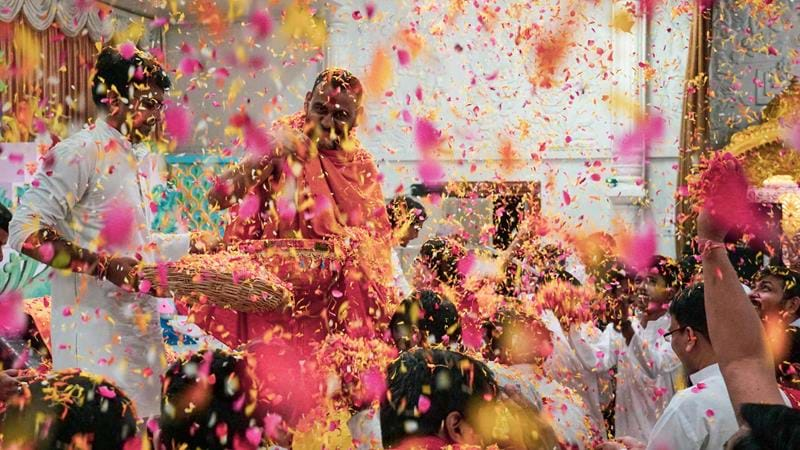 Mathura
The Braj region of India, between Delhi and Agra, is synonymous with Lord Krishna, the Hindu God most associated with the Holi festival. Matheran, its principal town, is believed to be his birthplace and local shrines host some of the largest and most spectacular celebrations in the country, attracting thousands of revellers, many of whom travel from their villages in open-backed lorries. A prime example is the Dwarkadheesh Temple, where a seething mass of worshippers gathers on the morning of Holi to sing, dance and chant under a cloud of purple gulal.
Vrindavan
The Bankey Bihari Temple in Vrindavan forms the epicentre of Holi celebrations in this fervently Krishna-obsessed town. If you've seen photographs of a densely packed courtyard filled with people covered from head to toe in purple, red and pink powders, this is probably where they were taken. The event takes places at the same time as the one in Matheran. Only a fool would attempt both.
As a more sedate alternative, head for the Gopinath Temple, where a thousand of the town's white-clad widows gather to mark the festival, throwing gulal powders and hundreds of kilos of marigold petals over each other as the temple priests play upfliting Krishna songs – a wonderful spectacle, and one with more charm and poignancy than the bash at the Bankey Bihari.
Barsana
Well worth a visit at Holi time is Barsana, near Mathura, where an extraordinary ritual takes place in the afternoon. Men from neighbouring Nandgaon process down the narrow street leading to the main Krishna temple until their progress is blocked by ranks of women wielding heavy wooden sticks. Ritual blows, delivered with great gusto by the ladies, reign down on the men's special leather shields – a spectacle enjoyed by a huge crowd of onlookers covered in brightly coloured gulal powders.
Baldeo
The Daoji temple in this small town half an hour's drive from Mathura is the place to be on the day after Holi, where a huge crowd congregates to witness the Holi play of its presiding deities. Once the rituals are complete, the crowd explodes into one massive Holi play, in which turmeric and saffron yellow are the predominant colours.
Jaipur
Holi festivities in the Pink City used to be dominated by a glittering elephant procession, led by the Maharaja swaying atop a giant tusker in his gilded howdah, like a vision from Mughal times. Since 2012, however, the event has been banned due to concerns over animal welfare, but Jaipur remains a Holi hotspot. A major focal point is the big gala bash in the palace hosted by the royal family in aid of local charities. Ticket's are like gold dust but can usually be arranged through us if booked well in advance. Traditional Rajasthani folk music and dance performances, along with civilised 'gulal' powder play, are held at the splendid old Khasa Kothi Hotel by the local tourism office, while a more religious, devotional atmosphere prevails across town at the Govind Dev-ji Temple at the heart of the City Palace, where the Krishna and Radha deities are heaped with marigold flowers and serenaded with joyous 'Holi bhajans' (hymns).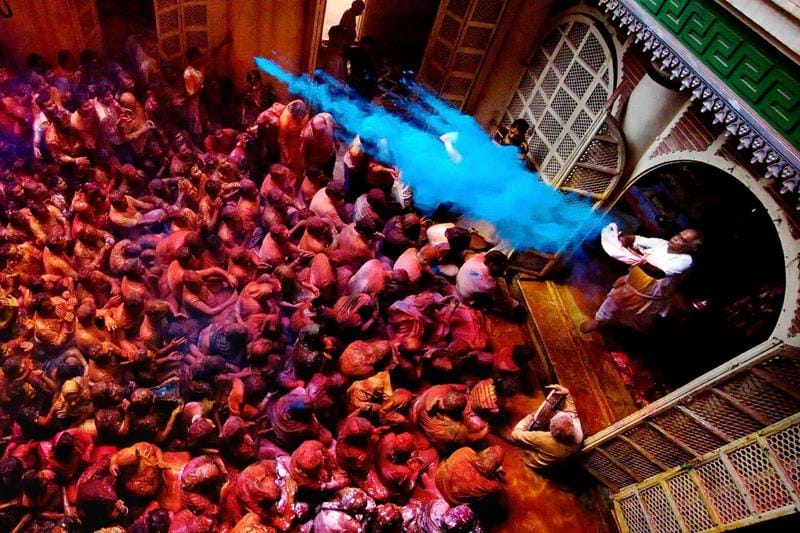 Udaipur
The royal palace in Udaipur is the best place to be on the eve of Holi, known as 'Holika Dahan', when the local Maharaja lights a ceremonial bonfire in the central courtyard to mark the start of the celebrations. Afterwards, guests retire for cocktails and a lavish dinner, followed by a firework display. Foreign visitors tend to congregate en masse the morning after in the 'chowk' below the nearby Jagdish temple to play with 'gulal' powders – the local tourism police maintain order so you don't see the kind of madness that prevails in the local bazaars.
Pushkar
The sacred town of Pushkar, on the shores of Lake Pichola, has long been a haven for foreign and local backpackers looking to celebrate Holi Festival, and thousands descend here when a big party is held in the main square. Chest-thumping Techno music rather than Krishna 'bhajans' accompanies the seething mass of 'gulal'-smothered participants, many of whose shirts end up strung from overhead wires. It's a rather unrestrained affair, fuelled by potent 'bhang lassis' (a cocktail of cannabis, yoghurt and sugar traditional imbibed on Holi morning). Think of an Ibiza nightclub only with the entire pulsating crowd throwing paint bombs at each other.
Varanasi
Celebrating Holi in Varanasi, India's holiest city on the Ganges River, is not necessarily as idyllic as it sounds. The sacred riverside steps, or ghats, have a wonderful atmosphere in the evening, when worshippers congregate in their best Holi clothes to leave offerings at the temples and shrines. But the morning celebrations out in the streets are definitely something to sidestep: the maze of alleyways emanating from the ghats swarm with local boys intent on dousing foreigners with powder paints, and the encounters are sometimes a little over enthusiastic. So our advice is to spend the morning in your hotel, which will be hosting its more restrained version of 'Holi play'. We do, however, recommend a walk around the old city the night before Holi, when effigies of demons and evil goddesses are burned on blazing bonfires in the streets. This is the time to stock up on 'gujiya', the local Holi sweet. The longest queues form outside Shri Raj Bandhu on Kachaudi Gali, one of the city's most famous traditional confectioners.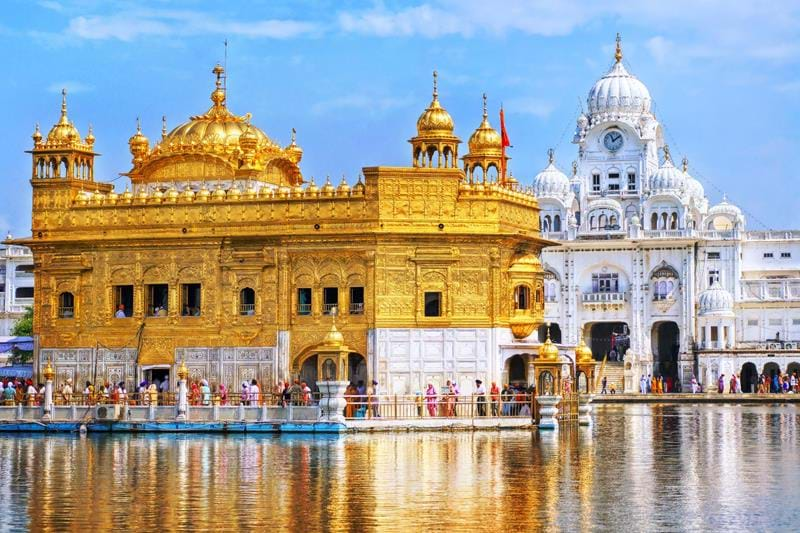 Amritsar
Few non-Hindu visitors know of its existence which makes it another of the best places to celebrate Holi Festival, but Amritsar holds a second 'Golden Temple', dedicated to the Goddess Durga. Like its more richly gilded cousin across town, the shrine sits on a rectangular lake, reached via a narrow causeway. Its marble-lined precincts are the focus of a particularly enjoyable celebration on the morning of Holi, when locals and pilgrims gleefully play 'gulal'. Foreign visitors are considered a prime target, of course. But things tend not to bubble over into any unpleasantness here, even for women. It's a family-friendly event and one of our favourites, involving as many Mums and Grandmas as trigger-happy teenagers.
Anandapur Sahib
Held around the sacred precinct of the Andandapur Sahib Gurudwara, four hours east of Amritsar on the edge of the Shivalik Hills, the festival of Hola Mohalla attracts Sikh pilgrims from across northern India over the period of the Holi celebrations, among them a large contingent of Akalis, or Nihangs. Akali sikhs are an old warrior sect, distinguished by their knee-length robes, huge blue or orange turbans and extensive weaponry draped about their person. They stage spectacular demonstrations of martial arts and equestrian skills during the festival, and there's also a colourful fun fare in which gulal colour play features prominently.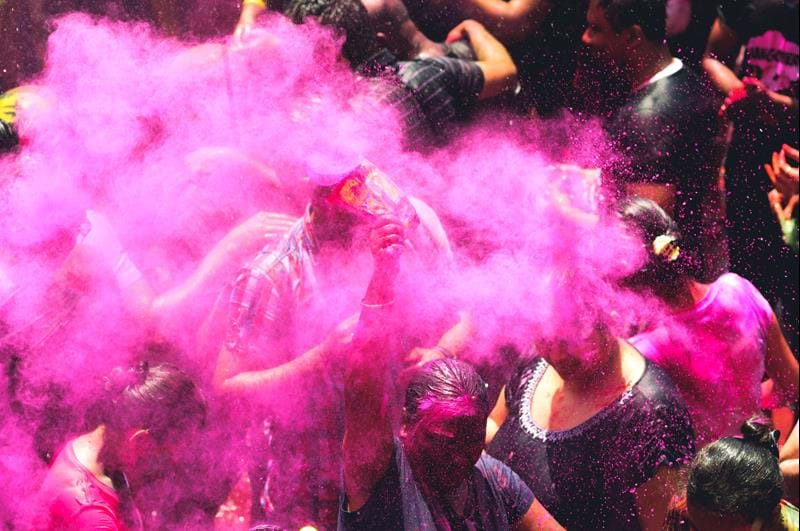 'Holi Light': Shahpura Bagh, Devshree & Ramathra Fort.
As you'll have gathered from the above descriptions, Holi can all too often prove a rather overwhelming experience for travellers. Groups of local boys can become over excited and what looks like great fun in photographs occasionally feels more like a rugby match. For this reason most hotels organize their own, more restrained and gentile versions, in which gulal powders are used in preference to paint bombs. Three heritage properties in Rajasthan we particularly recommend to clients are Shahpura Bagh, Devshree and Ramathra Fort – all beautiful buildings in rural locations where you can enjoy the festivities without fear of being mobbed. They all also make a great effort to prepare traditional Holi sweets and other dishes for their guests to sample. Your TransIndus India Specialist will have more details and be able to suggest ways of stringing these hotels together into a well balanced itinerary.